Rated

5

out of

5
 by
Thalia
Great for maximizing vertical space in a closet
I'm a Professional Organizer and use these often, especially with clients who rent rather than own their homes. I recommend the Large Flat Wire Stacking Shelf for the floor because of its depth. I like to stack 2-high if the client does not have lots of long hanging garments. Use for folded clothes, bins of socks, pretty woven baskets of yoga pants... makes a huge, quick impact! They are not exactly beautiful, however they are nice looking and perfect for a closet. No tools required...
November 18, 2016
Rated

5

out of

5
 by
Maxit
Flat Wire Stackable Shelves
Love these. They are perfect for our small closet that holds our washer and dryer. The closet is in our small kitchen which is why we have so many kitchen items kept there as well. What I love it that I can keep the hangers on the shelves too, which is just what I need when doing the laundry. These hold a lot of weight, so I can stack the bleach and heavy liquids without fear of them collapsing.
January 9, 2017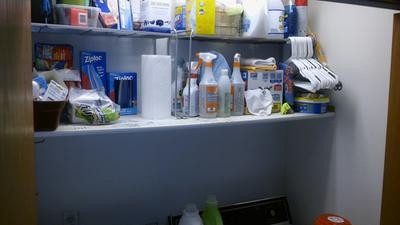 Rated

5

out of

5
 by
Seeker
Love, Love, LOVE these shelves!
I was looking for a solution to organize my jigsaw puzzles, which were beginning to sprawl all over the entire corner of the room. These sturdy, stackable shelves were the perfect solution! No assembly required -- they just click into place very easily, and the matte silver finish looks nice.
July 16, 2016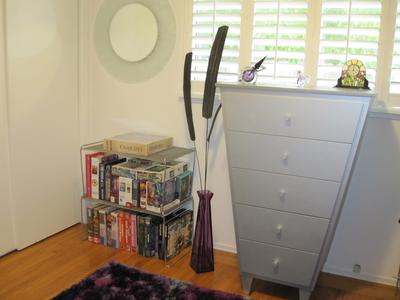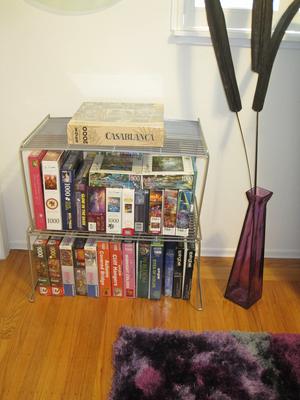 Rated

5

out of

5
 by
colleenmarie3701
Perfect Fit
We just moved into a tiny apartment and my husband wanted a shelf for the microwave. These fit perfectly. I'm so glad we found them.
March 26, 2014
Rated

5

out of

5
 by
Annabachaca
Best choice ever
Large, beautiful shelves. VERY sturdy and heavy duty. It really allowed me to maximized the upper space in my apartment closet without having all our clothes falling down on themselves as they were before. Additionally, I love the fact that they can stack one over the other, because if we move and our storage options are different, these shelves can move with us. This was money well spent! I absolutely LOVE the container store.
March 4, 2014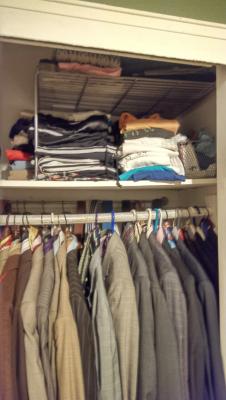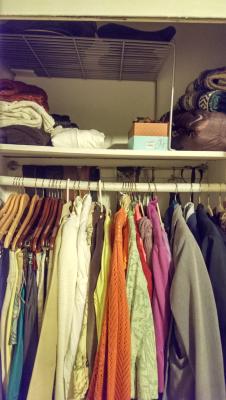 Rated

4

out of

5
 by
BoxerMama
Perfect for my small space
I needed shelves for the bottom of a very narrow closet and these shelves were perfect for my space. They are very sturdy and easy to stack.
July 30, 2013
Rated

5

out of

5
 by
Choco0518
Sturdy and great design
I bought the large wire shelf to hold my baking sheets and pans, I love the depth of this shelf because it allows for smaller shelves to be stacked on top. The height is perfect for placing 3 of the baking sheet dividers underneath. This utilized almost every square inch of my cabinet space.
March 19, 2013
Rated

4

out of

5
 by
Barna
Useful
Loved these shelves...:) I could stack them and free up a lot of cabinet space.
March 18, 2013
Rated

5

out of

5
 by
Jeepgirl
Great
Great product. Very sturdy and keeps products on the rack
March 18, 2013
Rated

5

out of

5
 by
Jeweler
Great Display Units
We are using these as display units at all our Jewelry shows and they work perfectly! They are easy to transport, take little room because they stack nicely within each other. We place black or cream silk cloth over a 2 piece unit, which is tall enough to stack velvet bust and - WOW - our display never looked so good, Going to be ordering many more of these! Will load up pictures after our next show.
March 14, 2013
Rated

5

out of

5
 by
Allie388
Great storage shelving
The large stacking shelves are able to held a fair amount of weight, 75lbs, and are great for closet spaces that are poorly utilized in terms of organization and shelving.
March 13, 2013
Rated

5

out of

5
 by
Tracyrd
Excellent for closet organization
Excellent and study for adding shelves to the closet for additional storage.
February 16, 2013
Rated

5

out of

5
 by
lmdja
Delighted with the shelves
I bought seven sections to organize a messy closet. They are perfect, sturdy and neat looking.
December 13, 2012
Rated

5

out of

5
 by
miltoneg
excellent organizing product
I used these and the medium stacking shelves to organize a previously messy laundry room closet. These not only maximized the space but are sturdy and good looking. I will probably be ordering more for other closets.
September 3, 2012
Rated

4

out of

5
 by
Caro17
Great space saver!
I have a very small kitchen with almost no counter tops and I am using the large one to hold my microwave and a half one on top for my toaster and food proccesor. All my canisters fit below the microwave. Now I have more room on my counter tops for cooking!! The only reason I marked it down a star was that I wish it was a shiny stainless steel but still I couldn't do without it!
April 27, 2012
Rated

5

out of

5
 by
containerstorefan75080
Awesome shelves!
Love these in my linen cabinet! Great for my towels!
April 27, 2012
Rated

5

out of

5
 by
KD29
Exactly what I've been searching for!
I've been looking for a shelf like this for a long time! Finally found it, and it's organizing our kitchen electrics. I have a stand mixer and food processor underneath it, and our slow cooker and waffle maker on top - very strong and sturdy. Awesome product.
March 22, 2012
Rated

4

out of

5
 by
OrganizerLover
Awesome Shelves!
I bought these shelves when I moved into my apartment last summer. They have proved to be very handy and durable. I love that you can make them as tall or as short as you want! Perfect shelves.
March 21, 2012
Rated

5

out of

5
 by
TMilstead
sweater shelf
I bought these to put in my closet to set my sweaters on. They work really great and help me keep my sweaters folded nice and neat and keep the like colors together. Would recommend this product!
March 20, 2012
Rated

5

out of

5
 by
delphia
Great large sturdy shelves
These turned out to be bigger and sturdier than I expected. This is the largest modular stacking shelf I've ever seen. I may get more for my home storage. I bought these to use in a rental kitchen.
March 5, 2012
Rated

5

out of

5
 by
irishorganizer
sturdy!
I have a large cupboard in a small kitchen island where I keep all my pots and pans. I was looking for a sturdy shelf to double my space in the cupboard. This is a great solution. Low cost, high quality, and no screws! I can move this to another location once we remodel the kitchen. It is sturdy enough to hold my heavy cast iron dutch oven and small pans and skillets. It is heavy enough that it does not slide around.
March 5, 2012
Rated

5

out of

5
 by
SuperOrganizedMom
Sturdy, valuable shelves
Needed something for towels in our tiny closet, without taking up too much room for hanging clothes. These shelves proved perfect. They are very sturdy, a good weight so they aren't easily tipped, and the perfect height so stacked two high, I can fit all of my towels, and still hang clothes. And the price is right on! Very impressed!
March 1, 2012
Rated

5

out of

5
 by
Stonebridge
Great Pantry Shelf
I've had these for more than 5 years in our pantry and they are great. They hold up incredibly well and fit well together. The metal shelf is sturdy enough to handle our standing mixer coming in and out of the pantry a few times a week.
February 28, 2012
Rated

5

out of

5
 by
Donna773
surprised at quality
I was really surprised at the quality of the shelf, it has a heft to it, and wide enough to be of real use.
December 24, 2011
Rated

5

out of

5
 by
orderly1
Great closet organizer
I purchased some of these to split up the tall shelf in my upper closet to keep stacks of clothes from toppling down. It worked like a dream. My closet seems more spacious and orderly and I feel like I have gained more room because of these dividers.
August 30, 2011
Rated

5

out of

5
 by
slocker
Excellent For Increasing Pantry Space!
My wife and I were looking to increase our pantry space since we had dead space from the top shelf to the ceiling of a few feet. We thought about an Elfa redo or just adding a shelf midway. We then had a store representive show us these stacking shelves and bought a few to try. We realized that by adding 10 of these to our pantry stacked 2 high we would have a ton of new space and it worked. We went from a pantry that always looked crowded to one that is amazing with all the items we don't often use put on the high shelves. This is a great solution to our problem.
July 6, 2011
Rated

5

out of

5
 by
Lena1
Wonderful for storage!
I was looking for the perfect organizing system to use for an area that I had above the closet. I didn't want to install shelves because I don't own the place so I just wanted to get something that would serve it purpose and that I would be able to take with me when my hubby and I are finally able to get our own home. I bought a total of 6 and since I'm not crazy about the silver color I spray painted them burgundy to match the wall color. They are super sturdy! I couldn't believe that these shelves would hold my husbands large heavy music books, but they did! I store everything plus the kitchen sink on the shelves and they dont even bend in the middle!! I am so excited with my purchase. I am looking forward to using these same shelves when I get a house. They will be perfect for the basement or the garage. I recommend this product to anyone!
June 19, 2011
Rated

3

out of

5
 by
wendystuff
over time, dust and grime
These are a good storage solution but over time, if they are sitting on the top shelf of your closet they collect dust and you can't just dust it off because of the coating... but that shouldn't deter anyone
February 13, 2011
Rated

5

out of

5
 by
fatquarter
Fat quarter storage
The shelves in my closet are too far apart. I use the stacking shelves on each shelf to stack fat quarters, The space accomodates three rows of fat quarters & they stay neat & the colors can be seen at a glance.
February 1, 2011
Rated

5

out of

5
 by
KimH
Great space makers
I have them in the coat closet and in my closet, they double my space and seem quite stable.
December 31, 2010