Rated

5

out of

5
 by
EastBostonSusan
Awesome Solution
When I downsized, I had to get rid of my desk, a big desk. I saw this Media Center and knew right away this was a great solution. I also needed a place for my TV, so this was it! I bought the tourquoise desk accessories from the office section and have been able to put just about everthing that had been in my desk onto the stand. The stand comes out of the box all assembled, you just need to unfold it, stand it up and put the shelves where you want them. The stand almost disappears in the room, which keeps my small space from feeling crowded. Am buying the tall skinny folding rack for the other side of my bedroom. They're perfect!
August 29, 2015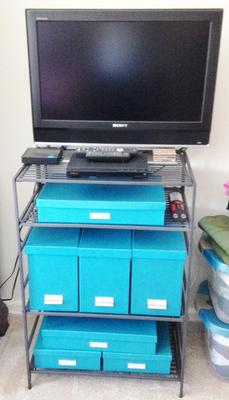 Rated

5

out of

5
 by
Everygirl452
Best Decision!
At first, I was skeptical about this product. I wasn't sure if the media center was sturdy enough for my TV, DVD player, and game console. I was wrong! This media center is sturdy and fits all my entertainment devices. It so easy to assembly. I ordered this product online for store pick-up. It was so easy to pick-up the product. There is speedy pick-up parking at the location, which is great for ease and convenience. This product exceeded my expectations! I was so impressed with this item, I bought the other collection: media rack for blu-ray and DVDs plus the book shelf. Now, my room is well organized due to this product collection.
July 11, 2014
Rated

5

out of

5
 by
amysmom
Iron folding media `center
I highly recommend the media center. it is easy to put together. The center is also attractive; it is compact, not bulky and fits well even in narrow spaces. As an apartment dweller space is at premium and the media center is perfect.
June 13, 2014
Rated

5

out of

5
 by
carin377
Just what my loft needed
I just love my folding media center. Not only does it just fold down to assemble the two middle shelves are adjustable to different heights. Not only does it hold all my old stereo components I even had room to put my wireless printer on the top. I also purchased the folding bookcase and they both have help to update the look of my loft.
April 9, 2014
Rated

5

out of

5
 by
monami76
Excellent!
Bought this for my teenage son's room and it was perfect! TV, consoles, computer, etc. all in one nice tidy spot:)
September 16, 2013
Rated

5

out of

5
 by
MKBH
Love it!
The adjustable/removable shelves work perfectly for holding 2 printers and a scanner.
August 2, 2013
Rated

5

out of

5
 by
Lilly718NYC
Loving my "Media Center"
I ordered this online and picked it up from the store on Lex, it was quick and the clerk even helped me carry it out to my car- I highly recommend ordering online and picking up if you live near a Container store. Although quite heavy to walk up 4 flights of stairs the 4 shelf iron media center is easy to put together and has lots of space for anything you may need storage space for. I am using this in my kitchen to hold my Microwave, utensils and even wine bottles. I love my new unit!!!!
March 14, 2013
Rated

5

out of

5
 by
sbeau
Great collapsable shelf
I bought this to create a shelving unit in a large closet and it looks and works great. No assembly just unfold it and put on the shelves.
February 27, 2012
Rated

5

out of

5
 by
Sdsportrifer
Makes a great printer stand
Use in my office as printer stand. Keep all the paper and supplies below
December 5, 2011
Rated

5

out of

5
 by
kdogNC
Iron Folding media center
Bought for son's dorm room. Easily put together, sturdy and plenty of room for his 26" TV, DVD player, & DVD's. Also storage for board games on bottom shelf. Looking forward to the ease of just folding it up for moving & storage.
August 30, 2011
Rated

5

out of

5
 by
WesternNorthCarolina
Terrific Item
LOVE this media center. There is virtually no assembly. It is heavy in the box but once you get it where you want the set-up is a breeze. It is in my kitchen near windows, with a small HD TV, Satellite receiver and Bose CD system on 3 shelves. Have room for DVDs or other things on the 4th shelf. Very sturdy and the style does not take up too much "visual space". Highly recommend.
August 7, 2011
Rated

5

out of

5
 by
ateshe
heavy, feels solid and sturdy
i wanted one place to hold my receiver, cable box and dvd player so that they are not stacked on top of each other and this fit the bill. the middle shelves are adjustable so i am able to put a basket in the bottom shelf for DVDs and remote controls. i don't have much space so i needed something that is compact but sturdy yet open so the electronics can breathe. the price is right, too. perfect!
June 7, 2011
Rated

5

out of

5
 by
SwissMountainDogLover
Perfect for a Dog Food Center!
I just purchased the media center to fit at the end of my kitchen island to serve as the "Dog Food Center" in my household of really big dogs -- holds their dishes close to the fridge, allows the dog dishes to dry inbetween meals, lets me mix their food without contaminating the kitchen counters, and fits PERFECTLY and unobtrusively in the kitchen. This is exactly what I wanted -- without having to have it custom built! I love the adjustable middle shelving to accommodate my specific large dog food containers on the bottom shelf. And -- a chewing Bernese or Greater Swiss Mountain Dog can't hurt this!
May 2, 2011
Rated

5

out of

5
 by
missk
Great item
We love the folding media center. The easiest thing we had to set up in my daughters dorm room! Very sturdy and perfect size for dorm. There will be no missing pieces from year to year since it is one solid piece that really just folds into place. Would purchase again and other items in that collection.
September 1, 2010
Rated

5

out of

5
 by
karrab
Perfect Shelf
I am sooo glad I purchased this shelf. To be honest, I was hesitant because of the ease of assembly and the reasonable price. I have been looking for over a month for shelving to accommodate the components for our home theater. I have looked in furniture stores @ shelving that cost more than 10 times what I paid @ Container Store!!! Love this shelf because it holds what I want and doesn't interfere with the decor of the room! I have never shopped on-line or in a store that has more professional, courteous employees!!
March 12, 2010