Rated

5

out of

5
 by
SmartMama
Going Strong Since 2002
I purchased this 4-Shelf Iron Folding Bookcase in 2002 to store my recipe books in the kitchen. The top shelf held lots of piano and violin music laid flat. It looked great in 2002, and was very functional. It still looks new ...14 years later and two moves. It is now in my bedroom and looks just as "at home" here than it did in my kitchen. A piece of cake to fold up and transport. I will recommend these shelving units to my daughter who will be moving out on her own in the next year.
July 23, 2016
Rated

5

out of

5
 by
pixie123
Perfect for small bathroom or any small room!
Bought this for my college son, whose apartment bathroom is tiny. Size is absolutely perfect. He uses it to store towels, extra toilet paper, toiletries, etc. It unfolds (& re-folds) in less than one minute, but is very very sturdy. Very compact when folded for taking to & from college. Because of its open design, it's not too heavy for something this sturdy. I've had a 4-shelf iron "corner shelf" in my bathroom for 10+years, & it still looks new. Same brand as this, purchased at Container Store. I wish Container Store hadn't discontinued the corner shelf because I now want one for my powder room. Considering 4-shelf folding iron for my daughter who will soon be freshman at out-of-state college. Highly recommend any of Container Store's folding metal shelves! One of my absolute favorite Container Store products!
July 17, 2016
Rated

5

out of

5
 by
MsCreative
Excellent Option
I have purchased 2 of the 4-Shelf and one of the 6-Shelf Iron Folding Bookcases. The 6-Shelf was my first purchase years ago. It has stood the test of time! I purchased the 4-Shelf versions more recently for special collections (genealogy materials, photo storage, etc.). The fact that they are folding bookcases makes set up fast and a breeze. They hold heavy loads of books, binders, and other items. The easy to screw on feet allow protection of floor surfaces and leveling. The appearance is modern and rustic at the same time.
July 14, 2016
Rated

5

out of

5
 by
yolym
A Really Useful and Versatile Bookshelf
The Bookshelf is well-made and can be placed almost anywhere in a home. I opted to use it next to Kitchen to place and display in dining area often-used cooking and serving items, thus releasing space in cabinets for the rest in Kitchen. Just nice, and the iron-look is more "classy" than I really expected.
December 15, 2016
Rated

5

out of

5
 by
Gecko
Great shelf
I have two of these folding shelves and love them. No assembly needed they just unfold and shelves lock into place. I have one in the kitchen for pantry items and one in my sons bedroom for books and things.
December 12, 2016
Rated

5

out of

5
 by
QH2000
Love these bookshelves
This is the second 6-shelf Iron Folding Bookshelf that I have bought. I got the first two or three years ago and used it for some garage sales. Easy to set up and take down. I now use the pair as media cabinets, using a block of wood behind the back row of media so that I can double stack VHS tapes (yes, I still have those), DVDs and CDs. The shelves are sturdy and attractive.
November 7, 2016
Rated

5

out of

5
 by
QH2000
Attractive, functional and sturdy.
I loved the 6-shelf version so much, I bought two of the 4-shelf versions.
November 7, 2016
Rated

5

out of

5
 by
Tropikgal
Great purchase
I purchase this item to properly organize some items that I have around in different places. I do not have a lot of space, but this item fits perfectly where I wanted it to go and all my items are on the shelves safely. Love this !!
October 29, 2016
Rated

5

out of

5
 by
Back2Bach
Sturdy and Strong
This item is super easy to set up, and yet very strong. I love how sturdy it is, and yet appears visually "light" in the room. The little side rail keeps books from falling out. There are screw-in feet that allow you to compensate for any uneven flooring. The shelving distance is not adjustable, but the inter-shelf distance is about 11 3/4 inches which accommodates regular-size notebooks. My larger photo albums had to go on the top shelf. All in all a well designed unit!
October 27, 2016
Rated

5

out of

5
 by
MNGinger
Great purchase
Very heavy duty, quality shelf unit. Sturdy and attractive, and very well priced for the quality.
October 3, 2016
Rated

5

out of

5
 by
RBMary56
Great shelf!!!
Exactly what I was looking for to hold extra items in my kitchen to free cabinet and counter space but keep items close at hand! Love it!!! May buy another shelf in this line for other areas.
September 28, 2016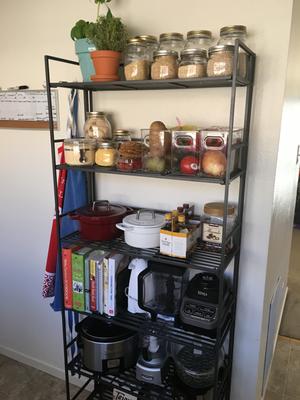 Rated

5

out of

5
 by
JennLa
Love it!
I splurged on this bookshelf as a "treat yourself" gift and have no regrets. It's been one year and it's functionality and convenience for transporting is amazing. Moving with this bookshelf is very low maintenance because it is foldable. Thank you container store!
September 18, 2016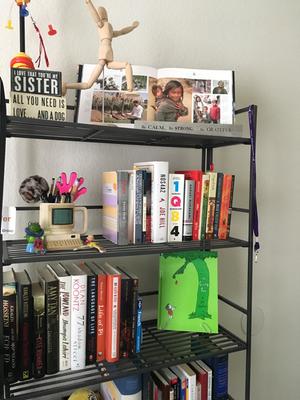 Rated

5

out of

5
 by
Kasey01
Awesome Shelving
I have purchased 4 of the tall collapsable shelves 2 for my daughter and two for me. I have purchased 3 of the 4 shelf shelves; 1 for my daughter and the last one just yesterday for me! They fit any style, are very sturdy, and expanded my shelving space for my extensive book collection. If there were a 3 shelf version I would likely buy it as well!
August 21, 2016
Rated

5

out of

5
 by
nabejero
Sturdy easy for small spaces
Purchased two for much needed organization in a small kitchen. Sturdy, functional, extremely useful.
July 31, 2016
Rated

5

out of

5
 by
MissBee
Great purchase
I really like this bookcase. The best part for me, is that there was no assembly. I simply unfolded it! It is a solid bookcase and it stands very level, too. I am very happy with this purchase!
July 20, 2016
Rated

5

out of

5
 by
GAGirl
Great shelf
Bought this for an apartment and it works great. Recently moved into a new place and this was one of the easiest items to move and set up. Very sturdy and yet easy to fold and carry.
May 23, 2016
Rated

5

out of

5
 by
PHYSIC
Make a house a home!
I own 2 of the 4 shelf units, two of the 6 shelf, and the TV stand which I have my convection oven and microwave sitting on top. One 4 shelf I put on top of my glass table to make a hutch. The others I have my kitchen small appliances. These great looking units make my 300 sq.ft. abode a home.
May 21, 2016
Rated

5

out of

5
 by
FastOrganizer
Versitile Quick Sturdy
Had to get back of deep closet organized quickly, yet make things easy to access. This did the trick in a flash. Unfolds & ready to go. Was able to do the entire chore in less than one hour. Nice piece that would look great in open room. Would be nice if this wider style was made in a deeper shelf as well, say 18".
May 13, 2016
Rated

4

out of

5
 by
Module
almost but not quite
After reading reviews here, and especially after seeing photos of situations similar to mine, I ordered 4 units for an office, a bit of a risk but I hadn't found viable alternatives. I needed help carrying them up stairs, but was able to arrange them alone. A few of the leveling feet were difficult to adjust but I got 3 units lined up wrt each other in an hour or so. Not simple in a wobbly old house; I eventually conceded defeat on the purity of level and plumb for all horizontal and vertical lines simultaneously, and eyeballed it. Aesthetically, the overall effect is quite nice. BUT. One of the legs is slightly bent, not glaring but an irritation and immediately raising questions about quality. One of the shelves has bars (the two that run back to front) at different intervals than the other shelves. Well, in an old house nothing else is perfect either. Here⿿s my major concern though: When the Q&A claims that each shelf holds 60 lbs, I expect this to mean 60 lbs without sagging. But with books on the shelves, mostly unexceptional paperbacks, there is a noticeable sag (about 1/8⿝ at the center below a string stretched straight across). I can live with it for now, but I wonder whether it will increase over time, and it makes me extremely hesitant to order more. In essence, I⿿d prefer a higher quality version of the same thing.
March 20, 2016
Rated

5

out of

5
 by
JenBoston
Study and sleek
My dresser was messy and crowded so I decided to find a shelf to slip into a corner of my bedroom. This shelf is sturdy, well-constructed and looks good too. There is NO assembly required...the best part! Plus, there are feet that screw into the bottom. My floor is not quite even so I can adjust the feet so there shelf does not wobble AT ALL. Worth the money and can be used anywhere should I decide to repurpose in the future.
March 18, 2016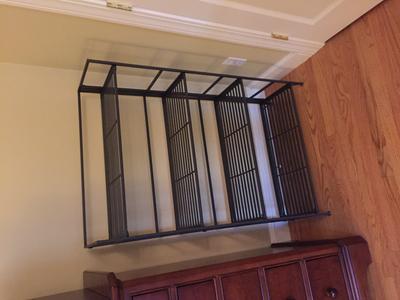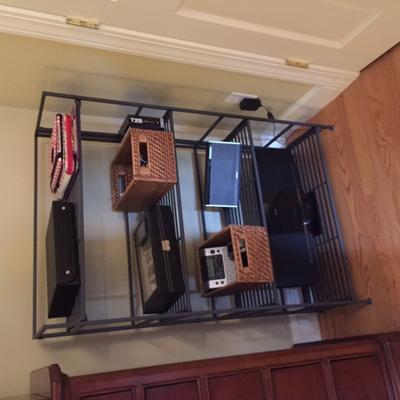 Rated

5

out of

5
 by
Nerak2
Ideal shelving
I had the iron-shelf tower. This new 6-shelf folding bookcase works wonderfully for more than books. It is remarkably sturdy; there is no assembly; and you know the shelf is dependable. Ideal!
February 20, 2016
Rated

4

out of

5
 by
sjrotts
Great in Tight Spaces
Strong, sturdy, instant assembly shelving unit works great in tight spaces
February 17, 2016
Rated

5

out of

5
 by
hollyd
Versatile shelf
I love this little shelf. I have one in a very small bathroom for towels and a basket of toiletries. I have another in my dining room with a small lamp and books and other items. I just brought it home and stood it right up. It is sturdy.
February 11, 2016
Rated

4

out of

5
 by
RGLovesDesign
Great Bookcase
Very versatile, good looking bookcase. Holds a variety of things and part of a nice collection. Just have to be careful you put primarily things with solid, somewhat wide bases on it so they/their legs don't fall between the railings which form the shelves.
January 16, 2016
Rated

5

out of

5
 by
meister333display
For Great Display Shelving, You Can't Do Better
I now have FOUR of these wonderful shelving units; use 'em for displaying my collectibles. Simply put, these units ENHANCE whatever goes on them...and, in my experience, that is rare! Putting them up is so easy - no tools, screws, nails, magnets - and you can easily add solid flat bases (I use heavy white plastic) to cover the rectangular "vents" on any shelf, which serves multiple purposes for my needs, and beautifies further an already stunning shelving unit. Would get more if my display room were larger!!! Buy one, or more...you will love them!!!
November 21, 2015
Rated

5

out of

5
 by
MITTENSTATE
Strong. Sturdy. Good value.
We purchased three of these shelves after seeing them in a brick and mortar Container Store in northern California. They are all great: Simple yet attractive, sturdy (even the six-shelf ones) and a great value. I like the clean design: The natural wrought iron color and the straight lines. They also hold a ton, but also look great with empty spaces. I wish a Container Store would open in Michigan.
November 20, 2015
Rated

5

out of

5
 by
stagemanager
Perfect Addition
I have a small apartment and this is the perfect addition! I can store binders, files, and make a nice work station that will stay organized. Big enough for 3 ring binders, printer, and all of my office supplies! (trust me that is saying something) Love it and the entire Iron Folding line!
September 21, 2015
Rated

2

out of

5
 by
Rosewords
Quality not what it used to be
Until this week, I would have given this folding bookcase 5 stars. I drove to Atlanta to purchase my third one, but upon removing it from the cardboard carton at home, I realized how much this item has been changed. A very rough finish now and in a darker color. Sloppy welds and seams with sharp edges. I can't begin to tell you how disappointed I am. I love the style, which looks great in many settings. But the current quality is very mediocre. I guess I could return it, but that would require another special trip to Atlanta -- the closest Container Store.
September 20, 2015
Rated

5

out of

5
 by
MissMTrini23
Bathroom Tight Space Storage Solution
I measured this spot exponential 99. Ran into NYC 6th Ave store. Representative measured, held and I ran home and measured again. Barter for a pickup since it could not fit into my car. My friend could not believe the exactness and perfect fit. BTW, he's a Math Teacher. Ran around the house. Used ice buckets to hold towels, trays to hold essentials, and boxes to corral small items.
August 26, 2015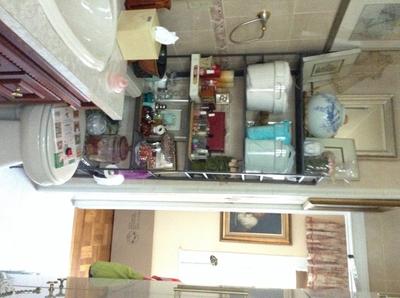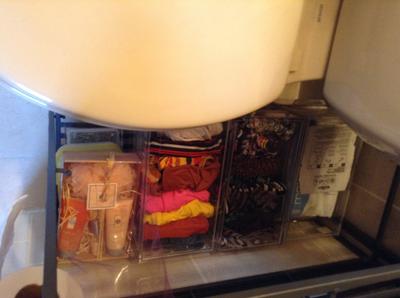 Rated

5

out of

5
 by
Smilax
Best design/strength for the money
Looked at shelving for a LOOOONG time for a mid-century house. Wanted to splurge on the Dieter Rams Vitsoe shelving system but at $6k plus, forget about it. Not only are these shelves beautifully made, but strong enough for massive design/art/photography and smaller literature libraries. They may bow a tiny, tiny bit with huge books jammed on them but what do you want for the price? The design is also a huge factor. Simple, modern, and sophisticated. Easy to move as well. The books are the focus, not the frame of the shelves. Securing them to a wall is a great idea for stability depending on the weight of books. But they aren't that wobbly, contrary to the nay-sayers. I do wish they made a taller version. But for a portable, good-looking bookshelf this is it hands-down.
August 18, 2015