Rated

5

out of

5
 by
JenMarie
Multi-purposed
This spice rack is great! I use it for organizing all kinds of things. I probably have 10 of them. I use them to organize spices in my kitchen cabinets.. Perfumes in my bedroom.. Makeup foundations.. Skincare in my bathroom.. You name it! The levels help to see each item and it's a clean way to organize things. Highly recommend!
August 26, 2015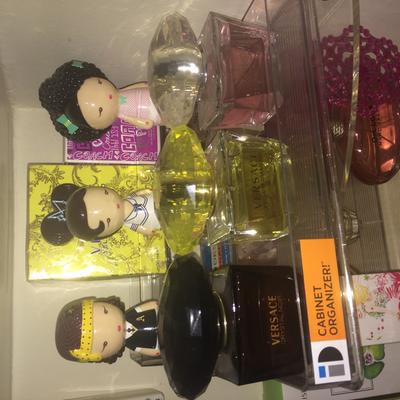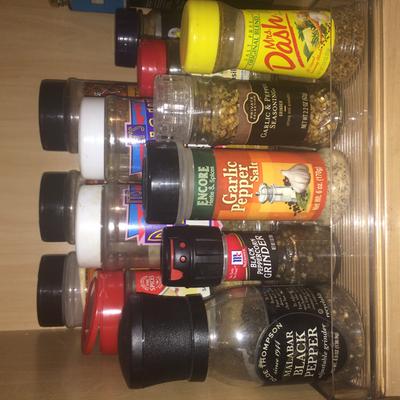 Rated

5

out of

5
 by
Bunky01
Linus Spice Racks
Love these. I wanted to organize my spices and this worked perfect. I liked it so much I bought 2 more to give to my daughter-in-laws who wanted to re-organize also.
February 7, 2016
Rated

5

out of

5
 by
Nelljustahug
Best purchase
Loved this product,makes organization of spices easy and you are able to see all of your dpiced without having to pick each one up.
January 9, 2016
Rated

5

out of

5
 by
HopeThisHelps
Linus Spice Racks do SO much more...
I bought a couple these racks for my essential oils... LOVE, Love, love them! I really like the little lip on the edges so things don't fall off as you move bottles around. The measurements listed are correct. The rack is well made, light yet sturdy and easy to move around. I will definitely be purchasing more of these racks!!! Maybe I will get the expandable one next time...? You could use them for spices, essential oils, paints, supplements, crafts, anything where you want to see the name/item and store them several rows back. EnJOY creating!
April 5, 2015
Rated

5

out of

5
 by
Chicago773
Great product, multiple applications
This product is awesome! They fit perfectly into an upper kitchen cabinet to organize our messy medicine cabinet and I also used these racks in the bathroom on the counter to organize nail polish and jarred face products. Will definitely be purchasing more in the future.
March 30, 2015
Rated

5

out of

5
 by
MOSTWANTED
SPICE RACKS TURN INTO DIY FRAGRANCE RACKS
I know this is a spice rack for your spices but I turned it into my DIY project in my bathroom for my fragrances. You can use this rack for so many different things. I purchased two and have 18 perfumes on each rack.
May 4, 2014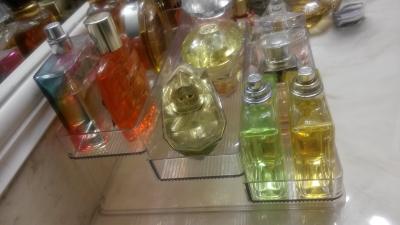 Rated

5

out of

5
 by
TheOrganizingMachine
Beautiful spice cabinet
I purchased three of the large spice racks. They look amazing with my new matching spice jars and labels. I can fit about 7 3oz jars on each row. It's so nice to open the cabinet and see every spice at a glance.
May 1, 2014
Rated

5

out of

5
 by
gardenrose
works great
bought 3 of them to organize spices - works great!
April 28, 2014
Rated

1

out of

5
 by
Jennymandy
Wastes space
I thought it would help organize but it took up too much space.
April 24, 2014
Rated

5

out of

5
 by
MKN1
Perfect for the pantry
I love the elevation this creates. Makes more room available and allows for easy access to spices, oils, etc. Easy to clean. Win, win, win!
April 22, 2014
Rated

5

out of

5
 by
wfc59
Perfect size rack
This was the perfect size for my cabinet. I should have bought 2 as I have a lot of spices. Good solid construction.
April 19, 2014
Rated

5

out of

5
 by
Wendy18
Great price!
Such a great addition to my cabinets! I found them on sale for $7 and just wish I bought a few more!
April 18, 2014
Rated

5

out of

5
 by
Jewell48
Works in the bath, too!
I have a narrow cabinet in the bath, where I keep my skin and hair care products. All of them are tall and slim. I had another system of graduated steps before, but when I reached to the back, I would knock everything over! This storage prevents that--the front lip keeps everything in place. I can see everything and know I won't create a domino cascade. It's wonderful.
April 18, 2014
Rated

5

out of

5
 by
golfwillownyou
finally, a spice rack that works!
I have lots of these rectangular spice tins that never did fit well in any other spice rack but they fit perfect in this one! It's a wonderful step up from the shoe box I was storing them in and now I can clearly see every spice at once. A great find at a great price.
April 17, 2014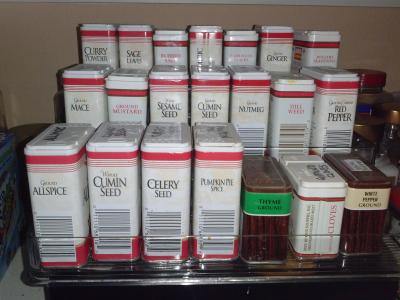 Rated

5

out of

5
 by
thegoodbuygirl
Love it, love it...getting more!!
The difference that this little guy has made in my kitchen cabinet is HUGE!! I only picked up one because I didn't know if it would help but now that I have one, I absolutely HAVE to get a few more!
April 16, 2014
Rated

5

out of

5
 by
DB8Mom
Great Spice Organizer
I love this rack! My spices fit nicely in my pantry, and I can easily see what I have. I bought a second to organize all my extracts and cake decorating supplies.
April 16, 2014
Rated

5

out of

5
 by
singinlady19
Love this shelf!
I bought this specifically for storing my essential oils and the accessories that I have to go along with it. It's big enough to organize what's on each level. On the top I have 4 2oz travel jars for creams. On the next 2 levels I have oils and capsules. The best part is, when I get more oils, I'll be able to triple up the 5oz bottles or double up the 15oz bottles. It's a great rack and seems pretty durable. I even stacked the other stuff I was buying on it after I picked it out at the store.
April 15, 2014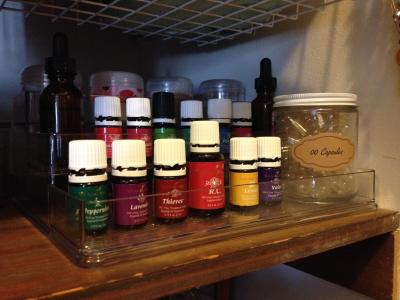 Rated

5

out of

5
 by
Gonzo26
Perfect fit!
Loved it! Fit perfectly in small kitchen cabinets.
April 14, 2014
Rated

5

out of

5
 by
Annier
Linus Rack
Very nice acrylic tiered rack offers easy visibility of back row spices.
April 14, 2014
Rated

4

out of

5
 by
Apkluck
Great Idea
This is a great, simple, low-price piece for my spices. Holds about 4 normal sized spice containers per row (3 rows). I wish it were actually about a 1/2 longer because then it would easily hold 5 containers per row, but it's just a bit too small as-is. Overall, nice product.
April 9, 2014
Rated

5

out of

5
 by
KarenHou
BEST Spice Storage
I love these racks because they have a front guard. Nothing falls off these shelves. They are great for small bottles or cans and they allow me to see all my spices displayed.
April 5, 2014
Rated

5

out of

5
 by
Bullittla
Love these!
I bought different size of these and love them. I use them for my spices and for my bandaids, vitamins etc. I can see everything!
March 31, 2014
Rated

2

out of

5
 by
VSWH
It's nice but didn't work for me
I liked the looks and simplicity of this spice rack. However, I found that the dimension of each tray was not quite right for the spice jars that I have, making it difficult to store them efficiently. I ended up returning it because it took up too much space in my small kitchen that has limited storage as is. Still searching for a better rack.
March 30, 2014
Rated

5

out of

5
 by
ashastagirl
Another use
I had been looking for quite sometime for something to hold my 100+ essential oils that didn't cost a lot of money. I finally found my solution! Its perfect, especially with each step having a guard in front to keep oils from falling out easily. I'm now ordering another, as well as the small one for my spice cupboard. I've looked at 100 spice racks and this one by far is the best, not only for essential oils.
March 25, 2014
Rated

5

out of

5
 by
HuberHeights
I can now see what spices I have...
...and what I need for a recipe. I used to end up buying duplicates or thinking I have a spice when I didn't. These work great!
March 23, 2014
Rated

5

out of

5
 by
Mammie
Many uses
I use this in the kitchen and bathroom. In the kitchen you can not only use for spices but since its the smaller version works great for vitamins, sprinkles and baking extracts like vanilla . In the bathroom I use it for nail polish and small face creams.
March 19, 2014
Rated

5

out of

5
 by
CBella
Great for Nail Polish Storage!!
I purchased two of these spice racks to organize and store my nail polish collection, and it's perfect!! I've only used one rack so far and the rack is full....well, not completely....could fit at least 5-7 more full size bottles. So, I'm glad I bought two since my collection is at 65 bottles and counting. The spice rack fits quadruple/quintuple the amount of nail polish bottles than an actual nail polish organizer which only holds 12 bottles. My collection consists of different brands: Sinful Colors, Revlon, Avon, Mark., Julep, Elf, Gap and Sally Beauty Supply. Of the 65 bottles, 16 of them are miniature bottles: 12 Sally Beauty Supply minis and 4 Mark. minis. The other 49 bottles are regular size nail polish bottles.
February 27, 2014
Rated

5

out of

5
 by
SJMA
Love this, buying another one
We have a shelf for our spices that has been torture for finding anything. This spice rack is a life saver so we are getting another. Since our shelf is pretty high, we still can't see the names of the spices easily but at least the different levels make the search easier.
January 6, 2014
Rated

3

out of

5
 by
SusanQ
Linus spice rack
This is a lovely spice rack, but the bottom tray is level with the cabinet surface so there really are only two levels, not three as it appears on the photo.
December 22, 2013
Rated

5

out of

5
 by
Tams
Instantly organized my cooking cabinet
I loved the first 2 I bought so much that I bought 2 more for the next shelf up. Now I can see and reach items and I don't knock them over so much!
December 2, 2013