Rated

5

out of

5
 by
Trilby
Couldn't be happier with it
I put my shelves together yesterday with no help-- it is perfectly do-able by a single person. The instructions were excellent, and I LOVED the system of packaging the hardware for each step separately and labeled. That's pure genius. I've never seen it before and I've constructed plenty of flat-pack items. The shelves arrived in perfect condition, were just as expected, and look fabulous in my bedroom where they now hold a mix of decorative items and things I use everyday (make-up, mirror, nail polish collection, you get the picture). Couldn't be happier with this upgrade to my room.
September 18, 2016
Rated

5

out of

5
 by
Autismmom
Perfect for an awkward space!
We moved to a home that had this wasted space between the front door and hall. To ensure a clear path we had to find something with a small depth that would still give us a functioning work zone. This has been a lifesaver!
March 19, 2015
Rated

5

out of

5
 by
PaulaAlegriax3
Its the perfect size, so functional and it looks stylish in our living room. Wish it had a smaller shelf on the bottom to put the computer tower on. But i guess it's more for laptop's i still love it.
December 6, 2016
Rated

4

out of

5
 by
SSam1
Beautiful & Easy
Beautiful bookshelf. Exactly what we were looking for at the right price.
December 5, 2016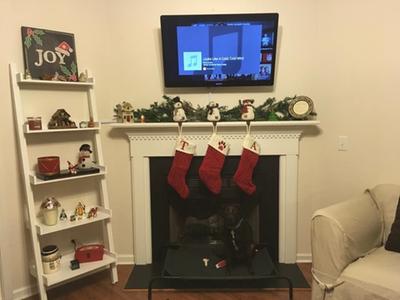 Rated

5

out of

5
 by
Fussymama
Really nice!
I did a lot of online shopping and these seemed to be the best and we were not disappointed. They're sturdy and the finish is good. The narrow size is perfect for what we needed - as shelving and for a bedside table. A tall element is just what the bedroom needed. And as we move the bed around the shelves can be moved easily. Perfect!
May 19, 2016
Rated

3

out of

5
 by
bugsmom
Decent Quality for Price
Once the shelves I purchased were assembled they were solid and what I was looking for. However I was a bit disappointed that out of the box that the white coating was peeling off the shelves in places. Also the mounting used to secure the shelves to the wall is terrible. Shelves would have received a better score if the wall mounting was better. I ended up devising my own wall mounting to secure the shelves from sliding out from the wall
September 18, 2015
Rated

3

out of

5
 by
SarahCA
Great... for carpeted flooring
Wanting a bookcase with a more "open" feel, I thought the Linea was the perfect solution. It wasn't difficult to put together, though there's a slight struggle in the beginning with the natural unevenness. My only complaint, albeit a large complaint, is that there's no warning this does NOT work on sleek flooring (e.g. wood or tile). I wish TCS would include a rubber foot or something. Nonslip pads from the hardware store were not sufficient either. I had to purchase a small rug in order to keep the shelf from sliding out.
August 4, 2015
Rated

5

out of

5
 by
Dedenyc
I love this bookcase
I bought this for my bathroom and I love it. It's just small enough to fit where I wanted it but with some cute baskets holds a ton. Looks really nice too. Easy to assemble by myself.
July 12, 2015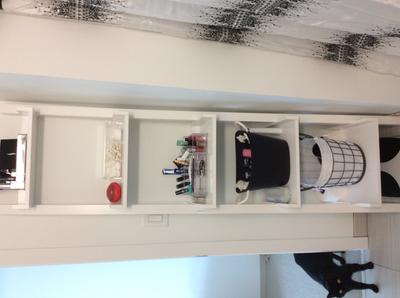 Rated

5

out of

5
 by
hopgeo
cleared my bedroom.
This was easier to put together than we anticipated. We put 2 next to each other on one side of master bed. The stain matched the headboard and 1 middle shelf serves as a bed side table. The 2 large bottom shelves hold my file boxes which were not all together in one place. The upper shelves are being used for books & family photos. It is very attractive and can be used in many ways. We anchored it to the wall so it is very secure.
April 28, 2015
Rated

5

out of

5
 by
Autismmom
Wise investment!!
We bought two of these and the corridanating desk. It is where our son who is on the autism spectrum uses his touch screen computer. We used the included hardware to secure it to the wall. Let's just say we've gone threw 3 wooden chairs but the desk and shelves haven't budged! It's been 3 years :)
March 19, 2015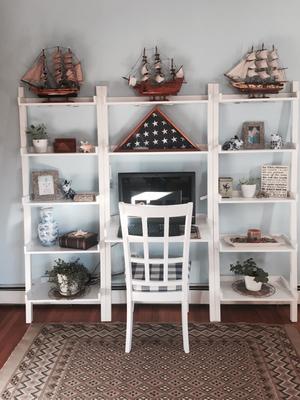 Rated

5

out of

5
 by
M1234
Very good!
Used in my toddlers room with some wooden storage cubes to hold his books. Worked out perfect! Not to hard to assemble.
February 4, 2015
Rated

5

out of

5
 by
Mocakes
Great looking piece
I bought this bookcase for a small section in our living room for pictures. It works perfectly and looks great. My only issue is putting it together. The instructions were clear, but it was a bit awkward at times trying to line the pieces up to screw everything together. I would buy this again for another room.
October 2, 2014
Rated

5

out of

5
 by
SAMNYC
Great piece!
Looks great in my room as an accent piece and storage. Was fairly easy to put together though I would suggest doing it with another person. It was tricky to do on my own since it leans - so the pieces don't fit at right angles. But it only took about half and hour and looks fantastic.
October 1, 2014
Rated

4

out of

5
 by
WestSeattleSteve
Great Value
Bought three of the units when they went on sale. They look great side-by-side in our home office and can hold considerably more weight than we anticipated. Putting them together is easy (~30 minutes each), and spare screws and dowels are provided in case you lose anything. Would highly recommend, especially when they are on sale.
September 10, 2014
Rated

5

out of

5
 by
Everygirl452
Desk Organization!
Recently, I had purchased this product to organize my room. I'm so glad that I did. It so much organized and neat in my room. Before, I had a huge wood desk that took too much space in the room. I wanted a desk that was smaller and condensed but still looked great. I had chosen the Linea model because it was space-saving and stylish. It was a the best purchase ever. I'm a POP! member so I received a $15.00 dollar discount. It was great!
July 31, 2014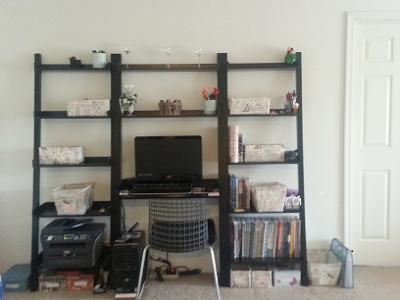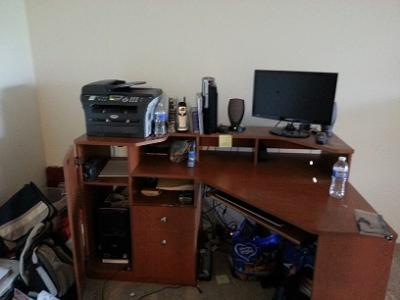 Rated

5

out of

5
 by
csnumber1fan
Great Bookcase for a Small Space!
This simple and attractive bookcase fits perfectly in a small wall space in my home office. It gives me a place to put things I love and also keeps my important papers within reach. I was pleasantly surprised to learn that two Stockholm desktop files fit side by side on the bottom shelf! This narrow bookcase holds way more than I thought it would. I purchased the regular Linea bookcase too and placed my elfa desk with bungee office chair between the two bookcases. It looks great and is functional too!
May 4, 2014
Rated

5

out of

5
 by
EricO
Excellent Low Profile Desk!
My fiancée and I bought this desk a few weeks ago because we were searching for ways to make a small room seem bigger. The bookshelves are easy to put together but the desk is a little difficult. When we bought it I questioned the sturdiness of the leaning desk concept but once assembled and setup I found that to no longer be a concern. I would recommend this to anybody who is looking maximize limited space, it was a worthwhile purchase.
May 4, 2014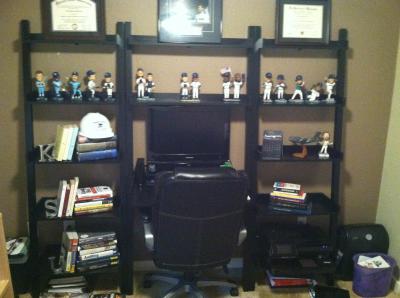 Rated

5

out of

5
 by
JFlip
Very Stable and Functional
Bought this shelf to hold my cookbooks in the kitchen. Turned out to be very stable and holds quite a number of books. I had a picture window that I didn't want to block but had very little area to put a shelf. The free-standing design occupies very little floor space yet does the job nicely. Liked that it came in white as it coordinates well with my crown molding & baseboard colors. Am happy I bought it.
April 30, 2014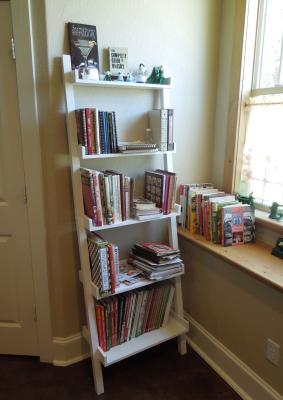 Rated

5

out of

5
 by
Holliday
Perfect simple desk
If you just need a simple desk for the living room for a laptop, then this is the perfect piece of furniture. It was pretty easy to assemble but will require two people.
April 27, 2014
Rated

5

out of

5
 by
delraybuddha
perfect!
This is the first thing I've ever put together by myself, but I did it! I was so proud of myself! It was really organized and I was so happy with the whole thing when it was done - I did the media center and the 2 bookcases. It fills out the wall and looks great!
April 25, 2014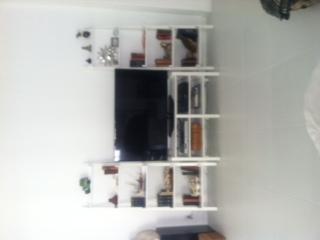 Rated

4

out of

5
 by
Hootie47
beautiful
I would have given this five stars except there is one step in the early part of assembly where I had to finagle a way to support the two parts of the legs and connect those to shelf "G," the center shelf. (I ended up turning the not-yet-assembled shelves into height supports to get the screws in properly aligned.) It is much easier to assemble this part with two people but overall the rest can easily be done alone. Additionally the instructions are clear, simple and virtually idiot-proof. I bought two, one for either side of our fireplace and they are sturdy and look gorgeous. What is also nice is that they don't overshadow the items that sit on them.
April 25, 2014
Rated

4

out of

5
 by
SOBrien
Good option for smaller room
This shelf offers the ability to have a way to display/store items without the bulkiness of a regular shelf. It appears more open and as if it takes up less room, good for a smaller room.
April 25, 2014
Rated

5

out of

5
 by
Holmengren
Just what I wanted
I purchased this for my home office, and it was just what I needed -- it can handle books as well as decorations, it is easy to assemble and move, and it looks great!
April 25, 2014
Rated

5

out of

5
 by
JanethePain
So many uses!
I bought this to put in my bathroom for towel storage. It looks great and works great! Great quality, but you may need two people to put it together.
April 2, 2014
Rated

5

out of

5
 by
JamieML18
Works for Anything and Everything
This product was easy to assemble and fits nicely in our kitchen. I am currently using the Linea Bookcase to store all of my baking supplies. Its large enough to store what I need, but also is small enough to put near an entryway and you won't run into it. The white went with our kitchen, but the Java is a nice color if you are going for the 'wood' look.
March 31, 2014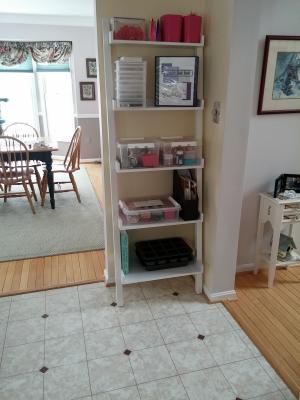 Rated

4

out of

5
 by
OrganizerStephanie
Stylish Bookcase
The Java Linea Leaning Bookcase is stylish, functional, and easy to clean. It's a nice and airy piece to place in an office or in a living room.
March 30, 2014
Rated

4

out of

5
 by
rduerr
Cute desk
Cute desk, nice clean lines, pretty easy to put together Only reason not 5 stars is desk tabletop is not the sturdiest if you lean down on it
March 15, 2014
Rated

5

out of

5
 by
coppertop
Best Purchase Ever
I bought two of these and the matching desk. I love the price and the quality and how they look. I am not handy and I was able to easily assemble them.
February 22, 2014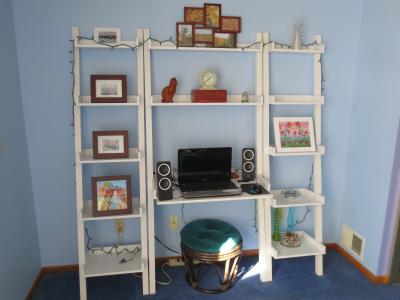 Rated

5

out of

5
 by
JKAL
Terrific shelf!
We bought this for my son's room and it is perfect. It looks clean and fits a ton of children's books.
February 18, 2014
Rated

5

out of

5
 by
Kusa
Helpful Holder
Remodeling a small dining room is a challenge, especially when it's the main entry point from the garage. This bookcase gives us a nice-looking place to put items when we walk in - keys, briefcases, sunglasses, mittens. A perfect solution for our space.
February 18, 2014