Rated

5

out of

5
 by
Starfox
Best little baskets ever
I bought an additional basket for each shelf for smaller items
August 25, 2016
Rated

3

out of

5
 by
OksanaTheOrganizerGuru
Eh.....
While being made from a sturdy material, this basket can be only used in conjunction with other pieces it needs to attach to.
April 7, 2015
Rated

5

out of

5
 by
LindaSews
Great for workroom
I use these in my sewing room. They hold items that I need frequently. I often put an entire project in one basket. That way I can grab each item as I need it. These are a perfect solution for what I do in my sewing room.
May 31, 2014
Rated

5

out of

5
 by
drfrn40
Great Purchase
Love these baskets to accessorize the InterMetro shelving. We are organizing the garage and love knowing that we can move this anywhere we go.
April 25, 2014
Rated

5

out of

5
 by
MikeC19
InterMetro Shelving
The InterMetro shelving and accessories are very easy to setup and are an excellent addition to any home. I needed to organize my Radio Controlled Helicopter collection and this was one of the smartest choices I've made to achieve that goal. Not only are they organized, but they are easy to see and look good sitting on the open shelves too. My wife is also very happy with the organization since they all used to completely cover the dining room table. I would recommend these shelve units for anyone who wants good quality shelving that look good, are very well built and durable.
December 4, 2013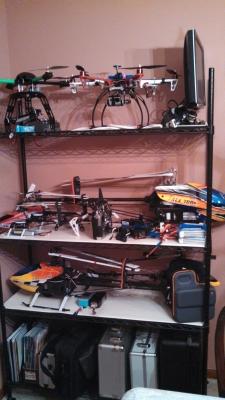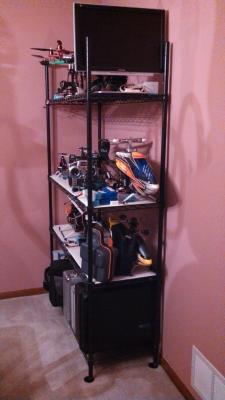 Rated

5

out of

5
 by
Momto2boys
Great for keeping organized
Love these baskets! I have a shelving system in our pantry and use several of these on the side and front of the unit to hold smaller items like snacks for my kids to grab on the go or even smaller items that would have gotten lost like packs of gum.
March 18, 2013
Rated

5

out of

5
 by
CBell
Great add-on!
Bought three of these in desperate needs of getting a pantry closet organized. They are perfect for all those oddball kitchen items like things in little packages or water bottles...definitely functional and useful!
March 16, 2013
Rated

5

out of

5
 by
renorose
Perfect
I added 4 storage baskets to the metro rack in my kitchen to store potatoes, onions, garlic, etc. They're plenty big enough to hold sufficient quantities and the design allows for good airflow. They're perfect for this purpose.
August 12, 2012
Rated

5

out of

5
 by
9500rebles
Perfect for a contemporary look
They are great for adding extra product on a movable cart, or on shelving in pantry...
April 8, 2012
Rated

5

out of

5
 by
beckz
Simple Concept, Perfect Accessory
This storage basket is a perfect addition to the Intermetro system. It's ideal for storing miscellaneous items that just don't seem to have a "home." I initially purchased one basket to store extra miscellaneous snacks and ended up buying another one to store bananas and fruit on the Intermetro baker's rack in our kitchen.
March 19, 2012
Rated

4

out of

5
 by
Verified Reviewer
Good Purchase
The basket is very roomy and extremely helpful for holding things that don't sit on the shelf well. I was disappointed that the basket doesn't fit on the side like the picture shows when you're using a 14" deep shelf.
August 19, 2011
Rated

5

out of

5
 by
RowB
InterMetro Storage Basket
Comes in handy, when you have the space on your unit. Very sturdy.
December 11, 2010
Rated

5

out of

5
 by
nirenyl
InterMetro Storage Basket
Nice, convenient storage in a pinch while trying to organize!
November 8, 2010
Rated

5

out of

5
 by
LWDESIGN
STURDY AND ADAPTABLE
I appreciate that this basket can be mounted to the front or side of the metro shelving unit, it allows for easy adaptability of the extra storage this basket provides. Of course, this basket is top quality with edges that are finished so they wont snag your clothing or other fabrics.
May 18, 2010
Rated

4

out of

5
 by
socio
Convenient option for small items
At my old apartment, I used the storage basket to supplement the ample shelving I had built using the InterMetro shelves. I stored lots of random things in here for easy reach and visibility... from fruit to garlic to tea to water bottles. After moving and repurposing my shelving unit to replace bookcases, the storage basket now is a convenient place for mail, papers to be reviewed/filed, hand lotion, folded reusable tote bags, and other things I want to keep handy but off my desk. I also use two InterMetro hooks along the bottom of the basket... one for me to hang my keys on and the other on which I hang a lantern.
April 27, 2010