Rated

3

out of

5
 by
ChrisM
Right size, doesn't stand up to heavy use
I just purchased these for the third time as they are the only container I have found to hold menu strips (18") at my store. While they fit the strips, they do not respond well to daily use. The latches and lock break easily and any rough handling results in cracks on the lids.
June 8, 2016
Rated

5

out of

5
 by
JoeNobody
Best of a crowded product space, and cost effectiv
These are a real value. They are robust, well thought out, easy to configure and alter configuration. The locking mechanisms are easy to work, yet stay closed until you want them opened. At <$20.00 each they are a tremendous bargain, others cost way more and deliver much less. Also, when stacked they NEST and stay nested. Stacking them on a shelf, they do not slide, wobble or shift in the stack, this is awesome. There is no gap between the lid when closed and the partitions, so, small parts don't self soft from internal pocket to another. You will not regret the purchase and anyone receiving these as a gift will thank you long after receiving tehm.
March 22, 2015
Rated

5

out of

5
 by
rayzerli
Great organizing ......almost anything!
I love these parts drawers! They are useful for alot of my small screws and nails. There's plastic slot dividers so you can basically create the space you need to fit whatever you wish to put in. My son uses it to put his Lego figurines neatly and the see-thru design makes it easy for you to know what they are. They stack well and you can attach some labels to indicate what they are. They are also quite sturdy and not break if it drops. Hope this helps!
March 16, 2015
Rated

5

out of

5
 by
Goldencore
Made me love my husband again!
My husband is a jack of all trades and works in maintenance. Consequentially, he always has nuts, bolts, screws, end caps, nails, etc. in his pockets, which he would routinely empty in places all over the house. Having these organizers in strategically placed areas in the house has given him an organized way of dumping them. Now my house is free of this clutter and he doesn't have to rummage through a pile to find what he needs.
April 26, 2014
Rated

5

out of

5
 by
Heron
Very sturdy
I bought one of these to store my socket wrench sockets. Makes for a heavy load, but this organizer handles it well.
April 25, 2014
Rated

5

out of

5
 by
sljones
Great Versatile Organizing Tool
I bought these for lego storage. The kids enjoyed putting the pieces in and sorting them, unlike any other system we tried. Also easy to maintain because the kids can see through the top and know what is inside, and the handle makes it convenient for moving around the house or traveling while keeping everything in one place and contained. The dividers in other products do not stay in place so this ranks way higher in my book. Highly recommend!
April 25, 2014
Rated

5

out of

5
 by
DGibby
Love these!
Sturdy, multi-purpose. Locks tight! Stackable! Love that it has a handle.
April 25, 2014
Rated

5

out of

5
 by
poopytulips
Best find!
I've owned multiple sizes and I love them! I use it to store glitter jars. They are extremely durable and fit to the sizes I need. I've probably had some for almost 10 years and they look as good as they did when I bought them...minus all the glitter.
April 13, 2014
Rated

5

out of

5
 by
Caralila
Great for Legos
My son is really into organizing his legos, this is perfect!!
April 8, 2014
Rated

5

out of

5
 by
Sangokaku
Perfect for LEGO parts!
After years of digging through boxes of LEGOS to find just the right part, my husband and son decided to organize. We selected the large organizer and it works brilliantly. When you close the case, it seals each compartment. The cases are durable and portable. We had to go back for more!
April 3, 2014
Rated

5

out of

5
 by
rayledo
Husband loves this box
I purchased this for my husband to help him organize some pieces and parts that he has lying around and he keeps sending me back to get more boxes!
March 20, 2014
Rated

5

out of

5
 by
OnlineGMa
Perfect for Hot Wheels & Matchbox cars!
I purchased this for my grandson, Cooper. He brought his cars, track and connectors in a Ziploc bag. While at the store for another item, we found this. It held everything he brought, plus the new items we bought during his visit (of course). Plus he can see what is inside. He loves it, as did his parents. Fabulous!
February 26, 2014
Rated

5

out of

5
 by
Osgarola
Excellent Storage for my Dogs Treats!
I have purchased various items from The Container Store for my Dog Diego, i.e. container to wash Diego's paws, container to store his toys, container to store his food, plastic lids for food in a can, etc. However this organizer is his favorite because it stores his TREATS!!
February 22, 2014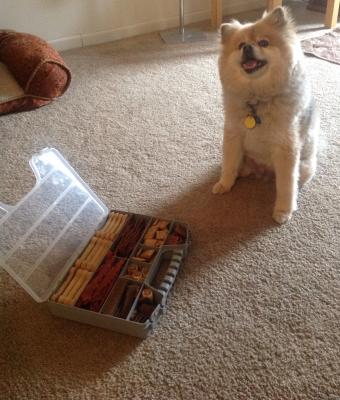 Rated

5

out of

5
 by
LoriLK
Great for Kids!
My son loves this organizer to get all of his Lego bricks in order. And it keeps them off the floor!
February 16, 2014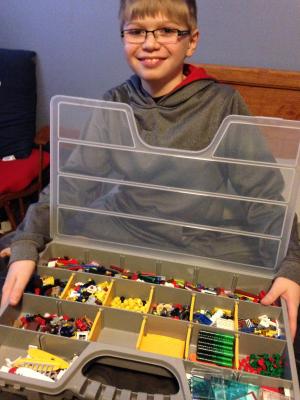 Rated

5

out of

5
 by
luvworship
Great organization!
I have so loved this parts organizer since I bought it. I use it for hardware--nails, screws, etc. Works just great! Sturdy and well-made.
February 15, 2014
Rated

5

out of

5
 by
threelittlebirds
Great For Loom Organization
This is the perfect organizer for our Rainbow Loom and supplies. Our boys each have one and the sturdy handle makes for easy transport.
November 28, 2013
Rated

4

out of

5
 by
momof4nj
Rainbow Loom Container
Using this as storage for rainbow loom and bands. Kids like it because they can store loom with lots of bands, but especially like it because it has a handle. A little bit pricey, but we figured we could use it for art supplies or legos as well. Very durable, nice construction.
October 26, 2013
Rated

5

out of

5
 by
Ginaba
Parts Organizer
This was the perfect answer to organizing my 10 year old's "Rainbow Loom" craft set. She could make the size compartments that she wanted, and she loves how sturdy it feels.
September 23, 2013
Rated

5

out of

5
 by
melron
Great Organizer
This organizer is exactly what I had been searching for to keep floral wire, picks, tape and tools in. Everything is now in one location!
September 10, 2013
Rated

5

out of

5
 by
baohst
Durable and effective way to transport samples
My boyfriend spotted this gem when we were trying to find a way to organize my samples and have them handy for my Avon business. This is absolutely perfect! I can carry practically everything I would need in one simple case. The items stay in their compartments pretty well, and the case has held up to a few times when I probably should have taken more than one trip from the car.
August 11, 2013
Rated

5

out of

5
 by
CaptainPaco
Great Item for my needs!
I use this for my hobby of customizing of Minimates. I have three of these and they are very durable. I like the many compartments and how you can make them larger or smaller depending upon what I am wanting to place in them. I wish I had two more of these and the next time I get to the Container Store I will get them. I believe this organizer will be perfect for anyone who has small parts they are wanting to keep in order.
June 24, 2013
Rated

5

out of

5
 by
Verified Reviewer
Perfect!
This box held all of my screws, nails and fasteners. When closed, everything is sealed tight and in its own compartments,
May 27, 2013
Rated

5

out of

5
 by
AprilMom
Perfect storage for Lego game!
I bought this for my brother because he needed a better solution for his Lego game. The game has a lot of pieces and playing cards, so the cardboard box that it came in wasn't containing everything without the use of many Ziploc bags. Instead, the medium size organizer was a better solution because of the custom dividers, snug-fitting lid, and built-in carrying handle for easy transport.
April 29, 2013
Rated

5

out of

5
 by
rattlhed
Great, strong, versitile
I decided to organize my nuts, bolts, screws in my garage to save space and make things easier to find. I needed a strong container that could be customizable for different sizes and quantities. This container is perfect. I purchased 2 of the large size, and they are exactly what I was looking for. The ability to customize the size of each compartment was perfect. The large container contains up to 20 individual compartments (18 small and 2 large) if you use all of the dividers. The dividers are strong and do not allow for spilling between compartments when the organizer is picked up, shaken, stored sideways, etc. These organizers are made of very strong plastic that can take the weight of being completely full of metal parts. If you're looking for a good way to store small misc items, these containers are perfect.
April 27, 2013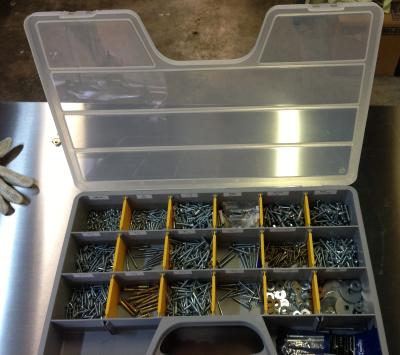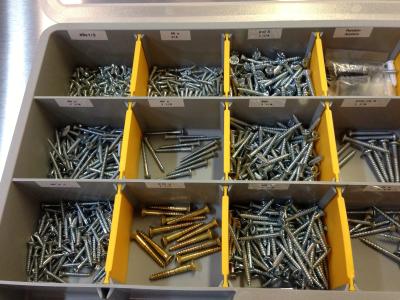 Rated

5

out of

5
 by
KnicKnack
My Junk Drawer Thanks You!
Who knew such a small item could help tame such an unruly space? The functionality of the Parts Organizers is a winner. All the loose screws, nuts , bolts and paperclips now each have its own little home in a compartment,which makes finding a piece when I need it so very easy. If I need to take the box to a worksite for a repair, the sturdy handle mades it a breeze.Happily, I can't call it my "junk" drawer any more!
April 26, 2013
Rated

4

out of

5
 by
Mimimi
Fits anywhere
I bought this to organize the nuts and bolts hanging around in little ziploc bags around my tool box. I bought the largest size available and it works great because I can store it standing up next to the tool box or laying down on top of it. Careful when you buy the item because many of them came cracked :S It makes me a little worried that the plastic may be easily cracked, since new items were like that, but it's still a great product and I don't plan to handle it a lot, so it works for me.
April 23, 2013
Rated

5

out of

5
 by
KellyH
Great for Legos
I bought a large one for my kids' small Lego pieces. It's sturdy and easy for the kids to organize the Lego parts by size/color. It's nice that they can carry it around by the handle.
March 20, 2013
Rated

4

out of

5
 by
jnita
better than a tackle box or a sewing kit; can stack
March 18, 2013
Rated

5

out of

5
 by
MamaMia
Best jewelry organizer ever!!!
I use these to organize all my jewelry! You can organize by color, or favorites, or by type of jewelry, like bracelets, rings, etc. They can be stacked on a shelf or tucked into a drawer. Using these organizers this way saves you time when searching for the perfect piece! So get organized and have fun doing it with The Container Stores Parts Organizers!
March 18, 2013
Rated

5

out of

5
 by
Finx
Great For Lego Parts
I bought this for my son who loves lego. We were able to sort out the body parts, heads, weapons, arms, hats etc and he can carry it around to a friends house in this box without anything getting mixed up - all small parts stay in place and can easily be found.
March 18, 2013