Rated

5

out of

5
 by
AngelaU84
Great purchase!
This is hanging in my bathroom and I love it! A great twist on the typical shelf - functional and decorative at the same time!
December 26, 2014
Rated

5

out of

5
 by
polevault
glass shelves
Great purchase. Clear, simple and clean looking. Strong and can hold solid weight as books and trophies.
April 28, 2014
Rated

4

out of

5
 by
JenniB
Excellent design and style
The only issue I have with this shelf is the installation instructions do not tell you what size drill bit to use nor what size wood screw is supplied so you have to guess.
April 2, 2014
Rated

4

out of

5
 by
liduck
Easy to install and classy style
This shelf was easy to install whether it's on a stud or a hollow wall. Once done, it's style is classy enough for any room in the house.
September 20, 2013
Rated

5

out of

5
 by
Sherlockian
When you get compliments on a shelf--full marks
Wanted to put some herbs in a window...but not enough room on the ledge, and surrounded by an odd shaped edging, couldn't put a shelf inside the window frame. So went online and spent time to find the best solution. One that is so lovely in the window, I got compliments on the shelf at an open house in the home! Holy cow. Husband said, it was relatively easy to mount--a big plus. Dissolves in winter when herbs die (too little light), and is virtually invisible. And just looks TERRIFIC. If I get carried away, might have to get a second shelf!
May 2, 2013
Rated

4

out of

5
 by
missobsessivecompulsive
Love this shelf!
I ordered this shelf after seeing one like it posted in a picture on Pinterest! (Oh yes ladies, you know the obsession I'm referring too!) So I went searching for this shelf because I really wanted one for my shower. I have a small stand-up only shower and I hate the caddy-like things that you can hang on your shower head.. So ordered this product and LOVE IT! It works perfectly! However, because my shower is small and the area I was hanging it was not easily accessible, the shelf was a little difficult to hang, but still very manageable! Just took a little longer than expected. I only give it four stars because the little rubber pieces that came with it to keep the glass in place were to thick. After fiddling with them for about an hour trying to get it to do right, I ended up just cutting them in half and sticking them back on. The glass slid into place much easier. Other than that, I love this shelf! This organization strategy for my shower was perfect!
April 5, 2013
Rated

4

out of

5
 by
Mcgee
Very nice
Its a very nice combination that's adds a nice touch to any room
February 19, 2013
Rated

4

out of

5
 by
User5910
Well designed, good materials
The mounting system and materials are top notch. My only caveat is that the metal brackets that hold the shelves are larger than they need to be for the glass shelves and two shims are provided for each one. With both shims in I could not fit the bracket over the shelf. Options are a) make the shim thinner, b) leave one off (then the bracket is crooked on the shelf.
December 6, 2012
Rated

5

out of

5
 by
Pluffy
I Love these shelves!
Awesome shelves at a great price and they were shipped to me promptly. I purchased 2 of these to hang in my bathroom and I am thrilled at the way they look! They were also really easy to hangâ¿¿despite the directions which were lacking in direction.
October 14, 2012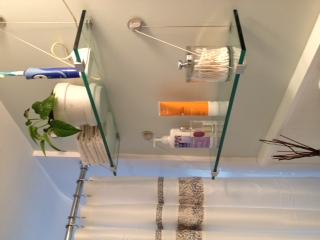 Rated

5

out of

5
 by
Tanya984
High-quality, chic shelf!
Beautiful, clean lines, quality construction - just to name a few things that make this shelf so wonderful! I bought one for my son's room as well as for my daughter's room and it literally goes with any decor. I love this shelf.
February 29, 2012
Rated

3

out of

5
 by
ghk131
Glass Shelf
I originally bought what I thought was two shelves at the Raleigh store. The box showed two shelves, so I was surprised when there was only one in the box. I ordered the second online; shipping was relatively easy and relatively fast.
December 29, 2011
Rated

5

out of

5
 by
stef0406
glass shelf
I'm very pleased with this purchase. I was hesitant to buy it because I thought if may be flimsy. In actuality, it is very sturdy, plus it is a great decorative piece in my new bathroom. It is functional, yet fashionable.
October 2, 2011
Rated

5

out of

5
 by
Verified Reviewer
Excellent Product!
We bought two of these shelves two years ago and ended up absolutely loving them. We have a small home office and was having a hard time finding decorative shelving that could bear heavy weight. Most wooden shelves can not hold a lot of weight. We use these shelves for primarily holding books and they've held up well along the years. Recently we purchased an additional one for our office and we love it. The only issue you probably need to be aware about is that the hardware that it comes with assumes you are mounting onto wood studs. We could only mount right on drywall which required us to use "mollys" that we had to go out and buy. Other than that the shelving is great!
January 22, 2010