Rated

5

out of

5
 by
RolyR
Versatile!
My husband and I sit in two chairs separated by a walkway, so we can't put an end table between us. It's so nice to have something little and out-of-the-way to still put our cups and remotes, and sometimes reading material, on. When guests come over and we aren't using them, we put them together at the end of a different couch. I also think I may steal them and use them for nightstands in my small guest room. We haven't yet used them for our laptops. I think there are endless ways to use these! The color is modern and easy to match. One thing we didn't know is that it has distress marks, which we thought were scratches at first. Something to be aware of if that bothers you.
January 16, 2017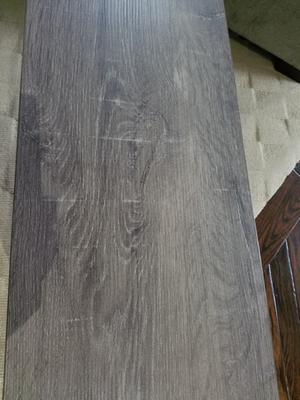 Rated

5

out of

5
 by
Kseaq
Love!
This table is awesome! We didn't want a large coffee table to we opted for this. We are thinking about getting another one we like it so much. It was very easy to put together and looks great! Highly recommend.
December 15, 2016
Rated

5

out of

5
 by
jbmom
great table
bought 2 of these to replace using TV trays - these are much better, love that they can be slid under the couch or our ottoman. Several people have come over and complimented them and wondered where I got them. Love these tables
October 9, 2016
Rated

4

out of

5
 by
joymac
C table
great price for a laptop table. cant beat it. Very easy to put together. Stable. Will be curious to see how durable the table top surface is with scratching, etc.
February 22, 2016
Rated

5

out of

5
 by
Notarobot
Great price for quality
Cheapest C table I've found. Sturdy and beautiful. The table is narrow but fits perfectly next to my sofa. Why spend over 100 or 200 on others, when you can get the same desired look for a fraction of the cost
January 14, 2016
Rated

5

out of

5
 by
LadyLynnie
Great product!
I gave these to my elderly mother and her sister for Christmas, and the love them! They use them for meals, and keeping things close at hand. Easily slide out of the way when not in use. Would also be handy bedside. Highest recommendation !
January 1, 2016
Rated

5

out of

5
 by
BunsenBoone
Exactly What I Was Looking For
I searched for a C-table for a long time but the ones I found were either too expensive, unattractive or very cheaply made... This C-table is affordable, simple, attractive and sturdy. I would suggest to anyone looking for a C-table!
December 30, 2015
Rated

5

out of

5
 by
CFunk
Great addition
This was shorter than I expected (I wasn't paying attention to the measurements) and I can't use it as I had intended, but it works pretty well in my space. It took about 5 minutes to assemble, is sturdy, and fits perfectly tucked into my sofa for extra surface space. I can use it with my laptop comfortably, although probably not for a long period of time as I am a bit hunched over when doing so. I'm happy with the look, style, and function!
December 12, 2015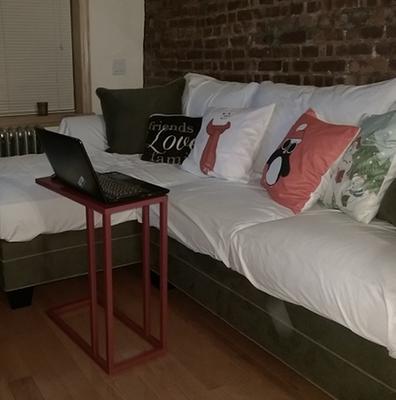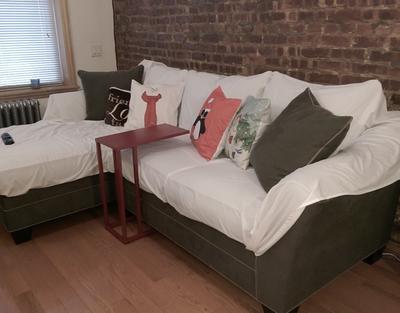 Rated

5

out of

5
 by
J0728
Great FIt
Great size and style for a small space. Love the color and the versatility of the table.
June 28, 2015
Rated

5

out of

5
 by
moonstarz930
Love this "C" table
I needed a small table that I could pull up to my sofa. I recently moved and due to the design of the room I could not reach the coffee table. The "C" table is perfect. Sturdy, portable, and tasteful. LOVE IT!
February 2, 2015
Rated

5

out of

5
 by
Gemina
Great Purchase
I ordered 2 of these to be shipped to me in Canada and I'm very happy with them. As my first purchase from the Container Store, I was a little apprehensive, but I'm very happy with how it all turned out. The tables are very nice quality. They have a nice looking finish and they're quite sturdy. Since I got them on sale, even after exchange, shipping and border costs, it was still cheaper to order 2 of these than it would have been to pick up 1 similar item around here (which is exceptionally rare to find when ordering from the US to Canada - we usually get gouged on shipping and additional charges, so much so that once you see it all added up in your cart, you realize it's not worth it). I would definitely recommend purchasing this table if you're thinking about it! Great value for the money.
November 3, 2014
Rated

5

out of

5
 by
deb2
Absolutely perfect!
Love, love, love the anthracite C-table. It's handsome, sturdy, and practical. I've seen other C-tables which are 'wobbly' and likely to tip .... this table is SOLID. It's wonderful for my laptop, but is also used by guests for drinks and snacks. I bought a second for a friend as a Christmas gift after she raved about mine.
October 26, 2014
Rated

5

out of

5
 by
GeriM
C-Table - Anthracite
I love this table - I'm living in a small NY apartment and have a tiny bedroom. This table slide easily between the bed and window and allows me room for my laptop, books or coffee. Great purchase!!!
October 22, 2014
Rated

5

out of

5
 by
ScottE
Practical, Solid and Appealling
I am very pleased with this C-table. I bought it to use with the glider on my covered outdoor porch. I looked at quite a few and most were poorly made and unstable (wobbly) junk.This particular C-table is VERY solid and very well made. Nice finishes! It It looks great, too! Assembly was a breeze!
August 2, 2014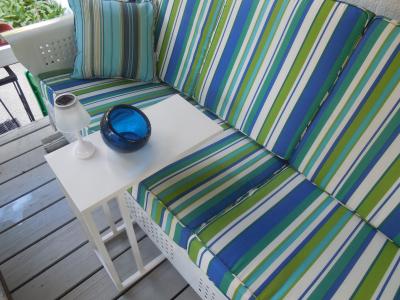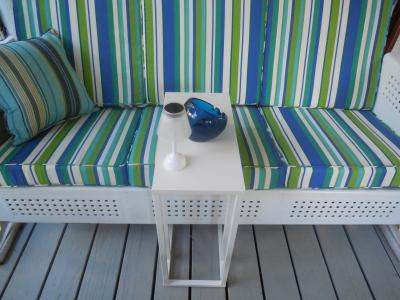 Rated

5

out of

5
 by
Linnea
Sleek design, great value!
I love this table! Its sleek and no-nonsense design makes it a wonderful fit with many other pieces of my furniture, and it works great as both a side table and a kind of makeshift desk while sitting on the couch (because it can be rotated to slide under my couch and be perpendicular). Basically: great value and very flexible design!
April 25, 2014
Rated

5

out of

5
 by
Neecholay
Perfect side tables
These little tables are sleek and quite sturdy. They're very easy to assemble and work great next to a couch.
April 14, 2014
Rated

5

out of

5
 by
OrganizingGenie
Awesome side table!
I bought this to complete my work station and I love it!!! I use 2 laptops and keep one on my desk and a second one on this table. Also when not in use, it slides under my desk for easy out of the way storage. This is an extremely useful and versatile addition to my work space.
April 12, 2014
Rated

5

out of

5
 by
Alowicious80
C-Table with an "A+" Rating!
Great table! Perfect size with modern styling. Very easy to assemble and very sturdy! The price is also great! Half the price of many similar tables from different websites.
March 29, 2014
Rated

4

out of

5
 by
Stankyweasel
Puts together in minutes. Very nice quality for the $. Great multifunctional piece of furniture.
March 24, 2014
Rated

5

out of

5
 by
megsk702
Great little table
I bought this to fill a space temporarily, knowing that it's so versatile I'll easily be able to deploy it elsewhere when I find something permanent. I might just keep it where it is! Very attractive and sturdy - and the price is so great! Similar items go for $150-250 at home decor stores. Couldn't be happier!
February 14, 2014
Rated

5

out of

5
 by
julia726
Great buy
This is the handiest little table in my house. It gets moved from room to room. It is best for my laptop. But is used for snack in the den while watching tv. It was a great snack table for our superbowl party. I wish I had more. I will have more, because I am purchasing two more! They are great.
February 4, 2014
Rated

5

out of

5
 by
BusyBeaver
Great table
Just bought a sectional for our new family room and realized how difficult it is to sit in the very comfy corners without an end table available for a glass or cup of coffee. Picked uo the C-table while I was in the store waiting for my Elfa purchase. I LOVE the table. It is perfect for the sectional. Also very sturdy and the color is great. I may even buy another one for the other corner.
January 22, 2014
Rated

5

out of

5
 by
dsloss
Nice Product
Product was delivered VERY quickly. It was simple to put together (no tools required beyond what was provided!). It also looks very nice and appears to be very sturdy. This is just as I expected.
October 30, 2013
Rated

5

out of

5
 by
pspsps
Great little table
Been looking for a C table for quite a long time. Good quality, nice color and excellent value. Put it together in less then 5 minutes, everything included.
October 28, 2013
Rated

5

out of

5
 by
elbeeny
Excellent Value
I bought the red one and when I put it together it did not align properly: the top and bottom were not lined up. I took it apart and brought it back to the store for a replacement. No complaints about the new one. It looks great next to my couch in my studio apartment. What a great value for just $49.
October 27, 2013
Rated

3

out of

5
 by
af23
Red finish is not durable
I was happy wit this until I got one drop of water on the table and watched the paint run. Table also go a few light scratches from have books, papers, laptop on it. This is not they type of table I am will to baby, so I returned it. Also, it was a bit low and uncomfortable to type or eat on.
October 14, 2013
Rated

3

out of

5
 by
IWillLive
Small but useful
I purchased this product to while recovering from surgery. I was hoping it would be tall enough to serve as a table top while sitting in bed or on the couch. I didn't pay close attention to the dimension, but it is very short. I thought about returning it, but decided to use it as a table when laying at the bottom of the bed. The table also had a few in perfection on the table top. My husband had no problem putting it together, it took less than 15 min.
October 13, 2013
Rated

5

out of

5
 by
Momto2boys
Love this table!
This table is so versatile! Not only does it look great...modern and sleek, but it also is so useable due to its portability. We keep it next to one side of a sectional where space is tight. Because the table is narrow, it works perfectly where most side tables would not. I move it over in front of the couch when I need a table (while doing paperwork, having a snack, etc) and move it back when I'm done. Love it!
October 13, 2013
Rated

5

out of

5
 by
camper1718
C Table
Love it, the price was right, puts together in a flash, looks so great
October 3, 2013
Rated

5

out of

5
 by
Wallymom
LOVE LOVE this table
I had been looking for a small table less than 11" wide to fit next to a couch. This was the perfect fit. Bought the white and love the way it looks. It is well made and sturdy. Best small c-table out there. The price was perfect. Highly recommend!!
September 24, 2013