Rated

4

out of

5
 by
DIY1980
Great desk - super messy assembly
I bought one, loved it so much so I bought another. Plain and beautiful design, very durable. I give it 4 stars instead of 5 due to the fact that both times I opened the box, it's full of broken styrofoam. Both times I spent more time cleaning up the mess it left behind than assembling the desk itself. Assembly is a breeze but does require 2 people to flip it once it's complete.
January 24, 2017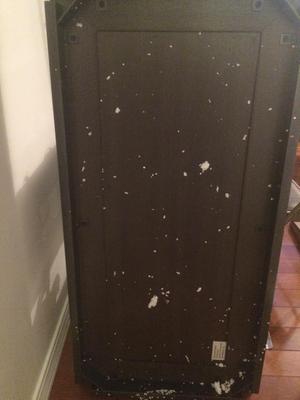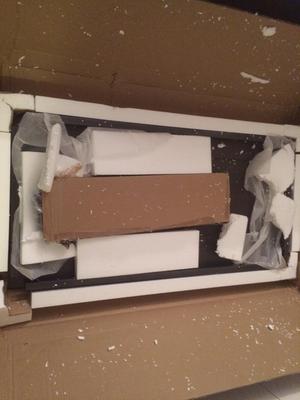 Rated

5

out of

5
 by
Organizer54321
Organizer
Desk is very sturdy. Purchased it for a parent. It is just the right size - not too big. Perfect for one person. The box weighs 57 pounds. Best to purchase online if you don't want to transport it yourself.
January 23, 2017
Rated

4

out of

5
 by
goldenrod
Contemporary Desk
I purchased this because of the clean lines and simplistic look. It is very well made. The whole top is incorporated into the steel so the top if heavy. Just screw on the legs and you are good to go. I had to return one since the finish on the top was blemished but I asked them to check the next one and they happily opened up the box to make sure no blemishes.
September 18, 2016
Rated

5

out of

5
 by
BennyS
Easy Assembly
Product was easy to assemble, and can easily be moved.
February 27, 2016
Rated

5

out of

5
 by
reggito3
in LOVE with this table
Was on the search for a mid-size desk for our guest room/office - this perfectly fit the bill! Also used their order online, pick up in store service and the guy helping me did a terrific job getting rid of the box and styrofoam for me so I just needed to bring home the table!
January 14, 2016
Rated

5

out of

5
 by
Contentcustomer
Great Quality for the Price
I purchased this desk to add to my living room furniture. I wanted an oversize desk that can accommodate more than one piece of electronic ware without forming any clutter. I ordered the desk online and selected in-store pick up. The desk was delivered to the store as scheduled - no delays. When I went to pick it up from the store the staff was extremely helpful and courteous and even helped fit the desk in my trunk. The desk blends in perfectly with the rest of my furniture and is of great quality for the buck you pay for it. I would highly recommend the oversize Driftwood Parsons Desk!
May 5, 2015
Rated

5

out of

5
 by
Paisleydal
Driftwood Parsons Desk
I looked for a long time for a well made, affordable desk with a large work surface. I finally found the large sized Parsons Desk and am very happy with it. It arrived on schedule, was easy to pick up at the store, well packaged, and easy to assemble. It's attractive, well made and very sturdy - exactly what I was looking for. Thank you!
January 7, 2015
Rated

5

out of

5
 by
rcf17
Simple and Elegant
I bought this desk for a studio apartment and I've really enjoyed using it. I didn't think The Container Store even sold desks, but once I saw it, I just had to have it. I waited for the price to drop and was able to get it for $150. It looks modern and is very easy to put together. Overall, I'm very satisfied with the purchase and would highly recommend this desk to anyone.
September 12, 2014
Rated

5

out of

5
 by
Berny
Wonderful table!
I ordered this table to use for sewing. It's large size is great for cutting-out patterns and fabric, as well as piecing quilt tops. It's extremely sturdy, really good-looking, and took only ten minutes to attach the legs. It would also function well as a desk, computer table, or even a dining table -- it's THAT nice. You can't beat the price, either. I highly recommend this terrific table.
June 23, 2014
Rated

5

out of

5
 by
eightozs
Best Purchase Ever
The desk is perfect all around. The desk is super stable for my printer and my two drawer cabinet fits right underneath.
April 21, 2014
Rated

5

out of

5
 by
DeannaD
Love my Driftwood Parsons Desk
The Driftwood Parsons desk looks much more elegant and expensive in the home than it does on the retail floor. I love the driftwood color and the clean, modernist lines. It looks like a piece from a high-end furniture company. My home office is in a small landing/loft area which can look cramped and cluttered when equipped with traditional furnishings. The Parsons desk opens up the space and makes it feel lighter. I am incredibly pleased with it. The Parsons desk is heavy so you may have some difficulty transporting it. It is packed extraordinarily well so you should receive it without dings or scratches. Assembly is a breeze.
February 12, 2014
Rated

5

out of

5
 by
davidintexas
Excellent option
I purchased the Parsons desk after viewing the Container Store options in store. This is the sturdiest desk that was available for viewing. No wobbling legs at all! To my delight, assembly was extraordinarily simple. A matter of 8 screws using an Allen wrench. Recommend without reservation.
February 11, 2014
Rated

5

out of

5
 by
hrohrer
High quality
This desk is made with very good materials and fits just right in smaller areas.
January 23, 2014
Rated

3

out of

5
 by
Jumes
Overall decent. Has a crooked leg.
I bought this to use as a desk. Overall it's sturdy and serves its purpose well. However, one of the legs is slightly crooked. It bends ever so slightly (I measured 1/4 inch) underneath the table. Not a big deal, but noticeable if you look closely, and I wonder if it lessens its overall stability. A fine table, but I expected straighter legs for the price. I imagine I just got unlucky.
December 20, 2013
Rated

5

out of

5
 by
Minka
Nice llooking desk. Clean lines. Good size. Very functional.
October 30, 2013
Rated

5

out of

5
 by
containerliker
Love this desk
we needed a simple solution for our home office and saw the sale on the parsons desk. we ordered it based on look (clean, simple) but really feel in love with it when we got it home...btw, ordered it on line for in store pick up which was very easy and convenient. put it together in a couple of minutes and the solid, sturdy feel made it even more attractive. while it has a contemporary look it fit in perfectly with our more rustic side pieces and artwork.
October 23, 2013
Rated

5

out of

5
 by
Neshema
Very Nice Desk
I've been looking for a desk for the kids' room for a very long time. This desk (small size) fits perfectly in the room. It's simple, classic and love the clean lines. Perfect for laptop and tablet users. Absolutely love the color!
October 1, 2013
Rated

5

out of

5
 by
GiantSteve
Excellent Desk
I ordered two desks and have them arranged next to each other to create a very long office work surface. The desks are wonderfully sturdy and stable. Assembly was a breeze and the instructions were well written. The desks look much better in person than in pictures. Considering their understated good looks, sturdy functional work surfaces and very reasonable price these desks are a great value. Highly recommended.
September 29, 2013
Rated

5

out of

5
 by
RayJan
Great desk
Was looking for a parson table desk and this fits the bill. Nice clean lines and the desk is extremely solid. No wobble when you write or push back. Plenty of space for computer and other "stuff." Price on sale was terrific and used the ship to store option. Do want to say box is heavy so you will need two people to carry it from your car.
September 12, 2013
Rated

5

out of

5
 by
sportygrlSD21
LOVE it!
I have been looking everywhere for a nice sturdy desk and NOTHING compares to this Driftwood Parsons Desk. This is perfectly made! Very easy assembly, sturdy, and solid! All the tools needed to assemble is included in the box. No need to worry. You can practically use this table for anything, but I mainly use it for my home office. I purchased this during the elfa sale and couldn't be much happier. I promise you, you won't be disappointed with this product.
September 9, 2013
Rated

5

out of

5
 by
Domer
Great, Sturdy Desk
All around this is a great desk. The build construction is very good, and when assembled the desk is incredibly sturdy. I use it as a computer desk and there's plenty of room for the monitor, keyboard, and mouse with still room to spare to work. Well worth the money.
May 5, 2013
Rated

5

out of

5
 by
MumblySam
Fantastic desk
I looked all over for a table/desk. Not only is this one well made, it was exactly what I was looking for. Shipped very quickly. Had one little problem with it, and the customer service I received was amazing. Never has a company done so much to make a customer happy. I am definitely a customer for life now.
April 12, 2013
Rated

5

out of

5
 by
WorkingMom2013
Solid work surface for adults or kids
The Driftwood Parsons Desk is what I've been looking for, for a LONG time. Finally, our family room has the perfect surface for kids to do homework on; to use the computer on; and for me to use when working from home. The height is just right and it is sturdy and stable and it's not shaky or rickety like the desk I bought my daughter just 2 months ago for Christmas for her bedroom (from somewhere else)! This table/desk is a great value. I'm trying to decide if we should get a 2nd one, so that each child has their own to use simultaneously,. We love it!
March 7, 2013
Rated

5

out of

5
 by
Saben
Works Great as a Kitchen Table
I use this as a kitchen table. Its easy to wipe clean, the perfect size and was a cinch to assemble.
February 18, 2013
Rated

5

out of

5
 by
SloanBordeaux
Perfect Desk for a NYC Apartment
We bought two of these desks to create a large working table for 2 people. They are incredibly sturdy with surfaces that won't easily scratch. We use the space for media storage, dining, crafting, and office work. It truly is perfect for anything!
January 20, 2013
Rated

5

out of

5
 by
EdVantage
Love this desk
Great quality, easy assembly, looks fab, sturdy & solid
December 21, 2012
Rated

5

out of

5
 by
Rusmom
Perfect Desk
I purchased the small desk and it is perfect for my home office. Assembly was incredibly easy.
November 6, 2012
Rated

5

out of

5
 by
Candace42
Hip, contemporary desk - great value
I purchased the small size of this desk and really love it. My husband loved it too so I purchased one for him for his birthday. I did some competitive shopping for parsons desks and this one came out to be a great value especially if you purchase it during the elfa sale. The desk is on the small side but works well for a laptop and a couple desk accessories.
October 31, 2012
Rated

5

out of

5
 by
yogamomto3
stylish durable desk - highly recommended
I bought this Parsons desk a year ago in the larger 60x30 size for my kids to do their homework. It was so easy to put together and has been so durable through homework, projects, eating, game-playing, everything. In fact it still looks brand new and is extremely scratch-resistant as the top is like a laminate. The base is also heavy duty charcoal steel gray. This would also make a lovely modern dining room table too. I have chairs on one side and a bench on the other with plenty of room for up to 6 people if needed. At this sale price, it's a great deal
September 5, 2012