Rated

5

out of

5
 by
NYC10468
I am still in awe...
I must say that I am still in awe of this product. It has been the best purchase that I have made in a while. Our issues of space are not simple in NYC, but this product helped me quickly organize all my books and do-dads while maintaining its amazing look.
April 16, 2013
Rated

5

out of

5
 by
Featherfun
form AND function
Love how much this holds and still doesn't swallow-up the room. Easy assembly, can be done by one person. Looks great and flexible arrangements to meet changing needs.
September 14, 2016
Rated

5

out of

5
 by
hope01
Classy Shelves
The shelves were a perfect fit for my small room. Easy to assemble!! With all the shelves, I was able to display my decorative pieces and books. I still have space to add additional pieces. The storage boxes were great to hide files and paperwork. The shelves made my room look classy. I recommend this item for anyone looking for shelves.
March 22, 2015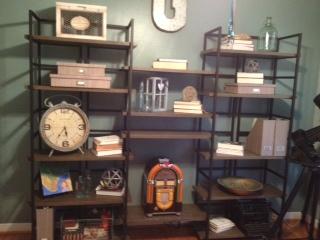 Rated

4

out of

5
 by
Coloradop
Worth it
These shelves fit my space perfectly and look elegant and I love the flexible layout, especially if we move and have different-sized space. Only caution is be gentle w the driftwood shelves. Behind the veneer is fiberboard. They're not as solid as they seem. But if you're gentle, they look very classy.
April 25, 2014
Rated

4

out of

5
 by
deezee
Flexible and affordable!
The metal uprights can be used in a variety of directions and combinations. The shelves are solid, weighty and fit on the uprights well. I love the flexibility of being able to move the shelves to different rungs and connect the uprights however I want without having to worry about fiddly littleshelf attachments!
October 28, 2013
Rated

5

out of

5
 by
happilyorganized
Great quality and versatility
We purchased Connections shelving for our living room. The quality of the product is excellent making it appear to be a much pricier product. It's easy to set up and move around which makes it very versatile for any room.
April 26, 2013
Rated

5

out of

5
 by
bluesgal
Driftwood Shelving - beauty and functionaltiy!
We love this shelving system! The multiple shelf bars allow you to customize the shelving arrangement to accommodate tall or short items and the grooves on the shelf undersides securely lock the uprights in place so no tipping or leaning worries. The shelving itself is study enough to hold our heavy, fine art books without bowing under the weight. Sleek, contemporary and flexible. It's the best!
March 25, 2013
Rated

5

out of

5
 by
angelfam
Great Purchase Ever
Very easy to install, color is awesome and many different ways to set it up!
March 18, 2013
Rated

5

out of

5
 by
tmw925
Versatile eye candy
This system stopped me in my tracks when I saw it at the store. In my white-walled apartment, it's a great contrast and an interesting focal point. With the shelves at different heights to accommodate books and a few display pieces, it adds both storage and beauty to an empty wall. It could not be easier to assemble...just place the shelves on the desired crossbar. One caveat: you may well want to buy MORE pieces once you've established your first setting!
March 18, 2013
Rated

5

out of

5
 by
Bookfan
Great shelving - holds up
Bought it for the simple beauty, loved it for it's strength. I use it for all of my books from school and my personal library. These shelves have held up for a few years to my abuse, and trust me when I say I abuse these shelves. They are currently holding about 20 text books per shelf and there is no bowing or evidence of strain. My husband and I are talking about my shelving and the entertainment center for our living room.
March 18, 2013
Rated

5

out of

5
 by
1guy
best shelving solution ever!
I love this shelving! it's easy to work with & very versatile.
February 25, 2013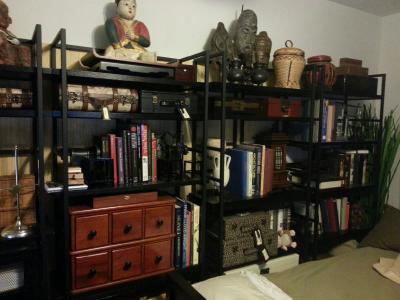 Rated

5

out of

5
 by
Peace
Great shelving unit
I purchased this for my computer area and for my library. Very solid piece of furniture. Well built. Easy to put together. Works great. Fits areas that really aren't big enough for a desk but serves the same function with the computer.
April 27, 2012
Rated

5

out of

5
 by
tangerine555
Very Sturdy and Good Quality
This shelving system is very easy to assemble and is extremely strong. It is quite suitable for me because I own stacks and stacks and stacks of books that needed easy shelving. The ebony finish looks very appealing and the bookcases themselves don't jut out very much which is helpful because the hallways in my house are narrow. I think it looks best in a contemporary setting and works well with my other modern furniture. Overall, it was a great buy that works well with my home.
March 20, 2012
Rated

5

out of

5
 by
applehead1
My Wonderful Library
The Connections Library Shelving system is one of best ideas ever. The sleek, simple design might be a traditional Asian one, but it goes with almost every furniture period. It is so sturdy, that not even one book moved during last summer's east coast earthquake. The lines are so clean, that even with four sets of shelves in the bedroom, the room doesn't look crowded. If you are as avid a reader as I am, I would highly recommend this system.
March 19, 2012
Rated

5

out of

5
 by
SCBarnes1163
Love these shelves
We were looking for a solution to a cramped office space that would allow us a little bit of clearance to store some totes on the bottom shelf. The Connections shelving allowed us to adjust the height of the bottom shelf as high as we needed. I really loved the modern feel of these shelves too.
March 19, 2012
Rated

5

out of

5
 by
NYCgal428
After much thought and comparison
After shopping around and comparing prices, quality and overall aesthetic appeal, I purchased the Connections unit and I am so glad I did. Not only did it update my wall and living space, it added amazing storage and versatility. I love the fact I can place the shelving in any rung and accommodate my personal things. I purchased the desk, the entainment shelves and the third section. My living space is no longer cluttered nor mismatched. Michelle at the White Plains store was not only knowledgeable about the product, the measurements and found for me some sale items, but she was also friendly and helpful. HIghly recommend this product - you won't be disappointed if you get it.
July 15, 2011
Rated

5

out of

5
 by
Moreley
Connections Shelving - A*
The Connections Shelving units look great in my living room! The shelves are heavy duty and easy to put together -- no tools required. Thank you for helping me get organized!
April 26, 2011
Rated

5

out of

5
 by
Melylu
Great shelving solution
I really love this shelving system. Its perfect for open storage, but not great if you want closed/hidden storage. My hubby and I were looking for a wall unit that would hold our small TV and our desk top computer and all the components, along one wall in our small apartment. This was the only solution we could find that would give us both -and we love it! My hubby loves how sturdy it is and easy to assemble (no assembly, really) Just stand the uprights 29 inches apart and place a shelf on the rungs! The shelf locks into place and the whole thing is ready. My only complaint is that you can see all the wires, cables etc, that are behind the shelves; no way to hide them unless you have baskets or books or something to place on shelves to hide them.
October 17, 2010
Rated

5

out of

5
 by
lululicious
The best solution
its perfect, enough space for books and more. Extremely easy to assemble (nothing but the product required) stridy and elegant!!! AMAZING!!!
May 17, 2010
Rated

5

out of

5
 by
CAPIONTAYHAS
GREAT connection with Connections Shelving
I agree that the shelves are wonderful due to the various configurations that are possible. A great choice with solid and sturdy shelves. The service at the Container Store is superb.
May 17, 2010
Rated

5

out of

5
 by
Nick
Great shelves, great service
These are wonderful shelves, the different configerations make them extra special. They are solid and sturdy, and fill any space well. We did have to buy a few extra shelves because they looked sparce with the original 10, but if you search online you can find 20percent off coupons, which make the shelves even cheaper. The service at the container store was excellent, as always.
March 3, 2010