Rated

5

out of

5
 by
BriscosMom
Perfect Fit
I bought this to use in our camper cupboard, and it fit perfectly. I love that's it's light weight, but still sturdy
June 1, 2016
Rated

5

out of

5
 by
AnonymousPA
Perfect for Freezer
My new freezer needed organization and this shelf fit perfectly on the existing shelf, next to the ice-maker bin.
September 2, 2014
Rated

5

out of

5
 by
1926
Good enough to repeat
I ordered one of these racks for my kitchen cabinet, and I was so well satisfied with it that I ordered two more. They are well made and are everything the description and claims.
May 30, 2014
Rated

5

out of

5
 by
ldgtreke4
fantastic!
Love this shelf! I bought it because my flat screen tv was sitting too low on my entertainment center. It was the perfect size & shape. It looks great, is sturdy & LOVE that the top of shelf is flat! Works great! I will be buying more of these! Now I can fit the cable box underneath! Worked out great!
February 22, 2014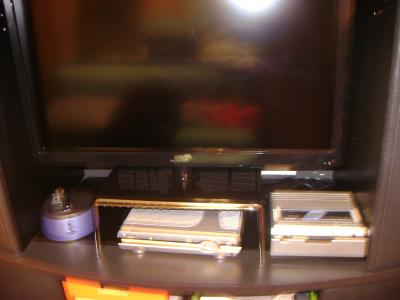 Rated

5

out of

5
 by
skiMomof3
functional, looks great
This product looks great in my cabinets. Really allows me to maximize the useable space and storage -- so important in a small apartment!
February 3, 2014
Rated

4

out of

5
 by
walkingwoman
wish it was an inch or more taller
I like that the wires are flat and that there is a lip in the back to catch anything. I wish it was an inch or more taller. I can't get all of my one set of plates underneath.
August 18, 2013
Rated

5

out of

5
 by
Angelitos
Fantastic Shelf
I re-organized my shelves and purchase several of the chrome cubboard shelves - they are fantastic! no tools needed, just take out of the bag, place in the cabinet and get busy organizing! No more huge stacks of dishes and I can now use so much more space that was not been utilized in my cabinets. I went back a second time and purchased more chrome shelves to re-do all my cabinets! Fantastic item! great quality and good price.
April 26, 2013
Rated

5

out of

5
 by
Epray
Great Expansion of Shelf Space
I can now put all of my coffee mugs securely in half the space! These shelves are attractive,strudy, and truly doubled my storage space!
March 22, 2013
Rated

5

out of

5
 by
bcl17
double the space
This is working great for my coffee mugs. I can now fit all of my mugs together in one space.
March 21, 2013
Rated

5

out of

5
 by
teacher96081
Teacher
I have two of these in my classroom. One on my deskt and one on a shelf. These are the best organizers ever! They don't take up any room and they are high enough.
March 19, 2013
Rated

5

out of

5
 by
Neet
more space--wow
After living in this house for 33 years, I got new cabinets. The cabinet maker put a huge cabinet over the refrigerator. I added the chrome shelf, and was able to store some things that had previously been in the attic. I also put two in my "canning" cabinet, thus quadrupling the space there. Wow!! Life is good!!!!!!!!!!!!!!
March 18, 2013
Rated

5

out of

5
 by
ktm89
Great Upper Cabinet Organizer!
Since my house and cabinets are old, any organization is a big help! I bought this product about a year ago, and the cabinet that it helped makeover turned out great! It's currently holding two small platters, plates for twelve, and a serving bowl! I have twelve bowls and saucers stored underneath! It's very strong, doesn't sag or warp. Definitely recommend!
April 27, 2012
Rated

4

out of

5
 by
UltimateClosetDiva
Sturdy
I purchased three of these shelves to use in our large box apartment cabinets. They look great and easily double my space. No more stacking my baking dishes and avalanches trying to get things out. A small product that makes a huge difference.
February 21, 2012
Rated

5

out of

5
 by
Chinadoll
Perfect for good china
This sturdy storage rack doubled the space in my antique sideboard for my good china. I was able to put my dinner plates under it and the bread and butter plates and salad plates on top. I plan to get another one when the Charlotte store opens to put on another shelf for my best china teacups and saucers.
July 16, 2011
Rated

5

out of

5
 by
VTLisa
High Quality
These Chrome Shelves (I have them in several sizes) are very good quality. The crossbars are flat (not rounded) and thick to give items a good footing. The measurements are accurate. I love how they look in my cupboards and wish they came in even more sizes.
December 30, 2010
Rated

5

out of

5
 by
GettingOrganized
Great for doubling usable storage space.
Bought two of these for the cabinet that holds my mugs. Now I don't have them stacked precariously any more, everything is easily accessible and there's no chance of a mug falling over because it's stacked on top of another one.
May 19, 2010
Rated

5

out of

5
 by
Morrie
Shelf to create more storage in an antique
I ordred the 15" and 10" chrome cupboard shelves and the 10" bridge to create two levels of storage in an antique china cabinet. It absolutely fills my requirements as I did not want anything permanent which would affect the value of this piece of furniture. The shelving system is attractive and very functional. I also placed 15" chrome cupboard shelves in the matching antique buffet. I am very pleased and would recommend this to friends and family.
May 19, 2010
Rated

5

out of

5
 by
wrightrelaxation
No more mess!
I love this, I use it to organize my tin foil and baggies. Now, every time I reach in to grab one of those boxes, I get the right one!
March 27, 2010
Rated

5

out of

5
 by
speeddemon
Although I have a large kitchen, somehow, I need more shelf space. This works well.
March 12, 2010
Rated

5

out of

5
 by
christmasbaby
Attractive and sturdy
We don't have a lot of storage space and some of it's oddly designed, so I'm always looking for storage solutions. I've used other shelf inserts in the past which work fine, but I greatly prefer these. First of all, they are very strong so you don't have to worry about putting too much weight on them which has been an issue for me in the past. Secondly, there are different heights and designs available so you can optimize your space. Finally, they are nice looking. I know it shouldn't matter, but it makes me feel better to open up my cabinets and see these stylish chrome shelves rather than the less attractive and flimsier white ones that I previously used.
March 3, 2010