Rated

5

out of

5
 by
DeeDee723
Designer look
My room looks like it was designed by a professional decorator. The shelving has clean lines, bright and the hardware is simple and elegant. Easy to install with template.
May 23, 2011
Rated

5

out of

5
 by
huskybee
Great Wall Shelf
The shelf was very nice and sleek in its design. It was very easy to install, with easy-to-understand instructions and a mounting template. We've had it up for a week now and it looks great.
December 9, 2010
Rated

5

out of

5
 by
ATO1
Easy to mount, sleek and good-looking
I found this product sturdy, high quality, easy to mount and very versatile in style. It can go with a more modern, minimalist look, as well as a more traditional or even country style.
October 17, 2010
Rated

5

out of

5
 by
Whitney
Fantastic, Super-Easy to Hang
I purchased three three-foot shelves to run along the top of a wide closet. They hold my book collection beautifully - very sturdy design and solid materials. They come with cardboard strips that match the size of the shelves, with markers for where the holes need to go - so I just used push-pins and a level to get the cardboard straight, drill my holes, and voila! Easy cheesy. They look amazing. Very pleased.
September 28, 2010
Rated

1

out of

5
 by
Callahandyman
Most Difficult to Install
These are handsome shelves, but extremely difficult to install. The mounting hardware is unforgiving. If your holes are a millimeter off, the shelves won't fit onto the posts, and there is absolutely no slack or play to adjust them. I had to re-drill the shelf holes with a wider bit so the shelves would fit. Also, the hardware includes only screws for drywall installation. Because I had a masonry wall, I had to buy a new set of screws and mollies.
September 21, 2016
Rated

4

out of

5
 by
jael11
Great but wish the hardware was color coded
I like this shelf. I placed it in a small bathroom, high, so it could hold supplies. Easy to put up. The only suggestion is that I would like the hardware that shows (the bracket) to be color coordinated. I purchased the white and since the shelf will mostly be seen from the bottom, would like the hardware to "blend in". I decided to spray paint the hardware and it looks good, but it is an extra step. Generally I've found the items sold at the Container Store to be excellent quality. I have two elfa closets and lots of other good stuff from the CS.
June 25, 2015
Rated

4

out of

5
 by
containitbetter
It really is espresso
An earlier reviewer said that this shelf is more of a dark cherry wood tone than espresso. I have several of these espresso profile shelves, purchased more than a year ago, and they are, in fact, a dark cherry wood tone, which is what I wanted and expected in this shelf. Alas, the shelf I just purchased is the espresso/black that the earlier reviewer was looking for, not the cherry wood tone that would match my existing shelves. Can't please everyone, I guess. That said, these shelves are great. Easy to install and hold up well. But I will probably return this one because it doesn't match the others.
January 12, 2015
Rated

5

out of

5
 by
Epyonation
Good Product
Well built Shelving Easy to mount on wall. Have now purchased 2.
December 29, 2013
Rated

5

out of

5
 by
KorrieT
Great Shelf
This shelf is exactly what I was looking for. Easy to install and very stable.
October 24, 2013
Rated

1

out of

5
 by
PalBay
Looks nothing like online picture
Even the employee helping me with my store pick-up agreed (and had heard before) that these espresso shelves were not really espresso. They look more like cherry wood. Do not buy if truly looking for espresso finish.
October 7, 2013
Rated

4

out of

5
 by
Teachr
Looks great
No brackets underneath mean that it looks great, doesn't take up much room on the wall, and you can mount several in a small amount of space
April 14, 2013
Rated

5

out of

5
 by
BusyInCaryNC
Great Shelves
These were a great buy. Affordable, sturdy, well-made and easy to put up. I purchased 3 shelves and put them all up in less than an hour. A tip - tape the template to the wall with scotch or paitner's tape and level it - then drill into the wall. It saves a lot of time. The only drawback to them is that I was not able to adjust where the shelf fasteners hit the wall so I only got 1 bracket into a stud for each shelf. I had to use the drawall hangers for the others.
March 18, 2013
Rated

5

out of

5
 by
Buttons
Expresso Profile Shelves
Awesome shelves. Love them. already have four and added two more.
January 3, 2013
Rated

5

out of

5
 by
Eleanor
Love everything!
Ordered profile shelf -- already have 4. Should have ordered a 24" shelf. Love the scarf hangers.
October 26, 2012
Rated

2

out of

5
 by
Orvez
Good for light objects.
Wasn't hard to install. I mounted the 24" shelfs on stud locations 16" apart. We put up two brass statues weighing about 20 lbs. They looked great for about two weeks, until the braces below the screws compressed the dry wall and the shelves tilted downward. I solved this by putting spacers into the drywall. Great for a little while, until the actual rods supporting the shelves bent under the weight. As I said before, if you are storing anything heavy, stick with the old fashion shelving brackets.
May 2, 2012
Rated

5

out of

5
 by
ReviewForYou
Worth The Effort.
Though these shelves do require some thought and effort to install, they're worth it. They are sturdy and a tasteful means of displaying a variety of items. A fine choice.
May 2, 2012
Rated

2

out of

5
 by
lfs142
Difficult to install
The profile shelves look exactly as I wanted, but as someone who has installed many, many shelves, etc over the years, I found these to have absolutely no room for maneuvering the mounting hardware. Since the drilling and the drywall are not precise to the 32nd of an inch I had to really bully the shelves into place, and found the mounting process very time consuming and frustrating, although they do look nice once up, the installation process was not user friendly!
March 24, 2012
Rated

5

out of

5
 by
Anxious
Great for CDs, DVDs
I use these shelves for CDs and DVDs, which allowed me to eliminate some bulky storage shelves in a small room. I have them wrapped around the room up high and they look great. I must comment that they are only 5 1/2" deep, not 5 3/4" like the description said. This can matter! In this case, they worked great, just fitting the width of the items. Use the templates for installation- and I replaced the squeeze-push type of dry-wall mollies with the cork kind (just a preference). It comes with wood screws and the dry-wall screws, both. Love them!
October 23, 2011
Rated

5

out of

5
 by
ILshopper
Good Looking Shelves
I just hung two of the three foot shelves today. They were easy to install using the template, even though it was my first time ever using toggle bolts. I was happy that all the hardware was included. They look good and seem very sturdy.
October 13, 2011
Rated

5

out of

5
 by
mcw3582
Great buy!
This shelf was so easy to install and it looks beautiful! Just make sure you use the template and a drill - once you've followed the set-up instructions, all it takes is screwing in the posts and sliding the shelf on. Very sturdy and great to look at!
October 10, 2011
Rated

5

out of

5
 by
Charlene
Great looking shelves.
I bought two of these shelves for a small guest bathroom. They look lovely. Are great for a stand alone shelf and no need for any additional dressing up. Put something on the and they are a nice addition to any room.
June 2, 2011
Rated

4

out of

5
 by
lilahcat
Beautiful shelf
This shelf is great. Not only does it look good, but it is sturdy. The installation process challenged me just a bit but I got it done and that shelf isn't moving. It is really a lovely addition to my room.
February 14, 2011
Rated

5

out of

5
 by
DancyGirl
Sturdy for low profile!
These shelves give you the 'platform' space needed to display with a very low profile - I have used several of these for CD storage and vase display!
February 4, 2011
Rated

5

out of

5
 by
missduckie
Love these shelves!
I purchased two of these profile shelves for the office. They look fantastic! Clean and simple. The shelves only come out 5", the perfect depth to display frames and other tchotchkes without seeming overbearing. The installation process took a little while. The hardware is a bar that sticks out, and limits the ability to use certain tools (like a drill, if you don't have an extender for the bit). Other than that, it went up easily and I love having them.
October 19, 2010
Rated

5

out of

5
 by
SlimCharly
Great alternative to end table or nightstand
We floated one of these on the wall next to our sofa in a small sitting room. It provided just enough surface for a phone, the TV/cable remotes, and a beverage, in a space that was so narrow that we could not find a end table with those dimensions. And we slid a narrow magazine rack underneath it between the end of the sofa and the wall. Voila! Floating end table. Easy to install, too.
May 31, 2010
Rated

5

out of

5
 by
Petunia
Shelves in Our Den
I like the clean design of these shelves. They show off my items well.
April 14, 2010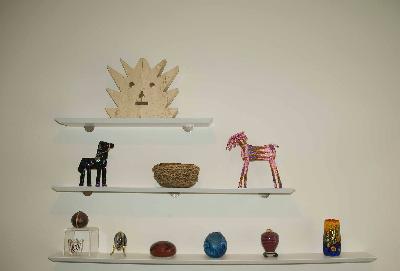 Rated

5

out of

5
 by
MarcoD
Sleek, Stylish & Sturdy
I looked all over for a shelf to hold up a large picture in my bedroom and this is by far the most secure good looking shelf. The shelf is simple yet sleek and stylish. I was most impressed how the unit mounts to the wall. I highly recommend this shelf.
April 11, 2010
Rated

5

out of

5
 by
skirk94
Better Than Expected
I travel a lot and pick up many different art pieces. I have trouble displaying them because I like to scatter them around. Bookshelves are nice, but look cluttered after a while. The Profile shelves are the perfect solution of minimal wall space. They are rich in color and have clean lines. My displays can get grouped on walls and the beautiful design never looks cluttered. They are durable and easy to install. I have traveled with them many places and they have weathered all the moves. Excellent value and I plan to purchase more.
March 3, 2010