Rated

5

out of

5
 by
Alweg1
Easy, Fast & Cool
This took me less than 5 minutes to assemble, and it is built beautifully which helps the easy assembly. Anyone who can change their own car's oil can build this in 5 minutes flat. Installing and lining up the books took another 30 minutes and one glass of wine, which is where the fun is. It looks fantastic tucked in my small media room. Gotta give a shout out to the fantastic staff at The Container Store at The Grove in West LA. This was the only store in all of Southern California that had this in stock, so I called to confirm and a nice lady on the phone secured one for me. Then I had to drive up from Orange County on a Sunday afternoon and brave the jammed LA freeways, crazy west LA surface streets, and packed parking at The Grove. But once I got in to the store the staff were kind and efficient and I was out of there in under 10 minutes even though their store was very busy. All I had to do then was brave the journey out of LA to the gracious sanity of Orange County, and the bookcase was home!
October 17, 2016
Rated

5

out of

5
 by
TXMomof4
Just what my room needed
Picked up this item through the service offered--I ordered online, drove to the store, and it was placed in my vehicle, no need to get my toddler out of the car! Assembly was simple, and soon my books all over my bedroom found themselves on this bookcase, with room to spare. I'm now thinking of buying another, for another part of the house.
December 27, 2014
Rated

5

out of

5
 by
Duffy72
Dark Grey Sapien Bookcase
This is the second one I have ordered for my daughter. She loves them!! Of course, you MUST be certain to put your larger, heavier books on the bottom shelves.
December 4, 2014
Rated

5

out of

5
 by
organizedinIL
My second Sapien
This is my second Sapien small footprint bookshelf. I love them. They hold a ton of books but only take up a foot of floor space. Extremely easy to put together and very sturdy. I have the dark grey which, in all honesty, I thought was matte black. Can't say enough about how sleek and modern they look and their functionality.
June 11, 2014
Rated

5

out of

5
 by
BusyB
Love It!
Best bookshelf I have ever owned. It was easy to assemble and I love the curb side service to my vehicle. I will definitely will be buying another one.
December 7, 2016
Rated

5

out of

5
 by
Kbert
Love, love, love this space saving cool bookcase
Holds the heaviest books and lots of them. Easy to a seemly and also to move. High quality. Always out of stock because it is so popular!
October 19, 2016
Rated

5

out of

5
 by
Flinthillchick
Exceeds expectations
This is expensive but surprising it exceeded my expectations. I have bought two of these and could not be happier with the quality and design. You can get an amazing amount of books on the shelf and still be able to get a book out in the middle due to the multiple shelves. Really big books can be placed on the bottom. Happy, happy.
October 16, 2016
Rated

5

out of

5
 by
Plough
Great design
Most beautiful, functional, simple design. Bought for my teen daughter to organize all her books without taking up a lot of space. Base and spine are high quality heavy duty metal, sturdy. Only had two screws to secure everything. Amazing!
May 30, 2016
Rated

5

out of

5
 by
Seeker
Outstanding!
The beauty of this brilliant design is in the amount of books that it holds in such a small space. It is sculptural and striking, It is a tad awkward to assemble, since both the base and the pedestal are heavy and must be aligned exactly, but an assistant or a workbench will make it easy. Even without either of these, it is manageable, even to the assembly-challenged. The ten shelves simply tilt in, so no problems there. Highly recommended!
April 22, 2016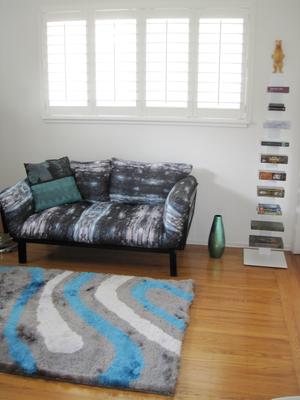 Rated

5

out of

5
 by
ShopperLynn
Pricey But Perfect!
The Sapien Bookcase costs more than I would like, but it really is attractive, efficient, and useful. It takes up very little space, yet allows me to easily organize and locate different types of documents / books / magazines / etc. At the moment, it is right next to my desk to organize the various things I am working on - paying bills, handling correspondence, working on volunteer boards stuff, and family items. It's useful for presorting my filing, too. I am thinking of getting a white one for my walk-in closet. I could stack several glass top watch and jewelry boxes, one on each 'platform'. Then I'd have the ability to see what is in each one and grab the box I wanted at the time.
February 13, 2016
Rated

5

out of

5
 by
bvis
Perfect
We used this to showcase special, hardbound/library edition books in an artful way. It was easy to put together. A perfect, funky solution that takes up little space.
January 31, 2016
Rated

4

out of

5
 by
JamesinPA
Small footprint good for tight spaces
I have three of these in white and really like them. The unit is quite sturdy. I use them to fit books in small spaces around my old house. Between the radiators and molding around my house, it's difficult to squeeze in regular bookcases. The only downside is that the little shelves can't handle larger or longer books or magazines. Only the lowest shelf could handle items like that. For smaller standard sized books or items it's great.
January 18, 2016
Rated

5

out of

5
 by
CBsf
Best Bookcase ever
This is the 2nd time I have purchased this bookcase...first in the darker tone for my home...it has lived in a modern apartment, a loft and now a more traditional layout apartment. I love it so much I just purchased the white one for my office at work....great to show off my business books in a way that is efficient and stylish!
January 17, 2016
Rated

5

out of

5
 by
Jiles7
Really pleased
I bought this bookcase for my psychotherapy office. After I got it out of the box, I had about 5 minutes to put it together before my first client arrived. It was a snap! Easy-peasy. It's very sturdy and well-made. It accommodates a lot of books. Looks great. My clients have commented on how much they like it and want to know where I purchased it. I will likely purchase another for the office and one or two for home. Thanks, CS!
November 24, 2015
Rated

5

out of

5
 by
Kashi
Sapien Bookcase
This is a nice heavy duty spacer saver. Easy for two people to put the 2 screws in. That's all that needs to be done. I use this to hold small jewelry containers, and a small mirror. When I get tired of that I will probably put books on it.
November 17, 2015
Rated

5

out of

5
 by
Elfy
Space-saving Bookcase
The Sapien Bookstack holds 68 of my books. It is a space saver and it is visually appealing. I love the optical illusion when you pull books out from the middle and it looks like the books above it, are suspended in air.
March 21, 2015
Rated

4

out of

5
 by
alka
vertical book case
vertical book case is a great space saver looks great in room & holds large stack of books
October 11, 2014
Rated

1

out of

5
 by
Gabriela
Love the looks but did not last!
I bought this and immediately fell in love. It looked great initially. However after few months (maybe 3-4 months) it started tilting and now it looks like the Pizza tower, totally bent. Very disappointing....
July 29, 2014
Rated

5

out of

5
 by
anotherelfafan
Great purchase
This holds more books than I expected, and will handle even large 9x12 hardback books. Takes very little space, but the books are still easily accessible. It was easy to assemble, although a bit heavy for one person to do it single-handedly.
July 8, 2014
Rated

5

out of

5
 by
Italianguy
Great Looking Space Saving Book Organizer
Living in a one bedroom condo and being an avid reader, space is of utmost importance to properly display my books. Finally, with the Sapien Bookcase, I was able to organize and display my books in a very sharp and modern looking bookcase which easily fit in a small nook area of my condo. This was a perfect product that met my needs.
July 2, 2014
Rated

5

out of

5
 by
lafcom
Top Notch Stylish Bookcase
Much more stylish & versatile bookcase than I imagined. Holds all size books, notebooks, magazines & media materials with a small footprint. Looks gorgeous as well. Putting it together is a 2 person operation because of the height of the bookcase & the proximity of the screws, but easy nonetheless. Very sturdy. Holds much more material than I had envisioned.
June 28, 2014
Rated

4

out of

5
 by
JonLos
Very Good Bookshelf
Looks good. Does it's job (holds books). Takes up very little space.
June 27, 2014
Rated

5

out of

5
 by
BevG
Great book organizer!
I love this book case. It is very sturdy and holds a lot of books. The shelves are pretty strong. The base is secure and so it holds up pretty well. Love the white color, it goes great with our condo. Best part is that it can be put practically anywhere, it doesn't take up much space.
June 21, 2014
Rated

5

out of

5
 by
Taurus47
Sapien Bookcase
This bookcase went together very easily (15 minutes--max). We have a very small apartment and we're book lovers. This tower bookcase provided so much book storage in a minimum amount of space. It looks like a piece of art. We love it....
May 3, 2014
Rated

5

out of

5
 by
Holliday
Awesome bookshelf
This bookshelf is stylish and modern. It is a cool way to dusplay books.
April 27, 2014
Rated

5

out of

5
 by
AMT69
Love this bookcase!
I needed a bookcase that would not take up a lot of room for my art "closet". This bookcase fit the bill perfectly! It holds all my art books and they are readily accessible. It also looks absolutely great!
April 11, 2014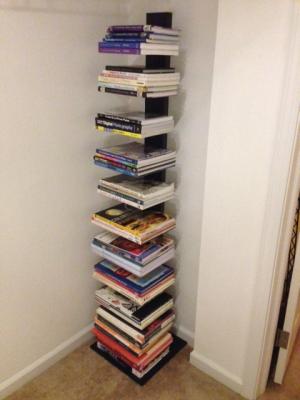 Rated

5

out of

5
 by
socalgg
Great space-saving bookcase!
Works great in our small home and a cinch to assemble. Using it to store collection of children's books.
March 31, 2014
Rated

5

out of

5
 by
Nanzia
White Sapien Bookcase
Handy next to desk to hold books for any project I'm working on. Keeps my desk surface clear.
March 20, 2014
Rated

5

out of

5
 by
scottEman
Unique and Easy to Assemble
I just love the Italian design of the Sapien bookcase! The unique design holds a large number of books in a very limited amount of space. It easily holds much larger books then the small metal shelves would seem to indicate. Now I must say the box arrived very badly damaged with a very large hole. Almost the entire box was covered in tape. The metal pieces were in fine shape (no scratches or dents) but the instructions and screws were missing. Called the Container Store customer service number and got a very helpful associate who assured me the box did not leave the Container Store warehouse in such horrid condition and replacement screws and instructions would be sent ASAP. They arrived four days later. Bookcase is now assembled. It was a breeze to put together. Could hardly be easier. It looks great and love the uniqueness of it. Also, it holds many more books then I expected. LOVE IT!
March 14, 2014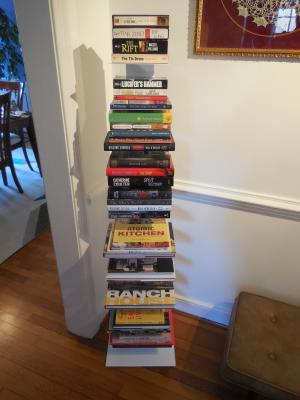 Rated

5

out of

5
 by
Sonoma
Surprisingly Happy!
Wow, this was a truly surprising find. Just as the description states, a nice way to display lots of books without taking up space. The books remain easily accessible. Aesthetically interesting and pleasing. Good, sturdy design. You will not be disappointed.
March 5, 2014