Rated

5

out of

5
 by
Googie
Icing on the Cake
I have an extensive spun glass collection which is in a china cabinet. After making my own risers out of wood and spool feet and enjoying them for a number of years, I became aware of your acrylic risers and decided to buy some for the collection. What an improvement. The clear acrylic does not detract from the spun glass and showcases them beautifully. Well worth the cost.
October 1, 2016
Rated

5

out of

5
 by
mlynapier
Great purchase
I bought these to make a stand for my son's lego minifigures. I used command strips to adhere green plates to the riser. They are also a great way to maximize display space.
August 23, 2016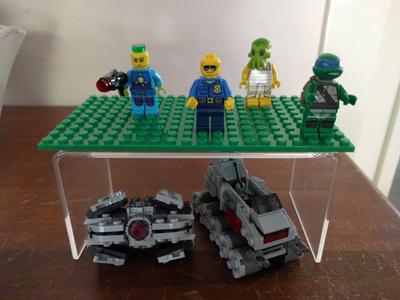 Rated

5

out of

5
 by
Prime
good stuff
Love these items. Delivery was fast too. They are great for my collectibles.
December 22, 2016
Rated

5

out of

5
 by
Ponyo
Love these
Can't live without this terrific item. When arranging picture frames or precious items this gives you height and dimension putting more items in view and making the best use of all the space.
May 23, 2016
Rated

5

out of

5
 by
MoeSen
LOVE the risers
I have a Disney/Dog collection and in order to see all the figurines in the back of my display case, I purchased about a dozen of these risers, in various sizes.) Anyway they look fabulous. Everyone always comments about them and asks me where did I get them. I tell them THE CONTAINER STORE of course.
August 22, 2014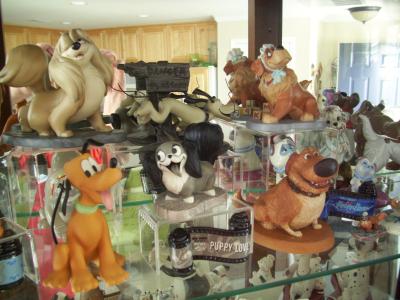 Rated

5

out of

5
 by
PictureGirl112
LOVE LOVE LOVE!
I purchased the largest size and love it! I needed something to organize my medicine cabinet. I wanted to set mine and my husband's pill organizer on something that wouldn't keep falling over. This riser was the perfect solution and fit perfectly in our cabinet. It worked beautifully!
May 20, 2014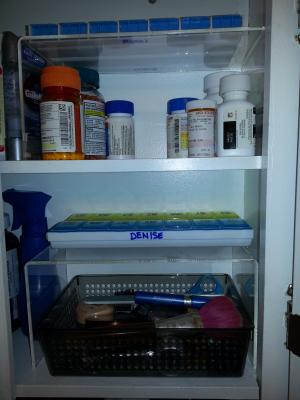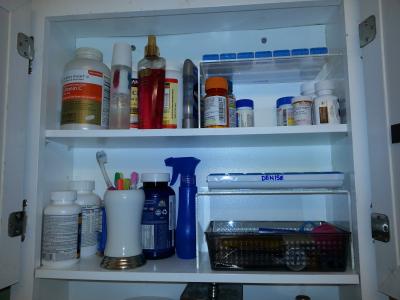 Rated

5

out of

5
 by
CapeCodBabe
Multiple uses
These risers have multiple uses. I use for photo frames but they also work in my kitchen cabinets.
April 26, 2014
Rated

5

out of

5
 by
oneneatwoman
what a store!
Found the risers I was looking for and more. Cannot find risers at retail, anywhere. It was a great surprise to find such a great assortment at The Container Store. I know where to go to find them from now on. Thank You for such a find!!
March 14, 2014
Rated

3

out of

5
 by
Suess
Wrong shape
I wanted to use the risers to elevate vases in a display but felt the rectangular shape was not good. Too much of the riser showed on either side of the vase. I wish you could offer this exact type of riser in a square shape in a variety of sizes. I found some on the internet and ordered them. Unfortunately I had to return your risers.
February 8, 2014
Rated

5

out of

5
 by
JennieEB
Acrylic Risers can solve many space issues
We recently moved and discovered that we didn't have nearly enough room to display all my china pieces. We had to buy another curio cabinet to solve the problem, or so I thought. Then I unpacked a beautiful Wedgewood tea set and realized I didn't have anywhere to display it. So I ordered 4 of the risers, 2 for each of 2 shelves. The result was amazing. I was able to get everything in place.
February 2, 2014
Rated

5

out of

5
 by
Northern
Just The Thing We Needed
We needed something to place our DVD player on and this worked wonderfully placed on top of our television set top box which should have air to breathe. It worked perfectly! Bought another to place a telephone on and that worked great also. Now there is room under the phone on the end table for our remotes, etc..
November 29, 2013
Rated

5

out of

5
 by
cleocat
Think outside the box
I had to replace my broken kitchen faucet ASAP which was purchased to fit just under my tall over sink storage shelf, but the new faucet was even taller than my shelf by 4 inches and getting a new shelf was not an option since it holds paper towels, has slide out under shelf with hooks, bar for dish cloth etc, etc. and the faucet was the only one I could find on short notice at the store after an all day search or wait weeks for other choices by mail. I use this sink all day so I had to think outside the box for a way to save my shelf which was hard to find and my husband wanted to mutilate it by cutting the support to add some metal to make it higher. Ugh! I just saw another unfinished project in the making, so when I saw these risers I came up with the idea to use these to add the needed height and create additional storage as well. If it did not work I could still use risers as display shelf or in a cabinet so it was a win win for me. But it turned out great! It looked sleek and using the area under the riser was an added bonus. Also was sturdy enough to hold the big metal shelf with items on top. These risers are the best!
August 27, 2013
Rated

5

out of

5
 by
LOOL
GREAT!!!
I purchase these risers for organizing picture frames and they work great. I am able to display a collage of photos in different frames and they look great. They are durable and look seem less. I would definitely be purchasing more as I see the need for them and recommend to everybody looking for innovative ways to display pictures or Art.
August 25, 2013
Rated

5

out of

5
 by
classicstyle
Just What I Needed
The acrylic risers are light but sturdy. They were exactly what I needed. I bought an assortment of sizes. I have purchased them on line but most recently bought them in store. The quality is consistent. I was not able to find them anywhere else.
August 16, 2013
Rated

5

out of

5
 by
Schnauzers3
Great product
These risers are good quality and very nice. They work just as described. I used them in a hutch to display small items and now I have more space.
August 5, 2013
Rated

5

out of

5
 by
CarolBinNYC
Creates More Space in the Medicine Cabinet
Love these handy risers and have told my friends all about them. I use a few in my medicine cabinet. Not everything I store in there is a big tall bottle or spray so these add a second tier to the shelf for small items that fit under and on top of them. Very convenient!
April 26, 2013
Rated

5

out of

5
 by
yborgal
Showcased our foods
We have an EVOO and Balsamic store. We often have display tables in the store featuring some of the foods we prepare with our products. Our table displays were lacking something but we didn't know what it was. Then we discovered these risers. Placing them under the tablecloths gave our tables a new dimension and allowed us to showcase our food and products beautifully.
March 31, 2013
Rated

5

out of

5
 by
froggydogg
Great product
These risers are sturdy and add a nice touch to any display. iw ould highly recommend them.
March 18, 2013
Rated

5

out of

5
 by
Cintia
Love these acrylic risers!
I was looking for something to display some Brazilian stones and some pottery and these, along with some acrylic plate stands, worked perfectly! I would love to see more sizes, though.
February 20, 2013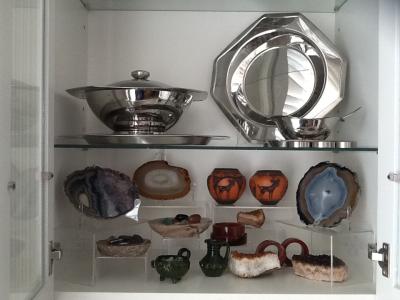 Rated

5

out of

5
 by
lbjones1978
Perfect for work!
This is just what I was looking for to help organize my desk at work. It helps me go up rather than out and is very subtle. Love it!!
February 15, 2013
Rated

5

out of

5
 by
lovewilcox
Acrylic Risers
It is hard to find mini shelves to add storage to small cabinets. These acrylic risers really are amazing. They fit in almost small space like bathroom medicine cabinets. The Container Store is the only store that small mini shelves.
February 15, 2013
Rated

5

out of

5
 by
Meghanblahblah
Exactly what I wanted.
I bought these to put in a china hutch to add more shelving. I use the china hutch to display my collection of shot glasses and I have been looking for little shelves exactly like this! Shipped extremely fast and were in perfect condition. Ordering a few more today.
October 31, 2012
Rated

5

out of

5
 by
tpetty
Solved my problem
Solved my problem of not being able to see the back row of my collectibles on their shelf! The collectibles display so much better now!
April 27, 2012
Rated

5

out of

5
 by
mica44
Risers for Retail
Reasonably priced, high quality risers make a great stand for retail displays. Believe it or not, these are hard to find.
April 15, 2012
Rated

5

out of

5
 by
misdisorganize
does the trick
I use these to display my art in a local gallery and they are perfect. They don't detract from the items on display and they stay scratch-free much longer than other acrylic pieces I've used.
March 19, 2012
Rated

5

out of

5
 by
Duchess1
Risers
Puchased for a small space, and it was just perfect for the space.
September 28, 2011
Rated

5

out of

5
 by
JuOrgFan
Excellent!
Ordered it Click & Pickup. Worried that there may be scruches by the time I brought it home since I did not pick it from the store shelf. Good conditions and it is as website.
July 14, 2011
Rated

5

out of

5
 by
skalex
Would highly recommend!
I bought to use in my office cabinets, I like the fact that they are clear, I have added additional space in my cabinets with these, wonderful organizational tool, Love them! I may buy more for other cabinets in my kitchen.
May 30, 2011
Rated

5

out of

5
 by
TallyLassy
Collectible Displays
Perfect for displaying miniature items (as is my "Just the Right Shoe" collection. Utilizing graduating sizes also worked great.
March 20, 2011
Rated

5

out of

5
 by
SewMom
Perfect for knick-knacks
I collect Cherished Teddies figurines and these risers are perfect for adding to my collection. Since the risers are clear they don't distract from the figurines and allow me to add some interest to my shelf instead of just placing the figurines all flat on the shelf.
January 21, 2011