Overview
Product Information
Use our exclusive Elfa shelving and drawers to organize your kid's closet and there won't be any excuses for not putting clothes away! Available only at The Container Store, this White Elfa Girl's Reach-In Closet offers plenty of hanging space, shelves for shoes and accessories plus a bank of drawers for folded clothes (no need for a dresser in the bedroom!) The fine weave of the mesh and closed corners of the drawers prevent smaller items from falling through. All Elfa components are adjustable, so the solution is completely flexible and can be rearranged as your kid's storage needs change. This solution is designed for a 6' 3" reach-in closet. If this solution won't work for your space, please contact us so we can design the perfect solution for you with our free service!
Elfa Installation & Assembly Guide
Horizontal Top Track is the only piece mounted to the wall
Exceptionally durable epoxy-bonded steel construction
Drawers provide excellent visibility and accessibility to the contents
What's Included
7

elfa Closet Rod Holder White

(#10034918)

1

elfa 10-Runner Panels White Set of 2

(#256004)

1

elfa Wood Screws Pkg/10

(#256735)

5

16" x 2' elfa Ventilated Shelf White

(#10000916)

4

84" Hang Standard White

(#10014650)

2

elfa Drywall & Plaster Anchors White Pkg/5

(#10057116)

12

16" elfa VENTILATED Shelf Bracket White

(#10071993)

1

4' elfa CLOSET ROD Nickel

(#10074467)

1

12" x 4' elfa Ventilated Shelf White

(#10000897)

5

16" elfa Left Bracket Cover White

(#10014683)

1

12" elfa Left Bracket Cover White

(#10022512)

3

elfa Closet Rod End Caps Chrome Pkg/2

(#10027328)

2

elfa Medium Mesh 1-Runner White

(#10032096)
2

elfa Top Track Cover White Pkg/2

(#10035397)

1

elfa Medium Crossbar White Set of 4

(#256008)

1

elfa Medium Melamine Top White

(#663210)

1

80" Top Track White

(#10014644)

1 Cut to 74 in.

4

12" elfa Ventilated Shelf Bracket White

(#10014652)

2

elfa Drawer Back Stop Pins Galvanized Pkg/10

(#10063870)

2

2' elfa CLOSET ROD Nickel

(#10074465)

1

12" x 2' elfa Ventilated Shelf White

(#10000836)

1

16" x 4' elfa Ventilated Shelf White

(#10000918)

5

16" elfa Right Bracket Cover White

(#10014684)

1

12" elfa Right Bracket Cover White

(#10022514)

1

elfa Frame Feet Translucent Set of 4

(#10030416)

4

elfa Medium Mesh 2-Runner White

(#10032097)
Reviews
Elfa Classic 6' Girl's Reach-In Closet
is rated out of
5
by
14
.
Rated

4

out of

5
by
StuartC
from
Great for Girls
I set this up for my daughter last week, it was a surprise and she loved it!
Date published: 2012-04-27
Rated

5

out of

5
by
Bkatv
from
Perfect solution!
We had just finished building our house and needed to find a good closet system for our two children that would accommodate their clothes and toys. We looked at a lot of places but finally decided to make the drive to Houston to check out the Container Store. It may sound crazy but when we walked into the closet area I pointed at this system set up in the store and told my husband that this was what our daughter needed. It was exactly what I had been trying to find. We took the whole thing back home, assembled it ourselves (which was much easier than we thought) and it has been perfect. It fits everything for our growing 6-year old and she still has room to fill! We all ended up with Elfa closet systems and they work great!
Date published: 2012-03-22
Rated

5

out of

5
by
sierra
from
Great closet as a kids activity closet
I love the elfa closets. We have three in our home now. The master closet, laundry room closet and the kids playroom craft closet. Elfa system is easy to assemble, great to organize everything, great looking and can be changed or added too as your home changes needs. Great overall!
Date published: 2012-03-08
Rated

5

out of

5
by
Nicky888
from
Easy and organized
Easy to install. Looks great. Once installed I was pleased with how much more room I had for items than before.
Date published: 2012-02-21
Rated

5

out of

5
by
OrganizedChaos
from
Brand new closets
We recently bought a new house and the closets were all shelf space with no hanging room. Elfa is the best! I got to design my closet my way and my husband got to design his closet for what he needed and wanted. Best Christmas present ever!! Can't wait to redo more closets at the next Elfa annual sale!
Date published: 2010-05-18
Rated

4

out of

5
by
ybanke
from
Great Gift for my new Gondo
I purchased this closet system because I was looking to utilize my closet space. I must say this is one of the best options that I could have purchased because of the flexiblity the elfa syst provides ;if you choose to swap some drawers for more shelving then you can very easily. I paid for installation and it was quick and the installer was very helpful and provided even more recommendations on how to use my space. The people at the store were also very professional and very helpful in helping me plan my closet. I love elfa!!!!!
Date published: 2010-05-17
Rated

5

out of

5
by
Tejedaruiz
from
The Smartest Purchase Ever!
We purchased a smimilar system for my daughters room and she loves it. This system truly has grown with her; she's already changed it around a couple of times; the fact that she's the one that can re-arrange the closet, that is a big deal.
Date published: 2010-05-17
Rated

5

out of

5
by
mpee
from
Easy closet solution
The Elfa products are very strong and easy to install. It was a breeze picking up everything from the store and putting them together and the whole system created alot more room in my daughter's closet. Also, with the Container Store yearly Elfa sales, it was a great deal.
Date published: 2010-04-09
Rated

5

out of

5
by
JLM3203
from
So much more room
Doubled her storage space and room for everything.
Date published: 2010-03-04
Community Q&A
Drawers included?
Does this set come with the 6 drawers pictured? I do not see it listed though it is pictured in the displace image.
Yes, the solution does include the drawer system.
Date published: 2019-02-01
Can I utilize this configuration if the closet width is only 68" instead of the 76" listed in the product description?
The Elfa system is designed to be totally customizable to any space and size. We can recreate a space very similar to this in a 68" wide area. Our trained Elfa designers can take your dimensions and create the perfect space tailored to your wants and needs. Call us at 888-CONTAIN to begin your design.
Date published: 2014-01-14
How high should the top track be mounted for the White elfa Girl's Reach-In Closet?
We recently purchased this closet. I unboxed all the parts yesterday but did not find any installation instructions. Installation seems to be pretty straight-forward, however, I would like to know how high the top track should be mounted on the wall. The online videos seem pretty comprehensive but I didn't see that one detail. Thanks!
The Top Track for our elfa Girl's Reach-In Closet solution should be installed at about 8'. (Refer to your design for details.) Complete installation and assembly instructions (both written and video) can be accessed via the link at the end of the product copy block above: elfa Installation & Assembly Guide.
Date published: 2016-02-04
How can I possibly reconfigure this shelving system so it will work in a boy's closet?
Please feel free to contact our Customer Solutions Department at 1-800-733-3532 and they'll be happy to assist you with a more customized version for your boy's closet.
Date published: 2017-01-18
Resources & Tips
Elfa Resources
---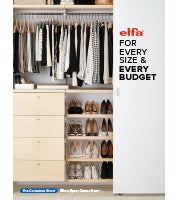 Shop directly from the virtual pages of our current catalogs by clicking on the images.
View catalog online
© 2019 The Container Store. Prices and availability are subject to change from the time and date you print this page 11/13/2019.