Rated

5

out of

5
 by
cruisingal
Excellent product
I bought one of these for my spices and it was the perfect solution. My shelves only have 9" between them so most racks won't fit. This one fit perfectly. It was such a perfect solution I went back and bought 3 more. Now my shelves are completely organized. I used two for spices, one for medicine (aspirin, vitamins, other over the counter stuff) and one for all the gravy packets, etc. No more knocking bottles onto the counter and spilling stuff just to get to the stuff in the back. The only problem I have in my particular case is that the very back row can only hold small bottles. That is due to the low clearance of my shelves. But that's fine as I have small bottles that do just fine there.
April 25, 2014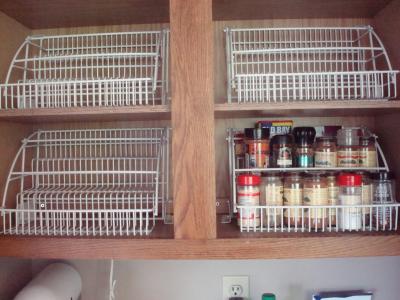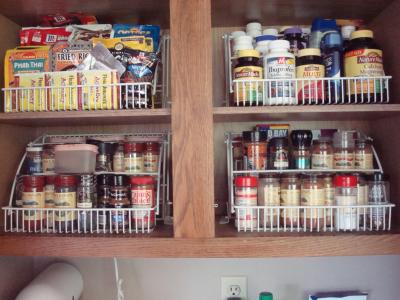 Rated

5

out of

5
 by
OraganizingT
Love this spice rack so much we bought two
We recently renovated our kitchen (re-used existing cabinetry) and had the chance to empty everything and reorganize. Our first cabinet to tackle was the unkempt spice cabinet -- it had definitely become unwieldy. The before and after photos tell it all --- Yes, we moved some items around to maximize our space. This rack allowed us to free up some precious lower-shelf space to put our most-used items right at arms reach. We can now easily pull down our spices for access. LOVE it!
April 6, 2014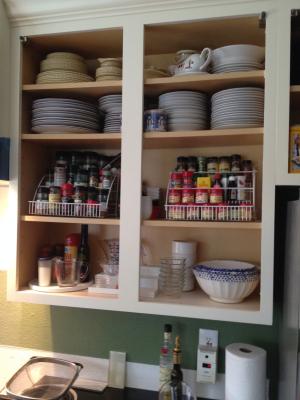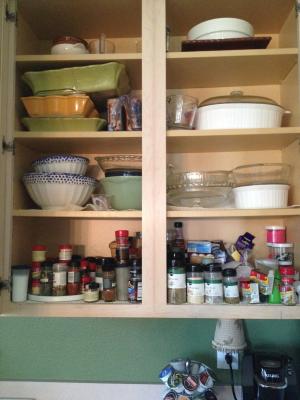 Rated

5

out of

5
 by
CookKathy
Spice rack for short folks
I bought two of these pull down spice racks. As soon as they arrived, I reorganized my cupboards to utilize them much better. Although I am short, I found I could mount these on my upper shelves, and with the pull down feature, I am able to reach all my spices. I do have to go on tiptoe to reach the top row, but that's a small concern. I opened up the lower shelf to be able to put everything for my coffee making on the bottom shelf. I'm attaching two photos to show how these pull down racks work.
April 18, 2010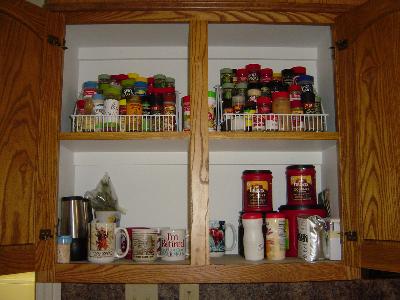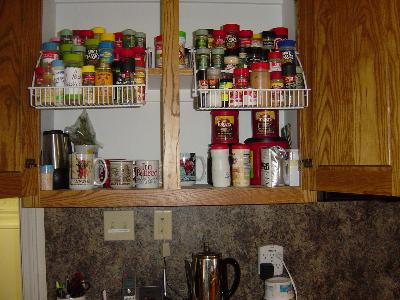 Rated

5

out of

5
 by
Shumwash
Loving it!
I installed this rack in 25 minutes and have been using it for 6 months now. It was easy to install. It is holding up very well. I was able to fit 34 spice jars on the three shelves! I love being able to easily access all my spices without rummaging and knocking over everything as I search. It has been a wonderful space saver and time saver in my kitchen.
September 30, 2016
Rated

5

out of

5
 by
jflo
Just What I Needed For My High Cabinet
I purchased one rack hoping it would fit into the space I have. Once I saw that it fit and worked so well, I raced back to The Container Store and purchased another, to be installed next to the first one. It is a simple idea and works great. Suggestion: It does not come with a template, so you may want to make your own paper template, by having someone hold the 3 pieces (rack and 2 side bars) while you mark on the paper where the screw holes need to be. You can use the template for pilot holes in the shelf of your cabinet. It makes installation easier, especially if you are in a tight space. Be sure side bars are set back exactly to the 5" recommended.
September 27, 2016
Rated

5

out of

5
 by
Gwanny
Medicine cabinet storage
I'm a lil short and could never find what I was looking for on the shelf above the toilet. If I tried to move things around something would always fall in the toilet or on the floor. Decided to try this piece out and it works beautifully. I can find and easily reach everything in it and nothing has fallen yet.
May 1, 2016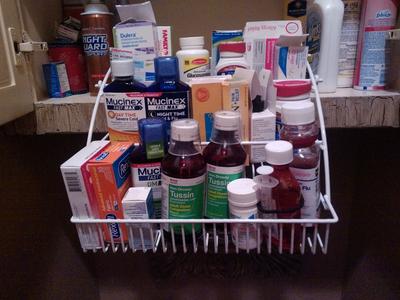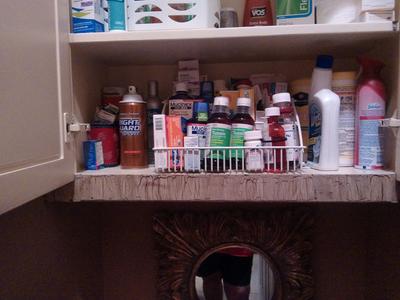 Rated

5

out of

5
 by
NolaNay
Great product!
Wanted one of these for years and finally got around to it! Easy to install--I did so without power tools but they would prob make things even easier/faster. Would definitely recommend this product. No more shuffling around through an overhead cabinet to find my spices :)
November 12, 2015
Rated

5

out of

5
 by
Tallboy
Extremely Efficient
This rack almost all of our spices. Efficient use of space on our shelf in pantry. And the pull down feature is really helpful!
March 17, 2015
Rated

5

out of

5
 by
FloridaPepper
Measure Carefully -- Then Enjoy
As so many have already said, this multi-purpose rack is an excellent product. Recommend you measure the required 5 inches from inside edge of the cabinet very carefully. Do not install the brackets any deeper or shallower. Recommend you center the brackets, making sure that the rack clears the cabinet edges. I installed ours on the 2nd shelf rather than the bottom because my wife wanted the bottom shelf for taller items. Fortunately we have adjustable shelves to make this possible -- and give sufficient clearance above the rack to the 3rd shelf. However, because the 2nd shelf was "loose," (resting on top of the side cabinet brackets) it therefore tipped forward when the rack was extended, so I installed two 8-penny finishing nails just above the back of the 2nd shelf. That works well. Another minor problem: I don't understand why the drawing in the enclosed INSTRUCTIONS shows the rack installed in any (either) combination of the brackets. I followed the PHOTO instead. I would buy this product again, direct from the Container Store.
August 25, 2014
Rated

5

out of

5
 by
Nilda
So Happy!
I love this product all my spices organized and plenty of room in cabinet. Very easy to install.
July 7, 2014
Rated

5

out of

5
 by
Malaycob
Best Spice Rack Ever!
I absolutely love this spice rack! It seems silly, but it has made life so much easier. Before, I had to search for whatever spice I needed and before I could find the one they would all fall over. It was so frustrating!!!! Now, I just pull down my spice rack and pull out whatever I am looking for. What can I say, it's the little things that make me happy!!!!!!
April 27, 2014
Rated

5

out of

5
 by
MareBear
Can't Live without these!!
These racks have doubled the storage space in my kitchen cabinets. I use two of them for spices and the third is for medicine. I would highly recommend these to anyone that needs more space in their kitchen cabinets.
April 22, 2014
Rated

5

out of

5
 by
dameta
spice rack
I like this spice rack. It's nice to be able to see all my spices.
April 18, 2014
Rated

4

out of

5
 by
chollat
Love the functionality
I am a foodie with MANY spices and I'm always struggling to find a good way to store them. This rack was intriguing and has totally delivered. In my new house the only place to put the spices was a cupboard that is much higher than my eye line. I installed this rack (very easily) and now have pull down access to many of my spices. The one downfall is it doesn't fit more!
April 15, 2014
Rated

5

out of

5
 by
nanastarr
Easy Access
Since moving into my RV full time I need to maximize every inch of storage space. This rack makes good use of space and keeps my spices handy without needing special bottles/labels etc. Standard spice jars fit great and the rack is really easy to install and use!
April 9, 2014
Rated

5

out of

5
 by
AnnieF
My New Favorite Kitchen Item
My husband is tall and I am short so this is perfect for us and our spices next to our oven. It's very easy to use and pull down. I love it!
February 28, 2014
Rated

4

out of

5
 by
tadsz
Medicine Cabinet Must
I use to use a turntable - no longer - this allows me to see everything and bottles don't get lost on the interior of the turntable.
February 20, 2014
Rated

5

out of

5
 by
Nepster
So glad I bought this
I use to have to get a step stool every time I needed a spice. Now, with this pull-down spice rack, I can reach even the back row. Great idea and saves me a lot of time and energy. Thanks.
February 1, 2014
Rated

4

out of

5
 by
trish6
just what I needed
I love the pull down spice rack. I wish I had gotten another one.
October 15, 2013
Rated

4

out of

5
 by
MotoJojo
Handy Addition
I purchased this to help my height challenged better half - better reach items from our spice cabinet. I was nervous to have to drill into the cabinet shelf to install this and ultimately though the installation was a breeze. Having read the other reviews about having to modify the install and use a bracket, I found getting hands on with the store display model helped me better understand how to position the rack properly. Note that the 3rd level of the rack will rest on the shelf it is installed on. I'm very happy with the purchase and have recommended it to others as well.
October 13, 2013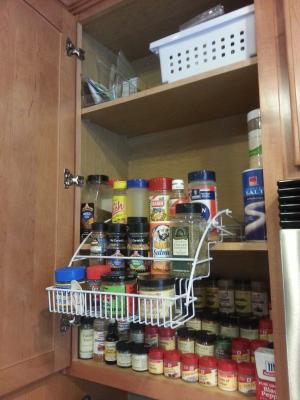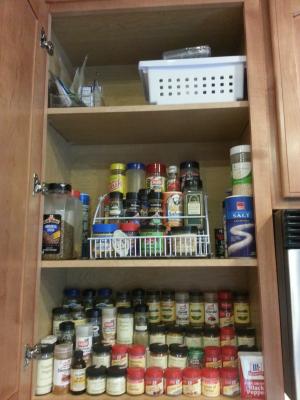 Rated

5

out of

5
 by
Tajia
Great pull down rack
I'm 5"1'. So the top shelf in the cabinet is a problem, and that is where my different teas are. Now I can get to what I want on the top shelf with no problem; great buy!
October 2, 2013
Rated

5

out of

5
 by
curiousngeorge
Great for kitchen organization!
I love this spice rack. My spices don't take up valuable counter space (or even lower shelf space!) yet they are easily accessible when I'm cooking. It fits a lot of jars of all different sizes and is sturdily constructed. It is such a great solution to the problem of how to store, organize, and easily access your spices.
August 16, 2013
Rated

4

out of

5
 by
Lishop
No More Digging For Lost Spices!
Great for organizing your spices.The shelf needed to be stabilized with a bracket (not included) due to the weight when its full when you pull it down.
August 8, 2013
Rated

5

out of

5
 by
EMUZH
Great spice rack
I used this on the top of my spice shelf. It holds larger jars that most spice racks don't. The one thing we had to do to get it to stand level was to put the wire in the back in the bottom and the front wire in the top hole to make it stand flat
June 6, 2013
Rated

5

out of

5
 by
berger
Great Spice Rack!
I have had this spice rack for at least 5 years. It has held up very well, and works great in my small kitchen.
May 3, 2013
Rated

4

out of

5
 by
3rm3
Spice Shelf for Shorties
I love our spice shelf, especially since I'm vertically challenged and need to use a step stool often. By being able to pull these shelves down, it is much easier to reach and see what I have. I took a star away because they are a little tricky to install, especially if it is tight in a cabinet.
April 26, 2013
Rated

5

out of

5
 by
moesac
Pull-Down Spice Rack
This works great in a pantry cabinet. Just grab and pull and every spice is at your fingertips. Easy to install. Fairly deep so you need the entire cabinet.
April 26, 2013
Rated

4

out of

5
 by
ktotra
great time saver!
I used to have to grab a step stool from the basement door each time I needed to grab a spice from the shelf over our oven, now I just pull the rack down and have everything I need at my fingertips. Was a pain to install, but I'm not sure there's any way around that...
April 26, 2013
Rated

5

out of

5
 by
jibuck
LOVE IT!
Love this pull down rack! I am short and can never see all my spices in the cupboard! Now I just pull this down and can see all my spices! No more dragging the stool over or climbing on the counter!! A real life saver! If I move I am buying another one!!
April 5, 2013
Rated

5

out of

5
 by
laconiglio
Easy way to see your spices
I used to have to pull everything out while I was looking for a particular spice, grab the bottle and put everything in again. This is so cool. I can see what I have and grab it so easily. My son put it in for me in no time!
April 4, 2013