Rated

5

out of

5
 by
Maris
Product Tested
After I thought a man with a skim device followed me, I checked my cards in these sleeves, and no problems. I later learned not all credit cards broadcast RFID, but I work for a bank that has an RFID capable ATM and we tested my colleague's RFID credit card with and without the sleeve, and when in the sleeve it did not recognize the card when waved over the reader so the sleeves passed the test. I have peace of mind with this company's products, and would trust them with my cards and passport.
August 25, 2016
Rated

5

out of

5
 by
EABH
credit cards protection
I'll try anything to out-smart the bad guys. Thank you for offering these for sale.
December 16, 2016
Rated

5

out of

5
 by
Daizie88
Keep your information safe
Since me and my husband are traveling I decided to look at traveling essentials I came across this. First of all I did not even know that they can steal your passport information I thought it was only credit cards. I love the fact that it's going to protect my passport information. It's also very affordable $5.99 it only comes with 1 sleeve. The material is like a thick paper am assuming it's special though. Wish they had different designs and colors but am not composing for the price and for what it does am good. I would highly recommend if a person is traveling they also have sleeves for credits cards.
September 26, 2016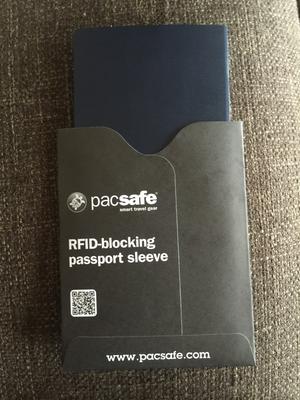 Rated

5

out of

5
 by
pennypincher
save your money!
Yes! Save your money...this tiny little product is one of the smartest things you can buy to save and keep your money from high tech thieves. Been all over Europe never had my passport nor my cards compromised...only in the states...when for some reason I thought I was safe. Be smart buy a couple...I always keep a pack in my luggage and one set always in use.
June 14, 2015
Rated

5

out of

5
 by
vena15
Safety First
Small, strong and safe. The RFID Credit Card Sleeve is wonderful. It reduces my concern of identity thief. Before my investment of this sleeve I was compromised during visit at a large shopping mall. Since I have it I have not been touched. It fits in my wallet and it holds three (3) cards. I travel everywhere assured I am safe.
June 3, 2015
Rated

1

out of

5
 by
Rewig
Appears NOT to work
I purchased the credit card sleeve, the passport sleeve and the large Pacsafe wallet. I felt I needed a way to test the products. My condo door opens with an RFID fob. I placed the fob inside each of the Pacsafe products and I was able to open the door without even laying the sleeves and wallet right on the RFID reader. I then put the same fob inside the $10 aluminum wallet AS SEEN ON TV and the door could NOT be open. I tried several fobs and the result was always the same. If my experiment is flawed, I'd love to have it clarified. I really wanted these items to work.
October 14, 2014
Rated

5

out of

5
 by
mudpud
RFID card sleeves
Good for piece of mind, plus you can still fit your card + the sleeve in any card slot in your wallet [depending on how stuffed it is, of course]. Also, don't feel like carrying a wallet or purse around? You can fit an I.D., 2 cards, and a $20 bill in 1 sleeve, no problem.
July 2, 2014
Rated

5

out of

5
 by
WorldTraveler3557
Great piece of mind!
I bought both the RFID credit card sleeves & passport holder for an overseas trip. Felt safer knowing I was protected.
June 3, 2014
Rated

5

out of

5
 by
WorldTraveler3557
Great piece of mind!
I bought both the RFID Passport holder & credit card sleeves for an overseas trip. Felt safer knowing I was protected.
June 3, 2014
Rated

3

out of

5
 by
Welltraveled
RFID products
How does one determine it really work? When such products are sold, there should also be a store scanner available to self-test these products, especially, as they are not inexpensive. With no way to test before purchase made, one can only rely on word of manufacturer.
May 22, 2014
Rated

5

out of

5
 by
JustMe2
A must have now that passports have RFID chips
It was time for my husband and me to get new passports. We knew our new passports would have RFID chips in them so we purchased 2 of these sleeves before we even put in our requests. I strongly recommend that anyone getting a new passport purchase one of these sleeves. $6 is inexpensive insurance!
April 25, 2014
Rated

5

out of

5
 by
DoxyMom
Great, practical item!
Love these lightweight credit card covers! They fit easily into wallet & protect from thieves scanning credit cards! I purchased them for the whole family! Fit perfectly in men's or ladies' wallets. Placed them in front pocket & back pocket of bifold wallet with the credit cards & since they are so thin they fit without any problem. I love the idea I was able to use with my current wallet ... Unlike other holders that require you to store the credit cards separately. GREAT ITEM for the whole family!
March 25, 2014
Rated

5

out of

5
 by
Redsmom2
RFID sleeves
Purchased the passport and credit card sleeves to replace the ones I've had for years. Had a card compromised by someone walking by using a reader in their pocket and have used them ever since. I even put one behind my drivers license since they now have information that can be scanned. Identity theft and charges on cards is something I don't want to deal with again.
October 27, 2013
Rated

5

out of

5
 by
chicago2529
so far so good
The sleeves are super thin so my card still fits in its cardholder while the sleeve is on. I tried using my card (with the sleeve on) with a device that should have been able to read it and it couldn't do it, so that makes me think it's working.
October 23, 2013
Rated

5

out of

5
 by
debbyt627
suits my needs
I was reading about credit card theft from afar and decided I needed to protect my wallet from scanners. It fits right in the passport protector and I've been using it for a couple of weeks and it's holding up really well.
April 25, 2013