Rated

5

out of

5
 by
OrlandoK
Finally! The shampoo bottle is off of the floor!
I have a confession. I buy my shampoo at a warehouse club. This does NOT make me a bad person (okay, well, it may indicate I'm cheap), but it does mean that my shampoo bottles are tall and heavy, and therefore laugh mockingly at normal shower caddies. Thanks to its four suction cups, this basket has gotten my shampoo and other items up off of the floor of my shower for the first time in years!
March 18, 2014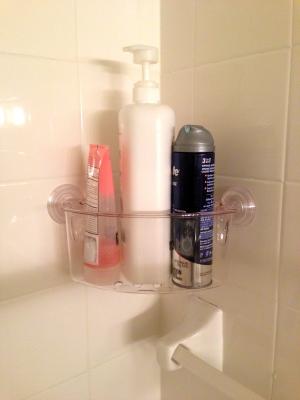 Rated

5

out of

5
 by
AshburnMom
Love it!
I keep buying the over the shower caddies but they keep rusting so I have been looking for something different. I was afraid these wouldn't "stay put"... but they have! I love them!!!! They can hold up to 3 large shampoo bottles too. Great purchase!
May 3, 2010
Rated

5

out of

5
 by
juliems
My shower friend
The clear corner basket is great! I don't have much space on the edge of my tub so I love having this bucket in the corner to hold my razor, soap, toothbrush, tooth paste, there are holes on the bottom for drainage but my stuff doesn't fall through and it never falls off the wall.
April 26, 2010
Rated

1

out of

5
 by
bow26
This is a piece of junk
I only bought this item because the item I came in to buy, a shower corner basket held on by spring tension, was out of stock. This is very poorly designed. The instructions on the package are not for this item, and when you try to install it, the back suction cups -- the old-fashioned kind -- stick first. But, the power lock suction cups have two flaws. They don't stick out far enough. Maybe they should stick another 1/8" further out, each, because once the back suction cups are stuck on, the power lock ones can't reach the tiles of the corner I need to install it in, so the unit was hanging on just from the back ones, and couldn't hold any weight for long. Also, because the power lock cups are fixed in-place, if there is a grout line between tiles under the suction cup, it wouldn't adhere even if it DID reach the wall.
July 6, 2016
Rated

1

out of

5
 by
snowangel1229
looks great BUT??
I wanted something in the shower that i didn't have to hang from the shower head and I saw this. I was so excited especially after reading the reviews.. I got it home and went straight to the shower to put it up. Well, the 2 stationary hooks grabbed really well but the two Power locks didn't lock onto the glass or tile. I tried both wet and dry but nothing worked. I did find another product and it's working so well that I'm not laying in bed waiting for the crash that happened with this product.
August 19, 2015
Rated

1

out of

5
 by
Wsfld
Wouldn't stick
I bought this because it was bigger than the regular wall mount one so I was hoping it would hold my shampoo, conditioner and either shave gel or body wash. (I buy big shampoo and conditioner bottles.) I followed the instructions and tried several times, but couldn't ever get both sides to stick. I even looked at the installation tips on-line and still no luck. Had my husband try to install as he's very handy, but he also had no luck after several attempts. Returned the product yesterday and bought the regular wall mount one. Hopefully I'll have more luck with that one otherwise I'll have to keep the old over the shower head organizer.
January 14, 2015
Rated

5

out of

5
 by
Denysewilson
Easy, Versatile, Best thing ever
This is such a great space saver. I can fit everything I need essentially (shampoo, conditioner, body wash, body scrub and a loofa) in it, without a hassle. I love it, super easy to attach and holds great!
September 3, 2014
Rated

5

out of

5
 by
BathroomRefresh
Super Strong Hold
Super strong hold, great quality, very sleek! I definitely recommend this product and have already purchased the coordinating razor holder and soap dish.
June 2, 2014
Rated

5

out of

5
 by
Katrina0408
Great shower oranization
Was pleased with how well the suction held up. I use it to hold my shampoo, conditioner, and face wash bottles. Extremely durable and easy to clean. Holes in the bottom let excess water drain out.
April 27, 2014
Rated

5

out of

5
 by
uwsmom
Great to hold shampoos and other shower stuff
I was wary of using this, as I always my shampoo in bulk sizes and was afraid I would be reattaching this every day. That is not the case. This is amazing and really holds lots of stuff. I have two bulk sized containers, and smaller bottles of facial cleaner, etc and it has held up. It is easy to attach and holds a bunch of stuff. Also, because there are holes in the bottom to let water through, it does not get dirty and need to be cleaned out. I highly recommend this!
April 1, 2014
Rated

1

out of

5
 by
Jets
Does not work
It stayed up for about two weeks then fell down in the middle of the night. Now it won't stay up at all. Returning it to the store. Otherwise, the quality is excellent but that doesn't really matter if it doesn't accomplish it's purpose.
February 8, 2014
Rated

2

out of

5
 by
Houstonian
Great idea but not so great product.
I purchased this and it keeps falling down every single day.
December 18, 2013
Rated

5

out of

5
 by
SylvieGirl
Actually stays put!
Ours is holding three shampoo/conditioner bottles, a bottle of face wash, and a few smaller items, and it has not fallen! Very strong suction power keeps this thing in place. Also, I love its simple design. Keeps everything nicely organized. Love it.
November 8, 2013
Rated

3

out of

5
 by
Mumofthree
Didn't work for my space
This basket is a great idea, and may work in a different space than mine, but unfortunately I had to bring it back. Our shower is tiled with large ceramic tiles and the corner had breaks in the tile where the suctions should have attached. This might work better if the suction positions were adjustable.
April 16, 2013
Rated

1

out of

5
 by
NewyorkNewMom
Suction cups failed
My husband warned "those bath suction things never work" yet I believed. They fell down repetitively the first day, I still believed. One fell on my head whileI was taking a relaxing bath, I no longer believe. I'd have gotten more utility from losing a round of roulette.
April 3, 2013
Rated

4

out of

5
 by
Mom2two
Holds 4 normal size shampoo/conditioner/body wash bottles. Strong enough that it doesn't fall down even when filled. Works great and takes up minimal space.
April 1, 2013
Rated

1

out of

5
 by
logansquarelady
Just doesn't work
I followed the directions exactly and this thing will stay up for maybe half an hour and then it comes crashing down in my bathtub. I give up. Total waste of money.
March 2, 2013
Rated

1

out of

5
 by
BlackIvy
Bought 3, only 1 would stick
I thought I could create a 3 shelf system because I was tired of the rusty tension rod corner shower caddys. WRONG! I could only get 1 to stick to the tile. And this is freshly cleaned tile so it should have no problem sticking. Well, it does. The back 2 regular suction cups stick better than the "power" suction cups. Returning the 2 that don't stick this weekend. Waste of an overpriced product.
March 16, 2012
Rated

5

out of

5
 by
BestDayEver
No more rust in the shower
I love this basket, the greatest thing is I can say goodbye to all the metal organizers that rust after a couple months.
February 29, 2012
Rated

2

out of

5
 by
katydidnt
Great solution, until it wasn't.
I have to launder items every night in a lightweight plastic bowl that fits neatly into the wash basin. About a year ago, I wanted a caddy I could stand the bowl in to let it dry and get it out of the way, but couldn't find one deep enough. I was delighted when I found this caddy, which looked nice and held the bowl perfectly, plus a full bottle of Woolite; the suction cups seemed strong and stable. Unfortunately, over a year, both cups began coming loose more and more often, no matter how hard I pressed on them when locking them into place, and I could feel that the locking mechanism wasn't't as tight as when I bought it. Even when all 4 suction cups were correctly positioned and the tiles were perfectly dry, the cups wouldn't stay on the wall. At first I tried removing the bottle of detergent, but that didn't make any difference; now, the cups come loose even when there's nothing in the caddy. I'm disappointed and will return the product.
December 22, 2010
Rated

3

out of

5
 by
kandi111777
Great product idea - poor execution
Baskets are made for 90 degree angle corners. I live in a standard ranch-style home and my master bathroom has a garden tub and a stand-up shower. The shower is one of those pre-built fiberglass stalls and it has curved corners - not 90 degree angles. I thought that perhaps my style was in the minority but after looking around home improvement stores, I found that most of the available pre-built fiberglass shower stalls have curved corners. So this basket would not fit the majority of shower stalls in bathrooms in the US. It's unfortunate because it's a great product but instead, only one side will stick so it keeps falling down.
December 19, 2010
Rated

4

out of

5
 by
beagg
Works Fine
I was worried about this basket staying up, especially with 4 full bottles of shampoo. It hasn't fallen since I put it up several months ago (fingers crossed). Don't put it in a corner that gets really wet.
July 27, 2010
Rated

1

out of

5
 by
bmary
doesnt work, falls down constantly!
I should have known better...this WOULD be a great item, but it does not stay adhered to tile wall (and I followed instructions precisely) everytime I thought I finally got it, an hour or so later there would be a loud crash in the bathroom and all of my toiletries would be scattered in the tub. dont waste your money.
June 27, 2010
Rated

5

out of

5
 by
sce123
Power Lock Corner Baskets are THE BEST
I -love- these baskets. The Power Lock suction cups really make a huge difference in keeping them securely attached. I've also ran them through the dishwasher with no problems (removing the smaller suction cups first). The only caution: MEASURE FIRST! They worked really well in my old home. The problem I'm faced with now is that there are grout seams where the Power Lock suction cups would adhere. I've tried caulking the grout line to even out the gap but it didn't work. So I'll be buying the regular rectangular Power Lock baskets which isn't that big of a deal; the corner ones just help make the shower space seem larger. So into storage they go...
June 18, 2010
Rated

5

out of

5
 by
chertex62
Nice solution to an old shower
I live in a house built in 1966. The shower has one small shelf that holds my husbands shampoo. The last time I was looking for a solution, I found these. I was told I could return them if they didn't work well. BUT, they have been great. They occasionally come loose, but there are two sets of suction cups, so they don't fall. I have three of these for all my shower products - shampoo, conditioners, bath gels, etc.
May 17, 2010
Rated

5

out of

5
 by
Verified Reviewer
Power Lock corner basket - perfect!
Easy to install, great looking. The only thing I wish it had was a small hook for the razor. It helped get my shower bottles off the ledge. Love it!
April 23, 2010