Rated

5

out of

5
 by
MichalB
ELFA System Is The Best
I have a older house with small closets and I need to use every inch of it. I tried three other closet organizer systems before I saw elfa system at my friends house. I used elfa in all my closets and in my garage. I like Elfa because ones you put it together it becomes one solid peace. It doesn't swing or move like other systems. Also there is way more available options that other systems offers. What's also important for me is that you could re-arrange it. I already re-arrange on of our closets from a guest closet to to men closet, and finally to kids closet. I recommend elfa to every one. Couple of my friends also got it after they saw my closets.
August 28, 2015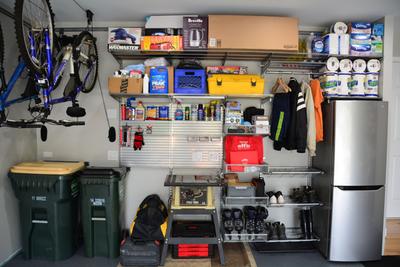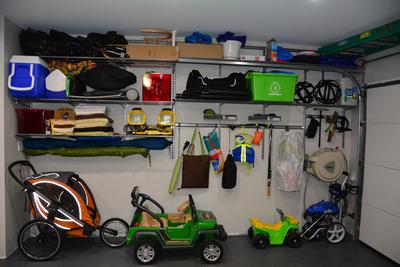 Rated

5

out of

5
 by
aagarage
Neat Clean Looking and Easy To Install
We've owned Elfa storage products for years and when we moved to a condo we had to leave our storage system behind. Bought the basket as part of a small garage storage area to get some started there. All the pieces were easy to install, very well made, and look great in the garage. I've since bought a larger system for the garage and complete new shelving for my personal closet. Love it and don't see anything readily available of this quality and appearance.
July 6, 2015
Rated

5

out of

5
 by
puppymom
Not a better system!
I've just finished my third Elfa project⿦and Iove it. We did our walk-in clothes closet, my laundry room closet and now my walk-in pantry⿦.everything is organized, clean and I smile every time I stand and admire what Elfa offers.
March 6, 2015
Rated

4

out of

5
 by
valelaine
Great addition to laundry room
These work brilliantly. They are sturdy, and the basket form keeps things securely on the shelf.
July 10, 2014
Rated

5

out of

5
 by
Cat10
Perfect
Elfa has worked out great in our laundry room!! Truly perfect for looks and organization!
May 15, 2014
Rated

5

out of

5
 by
MAVA
Greatest Pantry - What a Dream!
My pantry closet was a disaster. It had few shelves and that meant that cans, boxes of food, storage and serving items were piled on top of each other. A disaster when trying to find things. I had the Container store replace the shelving in my pantry with Elfa open shelves and shelf baskets. What a difference! I can now easily access everything; everything has a place; and the closet now holds more than it did previously, including paper products that were previously stored elsewhere. I still smile each time I open the door! Thank you for the excellent system, the great installer, and your design work!
April 30, 2014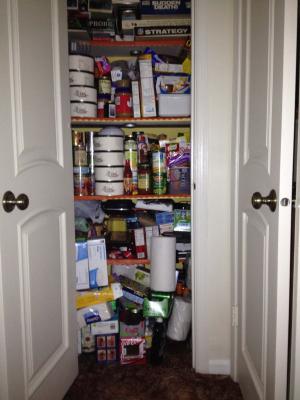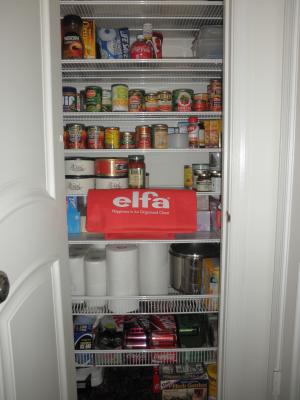 Rated

5

out of

5
 by
queenofelfa
Very cool with the dividers
Installed these in master closet with lower rod beneath it. You can get the dividers to create compartments for those smaller items that don't stack well. They even have dividers with walnut accents to match the elfa decor shelf trim. See photo.
April 12, 2014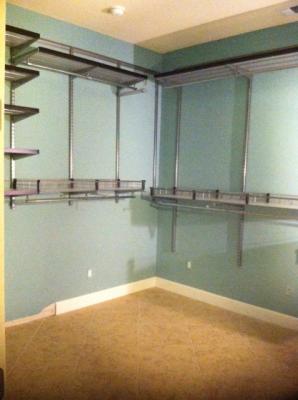 Rated

5

out of

5
 by
DebbieC
Perfect Solution
I bought this basket to organize socks & underwear in a walk in closet. Originally I designed this closet area for hanging, but with a simple purchase and a few minutes I changed hanging into divided storage. I love the elfa system.
April 8, 2014
Rated

5

out of

5
 by
GKYoung
Lots of Options
I have been an Elfa fan for several years but this is the first time I have purchased the shelf basket. I found many uses for it, and like the 'divider' (and end caps) options of clear plastic or decor. I purchased three of these baskets and each serves a different purpose: 1) small clear boxes containing jewelry sets; 2) shoes - specifically flip-flops; 3) desk stuff such as notecards and envelopes, small boxes, wallets. Additionally they were easy to install.
March 21, 2014
Rated

4

out of

5
 by
quilter147
Captive organization
The shelf baskets work great for quilt projects I want to keep contained with limited access. I use them for projects I'm not repeatedly pulling off the shelf.
February 26, 2014
Rated

5

out of

5
 by
pastelpoodle
Great Product!
One more great thing that Elfa does! Very convenient and helpful to be able to keep hard to store items that might be better in a drawer on a shelf the closet when there is no where else to put them.
February 22, 2014
Rated

4

out of

5
 by
StorageSolutions
Great baskets
Great baskets. Very useful. Would like it if they came in 20 in. Gave it 4 starts
February 22, 2014
Rated

5

out of

5
 by
gigit1970
Love these!!
These are great in my utility room! The are strong and can hold a lot. I love them and plan on doing more closets with them
February 17, 2014
Rated

5

out of

5
 by
Schubi
Great Storage solution
great shelving option, good to store smaller / larger items without the risk of falling from shelfs when moving thngs around.
February 14, 2014
Rated

5

out of

5
 by
TryingForOrganization
Best organization for pantry
These shelves help to organize the kids snacks so they have lots of choices of healthy snacks by using the dividers. Our pantry looks nice and quickly find good choices.
April 30, 2013
Rated

5

out of

5
 by
CSLove
Cannot live without!
The Shelf Baskets are genius! We built a pantry closet under the stairs in our tiny (yet lovable) town home. We are super tight on space so we need to be creative. These baskets were a lifesaver. They hold so much more than a flat shelf would since you're not worried about things falling off the front or the back or the sides. I especially like that you can divide up your shelf easily. I am an organizational freak and this shelf is great. I also generally recommend the Elfa System and Container Store. The best is knowing that an employee is there to help you figure out exactly what you need and customize this seemingly stock system to fit your exact space and organizational needs. THANKS CONTAINER STORE!!!!!
March 19, 2013
Rated

5

out of

5
 by
lmay27
Basket Dividers
Easy to install once you figure from back and top from bottom. Isolated sections well.
March 13, 2013
Rated

5

out of

5
 by
OutsidetheBox
Unconventional Use
I used the 2' long platinum shelf basket as a way to store cutting boards under our upper cabinets in the kitchen because they wouldn't fit anywhere else. The only complaint I have, and it's not even about the product itself, is that the Container Store doesn't have any sort of fastener that would be helpful. We ended up rigging something together which is okay unless someone looks at it directly from below.
March 11, 2013
Rated

5

out of

5
 by
Woggie
The Miracle Of The Wire Freezer Basket
The wire freezer baskets #10009010 saved me from an irate Mom who hates clutter, but most importantly, from the prospect of eating out of date or frost bitten food. My freezer was totally unorganized and the food rarely rotated for food safety and freshness, Items often would fall onto the floor upon opening the door. After installing the freezer baskets, i can find everything i need at a glance. All of the items are secure and i can easily see my inventory. The oldest frozen food is now eaten first saving me a lot of money by not having to throw out and replace what was freezer burned. The baskets were inexpensive, durable, and completely flexible for all types of frozen foods. Everything is now organized and safe. It is a miracle for the freezer!
March 10, 2013
Rated

5

out of

5
 by
dancindoc
Great Product
Works great, just what I needed to organize my closet
February 28, 2013
Rated

5

out of

5
 by
owen221
Shelf Baskets
Great, sturdy product. I bought these and modified them to be used in a wooden wall unit to hold DVD's, three across. Looks great and works really well, allowing storage of 3 times as many per shelf.
February 23, 2013
Rated

4

out of

5
 by
SteckIIT
Great for spices and the small stuff
Got this to corral spices for a kitchen cupboard, terrific purchase!
February 20, 2013
Rated

5

out of

5
 by
GrammyK
elfa Shelf Basket is Great
Helps contain dish towels, cloths, etc. Watch the online video to see how to install shelving correctly, it makes all the difference.
February 14, 2013
Rated

5

out of

5
 by
Trixinator
Unexpected hit!
When my closet designer suggested I added a shelf basket in place of a regular shelf (above some drawers), I was not very excited. I went along with it because it was an inexpensive piece and I knew I could swap it. But I couldn't imagine what I'd use it for... I'm now in the process of changing all the shelving across my lower hang to shelf baskets. They are SO nice! What would normally be wasted space between upper and lower hang/drawers/shoe racks now stores my belts, clutches/wristlets, ball caps, wraps and scarves. I even have a small section for my dog's sweaters. These baskets aren't as exciting as my drawers or gliding shoe storage. But in terms of making good use of dead space, they are the the smartest thing I (well, my designer) did.
January 26, 2013
Rated

5

out of

5
 by
Metza
I love this product
I use this in my laundry room to store various dryer sheets and detergents.
April 4, 2012
Rated

5

out of

5
 by
bluemountainmama
Great addition to Elfa configurations
I love these little baskets. The are nice and shallow so everything is easy to see. We used them for clothes, socks and undies in my kids closets. I like that they can be divided into any size compartments. It would be even better if they had sides without adding a divider to create a side.
February 28, 2012
Rated

5

out of

5
 by
Melon
Great for the Garage
These baskets (and dividers) keep everything in its place. Fabulous complement to my garage shelving unit.
February 15, 2011
Rated

5

out of

5
 by
Verified Reviewer
eliminate the need for dressers
We live in a townhouse, so the space in my boys' bedroom is limited. When I organized their closet with the Elfa system I installed these shelf baskets instead of standard shelfs. These shelf baskets allowed me to remove their dresser from their room, which gave them more play space.
February 15, 2011
Rated

5

out of

5
 by
ldbaustin
Great product
The shelf basket was a great addition to my bathroom shelf system. It was the perfect Elfa product to contain all of the tipsy bottles that manage to collect in bathrooms.
February 14, 2011
Rated

5

out of

5
 by
KellyConQueso
Convenience of a shelf without things rolling off
I really love the shelf baskets. I can stack my roly-poly items without fearing they'll fall off the shelf.
February 14, 2011