Rated

5

out of

5
 by
Bikendanz
Sturdy and attractive
Other reviews helped me choose this for use as a laundry basket to take between floors. I like how sturdy it is and it doesn't look like like a laundry basket.
December 17, 2016
Rated

5

out of

5
 by
Elaff
Perfect for towels
This basket is perfect for beach or pool towels. Lightweight, water proof and easy to carry in and out of the house for kids and company to grab a towel. Looks great too. Would also be great for toys, bath toys or laundry.
August 13, 2016
Rated

5

out of

5
 by
lica
Great cute basket
This laundry basket is sturdy, exactly as described and very cute. I definitely recommend it.
May 20, 2016
Rated

3

out of

5
 by
Missy30004
Doesn't hold shape
This basket is much more unstructured than it appears in photo. It doesn't hold its shape when clothes are added. I didn't try to use the handles to lifted it. They didn't feel sturdy and I had already decided they were not what I was looking for. I had planned to use several on shelves in my closet but I wanted a more consistent look and feel. The color is very nice.
November 17, 2015
Rated

4

out of

5
 by
Kath01
Very Nice
Handles could be stronger for the weight basket is designed to carry. Very attractive.
June 30, 2014
Rated

5

out of

5
 by
NJavan
perfect
this product is just the perfect size I was looking for to fit our bathroom shelves. it has a pleasant color & great design & material.
April 19, 2014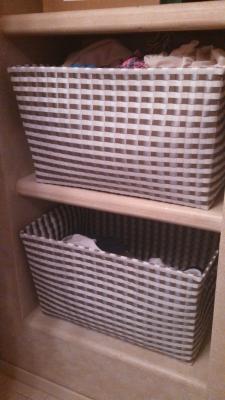 Rated

5

out of

5
 by
LShop
Beautiful. Light and airy. And it matches any decor.
April 7, 2014
Rated

5

out of

5
 by
julesberry
Amazing Store!
After the purchase of my amazing Elfa closet, I continue to add cool touches like this hamper to complete my overall organizational masterpiece.
April 3, 2014
Rated

5

out of

5
 by
Robin22
Great product
Well made, attractive, seems durable, good product
April 2, 2014
Rated

5

out of

5
 by
barscia
beyond a basket
These plastic bins are the best - I use them for hampers, toy storage, and more. Handles make lugging easy. plastic means easily wiped down. and various color ways are versatile and fun.
March 10, 2014
Rated

5

out of

5
 by
TheCleanQueen
Love this hamper
My husband and I recently purchased this hamper and could not be happier! We needed to get a new one, as a wicker hamper that we'd had for several years began to come apart. This hamper is sturdy, lightweight, and its look is elegant.
January 26, 2014
Rated

5

out of

5
 by
Usam
Great Product
We only ordered one of these and after it arrived there was a short battle for ownership! It's a great hamper. Well made, sturdy, and nice muted modern color combo. We will definitely be ordering another.
January 2, 2014
Rated

5

out of

5
 by
Hoff
Great Find
Our laundry room is in the basement with bedrooms on the 2nd floor. This hamper is perfect ... holds a lot of clothes however, is lighweight and easy to carry down two flights of stairs.
March 21, 2013
Rated

5

out of

5
 by
AMcMurray
Looks & Function
This looks great in my closet and is perfect for organizing my dirty clothes.
March 7, 2013
Rated

5

out of

5
 by
iugirl1023
Sturdy and Pretty
I needed something to use as a hamper in my closet below my hanging clothes and this works beautifully. It looks nice and holds lots of clothes and then can easily be slid out and carried to the laundry room using its handles. A great, and nice-looking laundry basket.
November 3, 2012
Rated

5

out of

5
 by
Ress
The laundry baskets are lightweight and look great!
October 11, 2012
Rated

5

out of

5
 by
AnnabelleL
Sturdy for heavy loads
I bought this for my new apartment and didn't want an ugly plastic laundry basket. This nylon basket is lightweight but sturdy enough for heavy loads. It is a bit pricey for a laundry basket, but I do think it's worth it.
May 3, 2012
Rated

4

out of

5
 by
Nudubarb
Great value but hasn't held up as well as I'd like
Good basic laundry basket, holds several loads of laundry. After some months, the wire rim has started to bend out of shape, though, and resists being re-shaped.
April 29, 2012
Rated

5

out of

5
 by
RegRD
Able to fit quite a bit into this basket and it's easy to carry
March 13, 2012
Rated

5

out of

5
 by
Pov95
Great Hamper
I got two of these for my master closet. They replaced three different traditional laundry baskets. They look great, hold a lot and are light weight.
March 6, 2012
Rated

5

out of

5
 by
samiko
Perfect for organizing toddlers closet
size and depth is perfect for what i needed!!!! :)
February 28, 2012
Rated

5

out of

5
 by
Oliviamama
Great storage baskets!
I looked at many stores and found this to be the perfect storage basket with a very minimalist look for my modern house. Also at the great price I was able to buy six of them to put in my hallway to organize toys, sports equipment, pool equipment, towels, etc. I am very happy with the buy.
February 15, 2012
Rated

5

out of

5
 by
Mamachka1200
Love this basket
I love this because it is very lightweight and is square. Square makes clothes fit in it better than other laundry baskets and it also means that it pushes completely flush with the dryer so that I can just flop the clothes out of the dryer and directly into the basket in one scoop. And this is the perfect height to fit under my dryer door so it doesn't interfere with the swing when I open it. And, as a bonus, it's nice looking!
February 11, 2012
Rated

4

out of

5
 by
MadJen
Cool and functional
I needed a larger hamper than typical to handle my load. I suppose I don't launder often enough. This is modern style and looks great, it's lightweight so I can carry to the laundry. I could probably drag it but I don't want to wear out the bottom. The material is the same as the straps that are used for shipping and bundling newspapers. If you're familiar with that - it's strong stuff. It will be impossible to break, unless like I said, you drag it on the bottom enough, it may eventually wear out at the corners and create a hole. The top has a metal wire to create the circle shape, but it will bend if you apply any pressure at all. I just bend it back. It's new and doesn't seem to be a problem as of yet. It also doesn't have any lid, which may bother some people. But I like it without, I can just chuck stuff into it from across the room - score! I'd recommend it.
January 30, 2012
Rated

5

out of

5
 by
Shopaholic
Awesome!
I needed to replace a wicker hamper that was literally falling apart and was on the search for something more resilient. These are fantastic. They hold a ton of laundry, are easy to carry to/from the laundry room, they are sturdy and look great. I used the order online/pickup instore option for the first time and that was super easy - way better than paying for shipping and then waiting a week for delivery.
September 23, 2011
Rated

5

out of

5
 by
hbksloss
Laundry Basket Greatness!
Love my new laundry baskets--they are replacing old wicker ones that have fallen apart.
August 16, 2011
Rated

5

out of

5
 by
Verified Reviewer
Nice large laundry basket
This basket fit perfectly inside my laundry shoot cabinet, while at the same time it is nice and large. Very attractive, too. Much nicer than the flimsy plastic laundry basket that it replaced. I am sure it will last for decades!
March 12, 2011
Rated

5

out of

5
 by
idahogem
The Perfect Basket
Where have these been all my life? So light weight even when they are full; and they hold much more than a traditional bulky plastic basket. I love these & will replace all my laundry baskets with these.
February 14, 2011
Rated

5

out of

5
 by
Tuesdaynext
Great Hamper
Great Hamper. I got this because our old one was heavy and being pregnant I needed something sturdy but lightweight. This hamper is great. Some of the natural fiber hampers I have used the handles end up breaking. This one is sturdy and has a small footprint and is neutral so it fits right in without sticking out. highly recommend.
January 21, 2011
Rated

5

out of

5
 by
Neatasapin
Space saver and fits through doorways
This is a great product for saving space on the floor- my daughter is using it in her bedroom. It wipes down easily, and it fits through doorways as you carry it downstairs, without turning sideways to get through them.
December 28, 2010