Rated

5

out of

5
 by
Crochetcat
Just like home!
Finally, no more manual tooth brushes when I travel. Can hardly tell the difference between this one and my much heavier Sonicare. Have even bought one as a gift.
March 16, 2015
Rated

5

out of

5
 by
singinlady19
Great Electric Toothbrush.
I may even replace my regular one with this temporarily until I get a big at-home electric toothbrush. Vibrates just enough and has replaceable batteries and an extra head. The case is protective and slender. The brush is the perfect size.
April 15, 2014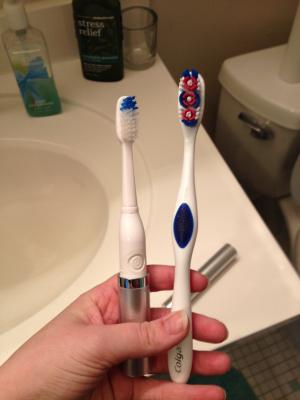 Rated

5

out of

5
 by
MOSOCD
Great travel toothbrush
I bought one for each person in my family before traveling to Europe. Love the compact size.
September 30, 2016
Rated

1

out of

5
 by
DoesItReallyMatter1
No Power
This item runs like the battery is just about dead. We purchased 4 and after trying one we took 3 back
December 11, 2015
Rated

5

out of

5
 by
jenniferneil
great!
I always missed my electric toothbrush while traveling but now I don't have to!! I can take it with me! Love it!
August 14, 2014
Rated

5

out of

5
 by
GGH21
GGH21
My husband purchased several of these for use when traveling. I love the small size and the sonic action does a great job cleaning my teeth.
May 3, 2014
Rated

5

out of

5
 by
BeckyVet
Great purchase!
Bought this on a whim while at a grand opening since I knew I would soon be going on two vacations. It is smaller then my old travel toothbrush, has a great, effective case, and is an excellent electric toothbrush. I'm thinking about getting one for home use too!
March 19, 2014
Rated

4

out of

5
 by
YonoSe
Love this!
It's a very convenient battery-operated toothbrush for your travels if you prefer an electric toothbrush like I do. I love that it has a top so you can close it and you don't have to worry about germs and storage on the go.
March 14, 2014
Rated

5

out of

5
 by
Andig
Greatest travel toothbrush
I LOVE this travel toothbrush. It has good power, is small and compact, and stylish. I use an electric toothbrush at home and have wanted one that would travel. This is ideal. I got them for stocking stuffers this year.
January 1, 2014
Rated

4

out of

5
 by
jessisca
Great Travel Tooth Brush
I usually use the Sonicare toothbrush, but it's bulky for travel and a pain to take the charger. I saw this and picked it up as an alternate for our Christmas vacation. The brush head is a little bigger than the sonicare and the sonic action feels a little different. I like the size and the cover makes it very packable. I also like that the battery it needs come with it.
December 31, 2013
Rated

5

out of

5
 by
krk2013
Pleasantly surprised
I used this great toothbrush over the holiday travels and was pleasantly surprised. I wasn't sure what to expect from a battery powered toothbrush, but it has good power and gets the job done.
December 29, 2013
Rated

5

out of

5
 by
Veryfresh
great travel toothbrush
I really love this toothbrush. Great to throw in my purse when I'm on the go. The polka dot casing is very cute and it keeps the brush clean. It also comes with an extra toothbrush head. All that and it cleans your pearly whites too!
December 17, 2013
Rated

5

out of

5
 by
deb4g
Great for travel
Fits so easily in my travel bag. Love that its a sonic! It works very well. All my family's getting it in their Christmas stocking!
December 13, 2013
Rated

2

out of

5
 by
MimaK
More Power Please!
I bought this toothbrush because I didn't want to drag my entire rechargeable when travelling. I found myself still using this toothbrush like a manual. Because, my teeth didn't feel clean enough. I'll use it for convenience. But, I expected it to brush, not just vibrate.
November 26, 2013
Rated

4

out of

5
 by
Andrews
GR8 FOR TRAVELING
It's lightweight, compact and easy to carry for traveling. I highly recommended it since it saves your luggage from weighing more. Less bulky, too. Will make a great Christmas gift for those who travel all the time, but has trouble keeping their suitcase as light as possible.
June 10, 2013
Rated

5

out of

5
 by
argsxrlady
Great Travel Size Toothbrush
Great travel size alternative to full size sonic toothbrush, it not as powerful as full size sonic but much better than reg. tooth brush.
May 1, 2013
Rated

5

out of

5
 by
iceberg952
Great purchase
I read some reviews on the internet which were not really very good, even so i purchased this and loved it. The brush is small but did the job perfectly. The power was great. Since i use a sonic toothbrush at home I prefer using this to a regular toothbrush when I travel.
October 13, 2012