Rated

5

out of

5
 by
Amanece1
Streamlines sink area
Prior to purchase, brushes, sponges and dish soap were all fighting over the same area. Now everything is organized in one spot and easy to get to.
January 7, 2017
Rated

5

out of

5
 by
Adventurer
Great caddy for the kitchen sink
I really like this sink organizer. It is perfect for a sponge, scouring pad, 1-2 scrub brushes and/or soap dispenser. It keeps the counter area dry and my dish cleaning supplies out of the way. It is a perfect solution for my kitchen sink.
January 2, 2017
Rated

5

out of

5
 by
lica
Great piece
Great organizer, and exactly as described. I've being using it for only two weeks so I can't say how "stainless" it really is. So far so good. It still looks like new.
May 20, 2016
Rated

3

out of

5
 by
mariasf
Holds your things
This holder definitely holds your near-sink things, however, it turned rusty from the water the day after the purchase. It just looks very old. I wish it wouldn't rust at all, especially that it is supposed to be near sink and is in contact with water so often.
February 7, 2016
Rated

5

out of

5
 by
Bettyboopboopadoop
Very excellent
Very handy and keeps the sink area clean Love the soap dispenser. You just have to tap it
December 22, 2015
Rated

2

out of

5
 by
Cooper2
Nice looking but rusts horribly
This product looks great and would be ideal for my needs. It comfortably holds a sponge, at least two brushes and a soap dispenser. However, we have only been using this for four months and the stainless portions are already rusting. There is no way to avoid this since it was made to hold wet items. Unfortunately I would not recommend.
December 14, 2015
Rated

4

out of

5
 by
ImZed
Good Looking
I like this organizer which holds the things I use by the sink effectively.
June 1, 2015
Rated

5

out of

5
 by
joltster
Stainless steel sink organizer
This is a neat and easy way to keep sink gear organized.
December 9, 2014
Rated

5

out of

5
 by
Patches
Best purchase I have made in a long time.
I love this organizer. So nice to have everything in one place and right at my fingertips.
July 13, 2014
Rated

2

out of

5
 by
JTOBuyer
Not so stainless
After 10 days of use in a fairly busy kitchen, this product is already showing signs of rust spots along the sponge area. I would not recommend.
June 26, 2014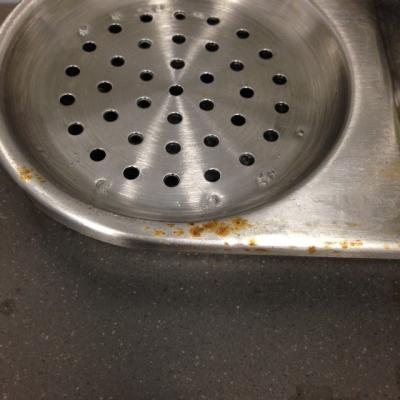 Rated

5

out of

5
 by
Sweaky
Cute product
This product helped me organize my sink items. I did not purchase the matching items shown with the Organizer since I had my own. There is a bottom plate that allows you to drain water and food particles. and this does not rust. Could also be used in the bathroom or on a vanity to organize hair care.
June 19, 2014
Rated

5

out of

5
 by
KarinC
I love it!
Why did I not find this 10 years ago, time I suffered thru using a bulky in sink container which excelled in growing yucky yellow/orange stuff in the bottom.
June 13, 2014
Rated

5

out of

5
 by
angelfire
Great idea
Love this product for the kitchen. Especially because the bottom is removable for easy cleaning. I'm thinking about getting a few more for the bathrooms. A place for toothbrushes, a cup and toothpaste.
February 20, 2014
Rated

4

out of

5
 by
Sweetmamaof2
Not sure about this
Love the look and the idea - not sure how much I like it though because my taller brushes don't fit great in it. My husband doesn't like it and keeps wanting to rotate it so the brushes face outward - which I do not like. Maybe I'll like it better when if I get a shorter brush.
May 2, 2013
Rated

5

out of

5
 by
RChoppy
Amazing Sink Organizer!!!!!
Great product! Clears up a lot of room near my sink for me and makes less of mess in the process of doing dishes. Easily captures water from the long handled brush I use when doing my dishes!
May 1, 2013
Rated

5

out of

5
 by
Juile
Looks great on my counter and it seems to be helping my sponges last longer.
March 18, 2013
Rated

5

out of

5
 by
MizGee
Exactly as Advertised!
Slim and holds two, bottle brushes upright and one, regular-sized sponge. The tray is starting to rust a little in one corner, however -- looks like it can be easily scraped off. And a regular bottle of dishwashing liquid fits perfectly in the circle where the pump dispenser in the photo is depicted. I did like being able to buy it online and then pick it up in the store -- although a few kinks need to be worked out as far as routing the pick-uppers to the dedicated register.
May 30, 2012
Rated

5

out of

5
 by
otto
Keeps my sink neat
The sponge caddy is the best. It allows the sponge to get thoroughly dry. It compliments my kitchen decor and reins in the accoutrements. I'm very pleased with this purchase.
March 20, 2012
Rated

5

out of

5
 by
Clementine
Definately a staple
This is now part of my kitchen. Easy to clean and holds quite a bit. Also looks cute.
February 22, 2012
Rated

5

out of

5
 by
KimberAWB
Love it!
I bought this product so I could have more organization around my sink. It was perfect and I love it! Definitely does the job and looks nice.
February 17, 2012
Rated

5

out of

5
 by
Heena
Love it!
I had a suction stainless steel in-sink organizer before, i got that at TCS as well. It was nice for sponges, but that was it. I always had bottle brushes and my palm brush just laying in the sink, it was super annoying. But i just found this, and i'm in love with it! it makes the sink area look soo much more clean. this is really well made too, not filmsy at all, we'll get good use out of this product!
November 28, 2011
Rated

3

out of

5
 by
BooBooFixer
Disappointed
Initially I loved the look and efficient storage but I was REALLY disappointed when it started rusting.
April 14, 2011
Rated

5

out of

5
 by
Scout
Clean and functional
Have bought two more for friends that had to have!
February 15, 2011
Rated

4

out of

5
 by
ALCinLAC
A sink organizer that's a keeper
I feel like I've bought a half-a-dozen sink organizers. Finally, this sink organizer works, drains the water well, stays clean and looks nice. Happy with the purchase and looking forward to keeping this one for a while.
December 30, 2010
Rated

5

out of

5
 by
Verified Reviewer
Wish I'd found this years ago
This organizer is exactly what I was looking for. One place to keep soap, brushes and sponge all in a sleek design that doesn't hold water goo. I don't have a large sink area (apartment) and was concerned about it fitting next to the faucet handle on the sink itself but it fit perfectly.
December 3, 2010