Rated

5

out of

5
 by
Raji
Best Shower Caddy
I have searched high and low for a shower caddy like this one. Firstly, it fits over my stall shower perfectly. It has the ideal amount of shelving space and fits exactly where needed in my shower. It is not conventional, such as over the shower head and that is great. NO more adding lotions etc. while the water beats down on you! The built in hooks are great for my sponge selection. Lastly, it doesn't rust. I love it!
April 30, 2013
Rated

5

out of

5
 by
ireallylovecontainers
Great caddy for showers with doors
This caddy works great in my shower with a door. I use the hooks on the outside for hand towels, and the shelves and hooks inside are spacious. I've had the caddy for eight or nine months and there are no signs of rust or even wear and tear.
May 17, 2010
Rated

3

out of

5
 by
Poemi
Smaller products fall
Love the idea of this, but with barely anything around each shelf, smaller products fall easily whenever the caddy moves. It'll often move when I'm opening/closing the shower doors, or when I accidentally knock into it. It would be good to have more wires surrounding each shelf to prevent items slipping off.
September 6, 2016
Rated

4

out of

5
 by
mummyD
Great, but not perfect
Our shower had a weird angle that wouldn't fit the usual "over the shower head" caddy. The next best option was to find one that slung over our glass enclosure. This one fit the bill! It held all our shampoo bottles and other paraphernalia - no complaints there. The hooks on the outside were also a wonderful bonus. We love the silver colour, and this overdoor caddy has a wonderful coating that resisted rust for a couple of years. However, after over 2.5 years, the coating began cracking in various places and inevitably rusting. We'd still recommend it. The rust hasn't gotten too bad now after 3 years (especially compared to other chrome caddies we've had in the past!) and we've never seen anything better that serves the same purpose.
September 5, 2015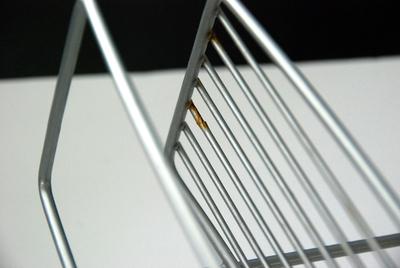 Rated

4

out of

5
 by
kmalexandria
Happy purchase
My old shower caddy hung over the shower head and was fine except it was rusting and so looked horrid. I picked this one to replace it because I really needed towel hooks on the outside of the shower. The finish is definitely more durable than the usual chrome, and it is big enough for just me. The one minor annoyance is that anything that doesn't stand straight, like tubes or an upside-down shampoo bottle will easily slip down and through the space between the bottom of the shelf and the shelf bar, which can result in a bruised foot. Still, I am overall happy with the purchase.
August 3, 2015
Rated

4

out of

5
 by
jejones75
Wish it were bigger
I just moved into an older house and the master bath has a weird, box-like corner shower. The shower head is very low and curved downward - which means all of the standard, "over the shower head" caddies won't work. I searched high and low for one that would hang on the side of the actual shower and couldn't find anything. That's the great thing about The Container Store - you can find the things you can't find anywhere else. Although I didn't love paying $30 for a shower caddy, I was loving bottles of shampoo and such mildewing at my feet even less. Some of the newer "over the shower head" caddies are HUGE and have great features, like slots to hang a razor. This one isn't very big and doesn't have any nifty features, but at least I'm not kicking mildewy bottles...actually, I am because they won't all fit in the caddy! I have considered buying one more to get everything up off the floor of the shower...then I will have SIXTY DOLLARS worth of shower storage...woo hoo!
June 17, 2015
Rated

4

out of

5
 by
MrsS
Nice addition to the Bathroom
I got this to replace one that was about 20 years old. This is much superior to the old one. It would get five stars if it went down a bit lower. Thankfully our shampoo and conditioner fit in the bottom shelf. The top one would be too tall for the pumps. I am able to put body wash on the top shelf because it is not as high.
December 21, 2014
Rated

5

out of

5
 by
cafrane
Bought another
I love this shower caddy. Most of the ones you get today go over the shower neck. Many are also plastic coated. This one is holding up and I can position it where I want. I bought a second one for another spot.
December 7, 2014
Rated

3

out of

5
 by
Thingsinitsplace
It's okay
I'm a little disappointed in this caddy. The hooks for hanging over the shower door are a bit too wide, so it hangs at an angle. Because it has no place for a bar of soap, if you place a bar of soap on a shelf it slides off because it hangs at an angle. Bottles flop over. I do like the hooks on the opposite side for towels or something.
June 24, 2014
Rated

4

out of

5
 by
HLP2
Shower Caddy
Bought this to organize our shower. Works well, but is a little heavy to hang on towel rack. Over the shower enclosure works better. Made for a thick (2") enclosure.
April 3, 2014
Rated

4

out of

5
 by
MindiC
Great, but missing stability
I bought this as a replacement for my previous shower caddy that I bought from The Container Store. It was definitely an upgrade on style, but it was missing the suction cups that allowed it to stay in place over the shower wall... my previous one did have them. The top of my shower is only about 2/3 of the depth of the hook that goes over the shower stall. I returned it, but i am looking for suction cups elsewhere in hopes that I can make it work.
March 25, 2014
Rated

3

out of

5
 by
MaggieRPh
It works
The floor of my shower is much less cluttered now, but the "tops" of the shelves (wires to hold the bottles in) aren't high enough so small or narrow bottles tend to fall out if you don't angle them precisely.
January 18, 2014
Rated

4

out of

5
 by
Disorganized1
Improvement Over Last System
It is nice to have my shampoos and other things up off the floor (previously used a wire basket that would get all cruddy) - only drawback is that it gets in the way of sliding the door open and closed - didn't realize that but it is a minor annoyance.
December 23, 2013
Rated

5

out of

5
 by
Chance612
Overdoor Shower Caddy
This is great to hang over the shower door fits perfectly and is out of the way. Much better than the ones that hang over the shower head, easier to get to and does not get wet. Great Product.
November 20, 2013
Rated

5

out of

5
 by
summer2
Great Shower Caddy
It's the perfect size for all of the bottles that were falling off the sides of the tub. I love that it's not coated in the white plastic/rubber that only falls off and then it starts to rust. It looks neat and clean.
October 3, 2013
Rated

5

out of

5
 by
Peamer
The Best!
I've ordered these shower caddies for years. They are the best in terms of ability to hold lots, and to hold a variety of sizes and shapes. Have always found that the over the top of shower is much easier to place in a discreet location rather than always having a shower caddy with bottles and stuff in your face hanging over shower head! Only thing is I wish they were made out of something that didn't rust! Granted, rusting is slow...takes quite a while to have to replace, but I don't understand why, with so many materials available, they are made out of a metal that has to be replaced periodically. Ugh! Our "throw-away" society!! But generally I think it's the best product out there designed to meet the need. I would be unhappy if they ever stopped making these.
June 24, 2013
Rated

5

out of

5
 by
StPhilpot
Just what I needed.
This overdoor shower caddy is perfect. Just what I needed. Bottom shelf is tall enough to hold shampoo and shaving cream. Love it.
April 28, 2013
Rated

5

out of

5
 by
JustcallmeKitty
Love it.
I don't have a shower door, but this fits over my square towel rod in my combination shower/bath.
April 1, 2013
Rated

5

out of

5
 by
NorthernLisa
Saves a lot of space
Our teen-aged daughter has a very tiny shower stall and the tubes and bottles of products strewn all over the place made cleaning it a real chore. We tried to use a caddy that hung over the shower head, but it took up too much valuable head room and once the shampoo bottles were in it the water from the shower would hit the bottles and spray everywhere except where you wanted it to. Not good. This caddy fits over the door and while it does still take up space, it does not seem to matter because we have placed it on the side opposite the shower head. It is a bonus that there are two hooks on the outside as well for towels and robes. It is high quality and very sturdy. Wish I had bought this sooner.
March 19, 2013
Rated

5

out of

5
 by
George123456789
Shower Caddy
I love this thing! Not only does it look amazing with my bathroom decor, but it is also very functional! I have bought many shower caddys, and they always tend to break apart within a couple weeks. Luckily, this baby is going strong and I never could go back to life without it! I would recommend this awesome piece to anyone looking to organize their shower items. It even has a holder for your razor!
March 15, 2013
Rated

5

out of

5
 by
Verified Reviewer
The BEST Over-The-Sliding-Door Shower Caddy
I bought this in 2009 from the Container Store. I was iffy at first about spending $30 on a shower caddy. But I took the risk. It was worth it! It did not rust at all. It was strong enough to hold those big shampoo, conditioner, and body wash bottles. In 2011, I did have to part with it because I moved. The house we moved to did not have sliding glass doors in the shower. I was trying to think of ways to "reuse" and "repurpose" it, but in the end, I had to be practical and had to give it away. It was the best $30 I spent on a shower caddy.
March 15, 2013
Rated

5

out of

5
 by
organizationazi
better than expected!
This is the ONLY over-the-door shower caddy I could find, so I expected it to be sufficient and purchased it. However, it's even better than I expected! It's even big enough for my large shampoo bottles, and the external hooks make it even more functional! Everything in my shower is now contained and the caddy looks great doing it! A+
January 10, 2013
Rated

5

out of

5
 by
kcwood
Glass Walk-in Shower Problem
The master bath has a walk-in shower which I really like. What I didn't like was there no place for hair products or washcloths. I never liked the type of shower caddy that suspends from the shower head and it doesn't work at all with head held shower heads. Love the over-the-shower door type of caddy.. Which there were more of these to chose from, but it work wonderfully. Outside hooks for towels. Interior hooks for wash cloths or loufahs.
September 15, 2012
Rated

4

out of

5
 by
CatD
Doable
I like it, wish it was bigger as I like to buy the 1 liter bottles of shampoo so have to put it on the top and can barley reach it, have to stand on the tops of my toes to reach it and thats not really something I like to do half asleep in the mornings.
May 12, 2012
Rated

4

out of

5
 by
simplysophied
Solid Shower Caddy for Organized Small Shower
My boyfriend has a very small standing shower in his master bath, and needed a way to organize his shampoo, conditioner, etc in the bathroom (aside from lining them along the shower floor, and atop of the shower door). This is the perfect solution for small spaces. It fits various sizes of shampoo and conditioner bottles and has a place for his razor. Great buy. The only reason I gave the shower caddy 4 stars over 5 is for style. In my book 5 is for exceptional.. 4 equals great quality and functional.
April 30, 2012
Rated

5

out of

5
 by
Numberoneorganizer
Out of reach
Our shower head was installed very high. I could not find an organizer that would hang that high and allow us to still be able to reach the shampoo, etc. This solved my problem. It hangs over the edge of the shower and holds all of our hair care products (within reach)!
April 27, 2012
Rated

4

out of

5
 by
Karelee
One more level...
This is the very best secure and unobtrusive shower caddy I've been able to find! None of those suction cups to slip and slide around the shower stall. My larger bottles have fallen off occasionally, the rings to hold them are just a tad too low or an extra one would be nice, yet overall, I am very pleased with this item.
March 28, 2012
Rated

5

out of

5
 by
kdhook
Awesome Shower Caddy
The best shower caddy ever. Holds all products very well.
March 12, 2012
Rated

5

out of

5
 by
vsanchez
overdoor shower caddy
Works for everything in the shower all contents in shower have now been contained
March 6, 2012
Rated

5

out of

5
 by
Jdocs623
Best over door caddy
Best caddy for over the door use. Exterior hooks are great for hanging towels while in the shower. The shelves are big enough to hold big bottles as well.
December 31, 2011