Rated

5

out of

5
 by
slockhart76
Beautiful!!!
These boxes are perfect. I have an online handmade body product business, and I have struggled with the best gift gift wrap. It is important to me to use gift wrap that is reusable, and these boxes fit the bill. They are gorgeous, high quality and sturdy. All they need is a nice bow. They are absolutely perfect.
January 8, 2017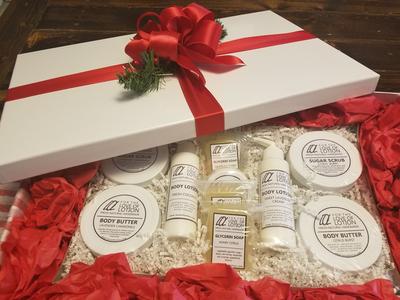 Rated

5

out of

5
 by
kathryn15
Best Boxes for Gifts
These boxes are strong ab beautifu. Great to give and great for mailing.
December 31, 2016
Rated

5

out of

5
 by
kathryn15
Best Purchase
Beautiful and sturdy boxes. Great for mailing. Makes an impression to the people you give this gift.
December 31, 2016
Rated

5

out of

5
 by
BrooklynRoxie
Beautiful Presentation
If you want your gift to make a statement, this is the box you want. Solid construction and beautiful aesthetically.
September 23, 2016
Rated

5

out of

5
 by
HappyBride
Awesome Bridal Party Gift Boxes
We purchased the XL boxes and Medium size boxes for our bridal party gifts. Ordered online and picked up at the store. Didn't even have to leave the car, it was a breeze!! These boxes are perfect and very durable. They look great too! SO happy!
April 21, 2016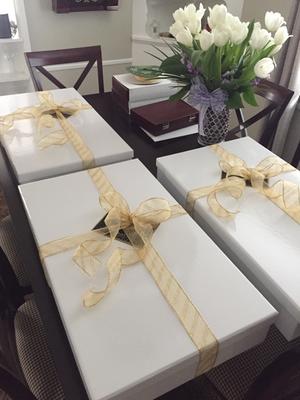 Rated

2

out of

5
 by
britishducks
Incorrect Measurements
I purchased the 8.5"x11.5" boxes for 8x10 photo gifts. The prints barely fit inside the box, and definitely do not fit with any sort of protective layering around them. These boxes do not even meet the provided measurements by measuring the outside of the lid. however, these boxes are well made, sturdy, look nice, and are relatively inexpensive. I would be purchasing a lot more in my future if the sizes were correct.
December 17, 2015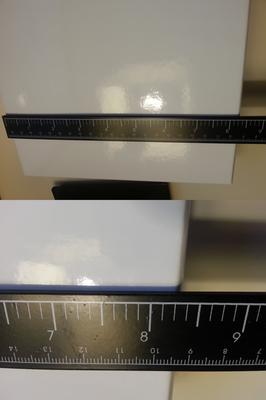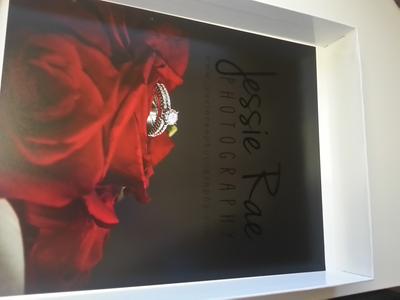 Rated

5

out of

5
 by
SophiesGram
Super boxes!
I bought these boxes to start a new tradition for my grandkids ..The Christmas Eve Box. I needed a large box, very well made, that would last for a while, so I took a chance on these! When they arrived.. I was thrilled!! Wonderfully constructed and just perfect for their intended use! My 4 school age grandkids will be very happy with all the goodies and special gifts they find in these roomy well constructed boxes on Christmas Eve. Thank you!!
December 5, 2015
Rated

5

out of

5
 by
Bobo64
Boxes
The boxes are great and just what I needed for a sport coat and two ties. The box that they shipped in, however, was flimsy and arrived torn. I would expect better from you.
November 29, 2015
Rated

5

out of

5
 by
jonwitte
First Rate Boxes
There is nothing cheap about these: very sturdy and reusable if the person receiving the gift chooses to. It's definitely worth the money if you need durable packaging to protect your gift in a box that shows you cared.
April 27, 2015
Rated

5

out of

5
 by
Stag
NICE!
Just the right size, a quality box this size is not easy to find. And this one is quality, sturdy, and elegant. Even the box that the container came in was perfect for UPS once we wrapped the present.
April 19, 2015
Rated

5

out of

5
 by
Davidartlex
Love these boxes!
I use these boxes in my office to hold over-sized drafting tools, my large paint brushes, and other art supplies. They are sturdy, and can sit out on shelving - super easy to get to what I need in a hurry and they look great, too! I make a small white label with black print so I never have to wonder what it inside.
January 30, 2015
Rated

5

out of

5
 by
sonett
Great Boxes
I'm uses these boxes to ship Christmas gifts to family out of state. These are the only boxes I found that seem like they can do the job and not fall apart.
November 17, 2014
Rated

5

out of

5
 by
CrissyBeans
Great box!
This box is perfect with gifts. It is a heavy material so it does not damage easily and it is very pretty, has a shiny outside layer. Can wrap or leave unwrapped with a ribbon. This was perfect for me because they travel well. Used these for wedding party gifts!
June 6, 2014
Rated

5

out of

5
 by
JRabbit74
These boxes are great, but it would be nice if you sold them in bulk, or groups since they are very expensive. Never any sales on the boxes but they make a great presentation
April 29, 2014
Rated

5

out of

5
 by
Solvz
Simply Stunning
I needed a box that would preserve cookies, could handle shipping and be used as presentation on every table at a wedding. This beautiful, sturdy box fit in perfectly with the bride's theme!
April 26, 2014
Rated

5

out of

5
 by
Annie54
Premium White Gift Boxes
The Premium White Gift Boxes are the perfect box to use for Gift giving!!! I love how the lids lift off, unlike regular gift boxes! They add a touch of class to my gifts. They also are much sturdier than the cheap boxes you get at the discount stores. I feel the recipients are impressed that you spent a little more to make their gift even more special!!! When I don't have a lot of money to spend, I purchase the regular gift boxes which also hold up nicely. I LOVE The Container Store!!!
April 25, 2014
Rated

5

out of

5
 by
Heybox
High Quality
Highest quality gift box I found. Searched extensively on line. Using it to package a business product
April 22, 2014
Rated

5

out of

5
 by
ilmom
Excellent boxes!
These boxes are so sturdy -- my daughter was able to use them to create the White House for a school project. The glossy finish on the boxes looked great in the finished project.
March 20, 2014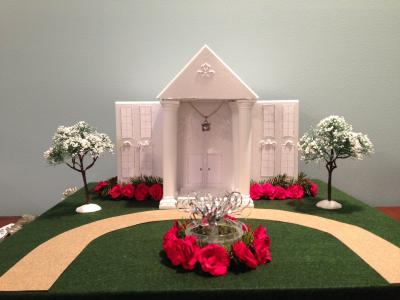 Rated

5

out of

5
 by
Carolzozs
good, sturdy boxes
I actually bought 4 of these to use for storage on our desk. The outsides are all covered in primer right now and will soon be a pretty lime green. They're exactly the size I was looking for to fit on our desk.
March 10, 2014
Rated

5

out of

5
 by
Kendy
Great Giftboxes
These boxes are great! We used them for giveaways at a corporate event. They are very professional looking and durable. Highly recommend for any kind of gift.
February 24, 2014
Rated

5

out of

5
 by
Shaina
Love these boxes
These boxes are the best! The quality is there and they are very durable. I use them often, in all sizes, as gift boxes for clients- sometimes I wrap them sometimes I just use ribbon and it always results in a nice product.
February 23, 2014
Rated

5

out of

5
 by
AuntieB
Perfect!
Perfect for what I needed! Very sturdy and professional!
February 14, 2014
Rated

5

out of

5
 by
JaneDough
Dreamy boxes!
I needed several gift boxes for the holidays this year and went with these sturdier versions on a whim. I'm so glad I did - I'll be able to use them year after year.
December 24, 2013
Rated

5

out of

5
 by
Katead
Boxes
Best purchase. High quality. Would definitely use them again
December 19, 2013
Rated

5

out of

5
 by
Verified Reviewer
x-Large Premium Box - Perfect Fit
I purchased this Premium Box to hold items for a Greek Orthodox Christening. It was the perfect fit for the baby cloths, candles, oil and towels needed for the Christening. Looks great and travels nicely.
April 30, 2013
Rated

5

out of

5
 by
Sneakycat
Useful
These boxes are sturdy yet affordable. I am using them for organizing some narrow shelves on my desk. I have been looking for something like this for a while!
April 22, 2013
Rated

5

out of

5
 by
wliz
strongest box out there
I bought this box to put favors in for volunteers of a food pantry. The box held 143 chocolate covered oreos, which were very heavy. Besides being very attractive the box held up to the weight of all the oreos which were about 20 pounds. Couldn't ask for anything more!!!!
April 9, 2013
Rated

5

out of

5
 by
Quality1
Great Quality
The boxes I purchase on a regular basis are affordable but durable.
April 8, 2013
Rated

5

out of

5
 by
Seattlegal
Best Boxes Ever
These are the best gift boxes I've ever used! They are incredibly sturdy and have a beautiful glossy finish - all you need is a ribbon to finish them off. I've bought them in white and platinum, both for baby gifts. Best part is that they are great for storage - like two gifts in one!
March 19, 2013
Rated

5

out of

5
 by
AllisonEm
Great to wrap with
This product is really good to use when you have items that are hard to wrap. Stick them in the box and wall
March 7, 2013