Rated

5

out of

5
 by
catsandroses
Great storage
We have had a recent problem with moths and the sweaters I've had to toss.. how sad not to mention expensive.. All woolen items now go in these boxes with moth deterrent. They are clear so it's easy to see what's in them , small so easy to transport to another closet off season.. Over the years, I've purchased a lot and now have 12 or more in various sizes. I love them!
April 29, 2016
Rated

5

out of

5
 by
lawlady
Perfect size and stackable
I have found so many uses for these boxes and I keep returning for more. They stack so easily that they save space. The best part is that they are clear so I don't have to open lots of boxes to find what I am looking for.
October 29, 2014
Rated

5

out of

5
 by
GeoRich
Didn't buy this for the usual reason
I bought this because I was looking for a large storage bin with high sides to use as cat litter boxes for my two large cats. I liked these because they had no indentions on the sides or bottom making it easy to remove all of the soiled cat litter and they had higher sides than any ready-made litter box but they weren't so big dimension-wise that I had to use excessive amounts of cat litter. It took a bit to cut away some of the side for an entrance but it's worked great! No more "overshoots" so I don't have to deal with the disgusting mop up. I know this isn't what most readers are looking for in a review of these bins but they suit my purposes and maybe it'll give some of you with the similar problem an idea for a solution! Thanks Container Store!
June 3, 2014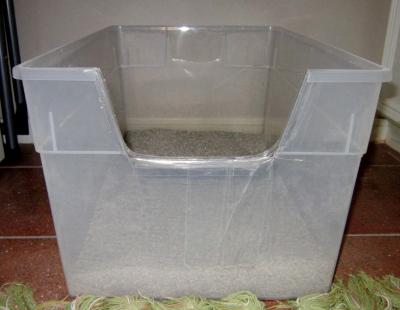 Rated

5

out of

5
 by
MsMommyMam
So much easier to store heavy clothing
I love the jumbo box so much better to store adult size coats and jackets. Easy to identify what exactly is in the box...I just love it!
May 16, 2014
Rated

5

out of

5
 by
blondy
Great size
This storage box is a perfect size. The price can't be beat. I like that I can see exactly what is in there without having to open it and dig down to see.
April 28, 2014
Rated

3

out of

5
 by
Ashburn
caveat
I like these but the lids break VERY easily. They are better for finding things you've stored. Possibly because they are so transparent, they break much more easily. I have never broken any other brand of storage container lids.
April 27, 2014
Rated

5

out of

5
 by
OrganizedQueen2014
In LOVE with the Jumbo Storage Box
The Jumbo Box is wonderful for storage. It is great to be able to walk in my closet and be able to see exactly what is stored in this box. I have used mine to store wrapping materials (e.g. ribbon, boxes, tissue paper, cards etc) and various craft items. Also have used for storing clothes between seasons. Definitely worth the purchase.
April 25, 2014
Rated

5

out of

5
 by
Alex5
Fits everything I need
Getting everything organized and this worked great
April 17, 2014
Rated

5

out of

5
 by
ShootingStar2005
Organizing Home
My husband and I searched for affordable storage bins for our kids toys for weeks. We finally found these that were large enough for some of the bigger items and that were also not too expensive. We got the set of six and plan on making a stepped cube storage unit for them. We are very pleased with the set and have recommended them to countess friends and family already!
March 19, 2014
Rated

5

out of

5
 by
Movinmovin
Best investment EVER!!!
I have had these large bins for over 15 yrs and they are still going strong! Being a student until now, I've had to move practically every year. These bins have carried me through each move with ease. I can see what is in each box, making packing and unpacking smooth and stress-free. Every year I continue to be amazed by their durability. The cost in savings over purchasing cardboard boxes year after year is obvious. What is really valuable though is that these boxes are waterproof, protecting against damage to contents from rain, sleet or snow. Due to not so gentle movers, the lids have cracked over the years and I was left with lidless bins. When I called customer service to see if I could purchase replacement lids, they sent them to me free of charge! Thank you, Container Store!!!!
March 10, 2014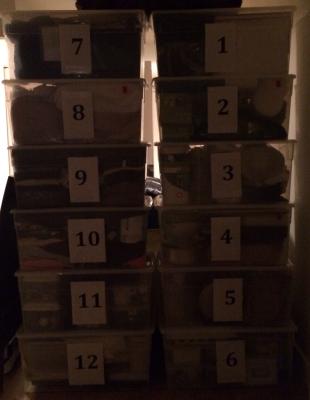 Rated

5

out of

5
 by
monicabv
Repeat purchase
We use these boxes to store inventory for a boutique. They are the perfect size and sturdy. Excellent product!
February 13, 2014
Rated

4

out of

5
 by
spenser600
Very Useful!
Great see-through boxes to move out winter apparel
May 6, 2013
Rated

5

out of

5
 by
NYContaining
Super useful
I use these large boxes to hold towels and out-of-season blankets. Thoroughly recommend.
April 30, 2013
Rated

5

out of

5
 by
LizaBE
I purchased this to hold my bags and purses and my husband is truly grateful for the extra space he now has on his side of the closet.
April 28, 2013
Rated

5

out of

5
 by
OrganizedInPetaluma
Very roomy bins
These bins are great - they hold a ton, I can see everything in them and they stack well. They won't take the really heavy stuff, but are great for blankets, backpacks, baskets, etc.
April 5, 2013
Rated

4

out of

5
 by
Meerkat
Perfect Shoe Storage Box
Before this box my shoes were in a laundry basket next to the bed. For some reason they would never make it back into the basket and they would end up on the floor. Our room was cluttered and untidy. This box has reformed me. Now I come home from work and slide the box out from under my paltform bed, lift the lid, put my shoes inside, close the snap-on lid, and slide back under the bed. Everone is happy and not a shoe in sight.
April 2, 2013
Rated

5

out of

5
 by
info1039
PERFECT SIZE
If you have large items to store and havent found an option to the jumbotrons that can't be lifeted once filled this is the product for you. Unobtrusive even when filled. Cost effective, too.
March 31, 2013
Rated

5

out of

5
 by
rt5345
Love it!!! Great item!!! a must for a neat closet!!!
March 18, 2013
Rated

5

out of

5
 by
Cinderella57
Good buy to organize lots of things
I was very happy with these jumbo plastic boxes. They are clear and have no bad smell like some plastics. They are large and sturdy, but light. I was very pleased with these.
May 28, 2012
Rated

5

out of

5
 by
Easy
Make it tidy and organized
It protects my Cashmere sweaters and keep my closet organized. I will highly recommend it for the storage box.
May 2, 2012
Rated

5

out of

5
 by
kristii
decent clear storage box for price
I enjoy this large clear plastic storage box for both storage and moving. It protects my things from dirt and whatever can get on it.
April 27, 2012
Rated

4

out of

5
 by
KatesGreat
Jumbo Box good for certain applications
I use these for storing winter clothes and such in the attic, and these boxes are PERFECT for that. It's nice to be able to see through the box. If you need something for moving across the country, you'll need something a little more durable and sturdy. The lids will pop off if you are travelling, and also I've had a few instances of the lids cracking.
April 26, 2012
Rated

5

out of

5
 by
Thirtygo
Excellent product
Was the perfect size for my winter comforter. Easy to label and store in my storage room.
April 26, 2012
Rated

3

out of

5
 by
MelyMel82
Don't overfill
I used the Jumbo Box to store an extra comforter and sheets to put in storage. The bin is completely full and the sides won't stay locked into the lid (the ends are locked). I've taped the box shut. If you need an airtight seal, this is not the product for you.
April 24, 2012
Rated

5

out of

5
 by
toothfairy
Great!!
I bought several sizes and styles of these containers, they are awesome.
March 21, 2012
Rated

5

out of

5
 by
NettieQ
I use this item to store my daughter's old clothes. It is the perfect size to keep everything neat and organized by size. The best part is the sides are not at an angle, so everything stays upright. I was able to fit all newborn to 6 month clothes in one Jumbo box.
August 17, 2011
Rated

4

out of

5
 by
rktect
Home Brewing
My boyfriend and I decided to start brewing beer, and I was told by a home brewing veteran to store the fermenting bottles in a container in case the pressure caused some of them to explode. That way, the sticky mess will be more manageable to clean up. The jumbo box was the perfect size for enough bottles to contain a 5-gallon batch of beer, using mostly 22 oz. bottles.
June 2, 2011
Rated

5

out of

5
 by
UltraOrganized
Don't get it shipped
I love these products and have them throughout the house in all sizes. But don't get them shipped. They end up breaking along the way, and the return hastle isn't worth it.
April 11, 2011
Rated

5

out of

5
 by
Tawanda
Money's Worth
I bought a case (6 containers) of clear jumbo boxes because I'm reorganizing things I had stored in cardboard boxes in my basement. The first thing I like about these boxes is their shape. They're rectangular so all the space inside gets used. Secondly, they appear to be solidly built and I like that I can see everything inside without labels. I believe I got my money's worth, even for now a days.
March 20, 2011
Rated

4

out of

5
 by
Verified Reviewer
Great Size, wish the lid was a little more sturdy
It's a great size,but I wish the lid secured on the sides as well as the front and back, since in the jumbo box one is more likely to be putting comforters and towels in them.
March 15, 2011