Rated

4

out of

5
 by
anonym1
Excellent but...
I own quite a few, have used them for years and would not trade them in for anything. The problem is that the paper packaging for newer CD's is of a slightly larger dimension and do not fit well (or not at all) into these wonderful racks.
April 18, 2015
Rated

5

out of

5
 by
Melyssa
Great for crafting supplies too
I bought this to store my stamp sets in a way that is organized and clearly displayed so I can see them. The sets fit perfectly and the rack fits on the closet shelf. I will definitely get another when my stamp collection grows.
March 19, 2015
Rated

5

out of

5
 by
Susiehomemaker
Acrylic CD Racks & DVD Racks
I love this! Now I don't have to sort through CD's to find the one I am looking for, you can see each one clearly. This also looks nice if it is sitting on a shelf. Because of the little knobs on the bottom it does not move around and an added plus is that you can stack them! I would definitely recommend this item. I absolutely LOVE this place! Thank- you Container Store...well done!
March 16, 2015
Rated

5

out of

5
 by
bbqgirl
Just what I wanted
Good quality. Exactly what I was looking for. Love that they are stackable.
November 12, 2014
Rated

5

out of

5
 by
misschameleon
alternate use cd rack
I am a crafter and I use dies for cutting paper. These are thin and need to be stored so I can get at them easily enough. I put the dies in a standard cd case then file them in the rack. This works out perfectly as I have labelled them and can find them right away. It is clear to see that the dies are inside. This rack is sturdy enough to stack two racks together because I now have two of them. It makes storage compact. It's just the right product for the right craft. I love my racks.
April 27, 2014
Rated

5

out of

5
 by
KarenQ
Great for DVDs - OR Stamps!
These acrylic DVD racks are great for stamp storage if you're a Stampin' Up fan. the new clear stamps & their cases - which are basically the size of a DVD case - fit PERFECTLY in these racks. The added bonus - there is space between #i.e. they're not stacked# so you can get the set you want without having to move all the other sets. And the racks STACK - so, fabulous storage & easy access to your stamp sets.
April 25, 2014
Rated

5

out of

5
 by
Chardonnay
Super fast delivery
My recent purchase of the Acrylic CD Racks was amazing. Plus the racks look great with any decorating style and are stackable. My husband was very pleased. I also order the small size stainless steel magnetic hooks and they work great on my refrigerator - look great too. Thanks Container Store for putting out such great and useful products!
February 16, 2014
Rated

5

out of

5
 by
Dennis
This is an excellent product
After extensive comparison of products on the internet, I selected the side by side acrylic CD/DVD storage containers. They arrived promptly and I was very impressed with the quality of the finish on the plastic. The CD/DVD's fit quite well. They are the perfect product for my entertainment center. I would strongly recommend this product.
February 7, 2014
Rated

5

out of

5
 by
JKW1
nice piece
I got the CD rack. It's made of a nice, clear, heavy acrylic. Feels substantial and well-made. I appreciate the non-skid feet and the "finger space" above the top CD slot. It's a CD rack -- there's not much to say!
December 22, 2013
Rated

5

out of

5
 by
WoodstockBill
Great CD organizer
I had purchased one of these some time ago, to keep a small collection of CDs near my player. I recently decided that these would be a great way to organize my collection according to genre. They will make it possible for me to move them around to do various audio projects.
December 11, 2013
Rated

5

out of

5
 by
henny
compact storage
I have used these before but our collection of CDs expanded and have become unwieldy. These are easily moved to different cabinets or locations.
October 7, 2013
Rated

5

out of

5
 by
palcrafts
Acrylic CD & DVD Racks
I love these racks. I use them to store my Stampin' Up! stamp sets. Absolutely perfect!
July 11, 2013
Rated

5

out of

5
 by
MrOrganizer
Organize your CDs
This nifty little CD rack does the job. There is no set-up, just put your CDs in the rack. I bought this for my son's CD collection. It worked out great.
March 27, 2013
Rated

5

out of

5
 by
Paint
14 DVD Acrylic Rack
I used two of these inside the vario small cube to serve as an 'entertainement center' for a small space. They become nearly invisible and have a clean look to them. See attached picture.
March 27, 2013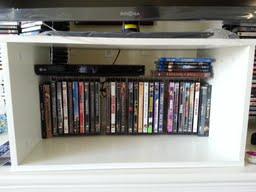 Rated

5

out of

5
 by
Yoshismom
No more hunting for my CDs
This is just what I have been looking for to organize my CDs. They are very sturdy and made from a thick acrylic. I love the fact that at the bottom of the racks there is room for two double CD sets.
March 18, 2013
Rated

5

out of

5
 by
croppinchristy
Awesome product!!
I organize all my Cling Stampin Up Stamps in these!
March 12, 2013
Rated

5

out of

5
 by
ladybug53
Excellent CD holder!
I first bought these exact CD holders back in 1999. I loved them so much I bought more a couple years later, then more this year (2013). They are great! They virtually disappear on your shelf and let the CD covers shine. I highly recommend them. I will be buying more, as long as TCS offers them.
March 8, 2013
Rated

5

out of

5
 by
Dorie
love, love, love.
As an avid scrapbooker, the DVD racks are perfect for holding my Stampin' up cling stamps. The stamps come in DVD cases and when in the rack, I can see them at a glance and find what I'm looking for quickly. I will definately be ordering more as my stamps grow.
January 6, 2013
Rated

5

out of

5
 by
QUEENBEA
ACRYLIC CD & DVD RACKS
I bought these racks for my Stampin' Up! clear mount racks and I love them. I can put a stamp set out to use it and know right where it goes when I'm done with it. I think I'll be headed back to the store for more.
September 2, 2012
Rated

5

out of

5
 by
Scarlet
Nice display for DVDS
I bought this for my son's playroom to hold his DVD's and the case is so simple and clean, yet it displays the DVD';s so nicely. Planning to purchse another one this week.
March 16, 2012
Rated

5

out of

5
 by
CAB100
These storage boxes are a rare find!
We looked high and low and searched the internet for storage cases for our dvds and could not find any that could be used to store dvds in a drawer. At the Container Store we found them! From now on the Container Store will be the first place we visit.
March 2, 2012
Rated

5

out of

5
 by
vb2131
Very good CD rack!
This is a very good CD rack. The design is simple and clean-looking. The racks are stackable. They look very neat and are a great organizing tool. Thank you!
February 21, 2012
Rated

5

out of

5
 by
CindyV
Great Product!
I ordered 8 of these to store our 250ish cd collection and am very pleased with the results! They are nice because they fit in our entertainment center and I can arrange them in various configurations. The top of each rack also has two slots for a two-cd album set. Very nice! Wish they hadn't been $10 each, but I had a gift card to help pay for them. All in all, I'm thrilled with these!
February 17, 2012
Rated

5

out of

5
 by
Cass512
Just what I expected
This was just what I was looking for. I had four foot high open wall towers - I added these to the top of the tower for added space as I did not have more Floor space for more towers. The only negative is that it holds only single DVD - so if you have multiple disc with in a sleeve they will not fit.
December 18, 2011
Rated

5

out of

5
 by
teacherv
Well made product
Bought these cd cases to use in my classroom to hold mini booklets, they work perfect and seem very sturdy.
October 30, 2011
Rated

5

out of

5
 by
revrides
These are great
you can place them on shelves or stack them independently. Getting rid of all the wood/place drawer storage for CD's cause they are falling apart and difficult at times to open and close, and these a sooooooo much better.
May 7, 2011
Rated

4

out of

5
 by
BigFan
great find
I had a hard time finding storage that really would stack. These have non-slip feet and are very stable when stacked.
March 6, 2010