Rated

5

out of

5
 by
Tysiemalone
Great Quality
I was a little reluctant at first to order metal filing cabinets to add to my home office, as my cabinets are custom, high end, built ins. I wasn't sure they'd be nice enough! I was pleased to find out that they are actually very nice looking and great quality! They gave me the additional storage I needed without ruining the beauty of the room. I put a table runner across the top of mine to dress them up a little. And they came SO incredibly well packaged, it took a lot to finally get to see the cabinet! There were layers and layers of protection around each one to insure they arrived with no dents, dings, or scratches.
January 25, 2017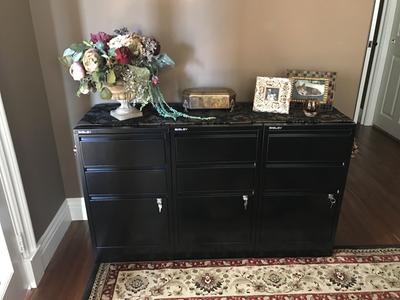 Rated

3

out of

5
 by
homeofficeartist
depth?
I wish these more of a standard depth file cabinet. The colors are so pretty, but they seem to be playing at being file cabinets.
December 17, 2016
Rated

5

out of

5
 by
Lymills
Great addition to home office
This item is just what we needed to get our home office files and miscellaneous items organized! Appreciated that it came completely assembled. Sturdy, and sits firmly without any wobbling. As always Container Store provided a great product at a reasonable price!
October 4, 2016
Rated

5

out of

5
 by
DistantLaughter
Love these cabinets!
I have two of these cabinets-- one is the two door and the other is the three door. They are so cute and vibrant and really look good in our home office which is part of the master bedroom. The quality is great!
September 28, 2016
Rated

4

out of

5
 by
Brenda21345
Fits in closet
The main reason I purchased this cabinet is because it is not as deep as most file cabinets but it has enough room for my needs.
September 23, 2016
Rated

5

out of

5
 by
Surele
Attractive and surprisingly capacious
I originally bought one each of the 2- and 3-drawer files, and I liked them both so much that I bought an additional 2-drawer file to replace a set of standing files. They're attractive pieces of furniture in addition to their utility, and they're lightweight enough to move around if necessary, but sturdy enough to hold a lot of weight both inside and outside; one of mine is currently serving as a printer stand. Although it's true, as people have noted, that the files can tilt forward when a loaded drawer is pulled all the way out, I've found that bracing them with my knee is an easy fix for the "problem" -- and I put the word in quotes because the "problem" is caused partly by the surprisingly large capacity of the file drawers, which means there's lots of stuff at the back of the drawer, and partly by the smooth and effortless gliding of the drawers as they open and shut. Right now I have all three files in my home office, but I'm thinking they might make elegant living or dining room cabinets as well.
August 25, 2016
Rated

5

out of

5
 by
agajardo
great product
Although the file cabinet was on back order and it took a couple of months to get, it was well worth the wait. I love the color its stylish and it looks so much better than your regular ugly everyday office cabinet. It s a little smaller than your average file cabinet but for a home office it does the job. I got the 3 drawer cabinet. For more filing space I would recommend getting both a 2 and 3 drawer. I was extremely impressed with the packaging too. I was nervous about having it delivered since I expected it to be dented or damaged but the container store packed it perfectly and not one scratch!
May 10, 2016
Rated

4

out of

5
 by
Lesa
Great Product
I purchased two of these file cabinets for my home office. I specifically chose these because they were shallow, so could therefore be hidden in a cabinet, under a console or skirted table. I thought they would be much more versatile than the traditional deep ones. I ordered the white and it is a true, crisp white - no yellow undertones. (Choosing the color was the hardest part ... still thinking of the Navy ...) I've had them for about 2 weeks and the mechanisms seem to work smoothly even fully loaded. There is a lock on each cabinet which came with a key - however, the keys are not interchangeable ... so you must keep both keys handy. Cabinets shipped UPS to me and they were well packaged to prevent damage. I did take one star away because there is no built in leveler. (I had to get creative!) Overall, really happy with the purchase and think they are a great value.
April 27, 2016
Rated

5

out of

5
 by
H2Ogirl
Good-looking file cabinet
I bought this file cabinet mainly because it's better-looking than most out there. Although I chose black, I loved that there were lots of colors to choose from. And it's sturdy and the drawers operate smoothly. A winner all around.
April 21, 2016
Rated

5

out of

5
 by
HennyPennyBeck
Really like the Bisleys
Second Bisley 3-drawer I have purchased. High quality, life-time purchases and they make filing a lot more fun.
March 28, 2016
Rated

5

out of

5
 by
PeggyTheConsumer
Perfect Size, Color and Functionality
I recently bought one 2-drawer and one 3-drawer Bisley file cabinet in slate blue. I was very impressed with the wrapping materials they were delivered in, which were very secure and solid but surprisingly easy to break down and dispose of. The cabinets are being used in my dining room/office so I wanted something colorful instead of a typical institutional beige or black. I do love the color, but it has some green in it which to me does not constitute slate blue. I thought it would be more of a blue-gray like in the online photo but it's kind of a blue-green gray. Still it's a nice color and it works. The cabinets are high-quality and sturdy and sit directly on the floor - no wheels. I highly recommend them.
March 8, 2016
Rated

5

out of

5
 by
HennyPennyBeck
I Really Like it
Great purchase-expensive for me even with a 15% discount from past purchases but I consider this Bisley file- well worth it. The green fits well in the living room with Mission and retro modern and it's a sigh of relief to organize files in a good looking,sturdy cabinet with easy moving drawers.
January 27, 2016
Rated

5

out of

5
 by
Fannygirl
Great file cabinet
I've been looking every where for a small-ish 3 drawer file. This is exactly what I needed!
November 17, 2015
Rated

4

out of

5
 by
veck
GREAT COLOR
This is a wonderful looking small file cabinet and if you're looking for something to complement décor, it's a good choice.
July 28, 2015
Rated

4

out of

5
 by
BatcrazySA
Nice file cabinet
I like the color of the graphite file cabinet. I got it full right away. I may buy another so as to have some moveable space between the files. A longer length would have worked better. I'm keeping it though. More so because of tit's style fitting into the home office, but a longer depth would have been preferable. Maybe I'm keeping too much paper? Nah..., it's all needed.
June 27, 2015
Rated

5

out of

5
 by
Meeka
Thrilled With Purchase
This product is well built and great value for the money. Other reviewers have talked about the poor build quality. That has not been my experience at all. And some have said that there is not a lot of drawer space. The cabinet is only 18" deep so that has to be kept in mind, but with the drawer fully open I can reach right to the back to pull the files forward ... you just can't pack the cabinet full to crammed, You cut your fingers and get cranky when it is like that and can't put things in files ... get a second one if that is the case or weed out some files! Shipping was convenient, package arrived safely and undamaged. Great experience. Overall very, very pleased with the product ... love the colours that are available too! Would definitely purchase this product again if I needed another.
May 29, 2015
Rated

5

out of

5
 by
UNCLEFONZI94
Beautiful and sturdy
This filing cabinet exceeded my expectations. Great product. Awesome color choices and the cabinet is very sturdy.
April 6, 2015
Rated

2

out of

5
 by
JNNY
Meh
I agree with many of the negative comments on here. The drawers do not extend all the way out making it an unnecessary hassle to get any folders in the back of the cabinet. That should be an easy fix for the company since so many have complained about that feature on here for so long. It's not that sturdy-kind of a blessing & a curse situation-lightweight but it comes off as cheap, which it shouldn't at a $100+ price point. I was told specifically in the store that this cabinet can NOT be tipped on its side (in order to fit into a car to get it home), as that may cause they drawers to jam/lock. I mean, seriously? There's really no fix for that, Bisley? I was replacing an older file cabinet and, my fault, didn't compare the depths to each other. This cabinet is 3" shorter in depth and that's a lot of real estate to lose (times 2).
March 31, 2015
Rated

4

out of

5
 by
irolnemo
Not quite as nice as I expected
I like it and I'm keeping it but I was a little disappointed with the quality. Much lighter weight than expected and some of the seams aren't perfect. The bottom drawer doesn't slide very nice and it tips over fairly easily when opening the drawers. They mistakenly gave me the premium Bisley cabinet (the one that cost over $100 more) and the quality of that one was much, much better. It didn't tip with drawers open and much heavier construction overall. Drawers opened much more smoothly. But it was a lot bigger and had a black toe-kick area that I didn't care for so I returned it for the one I had ordered.
December 28, 2014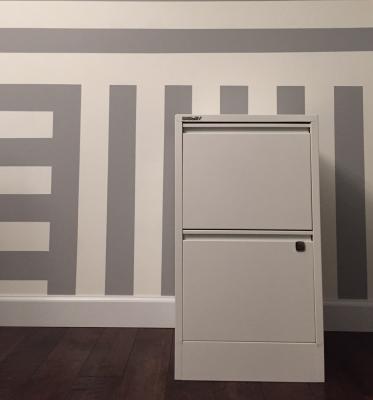 Rated

5

out of

5
 by
tier1girl
Love these file cabinets
The color is fabulous! The cabinets are sturdy and well made.
November 23, 2014
Rated

4

out of

5
 by
Cadburybun
Good looking cabinets
These are a little lighter weight than I expected (once it was out of the box I could move it myself) and the drawers don't pull out all the way, but they are very nice looking and work smoothly. I ordered one to see if I liked it and then ordered a second.
November 7, 2014
Rated

4

out of

5
 by
PKall
nice piece
Love the colours, light, have to be careful of drawers coming out of slides - store says it´s difficult to get them back on track if at all.
August 19, 2014
Rated

2

out of

5
 by
ihatenitrates
Meh
Green color is okay, not quite as vibrant as I had hoped for when ordering them. I waited months to get these two matching Bisley file cabinets. When they finally arrived they looked ok, but the drawers would make a loud popping noise when you tried to open or close them. The drawers were also very hard to open and close. Extremely flimsy construction, no bottom, so they don't sit even. Not all that impressed. Bummer.
July 23, 2014
Rated

1

out of

5
 by
FileCabinetBuyer
Worst quality file cabinet I've ever seen.
Any other product is a better choice. The build is so cheap and thin that the drawers do not slide together neatly. It requires constant adjustment as the metal railings are not properly attached to the file cabinet body. The are so loosely connected that ever time you close a drawer it bangs against the other drawers and unless you can do metalwork there is nothing to be done about it. Look elsewhere - this is a terrible product. It's a shame, my older versions are OK, but this version is a total disaster.
July 13, 2014
Rated

4

out of

5
 by
PKall
Colourful file cabinet
Great colours, a bit light weight, but excellent for adding colour to your office area. Was a bit anxiety ridden trying to take it home myself as It must be transported standing up otherwise drawers slip off track. Apparently almost impossible to get them back on their track.
July 12, 2014
Rated

5

out of

5
 by
Clarita
Love the Contemporary Look
Purchased the White Bisley File Cabinets--love these modern, updated cabinets! The white finish is hard to find, and it really brightens the room. I bought both cabinet styles and use the Container Store's colorful file folders in the 2-drawer and the 3-drawer as a "catch-all." Everything stays in its place and out of sight. I actually look forward to going to work because of the positive spin these cabinets add to the room! Also, the cabinets aren't as deep as others, so I have plenty of room to walk between the desk and cabinets--great for a tight space! And my printer fits nicely on one cabinet--should have made this purchase a long time ago!
April 26, 2014
Rated

2

out of

5
 by
Schoozy
Horrible product
We were instructed to have white file cabinets, which are not easy to find: I thought for $200 these must be great. Yea, not so much. The drawers don't extend, you have to pry the files from the back to the front to see what's back there. They are not sturdy file cabinets, very flimsy and seem easy to dent. The drawers are not easy open/close. Just a horrible product. Don't believe me? Check out the ones on display they are EXACTLY the same as you would receive "new" in the box.
April 25, 2014
Rated

4

out of

5
 by
KevinC
Bisley file cabinet
I'd agree with the other reviewer who says this cabinet is a bit shallow for the price. It's well designed but feels like it only holds 2/3 of what it should ideally.
April 11, 2014
Rated

4

out of

5
 by
ten2020
not "silver"
I love my Bisley file, EXCEPT it isn't really SILVER. I'd describe this as gray, regular boring gray. I expected it to be metallic silver! Not sure whether or not I'll exchange it. It's big and bulky for me to take back and get a new one. It hold files securely and the drawers slide and lock easily. I wish I chose a different color -- maybe white.
March 31, 2014
Rated

5

out of

5
 by
MarietteF
Hidden clutter is the best!
I used one of the mesh drawers with one of the gray file cabinets on the other side (pole in the middle) with two white counter tops to make a corner desk. I used the white large mesh to make a printer stand that holds my full size printer. My office is a 10x10 room in my house and while all the rooms are smaller and can easily feel cluttered, it's literally one part that's made the room look bigger!
March 20, 2014