Rated

5

out of

5
 by
skeeks
silver mesh magazine file
i love the mesh, one can see the magazines through the mesh an it's so stylish
June 25, 2016
Rated

5

out of

5
 by
vprso
Nice Magazine Files
We like these, they look nice & hold a lot. Good quality.
January 9, 2016
Rated

5

out of

5
 by
agny
Great purchase
I recently bought this product and it is perfect size for holding the assorted magazines that I own. When nothing else fits (since I like to limit magazines) I know it is time to recycle them! I love the Silver Mesh products - I already own the Desktop File, CD Bin and Drawer Organizers, and use them to limit what I own also, so I do not accumulate too much and I can still be organized.
June 13, 2015
Rated

5

out of

5
 by
ShirleyAnn
Mesh Collection
I have several items from this collection and I will be buying several more. Right now I am in the process of re-organizing my Office/Sewing Room. There are so many different products in this collection but the ones I need more of are the magazine files. Trust me, cereal boxes just don't hold up. I have years of quilting magazines and I am going to use these to be well organized and pretty. I can paint them any color I want. Some I leave silver, some are black and some I have painted purple. I am going to add several more colors to give my space some color. Love them!
March 20, 2015
Rated

5

out of

5
 by
Anni56
Tidy and near
Such an easy way to keep periodicals in order without compromising on style
July 28, 2014
Rated

5

out of

5
 by
RubyTuesday
Siver Mesh Cookbook Holders
That is right I use these great files to hold all my cookbooks in the corner shelf of my kitchen. It is so nice to see them all in an orderly fashion. These are great not just for magazines you can find all kinds of uses for them as I did. My wider cookbooks I put below my shelf of files and used the other file folder which I also bought in silver mesh to hold those and now I am completely organized.
July 9, 2014
Rated

5

out of

5
 by
Dragon53
Silver Mesh Magazine Racks Rock
Sturdy, stylish, this magazine racks/files hold a significant number of magazines and periodicals in my bookcase.
July 7, 2014
Rated

5

out of

5
 by
SKLcoach
Convert Piles to These Files
For many of us, out of sight IS out of mind, so we file by piles. Problem is that our desks (and floors) become overloaded, and we become overwhelmed. I convert the piles to magazine files, clearly labeled with the contents, and keep these Action Files easily accessible on my desktop or a nearby shelf. I may load the magazine files with file folders or plastic project holders (The Container Store brand is excellent), or I may just stack in papers that relate to the same topic (always labeling the magazine file). I've recommended this strategy to my organizing and coaching clients and it works. The mesh magazine files (silver, black or now also in white) are a perfect size, hold up well, can be wall-mounted or desktop, and have a high-enough front that papers do not fall out.
May 4, 2014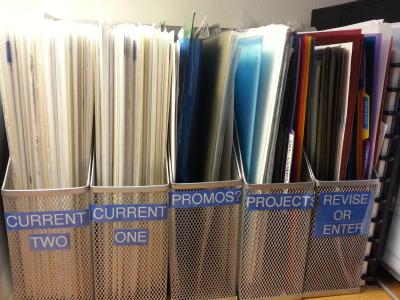 Rated

5

out of

5
 by
txmommy
Great for Playroom
These help organize my child's coloring books, construction paper, and notepads.
March 12, 2014
Rated

5

out of

5
 by
Veny
Magazine holder for kitchen use
This was inexpensive, durable, and stylish. I used it in my kitchen to hold aluminum foil, saran wrap and ziploc bag boxes. It keeps them organized, and makes them take up less room. I love it!
February 26, 2014
Rated

5

out of

5
 by
KatieMolly23
Great Organization!
I found an organizing tip on Pinterest about storing flip flops in magazine files. These work perfect for my flip flop storage needs!!
April 19, 2013
Rated

5

out of

5
 by
Midnight
Great magazine files
I ordered a few of these because of some of the magazines that I refer back to for ideas or information. I tag the pages and that way I will remember what page I need to look at again. It works great for me!
March 21, 2013
Rated

5

out of

5
 by
bonnieprojects
multifunctional!
I use these in my kitchen to keep aluminum foil, wax paper, and cling wrap organized - I just stand them up on end in these holders!
March 18, 2013
Rated

5

out of

5
 by
Nicole5678
Nice color, Nice display
Nice way to organize Magazines while still looking contemporary!
March 16, 2013
Rated

5

out of

5
 by
nu2uws
Sturdy Magazine file
sturdy and stylish Has a front facing so magazines do not fall out. Has hardware to hang too.
March 16, 2013
Rated

5

out of

5
 by
bullyboy
Great product
sturdy and love the industrial look. I like the way they look.
March 9, 2013
Rated

5

out of

5
 by
supercatwoman2003
More then just for the office
bought this to use in my pantry, it holds: Ziploc bags, foil, parchment paper and wax paper. who said it had to be used just for magazines? also use one as a can holder (think tomatoes and corn), if you just flip it, TADA!
February 20, 2013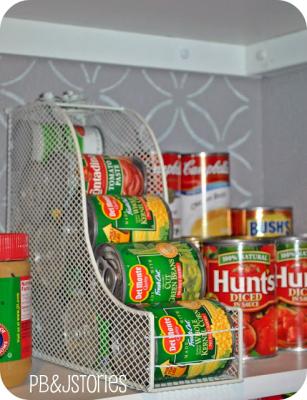 Rated

5

out of

5
 by
Abbey
Great Storage Solution for Magazines and Catalogs
I purchased several of these to store magazines and catalogs. They are sturdy but light weight and I love the industrial look of the silver metal. An excellent bargin as well. I have matching letter trays and they look great together.
January 21, 2013
Rated

5

out of

5
 by
manxlover
Very sturdy
Highly recommend these mesh magazine files - the metal mesh is very strong and sturdy. I use them for filing music books and was afraid they would fall over from the weight, but not to worry! They stand up nice and straight and you can also see through the mesh to readily identify what you have stored. The only recommendation I would make would be to have a slot in the front for labeling the file. Also, note there are holes in the back section in case one wants to hang the file on a wall. This is hard to see in the photo. It's not a problem for me since the backs are inside a bookcase, but just wanted you to be aware that the slots for screws are there...
November 21, 2012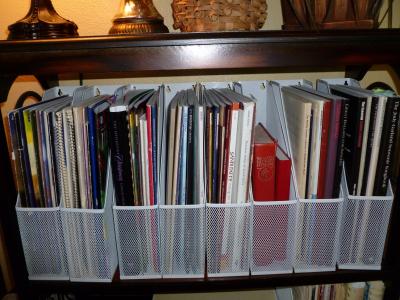 Rated

5

out of

5
 by
reinvention
Great product
This is a sturdy and stylish document organizer. I use it to store thin cookbooks and recipes in my kitchen.
April 28, 2012
Rated

4

out of

5
 by
wiggles
Love the feature allowing me to hang above the desk. Hardware comes with file. Space saver.
April 3, 2012
Rated

5

out of

5
 by
KdlP
Magazine file
Excellent, simple design. I have 4 thus far and will definitely get more. My TimeOuts and New Yorkers now have a tidy home
March 29, 2012
Rated

5

out of

5
 by
inotmad
perfect
love all the mesh desk supplies...look nice, can see thru without looking messy
March 23, 2012
Rated

5

out of

5
 by
Loopee
Slim fit
I bought one of these, and plan on buying more. They are a perfect slim size and I love that it comes with screws to hang them. It's great that you can see through the mesh as well.
March 22, 2012
Rated

4

out of

5
 by
Penguii
Cute and simple!
I love this magazine mesh file! It's cute, sturdy, and gets the job done.
March 3, 2012
Rated

5

out of

5
 by
nananurse
Works great and looks good!
Bought these to corral my favorite magazines. They are heavy enough that I don't have to worry about them falling over and they are attractive enough to leave out in my bookcase.
February 28, 2012
Rated

5

out of

5
 by
vitta
Silver Mesh Stacking Bin
Practical Solid Look Nice Can see what is stored in them Will buy more
February 19, 2012
Rated

5

out of

5
 by
MmeCeCe
Sleek and functional
I initially bought 2 magazine files to put on my shelf. Since I loved these so much, I got 2 more. So far, these files hold my magazines without any problems, and they look great. Get these magazine files because they look great in any room!
March 21, 2011
Rated

5

out of

5
 by
OfcSplyLvr
Best ever magazine holders
I've had fiber board, cardboard, and other board magazine holders. The problem is that they all tear quickly for the abuse they apparently get in my home. These are VERY durable and I am extremely pleased with the price.!
February 21, 2011
Rated

4

out of

5
 by
newdigitalboy
More Magazines = More Organizers
Strong and sturdy, and they look pretty cool, too. These are inexpensive enough so that you can keep adding them as the magazines pile up.
May 31, 2010