Rated

5

out of

5
 by
twilaofthenile
Perfect helper
This works will for organization of your tax papers
March 27, 2015
Rated

5

out of

5
 by
Jazzyjean
This Made Life Much Easier
This accordion file is ideal for managing all my family's receipts for the current month and the past 12 months. It is beautiful, durable, quick and easy to get into, and takes far less room than the other systems I had used before--file folders, boxes, manila envelopes. I love it.
January 14, 2015
Rated

5

out of

5
 by
KathleenW
Replaces all the separate envelopes I used to use
I bought the small file to use for receipts so when statements arrived I could easily find the receipts for each credit card.
September 6, 2014
Rated

5

out of

5
 by
Joybells58
Great organizer
I love these accordion files for the ability to expand without restriction at the bottom, like many others.
July 11, 2014
Rated

5

out of

5
 by
Taina
Fabulous and Efficient
I own two of these great looking accordions. I have one for the specifically for the bills for our house and the other one for work. I was impressed by the high quality, that I can expand it while in use and collapse it to save space when I am done. I am not a fan of filing but the colorful accordion makes me want to file and stay organized! I use a clear label from my label maker on the tabs for categories that are specific to me. Since the bottom is attached to the sections I no longer worry about paper getting trapped at the bottom.
April 29, 2014
Rated

4

out of

5
 by
Orgagal
Unusual use
We were looking for something to organize my granddaughter's backpack. It was a jumble of papers and forms. The system had to be lightweight with labeling capability. The large clear accordion file was perfect. We cut off the cover flap and she labeled the sections by school subject and has a perfect organizer. I had looked on line for a solution and all I found was backpack travel-type organizers. I had purchased one of these files for home office use. We took the backpack with us to see if the organizer would fit easily and it did. No more crumpled lost items!
April 25, 2014
Rated

5

out of

5
 by
barbwire
Couldn't ask for me
Plenty of room, easy to use. The one I got for bill sorting works so well I plan to get a few more for taxes, office and coupons.
March 30, 2014
Rated

5

out of

5
 by
Charficco
Extremely Useful
This organizer is just what you need to organize those annoying receipts that you know you need to save but do not want to keep track of. This organizer is easy to use, functional, and small enough to fit in a drawer. This is an amazing find!
February 23, 2014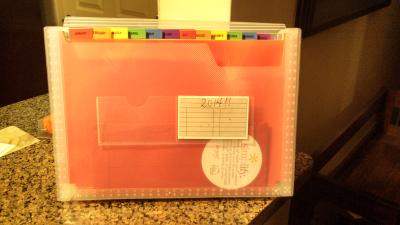 Rated

4

out of

5
 by
GINVU9
Receipts
I am a very organized person and iI keep receipts to EVERY item I purchase. This item helped me to keep them in order. Just wish they would include labels that we can personalize and type on instead of write.
January 28, 2014
Rated

5

out of

5
 by
TheQueenBee
Super functional and cute!
I purchased the small accordion file to keep track of my monthly receipts. This accordion is the best one I've found and I've been through several. It stands open once you fully expand it. It's study and I love the colors. Definately a keeper!
October 9, 2013
Rated

5

out of

5
 by
fiddler
Great quality
I can always depend on Container Store for a quality product. THis accordion helps keep my desk clutter free. Perfect for receipts and bills.
June 2, 2013
Rated

5

out of

5
 by
Laurgal
Great file folder
I own many expanding file folders, both cheaper and more expensive. I love this folder because it expands nicely, is great quality, can stand on my desk when expanded, and is visually very pleasing (I love the rainbow colors). I was able to add a label to the spine and one to the front. Also, I like that it came with stickers to label the sections instead of those pieces of paper that always fall out.
June 1, 2013
Rated

5

out of

5
 by
Bobbie65
Finally.....Clutter Free
I use the 13 pocket accordian file for work & personally. My receipts were all over my desk. Thanks to the files now I can see my desk & complete my work quickly & efficiently.
April 26, 2013
Rated

5

out of

5
 by
AlmostOrganized
The Mobile Workers Best Friend
This accordion has made my life so much easier! I work from home 2 days a week and was constantly trying to keep all of my project files organized, trying to remember which ones had to go home with me. Now I keep every project I am working on in this file, which stands up independently when I am working at my desk, but collapses when I need to take it with me. It's a desk top organizer and a mobile organizer in one! LOVE IT!
April 26, 2013
Rated

5

out of

5
 by
mt633
Pefect!
I use this almost daily. It is perfect for filing away my receipts. I love the durable polypropylene - I got this almost 2 years ago and it's still going strong! Since it expands, it is plenty big enough to hold everything!
April 16, 2013
Rated

5

out of

5
 by
Jaxgirl
Great organizer
Excellent quality! I use for my monthly bank and credit card statements. I highly recommend!
March 24, 2013
Rated

5

out of

5
 by
Mugsy
great for storing receipts
I shop a lot and so I have a lot of receipts. I like to keep receipts for insurance reasons, and in case I need to return something. These make them so easy to store and organize. Each section is a month. I think the clear file with the colored tabs is nice-looking, too.
March 18, 2013
Rated

5

out of

5
 by
SC312
Annual Purchase
I buy one of these each year to keep myself organized. They are conveniently compact for storing in small places.
February 24, 2013
Rated

5

out of

5
 by
gralston73
Great for Kids' School Organization
I purchased this for my son who was having a hard ime keeping his papers/notebooks organized and in one place. I labeled the pockets for each subject and he's been able to keep everything in one place. Teacher sent me a note and said this was definitely a helpful tool!
February 24, 2013
Rated

5

out of

5
 by
Krysta
Storage needs met with this product!
I have been buying 2 of these file folder each year for several years now. I use one for household receipts and bills for one year, while the other I use to keep scrapbooking items in for safe keeping until I have time to scrapbook. I like the expanding bottom and the over the top flap to keep out dust and little fingers from my kiddos. It is small enough to not be in the way (like a file cabinet can be) if your office is in your kitchen like mine is.
February 11, 2013
Rated

5

out of

5
 by
oonsie
Better than the other receipt file products on TCS
I've bought several types of receipt file organizers from TCS and this one is hands down the best one out of all of them. Enough pockets that it makes sense when organizing your receipts (others only had 3-4 pockets, which wasn't enough for me)
May 5, 2012
Rated

5

out of

5
 by
Mandy0114
Great for coupons
I use it just for Copons. I have one for grocery's and another for cleaning supplies, soap, etc.
April 28, 2012
Rated

4

out of

5
 by
mrg1106
Multifunctional
Originally I bought both of these for receipts, but decided to use the smaller one for coupons instead. This purchase was very helpful as now I have a place for monthly receipts, which is beneficial at tax time and the smaller one keeps coupons so I don't waste time searching for where I stuck them. This has brought great peace to my life as I know when I go to find a receipt or coupon, I know exactly where to search...priceless!
April 27, 2012
Rated

4

out of

5
 by
wannabeorganizeom
Helps so much to organize!
Now saving my taxes got even easier...... this is a great place to store receipts! Also can be to organize coupons, cut-outs, etc!
April 15, 2012
Rated

5

out of

5
 by
Bigatrain1
Great for coupons!
Bought this for organizing coupons and it works great! Now we can organize all of our coupons. Makes grocery shopping quicker and easier! Just wish I would have got this sooner.
April 15, 2012
Rated

5

out of

5
 by
GoldieBaker
Organized, finally!
Ya know how you *try* to keep things in file folders, and then, when you go looking for stuff around tax-time, you either cannot find the folder, or it turns up empty? Well, this is the perfect solution! Everything is contained within this multi-pocket system. It keeps things where they need to be, so you can find them later and access important tax information. That's what I've been using it for, and I couldn't be happier!
March 26, 2012
Rated

4

out of

5
 by
SCBB
Coupons are Organized!
I used to carry around a plastic ziplock with my coupons...which generally meant that I forgot about them in the stores. Now I can organize every one by store or function. It makes grocery shopping much easier.
March 21, 2012
Rated

3

out of

5
 by
lb213
not tough enough
I bought this accordion file to use day to day in my mobile office. Unfortunately, it was just not sturdy enough for my wear and tear. The elastic closure stretched out and then eventually broke. I'm still using it as a filing aid at home, but I've had to find something else for daily use.
March 20, 2012
Rated

5

out of

5
 by
Tall
Great Item!
I use this product to organize my business receipts on a monthly basis. I love the band to wrap around. Great for Business needs to keep things seperate & makes things alot easier at tax time!
March 19, 2012
Rated

4

out of

5
 by
Sensible
Tame the paper tiger!
I'm a "piler" filer -- I spend hours stacking things into piles that then get reshuffled when I need to clear the space for something else. The letter size solved that problem for at least my pending piles...I keep stuff neatly tucked away by month until I need it. No more piling and re-piling!
March 19, 2012