Rated

4

out of

5
 by
missrenee
Tea & Beverage Drawer
I used this product to create a tea & beverage drawer. It was easy to cut to the size I needed. Very durable product.
September 20, 2016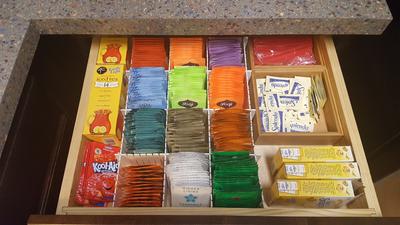 Rated

5

out of

5
 by
OSVAdmin
Great Product
Perfect as you can customize them to any space needed
April 14, 2016
Rated

5

out of

5
 by
anastasiahbeaverhousen
Perfect 4Tea Drawer (Project from Alejandra TV)
This was the perfect fit for my Tea Drawer Organization Project (Alejandra Costello of Alejandra TV's Idea) Really had no trouble and it looks GREAT! I feel proud! In my finished project I left a few empty to try new tea types :)
February 12, 2016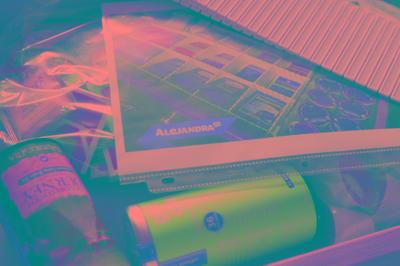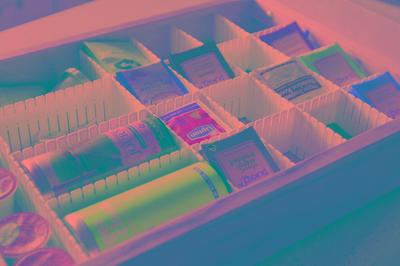 Rated

5

out of

5
 by
WantToOrganize
Great Items- Strongly Recommend
For the price and the ability to customize, this cannot be beat! They work well for items that are fairly small (socks, panty hose, jewelry, makeup). They are very easy to put together and you do not have any "wasted' space. Depending on the size of your drawer and the number of dividers you want, you may need more than 1 package to do a drawer. I did two drawers and used one size in one drawer and one size in the other drawer. Both worked well.
January 31, 2016
Rated

3

out of

5
 by
TXnCutie82
not a fan
I like the fact you can adjust to almost any configuration thanks to the slots, but it seems very flimsy and wasn't my favorite option for drawer organization. I stopped using it almost as soon as I put it in my drawer.
December 7, 2015
Rated

1

out of

5
 by
RoseSelvay
Cheap & Poor Quality
If I could give this item a 0-star rating I would. I ended up throwing it away after a day. It didn't fit my drawer well at all. It was slightly curved when it came out of its packaging and never sat straight in the drawer. You're supposed to bend and break of the ends to fit it to your drawer size, but even though it was "customizable" the dimensions were completely off. Save your money and time, don't purchase this item.
June 18, 2015
Rated

4

out of

5
 by
Galina
Cheap solution for customized dividers
I bought these to use as a dividers for my drawer to organize makeup, first aid, etc. They're not the most attractive solution for organizing but they are the most affordable I've seen for the amount of customization that's possible. Only problem is that they were not a perfect edge-to-edge fit for my drawers (still some wiggle room) so measure first if you mind them sliding around a bit!
March 23, 2015
Rated

3

out of

5
 by
KHDM
Not for heavy duty dividing
Purchased based on size of drawer...flimsy..."snap to fit" is a nice option...lining up & interlocking the pieces requires a little patience...
August 24, 2014
Rated

4

out of

5
 by
NLBabin
Simple and Functional
This product is great for short or oddly-shaped drawers. It is easy to assemble and does a good job. Would suggest purchasing 2+ for average size drawer.
May 12, 2014
Rated

4

out of

5
 by
CHandeland
Handy little tool!
I used these slotted drawer organizers to keep my underwear in order--shh don't tell, I am an organized freak. They were Great!!! Very easy to use and you can "break" or bend at any point as well as interlock at any point. It is now much easier to keep them in their proper color order :)
April 9, 2014
Rated

5

out of

5
 by
Yecats
Great way to organize!
What I love about this product is that you can customize the size to fit whatever product you are trying to organize.
April 6, 2014
Rated

5

out of

5
 by
RASR
Great for lingerie and sock drawer
I bought these to organize my lingerie and sock drawers. My dresser drawer is not rectangular, so I need fully customizable dividers like these. I also like that you can set them up however you want. All of the cubbies don't have to be the same size. I wish they had a taller option for deeper drawers and a longer option. They can be a bit flimsy if you don't make enough connections
April 1, 2014
Rated

5

out of

5
 by
monzil
Great Purchase
I bought 2 of these dividers to help organizer my collection of scarves. It was a wonderful purchase that contained all of my scarves in ONE drawer instead of taking up space in baskets or hanging.
March 25, 2014
Rated

2

out of

5
 by
paks
Didn't work out
I wish it would have worked- the place where I snapped it was just a hair too short to sit properly inside the drawer.
February 28, 2014
Rated

1

out of

5
 by
Kemc1580
Not what I need
The material is at best flimsy. My dresses have deep drawers and even the large of this only goes up to half my drawer. The only good thing is the different configuration options.
February 19, 2014
Rated

5

out of

5
 by
cactusflower1
Who Knew? Great Item
Who knew that it would be so easy to organize my drawers? I bought 2 sets of the Slotted Interlocking Drawer organizers. My drawers are not very deep so the other type of divider didnt work. In one drawer I used 4 slats and in the other drawer I used 6. Glad I bought the 2 paks. It is very easy now to do my laundry and put things away, neatly. And they stay neat.
February 4, 2014
Rated

5

out of

5
 by
tchrj
Easy Fit
I love how easy it is to snap these to the right size for the drawer, & how easy it is to make sections the right size for whatever you're organizing.
December 31, 2013
Rated

4

out of

5
 by
golfing
Great Organizer
I thought this product was great. You can make it any size you want by breaking off the ends. It worked great for the sock drawer. I need to buy more.
September 28, 2013
Rated

4

out of

5
 by
ShouldChange
Functional
Very helpful in organizing two drawers in my clients kitchen. One drawer we made into a tea drawer. The other drawer was the infamous kitchen junk drawer.
September 21, 2013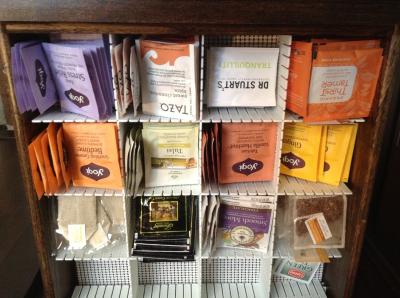 Rated

2

out of

5
 by
JenniSea1
Flimsy organizer
It was nice to be able to customize because of the snap-off feature. One pkg doesn't provide enough strips to make it stable enough. Knowing this, I did purchase 2 pkgs. But, after opening one pkg & setting-up part of the drawer, I realize how unstable the organizer was. It's very flimsy. I guess this product would only work if you have lots of little items to separate; Because in order for the product to be stable enough, you would have to have a lot of strips dividing the drawers as in the product picture. This mean you can't really customize the size of the compartments, only able to customize the size of the drawer.
April 29, 2013
Rated

5

out of

5
 by
cgshops
organized my tea drawer
I used these dividers to organize my tea drawer. My tea canisters fit in drawer easily, but I had a hard time finding something to hold tea bags that made them visible (so you could see what type of tea) and didn't take up too much room (many options were too bulky), these dividers worked perfectly.
April 10, 2013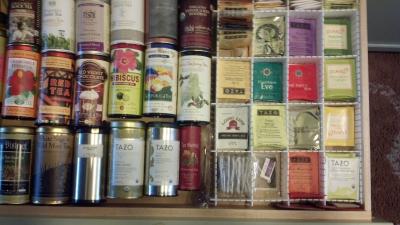 Rated

5

out of

5
 by
shellysswag
drawer organizer
This is the best organizer for my drawer. I had the other kind but didn't like it. This is so easy to use.
March 31, 2013
Rated

5

out of

5
 by
Criter
Slotted Interlocking Drawer Organizers
The Slotted Interlocking Drawer Organizers are great for drawers with many things in it. You can make so many different places for the junk drawer. Rubber bands, paper clips, etc. Also for make up. It keeps things where they belong.
March 14, 2013
Rated

4

out of

5
 by
monymony
drawer dividers
Great for helping keep things in order. works great.
March 1, 2013
Rated

5

out of

5
 by
MeemersMom
Great purchase
I bought these for the drawers in the Cashier's Office at the university that I work for. It is great! The cashier's put the parking decals and parking hang tags that they sell in there. It fit in the drawers perfectly and now the cashiers don't have to lug heavy trays filled with decals and hang tags around. They just lock the drawers and refill as needed. The best part about these is that they are completely customizable.
May 4, 2012
Rated

1

out of

5
 by
SantaCruz
Doesn't work
There are no end caps to attach it to the sides of the drawer so the sections are flimsy.
April 2, 2012
Rated

5

out of

5
 by
crazy
great divider
I love this product. I use it to separate my socks and underwear. It works great and your drawer never looks like a jumbled mess anymore. It is also great because you can adjust the size of the compartments.
March 2, 2012
Rated

1

out of

5
 by
KMar82
Waste of money
It's awkward to use and not helpful at all. Not a good purchase.
January 17, 2012
Rated

1

out of

5
 by
artep
I am more than disappointed, this "organizers" are lessm than helpful. I am really better without them. But this is a experience and I learned my lesson.
September 26, 2011
Rated

5

out of

5
 by
XYY15MOM
I love this product! Could not be happier!
(I've posted photos below, so you can see the "after" shot!) I have been trying to find dividers to organize my spice drawer forever, and thought I would have to have an insert custom made because the drawer in the kitchen is so oddly shaped. (We store our spices standing up with the lids labeled, because we have so many of them.) I could never, ever find just the right thing to keep the bottles upright and all the pieces in place. These are JUST the thing. 100% easy to assemble - just snap and go, quick to put together, easy to adjust and rearrange. PERFECT! Plus, the price is superb! I would recommend these 110% to anyone who is looking to arrange or organize oddly shaped bots and bobs, or is looking to make good use of every inch of storage in a home or at work. Loved these! I hope you do, too!
August 25, 2011