Rated

5

out of

5
 by
mwearnest
Heavier than expected - excellent product!
I needed something that would hold three remotes - TV; Dish; and DVD/VHS. Everything I tried previously was too flimsy and just did not work. This one is a heavy piece and has three compartments (just what I needed!) plus it has an added feature where one side inside has slits in the dividers so you can slide in notes or mail, etc. I purchased the black because that matched my decor better. I am very pleased with this caddy!
November 28, 2015
Rated

4

out of

5
 by
ajobean
Was exactly what I wanted.
Seems to be of good quality. Time will tell. Item is weighty and holds every remote including one I hadn't planned to store. Fits perfectly down in a basket that matches our decor, because I didn't want to display the black finish. It is still very nice, I'm sure, by itself. You will want to add your own non-slip pads as the ones attached aren't that great. Since mine is inside a basket, it didn't matter.
July 14, 2014
Rated

5

out of

5
 by
LittleMissMessy
Love this! Perfect for my small space!
I ordered this to corral controllers, obviously, but not because I have a ton of them. These days, I only have three and they're all relatively small, which means they're easy to lose, AND that the average remote control organizer is way too big and pretty impractical for me. This organizer is sleek, glossy, black ceramic in a very appealing shape and style. It holds what I need to with ease, without taking up all the space on my tiny end table! It goes perfectly with my decor, and even matches the pots of the little potted plants on the table with it. If you have an AppleTV remote, you know how tiny those things are, and how easily they disappear between couch cushions and everywhere else. This little organizer has saved me several headaches already!
June 27, 2014
Rated

5

out of

5
 by
Biwa
Forget remotes, use for basic desk supplies
It's divided into three equal compartments. Here's how I use them: 1. pens, pencils, small ruler 2. small post-its, Tombow correction tape 3. scissors, staple remover. Since there's a slot thru both compartment dividers along one of the interior walls of the caddy, I can slip a bunch of 4"x6" index cards in there too. Caddy is heavy and stable. Looks sleek. The inside bottom is lined with a non-slip rubber pad, too, so throwing items into the caddy is a relatively quiet experience.
June 7, 2014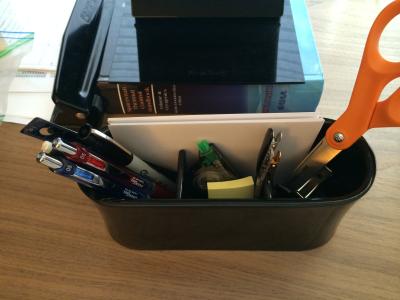 Rated

5

out of

5
 by
Liveymom
Perfect organization solution
This is a good looking quality solution for all my remotes. Great for my daughter to learn to put things away to help clean up. It's weighted so it won't tip over and it's clean design works great in the living room. I love it!
April 22, 2014
Rated

5

out of

5
 by
Jannie
Oval Remote Control Caddy-FINALLY all remotes in o
I love this heavy duty ceramic remote caddy. It holds the remotes upright and looks classy.
April 11, 2014
Rated

5

out of

5
 by
cocoabrioche
Heavy, solid, nice
Nice heft, convenient slots, the dividers don't go all the way to the back so that you could put in a channel guide too. Just looks nice!
March 9, 2014
Rated

5

out of

5
 by
MargieP
Sophisticated
This is a simple piece but makes for a functional & sophisticated looking way of storing the remotes for the next time they're needed. I love it.
February 21, 2014
Rated

5

out of

5
 by
JonathanT
Great and Functional Product
I replaced my old remote caddy with this one. This one is more sleek in design and takes up less space. It holds every remote that we have and has space to hold even the biggest remotes (receiver remotes and large cable/satellite remotes).
February 18, 2014
Rated

5

out of

5
 by
luvworship
Works great!
I bought this remote control caddy for my den, and it serves exactly as I needed. It is a weighted enough container that the remotes don't fall over. It is slim enough that it doesn't take up much space, yet roomy enough to fit my remotes. There are 3 compartments, but each could hold 2 remotes (depending on their width). Very happy!
February 15, 2014
Rated

4

out of

5
 by
MooreWife
Love it
After seeing this at the store I became somewhat obsessed. I was sick of my Roku and TV remote being all over the couch, chairs, ottoman, floor, etc. and they needed a designated place. This was perfect. I got the white one to go along with the furniture and contrast with the black remotes. Very nice looking. The only thing I hate is that it already chipped a little bit on the side which made me knock off a star because it should be more durable than that. It hasn't fallen or been mistreated, it was simply moved from the coffee table to the ottoman and a chip of paint fell off the side leaving a darker spot.
November 13, 2013
Rated

5

out of

5
 by
dogslover
Great item
The last remote control holder I bought was wooden and it started falling apart. After many failed attempts to glue it back together, we gave up. I found this one and it's all one piece so nothing to fall apart. It doesn't take up much room and works great. Holds 4 remotes.
April 15, 2013
Rated

5

out of

5
 by
LonestarMini
Awesome
This is a heavier weight than others on the market. It is sturdy not to tip over as you are taking the remotes in and out of each slot. Perfect for bedside.
March 29, 2013