Rated

5

out of

5
 by
CheryeO
Great stuff
I bought this freestanding study with a few modifications and I have to say it was so easy to put together. The instructions were clear and I was able to put it together by all by myself. This desk is sturdy and well worth the purchase price.
February 19, 2016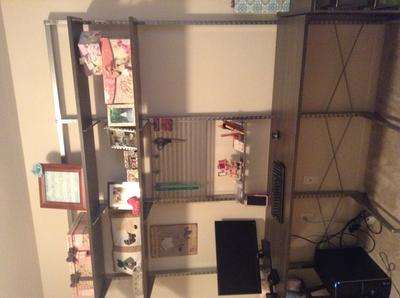 Rated

5

out of

5
 by
pattygirl
Thank you ELFA
I just want to say from the time we were helped by Raven P. at the Houston store on FM 1960 we had a very great experience. She built us a custom office desk just by our description and it was on the money. We loved the 30% sale which fit our budget. Thanks Raven P. my husband being a tall 6'2 guy was able to put together in 45 mins (with my help of course) Thanks a bunch to Container store, Elfa and of course Raven P.
January 17, 2015
Rated

4

out of

5
 by
LilMama
Wicked Awesome
I put this desk unit together in about 3.5 hours. I'm a 4'11" tall woman and my 2 young daughters helped. Anyone can do this! The instructions were a bit tough because you have to go online and figure out what peices you have, that's the only reason I'm not giving it 5 stars. It's sturdy, I've got it packed with stuff and I just love all the space! It's absolutely perfect!
October 28, 2014
Rated

5

out of

5
 by
MikeNYC
Perfection
Recently purchased two freestanding 5' Elfa desks for my kids' rooms. Perfect quality, size and function. Looks fantastic! Worth the price.
April 10, 2014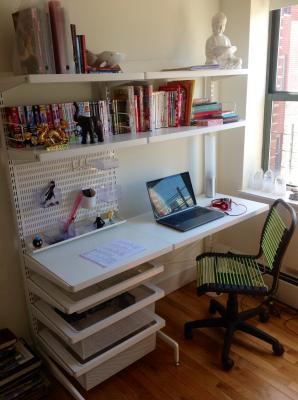 Rated

4

out of

5
 by
Robodweeb
Good looking and functional
I replaced some old cabinets and shelves with a "study space" design. Easy to set up (even for an old guy like me) but a caution... read all of the directions through first. That would have saved me some confusion.
March 11, 2014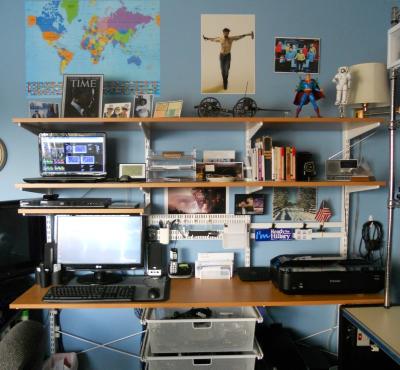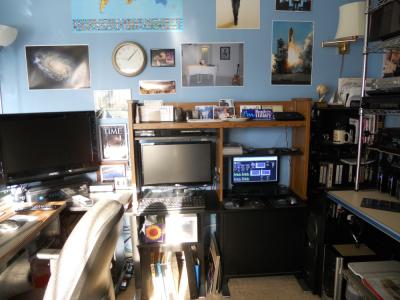 Rated

5

out of

5
 by
SkinCraftOrganics
LOVE LOVE LOVE My Elfa Office/Studio Components!!!
With the help of several wonderfully friendly, knowledgeable & creative (and very patient - I made lots of changes) Container Store designers who worked with me over the phone, I was able to configure a workstation tailored made to fit my every need for my home-based office/studio.
March 1, 2014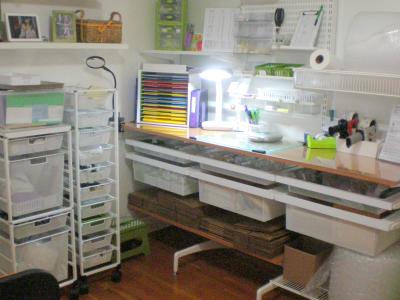 Rated

5

out of

5
 by
cutsiemomma
BEST PURCHASE EVER!
I can't rave about this shelving enough. It transformed my office and provided me with an organizational system that makes my work easier and faster, and every time I enter my office I feel good inside. I know where everything is, and that sense of organization is what I needed to move forward. Installation is worth mentioning, because it is so easy and requires only 3 holes at the top. You've got to see it to believe it! I had even hired a stager to come in and tell me what I needed to do prior to buying this system. While she didn't recommend any particular brand, she told me to get rid of my mismatched bookcases and lateral files, and begin with a matched system. It's easy on the eyes to begin with, and the system itself does the rest. When I move, I'm taking it with me!
April 7, 2013
Rated

5

out of

5
 by
gradstudentworkspace
Bought this elfa system right before starting grad school so I could have a space saving but highly organized work space. It was super easy to assemble on my own even though I am not the handiest person ever. It's super easy to adjust each shelf exactly to how you want it to accommodate your needs. It works great in conjunction with other container store products to keep my space organized and streamlined.
March 18, 2013
Rated

5

out of

5
 by
Babe1941
Organization at it's best!
I worked with a designer at the Cherry Hill, NJ store. I told him what I was going to use the space for, gave him the measurments & he handed me the blueprint complete with a shopping list. I had them install it and was glad I did, it's a detailed job & the pieces are heavy. My unit was 96" h x 75" w and it took him about 1 1/2 hrs. to put together. My space is now uncluttered and organized with a lot more floor space in this 8' x 10' room. The best part is everything matches and so much easier to clean around & under! Still tweaking where to put things since I have so much space now. I added a file cabinet, rolling 3 drawer cabinet several portrait size paper drawers. There's a place for everything now!
March 13, 2013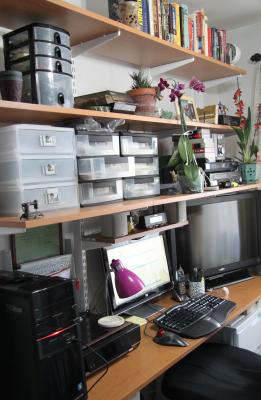 Rated

5

out of

5
 by
joshi819
I love my office
The Container Store helped design my new office space and I've never felt more organized. It feels bigger with this design and I have plenty of room to expand. I also had The Container Store do the installation for us....best money I've spent. They were professional, quick, and personable. Highly Recommend.
February 24, 2013
Rated

5

out of

5
 by
Booknerd
Best birthday gift ever!
My husband bought this for me for my birthday so I'd finally have a home office area in our retirement home. It's perfect. Enough shelving to hold bins that have our old financial records out of harm's way, and bins with current year's activities close at hand. There's room for my printer, and I love the mesh drawers. It took us about 2.5 hours to set it up with a lunch break. We were very methodical following the instructions and figuring out the parts. We found the instructions easy to follow although a set was not in our order and I needed to print it out online. There were two areas which took a bit more effort: 1) the bracing bars for the uprights - we finally discovered that it worked best if one of us used an inward twisting motion on them while the other pounded the bar in - just putting pressure or holding in place was not enough; 2) the u-piece that holds the drawer looks like it is symmetrical but you need to make sure the side with the 3-inch opening behind the wheel is facing up; also using a mallet worked better than pushing the bracket into place by hand. Finally we really liked this so we bought one for our second home in Florida!
February 18, 2013
Rated

5

out of

5
 by
Strawman
elfa Freestanding Study
We ordered this version of elfa because we had a narrow area in the kitchen we wanted to use. This system allowed us to use the entire wall space for a mini office. The assembly was easy and I put it together in about an hour. I did most of it by myself but my wife did help some with setting up the main frame. This system is very versaitle works great in our space.
April 29, 2012
Rated

5

out of

5
 by
Wnedy
Great workspace for 12 year old
Very great space-saving office for my daughter. Only problem is with the sharp edges on the desk, as she has scratched herself a few times, since her room is not very large.
April 27, 2012
Rated

5

out of

5
 by
KathyM2
Great desk
We bought this for my daughter's space-challenged bedroom. The unit is huge but it holds all her stuff, including numerous knick-knacks, with room to spare. Her room actually looks clean and organized even with all her stuff thrown in the doors haphazardly. The unit wasn't difficult to put together either. My husband and I did it in a couple of hours and we are not handy people.
March 19, 2012
Rated

5

out of

5
 by
puppies
free standing
We bought a free standing unit for and office craft room re-model with wire shelving abouve and lots of drawers for craft items. works out nice and can easily torn down and moved with out un screwing and patching walls.
February 20, 2012
Rated

5

out of

5
 by
Tommom
Big office/study - small space
We actually added on another side with the drawers and have turned our spare bedroom into an office/study and spare bedroom. With this arrangement, we are able to get everything we need for three people to share this office space/study and yet use only one wall of the room. It goes up amazingly quickly and looks great.
February 15, 2011
Rated

5

out of

5
 by
Kate21
My Amazing Desk!!!
I love my new desk. I can move things around as I please and it is so easy to put together. I have the roll out file organizer it is a God sent. I don't have to use those little plastic ones any more. And the amount of space I have is amazing it basically doubles the space of my old shelves. And we live in a small apartment with a new baby so space is limited so this was so perfect for us. We now have a place for things to go.
February 11, 2011
Rated

5

out of

5
 by
Verified Reviewer
Elfa made me a "little kitchen office that could"
I am so happy with my Elfa Design! I love my new kitchen office. I now have better use of my space thanks to the container store! I am now dreaming up new ways to utilize the Elfa system in other areas of my house!
January 16, 2011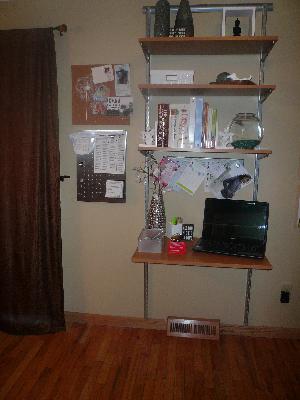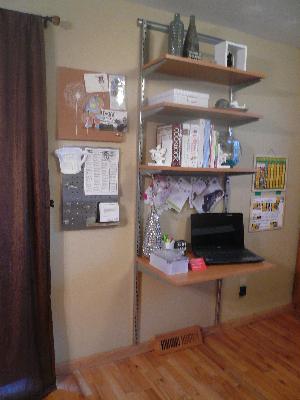 Rated

5

out of

5
 by
elmedina
Love my office space!!
We just moved into a new home with a den. This is wonderful becasue I work from home. I have the set up in silver and driftwood. It provides so much space and keeps me very organized. I'm able to keep my home office items as well as my work items seperate. I love it
May 25, 2010
Rated

5

out of

5
 by
cybercats
LOVE it! Silver & bamboo elfa freestanding
I had been thinking about redoing my studio for years. I finally got the $$ together and with The Container Store's assistance we put together a design and plan. We worked out something that was beautiful and very functional. I loved this unit so much I expanded the design to two walls/units. I have been able to place the shelves, desk, drawers, etc. exactly where I need them. Streamlined my life. I purchased the free-standing unit so that I can take it where ever I go. It see this as an investment. It is sturdy, flexible and can be constructed for a large variety of office designs. I am really happy with it. Wish I had done it sooner. Now I want to do more spaces in my home!
May 17, 2010
Rated

5

out of

5
 by
erp2010
Love the desk
This was the third piece I bought (after 2 closet redos) and it is fabulous. I had someone install my bedroom closet and after watching them I installed my den closet so I figured I could do the free-standing as well. It was not as intuitive as the closets, but I got through it. And I love the compactness of it and the shelving is great to keep papers and computer equipment organized. It was so flexible that it took me a while to figure out what I wanted to do! I still have open shelves!
March 3, 2010
Rated

4

out of

5
 by
musikproStL
Closet Office
I did a modified version of this design and I love it. Lots of compliments! Installation was not too hard even though I'm completely assembly-challengedâ¿¿I did it all myself!
January 26, 2010