Rated

4

out of

5
 by
AnotherUserName
Alternative Uses
I didn't want this for files; I needed a new box to carry toiletries in. My husband and I rarely travel by air, so concerns about size are generally nonexistent; we just pop our regular shampoo and body wash bottles into a plastic bin with toothbrushes, etc. and put the bin in the backseat of the car. So I wanted something that the bottles could all stand upright in, had one handle on top for easy carrying, and could withstand a leaking liquid inside without ruining anything outside of the bin. Well, we went out of town last weekend and this passed! Sturdy, easy to carry, easy to fill. Thanks, Container Store!
January 28, 2017
Rated

5

out of

5
 by
skeeks
weathertight portable file tte
this file is the perfect size to put my credit card statements in
April 5, 2016
Rated

5

out of

5
 by
joy53
Tax Time Relief
Great organizing tool for all the tax files! I added the file folders and it has proved to be very beneficial on taming the tax paper trail!
March 27, 2015
Rated

5

out of

5
 by
SueL123
Best Ever First Time File Organizer
The Watertight Portable File Tote is perfect for young adults just starting college or going out on their own. I purchased 3 of these for my college aged kids as they needed to keep important records and papers for themselves. Resume's, bank statements, tax returns, college records and credit card statements are easily categorized and stored in this Organizer. Even better is the top compartment that holds paperclips, pens, markers and more! I would highly recommend this!!
March 21, 2015
Rated

5

out of

5
 by
BACQN
Great Class Kit
Awesome product. I teach a variety of classes for Law Enforcement and Military units and most of these classes are outdoors. This thing is tough and holds up well during travel and in rain. Holds all the documents I need and various camera equipment dry during these classes. Made in America, can't beat that.
June 13, 2014
Rated

5

out of

5
 by
HighlandGal
Portable File Tote
This file tote is used to carry my files to and from club meetings. The size is good, and the handle is especially comfortable. It is a quality product.
May 3, 2014
Rated

5

out of

5
 by
SimplyArt
Perfect Size
I'm loving my two portable file totes. I purchased them not because of their water proof ability or portability but because they are well made quality products that are the perfect size to handle. I keep my two file toes on a top shelf so keeping them small and light weight is key for usability. I separate my files into long term files (Lucky 7) & current files (present moment) and that system works well in two totes. I would recommend this product to anyone looking to save space in their home while still keeping important papers. The value is great and the bonus cubby holes on the lid are perfect for keeping post it flags, folder labels and colorful pens for filing. It becomes an all in one filing system that I can move around the house.
March 13, 2014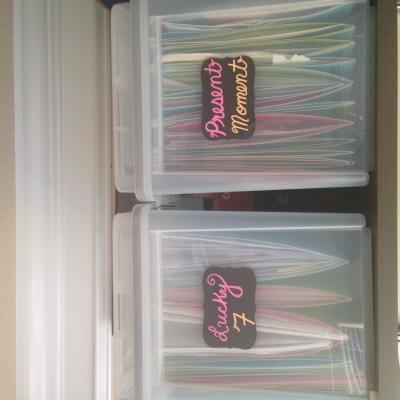 Rated

5

out of

5
 by
Tessie67
Great Storage Container
Just the right size. Sits beside my desk & easy to access all my files. Like the small conpartmentalized area on top of storage box - good for small misc. items. May need to get another one.
March 12, 2014
Rated

5

out of

5
 by
erinofwoof
Well-made, good style, and convenient
I love this box. I am not a huge filing cabinet person, but my bookkeeper suggested I get a file box to put my receipts and other accounting documents in. I bought this box because I liked the style of it, and it seemed sturdy, and I was right. It looks great if it needs to be exposed in the house, the handle is convenient to be able to take it with me if I need to, and I like the space on the top to be able to open it and put in small things that might also be necessary. Great product, and although I haven't tested it, I know it's advertised as watertight also!
April 26, 2013
Rated

5

out of

5
 by
mafranda
Love these file totes
Fantastic. I own 6 watertight file boxes, and this portable one is just as great.
April 17, 2013
Rated

5

out of

5
 by
Jaycee33
Best file box I've tried
I have 2 of these - one for school files and one for personal files. These are a great size, lightweight and work perfectly for me. I love the top tray for pencils, labels, etc. They stack nicely so it's easy to bring them out at the beginning of the month and put them away when I'm done with the bills. I spilled a cup of coffee on one and not a drop got inside so I guess that is a little proof that it is indeed watertight! If I had more files, I'd buy more of these.
March 19, 2013
Rated

5

out of

5
 by
CatastropheCoach
Outstanding Product to Prepare for Storms
This is a wonderful product to help you prepare for potential disasters. If a major storm / fire / flood threatens, you need to have all of your important information available in one place so that you can 'grab and go' quickly if necessary. The File Tote accommodates multiple file folders. In addition to birth certificates, insurance documents, and other important papers, the size of this waterproof portable file allows you to bring photographs and mementos that are precious to you. There are sections in the cover which allow you to store smaller items, including credit cards, insurance cards and any other ID that is critical. The waterproof locking lid ensures that the contents will remain safe from any weather conditions. I am writing a book on preparation for the aftermath of disasters and this tote will be part of the disaster plan. Be careful out there - Your Catastrophe Coach
March 18, 2013
Rated

5

out of

5
 by
reebs75
Great file keeper!
I use these to keep my current years tax receipts handy all year round. I also use them for my kids school projects and papers and then mark the box and stow it away once the years over. Durable, yet still light weight and they stack nicely. Great buy as always from Container Store.
March 7, 2013
Rated

5

out of

5
 by
Deann
Awesome little storage container
I've brought three of these containers to ensure that my documents to do not get damaged. They are cute, portable, and convenient to lug around the apartment as needed. I would totally recommend stocking up on these guys. I will definitely be buying more.
February 26, 2013
Rated

5

out of

5
 by
edsel
Useful Product
My husband is an insurance adjuster and has to carry his files with him. This Tote is the only one we have found that is watertight. I purchased 2 this time. I have decided to buy a couple more and use them in the garage to store some important papers.
February 23, 2013
Rated

5

out of

5
 by
Mark2003
Great find
It is perfect for leaving in the car as a portable desk system
September 11, 2012
Rated

4

out of

5
 by
Deebo
Great med size storage file box
Easy to open/close, has holes for a padlock, and it's waterproof! The organization top is much smaller than it looks on the website, I had thought to put mini stapler & scissors in it but it's too small & shallow.
April 6, 2012
Rated

5

out of

5
 by
homeschoolmominalabama
snap and stack!
I really needed a clear, handled file box. I was shocked how difficult it was to find one... well, actually SIX!. I ventured into the world of homeschooling and use a curriculum that is broken down into 12 week blocks in three cycles... so I needed 2 boxes for each cycle. And these were perfect! Heavy weight plastic. Sturdy. Holds over 12 folders that are moderately full. Nifty storage top. Warning: make sure you are careful with the lock...it snaps closed but can also snap off! Easy to put back on!
April 1, 2012
Rated

4

out of

5
 by
maryg
Great product.
This file tote is durable and the flip top is so convenient for so many things.
March 29, 2012
Rated

5

out of

5
 by
MedievalContessa
Love this!!
I love this little box! I bought this to try and get my miscellaneous papers in order, the little things like manuscripts & poems (I'm a writer in my spare time), old letters from friends when I was young, and old journal entries. I love love love it, I bought hanging folders and I just put everything in, nice & neat & clearly labeled! And since it's watertight, I don't have to worry about putting it in the outside storage at my apartment, my papers will be safe!
March 27, 2012
Rated

5

out of

5
 by
OrganizedSTL
Excellent Tax Time Product
As a self employed professional, I was so relieved to finally find a way to keep my taxes organized, but also portable and compact. This totes the perfect size to store your tax information for the year- then you can just transfer it to a bigger file drawer and re-use the tote at tax time next year. Highly recommended!
March 19, 2012
Rated

5

out of

5
 by
JennyV
Love this file box!
I bought four of these file boxes; one for each one of my children. I am using them to organize all of their best school work from each of the years they attend school. I just hung thirteen hanging files, put a manilla file in each one, and labled them with the school year. Now, I will have the perfect place to file those special art projects and papers away. And, if the art project is too big, I will just take a picture of it, and file it away by school year. Perfect solution to end the paper clutter and have it all in a special, waterproof box!
March 8, 2012
Rated

5

out of

5
 by
Mommila1
Great for Travel
This tote fits everything needed for travel to and from office. Love the extra storage components in lid
March 6, 2012
Rated

5

out of

5
 by
mkroberts77
Great organizer
I purchased this to bring with me when I volunteer with a Literacy group in town. I can bring all of my supplies (books, paper, pencils, post-it's, etc.) and not have to worry about anything getting wet or lost. I like that the handle is comfortable and has spots for pencils and pens. I wish the sections were slightly bigger to hold a regular pencil but pens and mechanical pencils fit well.
March 6, 2012
Rated

5

out of

5
 by
mieka
This is a very solid conainer and easy to move place to place. The best file container I have ever had.
September 20, 2011
Rated

5

out of

5
 by
Allegra
Outstanding Portable File
Sturdy quality and good price. I haven't tested the watertight capabilities, but it is an ideal portable tote for important papers. I intend to buy more as gifts for two daughters.
March 22, 2011
Rated

5

out of

5
 by
coca222
absolutely loving this thing. didn't come with folder inside /silly me, I thought it would come all together ;)/, but got folders next day and it's so neat, organized. makes me so happy. all my papers in that were before all over tables, drawers and what not, are in one simple clean space. and it has this little hole for a lock, so I have a tiny lock on it! makes me really happy my house looks cleaner and more spacious now :)
March 7, 2011
Rated

5

out of

5
 by
HavingFun
Sturdy, good design
Well-constructed with good design. Hanging files fit just perfectly and the compartments on top are easy to use. The clasps that close the two sections are well-designed - secure and easy-to-use.
February 26, 2011
Rated

5

out of

5
 by
KatyAndy
For all of your appliance brochures & warranties!
This tote is perfect - it has helped me to organize the various product brochures for my fridge, oven, microwave, furnace, washer/dryer, etc. It will allow me to hand over all of these to the buyer of my townhome! Thanks Container Store for another great product!
January 23, 2011
Rated

4

out of

5
 by
ivan
good deal
the file tote is very sturdy and looks elegant too..
August 26, 2010