Rated

5

out of

5
 by
Oakley
Great for Files
Using for tax returns and other need-to-save documents. Easy to manage, stack the boxes and see what's inside.
December 15, 2016
Rated

5

out of

5
 by
Chocolate24
Great File Box
This box works well for long time storage of important files ie tax returns. They are sturdy & I like the ability to use hanging files.
September 22, 2016
Rated

5

out of

5
 by
oldhouseowner
More Than File Storage!
These are useful for many applications. These are a few of the things I have used them for: photos, photo albums, small mementos, sheet music. Our house is over 100 years old with very limited storage. We have a climate controlled storage unit and these seal up tightly, are water and rodent tight. They are quite sturdy and stack nicely. The thing I like the best is their size. I have a bad back and even when one of these is full, I can still pick it up and carry it around. I have purchased these both in store and on-line. If you order the case of six, that is how they are shipped. Mine were received in perfect condition from UPS.
September 1, 2016
Rated

5

out of

5
 by
HIthere
Serves my purpose
no room for a file cabinet- can store in the rooms i want them in. holds files well.
May 16, 2016
Rated

5

out of

5
 by
NCGA
Best file storage box I have found
I needed safe and secure storage for the contents of my file cabinet during a relocation and subsequent storage and found these boxes - I especially like the fact that they keep out moisture as well as pests. After trying them out at home I just bought more of them on the last day of the office sale!
March 26, 2016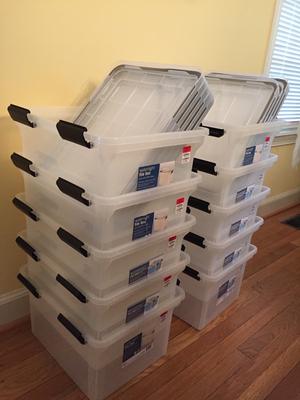 Rated

5

out of

5
 by
Dreia18
Strong and sturdy containers
These are great containers that do not only store files but my classroom workbooks and materials! They are the perfect size and fit in my classroom closets. I have purchased 12 and plan on ordering more.
March 20, 2016
Rated

5

out of

5
 by
ayasan
Great box for organizing papers
I bought a couple of them to store all of my loose papers, and they are great! The size is great for standard notebooks, printouts, and books. I like how they are weathertight so I can feel comfortable putting them in the garage. The lids snap close well, and I hope they will last. They stack well too.
March 19, 2016
Rated

5

out of

5
 by
tovster
watertight boxes
MADE IN THE USA! Easy to use locking tabs. Love this item.
May 9, 2015
Rated

5

out of

5
 by
RBinOrlando
So Far So Good
I've loaded up the containers and put them in my "conditioned" storage unit. I purchased more thinking I could be store moisture sensitive items in my garage which has a lot of moisture living in Florida. Not having to wrap the container in a plastic bag and hope it would not break or tear and therefore allow moisture to enter was a great relief. the 4 snap locking devices appear to be good at keeping the top down and the moisture out. Time will tell if they have in fact kept the moisture out.
September 1, 2014
Rated

5

out of

5
 by
620sr
fantastic solution
Limited space in office area requires garage storage for documents, I have an excellent 5-drawer lateral file there. Unfortunately mice found a way into the garage and the file cabinet and proceeded to soil many files and chew on some. These boxes fit two to a drawer and allow me to return to storage in the garage instead of tripping over boxes in my living area. They are a joy. Be sure to check dimensions. File drawers vary.
July 13, 2014
Rated

5

out of

5
 by
duzie
File Box
I have ordered many of these and just love knowing all my files are going to be safe from any water. I will order more soon.
June 26, 2014
Rated

5

out of

5
 by
WhiteTiger
2nd Purchase of this File Box
A few years back I bought 8 of these, I recently came back to get 3 more. These stack well, fit file folders in both directions, and are fairly sturdy. Although the handles don't always fit perfectly, but I found if twist the tops a little it helps to get them snug. Overall, a very good product.
June 21, 2014
Rated

5

out of

5
 by
mickeyml
Great purchase
This was a great purchase. File box functions as described. Box is very strong, file rails are quite sturdy. I plan to store a lifetime of income tax records in an area I want to be very sure will be water proof. This box fully meets my neds.
May 9, 2014
Rated

5

out of

5
 by
Sharette
Best Purchase Ever!
6 cardboard boxes for files. Watertight File Box!!!
April 26, 2014
Rated

5

out of

5
 by
Quincyinnh
Best File Box Ever
I love this file box. I have been able to bring everything I need in and out of court without it being too heavy. This is the perfect size and I love how it seals.
April 25, 2014
Rated

5

out of

5
 by
dpupy
Great way to save important documents
I no longer worry about my documents with your watertight boxes.
April 22, 2014
Rated

4

out of

5
 by
LatinMom
Sturdy & Practical
Great item to store hanging files or any other item that you want protected from water. You can stack them!
April 15, 2014
Rated

5

out of

5
 by
SchoolTime
Great for Hanging Files
The box works perfect for holding our hanging files.
April 10, 2014
Rated

4

out of

5
 by
ccqdesigns
great sealed storage
Needed file storage that would be protected and this is just perfect.
April 8, 2014
Rated

5

out of

5
 by
ArtFan
Container Store Never Disappoints!
Water tight and secure! I can finally thro away those over stuffed accordian files and collapsing file boxes. The Container Store had just what I needed at a great sale price. Sturdy and stackable, I give the Watertight File Box a hearty thumbs up! Get yours today!
April 1, 2014
Rated

4

out of

5
 by
BostonHomeowner
Hoping for many years out of these
Solid and durable, stacks nicely. These seem like they will last longer than the usual plastic file tubs that crack after a few years when the plastic gets brittle. The only downside is that the new plastic smell is very strong.
March 28, 2014
Rated

5

out of

5
 by
SallySunshine
Exactly what I needed
This File Box is exactly what I needed to store away documents. They can handle both letter size and legal size file folders. The tabs stand up and are easy to read. I like the four closures, they are easy to open and close. Time will tell whether they are truly water tight, however I am expecting them to be.
March 18, 2014
Rated

5

out of

5
 by
Vivvo
Great size/quality storage box
While I am not using this box for file folders, I needed this size box for storing other things. I felt this box would have multiple purposes over the long run.
February 27, 2014
Rated

5

out of

5
 by
novagurl
Watertight file storage
Watertight file storage??? How cool is that?? Love that it can accomodate either letter or legal size files. This box is watertight/airtight which preserves the documents.
January 9, 2014
Rated

5

out of

5
 by
ChicOrganizerLady
Superb!
I'm preparing to move and this file box holds more than my previous one. I like the peace of mind knowing that in the event it's rainy on my moving day, there is more protection of my files in this box! You won't regret this purchase!
June 27, 2013
Rated

5

out of

5
 by
MississippiGirl
Durable and practical
I went from a two drawer larger wooden filing cabinet to 3 of these and I am so happy I did. It accommodates hanging folders or regular manila folders, easy to stack and very very durable. You truly can't go wrong.
June 12, 2013
Rated

5

out of

5
 by
LEllen
Watertight File Box
I bought two of these bins to replace my rusting and too small metal file cabinet. They are smaller than I imagined, only because I didn't bother to measure! I think they are great, easy to use, tops come off and back on easily.
May 9, 2013
Rated

5

out of

5
 by
dirge
The best file storage solution I've found
The seal is snug and fitted around the entire perimeter when the top is attached which makes this wonderful for files/paperwork when you need to keep them in the attic or garage. I'll be buying more of these.
April 23, 2013
Rated

5

out of

5
 by
OldAlice
Made in the USA! - And it's the BEST!
These containers are wonderful for storing important documents in less than perfect conditions. This is my second time to buy them for tax records etc. to store in my attic. Everything is perfect! REally keeps things just like when you stored them.
April 6, 2013
Rated

4

out of

5
 by
ShoeboxDweller
These just rock
Totally worth the price. Living in NYC and having storage in a basement or fearing any kind of critter getting into your stuff, this is the one of the best solutions we've ever found. No- the best (so far). We love these boxes. The only complaint is that the handles can pop off and seem to get looser. But these are pretty affordable and really useful even when the handles (that secure the seal) are no longer fitting tightly
April 3, 2013