Rated

5

out of

5
 by
Supersonicpuppy
Love it!!
We were trying to design a board at work and looking for a specific container that was magnetic and could store our comment cards. This worked perfectly. The magnets are strong and the size is perfect.
June 17, 2015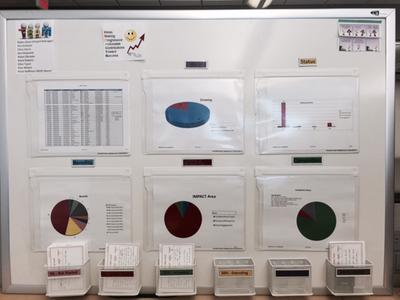 Rated

5

out of

5
 by
mayokie
just what I needed
Using to hold spices on the side of fridge. Great!
September 22, 2014
Rated

5

out of

5
 by
Missikay
Great for car console
I bought this to organize my car console. I like to keep lens cleaner, hand sanitizer, lotion, body spray, toothpaste, etc in the center console, but they tend to fall over as I drive. (Maybe I should take those corners more slowly.) It is just the perfect size! The magnetic strip is not necessary to keep it in place, however, the metal clip on ink pens is magnetic, and holds my pens in place so I don't have to hunt. Very nifty.This little box was such a hit, my husband wanted mine, so I bought a second one for his car.
September 6, 2014
Rated

5

out of

5
 by
Sam51
Best Purchase Ever
Needed a magnetic container to hold eraser and markers for our white boards at work and this was perfect. When I opened the package I was excited to see that the item description was perfect. Our eraser and markers fit into this perfectly. I am so pleased with this purchase. Dare I say "perfect" again? Yes!!
June 23, 2014
Rated

5

out of

5
 by
Citygirlinthecountry
Love these!
I love these little baskets. I use them in several different sizes on a large magnetic chalkboard in my office. I use them for chalk, car keys, and office supplies I want to keep handy. They are just right!
June 21, 2014
Rated

5

out of

5
 by
shopper78
Excellent bins!
So easy! Strong magnet and holds so many things-use on your fridge, freezer, locker-organize your pens, stamps-whatever! Great price!
June 9, 2014
Rated

5

out of

5
 by
Crane
Great!
Exactly what I was looking for to hold some of my makeup items. It has a very strong magnet that allows me to totally fill the bin without it falling off.
May 4, 2014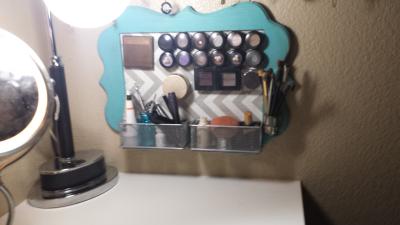 Rated

4

out of

5
 by
Gnome7
Awesome for my need
I used a couple of these on the side of my fridge for coupons, a small pad of paper and other small incidentals. I only wish the magnet would have been a little stronger on the bigger ones as it would like to slide down the side of the fridge but I found a solution ;)
May 2, 2014
Rated

5

out of

5
 by
AmyPond
Awesome product!
This product is great for getting things off of your work space. I used them for my desk wall unit to have more surface space. I also love the mobility of if since you can just pull down the mesh bin and take it with you if you working in another area that where it's being stored.
April 7, 2014
Rated

5

out of

5
 by
SkinCraftOrganics
BEYOND HANDY!!!
I LOVE these little magnetic baskets! First off, they have VERY STRONG magnets so they really can hold lots of things securely! They are very versatile too!! I have a desk made with 2 metal filing cabinets & use them on the inside where my legs go to store my cell phone while it's charging & a some back up eyeglasses... On my work station, I have them stuck to the underside of my little metal shelf so I have easy access to my business cards, little camera and note cards.
April 3, 2014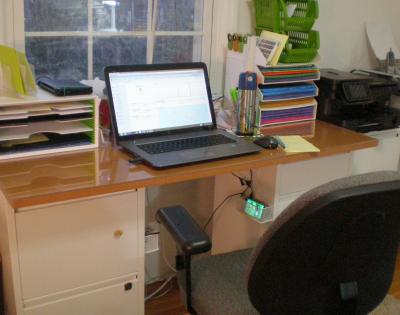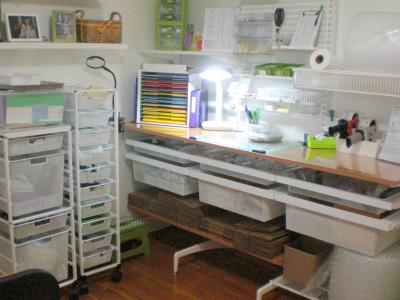 Rated

5

out of

5
 by
DeirdreN2
Little things make a huge difference
I am scaling down to a smaller home, and by chance stumbled on these in a bricks-and-mortar store. Probably, if I had just seen them online I wouldn't have bought them. All I can say is they are fantastic! I had different pencil holders around the house, sloppy and still disorganized. Plus, I hadn't realized this can be used with the Elfa desk system as long as you buy this lightweight attachment that goes on between the back supports. You literally just clip it in. I am not getting into the horror story of a liquid that went into my daughter's laptop because of a crowded work area. These things cleaned up her desk and my house. Yes, I got a new stainless steel fridge, and I am not one to like to put things on it, but as it was, I had the little magnet clip things before I stored on it with my grocery list, etc. These not only look handsome and well-made, they look more than fine on the fridge. I put a few different sizes on my fridge. The best part is how all the pencils and pens aren't scattered around. I even put a small one on the side of the fridge on the counter to store my husband's key's, etc. He is always putting his stuff all over the place and searching for them. This way, it is near his coffee machine in the morning. The side of my stainless fridge isn't as magnetic, so it need the counter support. All his stash is in there: wallet, keys, Nexus 7 2nd generation, etc. All the sizes have their purpose. I used the smallest one to hold up the calendar on the fridge with all his little scraps of info he leaves around (we know the type with heaps of piles of scribbled notes) in that little container and it is just enough to hold up the calendar. As I said, we are downsizing, but honestly, I would rather use up fridge space than using my corkboard or wall space with a nail. The whole thing is not attractive, in my opinion. Stainless on stainless looks sleek and not cluttered. It probably wouldn't be as attractive on a colored fridge. Anyone considering the Elfa desk system should buy this for sure.
March 31, 2014
Rated

5

out of

5
 by
OrganizedMummy
Powerful magnetic stick!
Needed some magnetic organizers and found these - using them on the side of my filing cabinet - actually placed a 2nd order cause I liked them so much....great also for holding recipes on side of frig!
March 24, 2014
Rated

5

out of

5
 by
Delilahbean
Organize your life
I bought this item to hang inside a metal file drawer. My pens, mini stapler, etc. keep falling underneath the file folders and then I have to hunt for them. Not anymore though. I put this inside the drawer in the front so these items are always easily accessable. Now I need to find one for a plastic file box.
March 23, 2014
Rated

5

out of

5
 by
Alili
So very helpful
I work in a small area where i can't get much done because of my space around me. Yet using this i was able to put up all my extra utensils to have more space! Great support and has a great amount of strength! Couldn't be happier
March 12, 2014
Rated

5

out of

5
 by
OrganizeMePlease
Very convenient
I have metal kitchen cabinets (ugh) and these bins are helpful to but on the inside. For example, I put my coffee filters in one so they will be easy to grab in the morning. Many uses!
February 13, 2014
Rated

5

out of

5
 by
mssue
magnetic mesh bins
These are the best things I have come across! Stick them on the side of fridge and they hold my bills, flyers and pens and pencils! They are perfect storage! Love them!
February 3, 2014
Rated

5

out of

5
 by
CAdoc
Perfect for dry erase markers and erase
We are using these in a hospital to hold dry erase markers and eraser for patient communication boards. They are the perfect size. Good quality sturdy construction, magnets are strong enough.
December 19, 2013
Rated

5

out of

5
 by
Rebekah68
Nice for magnetic board
I can have pens on magnetic board where I write messages.
December 2, 2013
Rated

5

out of

5
 by
MaryP2219
Perfect for what I needed
The magnets on this container are very strong. They have held up to everything I've thrown in there. Love that I can see from the side what's in there. I've gotten some great ideas for other uses of the various sizes by reading the other reviews. Thanks for reviewing everyone!
October 8, 2013
Rated

5

out of

5
 by
miamigirl
I love these. They are so useful since they come in the perfect sizes for a variety of items. My daugther started middle school and she has put them to good use.
August 22, 2013
Rated

5

out of

5
 by
JoiLT
Excellent for medicine cabinet
I purchased these for my medicine cabinet. The cabinet came with no shelves thanks to the over zealous previous tenant. These are great for storing all the small stuff such as contact holders, tweezers and so on. I had already purchased Double Acrylic Spice Rack to hold the large items and act as shelves in the cabinet.
July 18, 2013
Rated

5

out of

5
 by
MBolen
Very strong magnets that hold well even when the product is full of things.
April 9, 2013
Rated

5

out of

5
 by
dodie
magnetic bins have me hooked!
The magnetic bins I purchased are the perfect solution to get clutter under control and off the counter. The construction is both durable and light, while the magnets are very strong and well secured. The sleek lines and industrial feel also help them to blend right in!
April 1, 2013
Rated

4

out of

5
 by
Verified Reviewer
worth it
using with mesh super sorter, 2 trays that attach below, and this attached to side, makes everything look clean and organized!
March 24, 2013
Rated

5

out of

5
 by
Paloma
Holds Everything
I am a guitarist and was looking for something near my desk to hold my picks and other needed items. I purchased a magnetic strip and now I have all my stuff hanging on the wall nearby. Sweet!
March 24, 2013
Rated

4

out of

5
 by
Ferdinand
Great product
I use these on my fridge to hold spice bottles, and they have a good strong hold. I do wish they were longer, but they are technically an office supply, so I can't complain. Plus, I didn't have to get one of the magnetic spice racks that requires you to transfer your spices into their holders - much more convenient!
March 18, 2013
Rated

5

out of

5
 by
JnMC
Loved These
Great size. Stay put. Strong Magnet. Easy to move around.
March 18, 2013
Rated

5

out of

5
 by
TravelGurl
Not just for the office
I actually don't use these in my office. I use them in my bathroom. I have a mesh CD box with my hair products on my counter and I have two of these stuck to the side. They hold my make up brushes. It keeps them handy and when I clean my brushes, they are easily dried in these bins.
March 18, 2013
Rated

5

out of

5
 by
Verified Reviewer
Love it
it's fantastic inside the looker. zero second to install !
March 5, 2013
Rated

5

out of

5
 by
luvnmm
Super Cool
The baskets look great, the magnets are strong. Excellent purchase!
February 16, 2013