Rated

5

out of

5
 by
squashblossom
Organize your stationary
This is the perfect holder for stationary and envelopes as well as plastic folders and magazines. Because I write letters by hand, and make my own greeting cards, this file holds papers and envelopes in a convenient and organized manner.
March 15, 2010
Rated

5

out of

5
 by
efficiencygal
super productivity helper
I use this to keep my 'hot list' items visible and organized. Then as I take care of the item, it gets tossed or filed. Its such a nice way to see everything all at once instead of sitting on top of each other in a 'to-do' pile on my desk. My friends have been buying this and doing the same and they, too, have fallen in love with it.
February 25, 2016
Rated

5

out of

5
 by
CrazyCraftLady
- My Reviews are BORING Because..
Love it to organize my basic craft colors. Keeps them in view and handy!
January 10, 2016
Rated

3

out of

5
 by
Ruffy
Good organizater
This is a good organizer with real space between the pockets. However, if you put it on the door it clunks and makes a terrible noise.
September 5, 2014
Rated

5

out of

5
 by
bsanborn
Perfect for Card Stock
I purchased this to hold my 8 1/2" by 11" Card Stock, it works perfectly, I can organize my Card Stock by color now...
April 29, 2014
Rated

5

out of

5
 by
BKadams
Great display of testing paperwork
Our therapists can now view the many protocols that they use for testing new patients. Keeps everyone organized as we know immediately when we are running low on supplies.
April 3, 2014
Rated

5

out of

5
 by
ChefMikeMEC
Great Product for Price
I bought this item to hold our clip boards for upcoming events. It holds 12"x9" clip boards well. It is very sturdy, normally holders like this one start around $100 on up. I may buy another one later on this year too.
March 16, 2014
Rated

5

out of

5
 by
BuffaloDana
Great product!
I have purchased this item multiple times for use in a retail break room as employee mailboxes. It is great because it is not only durable, it looks good and takes up little space. We occasionally use them to hold magazines also and they are sturdy enough for that too!
February 25, 2014
Rated

5

out of

5
 by
candi1988
Great for monthly files
Great organizer for monthly files! I hung this on the back of a door with over the door hangers very easily.
February 16, 2014
Rated

4

out of

5
 by
Nevada
good sorting racks
I purchased two of these racks for standard sized craft paper. With the curve of the piece, the papers when inserted inside the rack are forced to curve. The unit needs to be slightly larger in width. The quality of the piece is good and sturdy. I would not purchase these again for craft paper, but would for other items.
February 7, 2014
Rated

5

out of

5
 by
micahsmommy
Great Product
Recently, my husband expressed his frustration with keeping up with the mail for budgeting. I have been stalking this item and finally decided to get it to help with keeping the mail organized. Holy cow, what a great product! I added some labels to further organize (mortgage, kids, medical, etc.) and it is so much easier to keep hold of the bills. Highly recommended!
October 7, 2013
Rated

5

out of

5
 by
Jiyoung
Perfect for my music organizing!
It is very sturdy. it has a bar in the behind so i used over the wall hook and hung it instead of screwing into walls, and it is working very well for me. I bought this because of someone's recommendation. I have a lot of music to play each week, and they were use to be piled up on my desk and sometimes it was hard to find the one that I am looking for, or sometimes I would forget to practice certain ones in behind so I made some disastrous situations. Now I organized it with this product, and I named each rag with "upcoming concert" and "this week" and "practice journal" "musicians magazine" so it is so easy to find, and I am much more productive with my time because I know exactly what is coming up and what I have to work on.
April 19, 2013
Rated

5

out of

5
 by
Chrys
Wonderful Product
Great product perfect for what I need it for at my church in our youth room to keep up with our weekly lessons and paperwork...
March 18, 2013
Rated

5

out of

5
 by
ES1071
Very Pleased
Exactly what I was looking for. Lightweight, yet sturdy
March 9, 2013
Rated

5

out of

5
 by
OrganizedShopperinOregon
Love this Wall Rack
This is exactly what I needed. I purchased 2 of these racks to store specific reference books to hang next to my work area. So convenient and I'll never have to search for my books again.
March 7, 2013
Rated

5

out of

5
 by
Vlogan
Great!
Works great for me in my home office to keep me organized.
March 7, 2013
Rated

5

out of

5
 by
Rellen
Great product
Very useful storage solution for all of my papers and cover sheets!
March 6, 2013
Rated

4

out of

5
 by
ATGirl
Handy and Sharp looking
Looks great on our office wall. Very helpful with organizing/displaying vendor brochures
February 18, 2013
Rated

5

out of

5
 by
Spotter
Great product
We use this product for employee mailboxes. We like it so well we bought 2 more . No more plastic shelves for us.
September 14, 2012
Rated

4

out of

5
 by
bburritt
Great for organizing kitchen junk
Not that pretty, but hidden on the inside of the kitchen pantry door, it is perfect for sorting incoming mail and the kid's school stuff.
April 27, 2012
Rated

5

out of

5
 by
ktc913
Efficient use of space!
Love it - all our docs/magazines - accessible and easy to find.
April 24, 2012
Rated

5

out of

5
 by
Lisads
Awesome Product!
What a great idea and does not fall apart like the cheaper one they sell. Good investment and reasonable price. I really like this for my parents to stay organized and very sturdy. Would recommend to anyone.
March 21, 2012
Rated

5

out of

5
 by
theperfectguest
Just Get It
If you are considering this product, just get it! Chances are, its going to do the trick. I have tried other products that have either not performed as well, or matched the capacity but with less pockets. You want options, and this will give it to you. I currently use it in my shared office at work and it is keeping us organized.
March 19, 2012
Rated

5

out of

5
 by
MamaNik
Great wall organizer
I have purchased this a couple of times for clients and they LOVE it. It is perfect for an office space (commercial or residential). Very sturdy, easy to install & holds several items.
March 18, 2012
Rated

5

out of

5
 by
vickielynn
Great Paper Crafter Item
Every paper crafter wants more space and this wall rack is a perfect way to clear up space and get organized. It holds my 12 X 12 paper as well as my 8.5 X 11 size. I can organize by size, type or color of paper. It's not a wimpy little item either, With 12 slots, it holds a lot!
March 13, 2012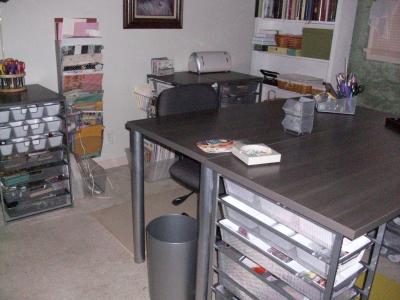 Rated

5

out of

5
 by
MalC
Great for organizing clutter
My kitchen counter used to be constantly cluttered with magazines, mail, and coupons. I bought this wall rack and now my countertops have never looked better! This is great for storing magazines when you're not reading them, or bills that have yet to be paid. It was easy to install and looks great!
March 1, 2012
Rated

5

out of

5
 by
MagicLady
Perfect Solution
I have many client folders to keep handy to drop things into as the days go by. I mounted two of these beauties side-by-side next to my desk and have 24 folders at my fingertips. It has really helped me stay organized. I have purchased 4 more to put into different client's offices as well. Very sturdy and I love the way they look.
March 30, 2011
Rated

5

out of

5
 by
HOTPUPPY
First time in store , GREAT STORE!!
FRIENDLY AND HELPFUL STAFF, GREAT PRODUCTS! LOVE THIS STORE.
March 30, 2011
Rated

4

out of

5
 by
DaVinciJr
No more files on the office floor!
Ideal rack for quick access when working with multipe files. Design only extends 3.5 inches from the wall and has no footprint making it a seriously-well designed space saver. My clients, friends, and staff have all made favorable comments on how nice they are and have even bought some for their own home/office.
March 19, 2011
Rated

5

out of

5
 by
Peepster
Great organizational tool!
This rack has helped organize a papery mess and my whole family loves it. Everyone has their own mail slot, a place for bills, a place for magazines, a place for everything!
December 16, 2010