Rated

5

out of

5
 by
CleanSweepFan
Terrific "skinny" trash can!
We have two tiny bathrooms, each with approximately 7" of space between the widest part of the toilet seat and the vanity (unfortunately, the best location for a trash can in them). I'd been searching fruitlessly online and in stores for several months before spotting this trash can at a Container Store. Although I'd found another "skinny" trash can, it didn't fit with the style of my bathrooms, and I didn't like its super-modern look. This one was perfect: The smallest can is 6" wide, and the plastic, from a distance, doesn't even look like plastic because of the matte finish. It's very nice, reminiscent of seashells, and the price couldn't be better. I immediately bought two, one for each bathroom, and have been thrilled with them--they fit perfectly, and if you want to line them, you can use regular plastic grocery bags. Terrific product and price!
December 4, 2016
Rated

5

out of

5
 by
LK57
Petite and attractive
I ordered this to be for our daily recycling to take out to our detached garage. It's attractive enough to be out in the open and petite enough not to be in the way.
January 26, 2015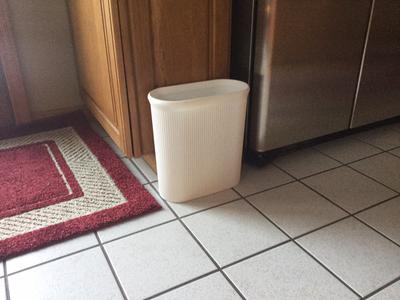 Rated

5

out of

5
 by
CapeGirl
Versatile Size
The only places this wastebasket might not work would be Kitchen and Basement/Garage. It's really a great size for just about everywhere else. If you have 5-6 inches of clearance, this basket will fit. I keep one in my bedroom between the bed and my big cozy chair [and ottoman], another in the bathroom under the sink and a third outside the front entry. I have knee trouble and in the Winter, it's often difficult to get to the mailbox rack near the parking lot, so the mail carrier very kindly leaves my mail on my front doorstep [each apt has a private entrance]. With this basket there he can just drop the mail in and it stays tidy and dry, even on snowy or rainy days, until I grab it.
November 6, 2014
Rated

5

out of

5
 by
Razzi
Absolutely perfect
I love this trash can so much I own 8 of them, They are the perfect size to slide into any space and hold a lot too! I use them in my bathrooms, bedrooms, closet, desk area, and den.
April 3, 2014
Rated

5

out of

5
 by
Toey
Just what I wanted !!
Never thought I would find a trash can this narrow. Container Store to the rescue.
December 22, 2012
Rated

4

out of

5
 by
realshopper
Great trashcan
What makes this trash can great is it is thin. I put it next to my desk in the office and it does not take up much walking space. It is also sturdy and fits in either contemporary or traditonal setting. I would like to get another one if it comes in a darker color for my dark furniture room.
November 9, 2012
Rated

5

out of

5
 by
Ggine
Beautiful product - Hard to find
I looked long and hard for an oval wast basket that wasn't too big. I finally found this one and very please with it all around. It's exactly the size I needed and it is very attractive.
November 1, 2012
Rated

5

out of

5
 by
PinataParty
Perfect thin waste basket
I bought one of these when I had a small bathroom and needed something that did not take up too much space. It is a great design: not too plain, not too fussy. I line my cans with grocery bags, and they fit great in this one.
April 12, 2012
Rated

5

out of

5
 by
Sashalita
Perfect for tight spaces
Perfect for tight spaces, esp. in small bathroom. Good price, attractive shape
April 9, 2012
Rated

5

out of

5
 by
mle9101
Great for small spaces
Perfect size for a tiny bathroom -- doesn't look crammed in the small space that I have.
March 19, 2012
Rated

5

out of

5
 by
Designmom
Great size for cabinet
I needed a small can to fit under my laundry sink cabinet and this fit the bill perfectly! Well made, well priced.
March 27, 2011
Rated

5

out of

5
 by
NaturalHigh
Super-minimal and washable
This trash can is quite slim and short, so it tucks into very small spaces. I like that it is washable and waterproof--you never know what guests/kids will toss in there.
September 24, 2010
Rated

5

out of

5
 by
Cherokee
Compact, but holds a lot
I use this as a recycling bin in my car. It fits behind the passenger seat, holds plenty of empty bottles and cans for a road trip, and any spills can be easily rinsed out once we arrive at our destination. No more having to throw away aluminum, plastic, and glass just because I can't find recycling bins while on the road!
August 2, 2010
Rated

5

out of

5
 by
Bamamoma
Great Product
This can is very light and easy to clean. Fits great in bathrooms; I keep beside my computer desk also. Have 3 and ordering 3 more; also, it is more attractive in color and design than pictured.
July 15, 2010
Rated

5

out of

5
 by
Scubawoman
Just what I was looking for
Made out of nice quality sturdy plastic, Dimensions are as listed on website. I bought these as I have a narrow space in the bathroom and laundry room and it fits perfectly. Just the right height.
May 15, 2010