Rated

5

out of

5
 by
LittleTiger
The perfect solution to the Homework Sprawl!
I have found the perfect homework organization solution! My kids can come home and empty their own folder into their own basket in this ladder - I can easily see when there are papers for me to review... and the homework assignments that last throughout the week can now reside in these baskets instead of all over my kitchen counter!
September 30, 2016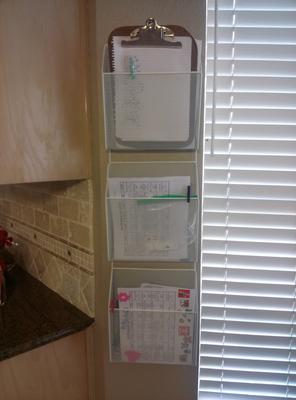 Rated

5

out of

5
 by
chrisbro
Perfectly helpful!!!
I had been looking at the MESH BASKET LADDER for a while in the silver and black colors. I was so tempted to order because they would fit in very narrow wall spaces that other racks were to wide for. But I held out with the hope of finding it in a white color. White metal racks look so much more softer to me than other colors. When I located this in white I couldn't believe it. I hurried and ordered two. They look so nice on my beige walls. One is in the hallway up stairs for my three daughters papers and mail. I used a large metal clip to hang their current incoming mail on the outside of each basket. The second rack is in a narrow obscure corner of my living room for a magazine display. These racks have helped me organize so much. that I hope to order one more for a small corner in my hallway to help organize paper work for taxes. shopping receipts and house projects. THANK YOU THE CONTAINER STORE
March 16, 2015
Rated

5

out of

5
 by
BKadams
Sturdy and roomy wall baskets
Purchased these for our therapists to see the testing materials needed for visits. Very roomy for thick booklets or magazines. Still look professional in office.
April 25, 2014
Rated

5

out of

5
 by
HomeschoolingMama
Sturdy, Functional, Attractive finish
I bought two of these for my homeschooling room. I have 5 students I teach, and this is where they store the workbooks they are currently working on so they are not lost in the shuffle. This holds 3 thick workbooks in each section, easily without falling due to the weight. Easy to hang, and very useful.
April 25, 2014
Rated

5

out of

5
 by
Mouse51
Needed forever finally found
Finally have an organized container for all the magazines in my Beauty Shop....have looked for a long time...finally found the most wonderful shop...in the convenience of my home anytime, day or night to shop....it is so neat looking hanging up and I am sure it will last for years...
April 8, 2013
Rated

5

out of

5
 by
CassiGirl
Perfect Organization Tool
This is ideal for organizing home and business. Keep a trash can near by, open the mail, sort and get rid of all the trash. A perfect way to stay organized!
April 21, 2012
Rated

4

out of

5
 by
Sparkle
Great Organizer
I really like this for my office. It has good big pockets that hold plenty. The mesh is nice and sturdy. The only con was that one of the screws in the mounting kit was so bent that we could not use it - but that was a minor problem.
April 26, 2011
Rated

4

out of

5
 by
MomInMD
Organization!
Works great to organize my mail. I have a section each for items to be filed, items to be shredded, and coupons. It's pretty ugly looking, so I keep it tucked just inside my basement door. Convenient for me, and guests can't see it. The metal was a little bent when we received it, but we just bent it back and it was fine. Good purchase.
March 9, 2011
Rated

5

out of

5
 by
LuLu50
Basket Ladder
Hi, After being a domestic goddess for 25 yrs, housework has become rather droll. Throw in that I have aged not so well in those yrs and have many health probs.... The ladder is a godsend.....It blesses my family and me by helping us be organized with everything off the floor. Everything has a place and your stores has containers for it all! An organized home blesses everyone in it. It blesses mind, body and spirit because it helps life run smoothly. HOpe this helps...Have a grand day. Lu Lu 50
February 15, 2011
Rated

5

out of

5
 by
happy1
Love the organization
Love my new Mesh Baskets - everyone in the family has a basket now and when the mail comes it gets sorted into their basket! No more stacks on the table!
October 19, 2010
Rated

5

out of

5
 by
ClutterBGone
Love this basket!!
I bought this basket to help me get organized with my kids school paperwork & folders. For months my counter was cluttered with all of the papers that come home from school every day. I have three children and they each now have their own slot. It has helped tremendously. The basket is sturdy, and was very easy to hang. The slots are wide enough to hold a few books, folders and papers. It's done wonders for my kitchen counter!
October 19, 2010
Rated

4

out of

5
 by
Randal
Sturdy & spacious
Baskets hold a lot and contents easily visible through mesh. Sturdy metal. Only concern: not sure if will attach properly to the wall with screws provided.
August 31, 2010
Rated

4

out of

5
 by
LeosMama
Perfect for the Office or Kitchen
This product helps me keep mail and magazines organized! Easy to mount on the wall.
May 6, 2010
Rated

4

out of

5
 by
Chameleon
Nice product
I first bought these for the lunch rooms at my work, and now I've purchased 3 of them for my home. Each pocket holds several magazines, catalogs, or a folded newspaper, and so these are great for organizing. The silver mesh styling looks good on the wall, and I think it blends well with just about any decor.
March 3, 2010