Rated

5

out of

5
 by
textilady
I'm coming back for more!
I took the contents of two 2-drawer file cabinets and divided it among 10 of these file boxes in all three sizes. They're great because they are portable and sturdy. Just ordered two more for work. I can't get enough!
January 27, 2017
Rated

5

out of

5
 by
Beeba
Keeps files that I use regularly together. Can move them around without worrying about spilling everything. This was my second purchase...realized I needed more for other sets of files!
December 14, 2016
Rated

5

out of

5
 by
Stampninklady
Perfect!!
These file boxes are perfect for me! I have health issues and don't have the strength to lift much. I needed something to store my specialty papers and paper craft project instruction sheets. Best of all, they fit inside my Jetmax cubes. Easy access, while protecting my costly papers! This is the 2nd set I bought and may buy more as needed!
September 22, 2016
Rated

4

out of

5
 by
COKGB
Small footprint for desktop
I ordered the medium size open-top file box for my desk - it's the perfect size to hold important and often used papers, but doesn't take up too much space. The handles and file supports seem sturdy & the box is translucent and smooth.
March 26, 2016
Rated

5

out of

5
 by
SCentex183
Versatile storage - magazine holder
These file boxes live up to their description and more! I found that turned on their side they made excellent magazine holders. Fit well on a desk or bookshelf - simply slide in magazines and pick up and go when needed.
April 11, 2015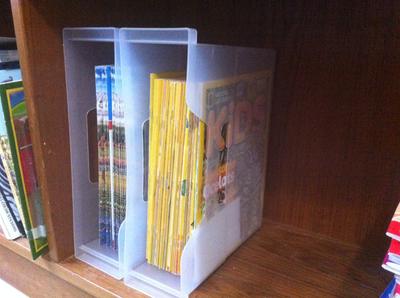 Rated

5

out of

5
 by
BkNY2005
Best Solution for organizing piles of paperwork!
I was fed up with having piles of paper on my desk at work. I have always wanted to try a desktop file box to organize my paperwork. The problem is I can't always leave my work out on my desk. I need the option to lock up the files before I leave work. These open-top file boxes are the perfect solution! When I am done at the end of the day, I can put the file box in my hanging file drawer. I was so happy to find out that these file boxes fit perfectly! And the handles make moving the boxes super easy. Now my files are right beside me or out of the way when they need to be. And the price was right. I did not want to spend a lot since I was buying this for work. I also bought the kiwi hanging file folders for a pop of color. They really brighten my office! But they best part is No More Piles!!
March 23, 2015
Rated

5

out of

5
 by
CatyCATE
So helpful!
I love these file boxes! I use one at home to file things that I need easy access to, and I use one inside my desk drawer at work for active files.
March 21, 2015
Rated

5

out of

5
 by
Butterlady
Portable
I've bought this in the past. They are easy to move around. Handy for sorting mail, catalogs, bills. I like the side openings, makes it easy to carry.
March 3, 2015
Rated

5

out of

5
 by
monarch
awesome quality
I needed several portable containers for filing systems in a drawer that wouldn't hold old fashion metal bar, They're perfectly sized easy to carry and just right height to fit in a deep drawer.
March 2, 2015
Rated

5

out of

5
 by
Catlantan
Great mobile file storage
Just what i needed. If it were 1 inch less in width it would fit perfectly in my work bag. Item is very mobile and easy to store what i need every day for work.
July 7, 2014
Rated

4

out of

5
 by
LDesignStudio
Quality, Affordable, just what I needed.
I ordered these for my business and for personal use. I wanted something portable, inexpensive, and didn't need something that locks at this moment. I was a little unsure of the quality when I ordered them because they were pretty inexpensive. They arrived a week later and seem like they will hold up just fine! They do allow a little bend. Obviously, plastic isn't as strong as metal, but they are perfect for what I needed.
May 27, 2014
Rated

5

out of

5
 by
Fiveyearsin
Love these file boxes
These are great and fit perfectly into totes I have from another company for easy travel. I have three!
May 4, 2014
Rated

5

out of

5
 by
SueThomasFBEye
I bought the small and medium for filing my kids' papers and they were surprisingly happy to have their own filing system. I used a pack of color coded file pockets for fast recognition. They used it immediately to organize the clutter on their hw table. It's light, so when filled up they can still lift it.
April 29, 2014
Rated

5

out of

5
 by
1Motherof4
Exactly What I Was Looking For
In a continuing effort to help my elderly parent's stay organized I was looking for a way for my mother to keep their current papers orderly and accessible. Having suffered a stroke many years ago my mother has the limited mobility of only one useable arm. I needed something that was sturdy yet light weight and the handles on either side are ideal for her to be able to pick up and put back down the box. This was exactly what I had hoped to find in order for my mother to be able to keep near her and access necessary papers. I figured The Container Store would have something we could use and after finding this online I was so happy to see it in the store and know this was just what I was looking for.
April 25, 2014
Rated

5

out of

5
 by
Basswoman
File boxes
Lightweight, easy to use, makes organizing easy and quick. Thank you Container Store!!!!!!!!!!!!!!!!!!
April 14, 2014
Rated

5

out of

5
 by
Julesie
Exactly what I needed
Solid, portable, versatile; fits in file drawer. Good size options.
April 12, 2014
Rated

5

out of

5
 by
JanBubbles
Best File Boxes I've Ever Used
These file boxes are not only ecoomical, they take up minimal space and look good on the desktop because they are clear. I purchased two boxes - one for household expenses and one for miscellaneous files. I bought the sizes that would allow the files to grow. These are the best file boxes and exactly what I have been looking for. So easy to use and everything is at my fingertips.
April 1, 2014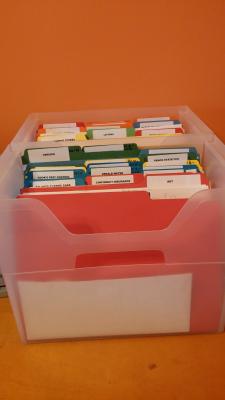 Rated

5

out of

5
 by
Sueranks
Love these!
These file boxes are so awesome and it makes organizing my work files so much easier. I may buy more!!
March 28, 2014
Rated

3

out of

5
 by
SondrainMN
These are not true 13 &3/8 size from top to bottom
I bought these in all 3 sizes because I liked that they didn't have the vents on the side like the multi-purpose bins I have been using and also the given measurements sounded perfect. My plan was to store 12x12 scrapbook paper, pads and in progress projects. With out the vents it would make it a little easier to insert the paper without getting caught on the vents. Well, these are not a consistent size from top to bottom! The Top overhang, which is where the file folder's metal hangers slide and rest on, measures 13 & 3/8ths. Then the actual box measures at the top under the overhang a tad over 12in and at the bottom it tapers to under 12in. Will not hold a 12x12 sheet of paper unless you put it in sideways. I am sure they work great for the intended purpose of hanging file folders, but not for mine. Wish they would state the fact it tapers and give the differing dimensions. I would have just ordered the ones I have been using and never bought these and wasted my time and money. It's over an hour drive back to the only store in the state if I want to return them or pay to send them back. I am so bummed!
March 24, 2014
Rated

5

out of

5
 by
Fastfingers
Very handy
These files fit very nicely in my metal cube tower. I can get three in one cube. I can separate different subjects - pending events, recent family emails, catalog order interests, etc. Very easy to slip one out on to my wheeling desk so that I may look through them as I sit at my laptop on my large desk. I label each file with the name of the topic of interest. Now my papers are vertical instead of in a horizontal haphazard pile.
March 20, 2014
Rated

5

out of

5
 by
Shopper2004
perfect size
Used 2 of these to hold my child's colored construction paper. Now she can see all of the colors and better still...put the unused ones away easily!
March 17, 2014
Rated

3

out of

5
 by
CLop
Good product, but came broken
I bought 2 of the medium bins. The product itself is what I wanted, and will work fine for what I need it for. However, one of them came cracked down one corner. They need more cushioning in the box. Too much trouble to return, so will have to duct tape it.
March 12, 2014
Rated

5

out of

5
 by
filequeen
So Handy!
I love this file storage. It is lightweight and easy to move to wherever I feel like filing at the time. I also bought the cute print file folders to go in it, to make it even more fun to file. These items have turned a chore into a joy.
March 11, 2014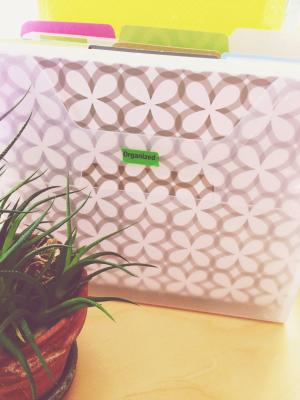 Rated

5

out of

5
 by
tpeel
Many uses
I use them in my pantry to corral similar items (baking, Italian items. etc) I also use them in my pull out freezer drawer to organize boxes and bags. The freezer is like a big pit otherwise.
March 7, 2014
Rated

5

out of

5
 by
mrsk1
Perfect Solution for Hanging Files
My filing cabinets came with flimsy rails for hanging files. These file boxes are the perfect solution. I purchased enough for all of my file drawers and now my files are neat and tidy. Side bonus: When I want to clean out my files, I can pull out one box at a time to work on them.
March 7, 2014
Rated

5

out of

5
 by
AZPatty
File box
Needed something sturdy and this fit the bill. Lightweight and easy to handle. It holds about 20+ hanging files.
March 6, 2014
Rated

5

out of

5
 by
Bogs
Great Organizer Files
Purchased several of these for use to organize household information. For example, one holds booklets and warranties for appliances. I like the fact that they don't have lids, which makes it easier to drop receipts and other information in the file pockets. Also, they are shorter than standard boxes and fit on standard closet or cabinet shelves.
February 23, 2014
Rated

5

out of

5
 by
Daisy112
Looks Great & Encourages Organization!
Sturdy. Looks great in the kitchen paired with cool colored hanging files. Easily portable when I need it out of sight. Encourages one to deal with mail instead of letting it pile up!
February 19, 2014
Rated

4

out of

5
 by
mlcrdh
Just what I wanted
Exactly what I was looking for. Sturdy and priced right.
January 22, 2014
Rated

5

out of

5
 by
3teach
LOVE IT
I only wish I had purchased these a few years ago. They are perfect for use in my classroom. I have 3 of them - 1 for AR folders, 1 for writing notebooks, and 1 for writing folders.
December 2, 2013