Rated

5

out of

5
 by
squashblossom
Excellent wall organizers
When you need many wall folders to keep jobs organized and off your work surface, these will do the job inexpensively. As an illustrator, I always have several projects for magazines/books running at the same time, and these keep jobs separate and organized. They are easy to assemble, and can be hung in pairs or as a single file in large groups. The thick plastic holds up well, some I have are well over a year old and still look new.
March 15, 2010
Rated

4

out of

5
 by
LMScott
Nice way to organize papers and magazines
I bought two sets of these to combine them. I like the organization it provides for my mail, magazines, coupons, etc. and gets paper off of my desk. However, I wish the pegs were easier to snap together and the pockets do not stay very well together. We put tape on the back in order to keep them in place.
December 30, 2015
Rated

5

out of

5
 by
AllUserNamesRTaken
Good Purchase for Organizing
After searching through a lot of filing systems, I found this gem! I needed something to hang on the cabinet doors in my laundry room to organize the multitude of papers for our family. I didn't want something that would damage the front of the cabinets when mounted. These folders are made of a heavy plastic and can be hung with adhesive command hooks. I thought they weren't going to be able to hold many papers, but they're about an inch deep so they can hold quite a bit of paper! You can place a few file folders in each pocket to maximize what you file in the pockets too. Assembly was a big challenge. The easiest way for me was to put the top portion of the pocket together first. I pushed the 2 pieces together by hand and then used a pair of pliers the snap them into place. For the back snaps, I manually put the 2 pieces together and then slid books into the pocket and used a rubber mallet to hammer the pieces together. The assembly was kind of a pain, but I'm super happy with these wall pockets!
December 7, 2015
Rated

5

out of

5
 by
Cyndy76
Wall Pocket Perfection!
Ordered these and was expecting to have trouble putting them together after reading the reviews. NO trouble!! Only tools I used were scissors and a nail file :) Scissors to help push the connectors together and nail file to get rid of the bit on the top of the connector so it won't catch on my clothes. Love them! Thanks!
August 26, 2015
Rated

5

out of

5
 by
Palmtreeny
Perfect Solution
I had some unused space on a wall panel in the entry area of my walk-in closet. When I found these wall pockets they were the perfect solution. They were the right size and color to add to the white wall panel. Also, I could install them without making any holes in the wall panel. They were easy to fold the wall pockets into shape. I used clear Command hooks to attach them to the wall panel.
July 16, 2014
Rated

3

out of

5
 by
missmrsmz
Good Product - Awful Assembly
I've been looking for some wall folders to organize my mail and free up some counter space. Came across these and couldn't wait to pick up a set. They only come in frosted clear but I don't mind that too much because it looks nice. The instructions are tiny pictures with non-English captions but luckily the pics are self-explanatory. The assembly is a major 2 thumbs down. The pegs should screw together instead of snap. It is extremely difficult to get the pegs to completely come together...my thumbs hurt right now from trying to do it. Make sure you snap the bottom pegs first to save yourself a headache. Eventually I gave up on trying to get the pegs to lay flush with the folders but at least they are somewhat together. I gave it 3 stars only because it is exactly what I wanted and this is the only reason I didn't consider taking them back.
June 8, 2014
Rated

5

out of

5
 by
dlovesc
Excellent for the price!
I bought this to organize my son's school papers and other random papers that I need to keep track of throughout the month. It was slightly difficult to put together but once it is it's surprisingly sturdy and holds a lot of stuff. I put some pretty folders in each slot and it looks really nice! Great little organizer for the price.
April 1, 2014
Rated

5

out of

5
 by
SarahL11
Great Organziation for my home office
I love these for my home office - super cute b/c they are clear enough to see thru and add in colorful folders or magazines :) Very functional and easy to assemble.
February 22, 2014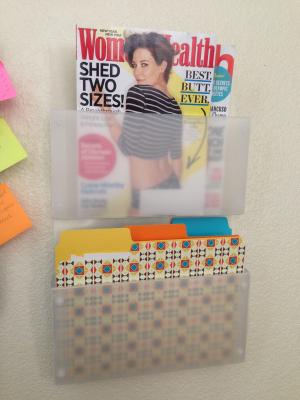 Rated

5

out of

5
 by
HuskerMom
Homework Organziers
I love this product. We have a busy household and our kitchen is the busiest room in the house. I bought the hanging folders for my daughter's homework and hung them over the kitchen table chair. When dinner is ready, she can quickly file the homework in the files and resume after dinner. This is great compliment for the kitchen command center. My only lament is that is that the product does not come with ties. I had to improvise and use shoe laces; they work so far!
August 8, 2013
Rated

5

out of

5
 by
ask81012
Durable
I bought 4 packs of these wall pockets so that I could make a command center in my kitchen. Each of us has our own bin with folders and it works perfectly! They kids even put their paperwork away and they hold up beautifully! Would definitely recommend!
April 5, 2013
Rated

5

out of

5
 by
Brutus
Great product
I bought this product five years ago and it is still in the same shape as the day I bought it. You can add any sticky letters to them to give it your own style.
March 19, 2013
Rated

5

out of

5
 by
TryingToGetOrganized
Wish I Bought it Sooner
I love these folders! My kitchen table doubles as my workstation and is constantly overflowing with papers. I bought 2 packages of these and am thrilled to be able to organize my papers and keep them off the table. They have a wider mouth and hold more than many other wall folders I looked at. It is true that they are a little tough to snap together, but I found that if I slip a can of tuna into the folder and use the heel of my hand to press the peg against the can, it snapped right in. Definitely a good buy.
March 19, 2013
Rated

5

out of

5
 by
jason71
best idea
I recently purchased wall pockets to organize a tiny office which four people use. Papers were everywhere, not getting filed and lost in the shuffle. This way we all have are own pocket and we can pass info from one to the other. This is just the beginning of things to come. Thanks.
March 18, 2013
Rated

1

out of

5
 by
askgoofy
terrible product to assemble
Not worth the money or the time to assemble. Almost impossible to snap into place. I will return one of them or throw it out.
February 15, 2013
Rated

4

out of

5
 by
123chickadee
easy way to organize
Light weight, easy to hang with 3M hooks. I like that they can be attached to each other. A bit of thought had to go into assembling them as the instructions were in a foreign language!
November 24, 2012
Rated

5

out of

5
 by
ziolablu
Great Classroom Solution
I'm moving into a new classroom and losing open shelf storage. I bought these wall pockets to keep some tools we use in our special education classroom handy (language boards, matching mats, etc) where we use them. They're definitiely sturdy enough for what I need, and a great solution to our changing storage challenges in the classroom. I'm sure that once we're in the new classroom - I'll be adding more. I like that they're an opaque white and not brightly colored like some other options. They don't scream out for attention and blend into the room.
June 1, 2012
Rated

4

out of

5
 by
ContainHerself
Fun and Easy to Use
I picked these up on a whim to hang on the bookshelf or wall next to my desk. They were fairly easy to snap together, but the snaps were a little hard to press together and the front of the pockets take awhile to fold flat. I like being able to see through the pockets though, both to see what's inside and because I can place labels or decorations between the flaps of the front.
May 22, 2012
Rated

5

out of

5
 by
Mom4
Great portable wall pockets
We hung up 2 sets of 2 wall pockets right under a magnet board to handle incoming mail. We each have one to-do pocket, one to file pocket and one to deal with later. I really like that I can take my pocket easily off the wall and bring it over to the desk to pay bills, etc. We hung them up quickly with the 3M wall hooks.
April 27, 2012
Rated

3

out of

5
 by
thetourist3
These are great little organizers. You can't put too much weight in them, I use pushpins to keep them in the wall.
April 20, 2012
Rated

5

out of

5
 by
ang0522
Perfect, affordable solution
We needed something inexpensive to tackel the paper monster in our home office. I saw these and the price looked too good to be true, so I took a chance. They are perfect! We have stuffed them with so much paper and they are holding up fine. I bought three packages, and put them in groups of three. I'm so glad I bought these.
March 20, 2012
Rated

5

out of

5
 by
AStag
Keeps me SANE!
I don't know what I would do without my wall organizer, I can finally keep my orders (incoming and outgoing) straight, now and they are still in sight but not in the way (cluttering my desk)... Saved my sanity!
March 19, 2012
Rated

4

out of

5
 by
Betty19
does the job!
Simple hanging file that does the job. It took a quick layer of spray paint nicely, which gave a nice pop of color. Only problem I had was the bottom snap-close pegs are hard to get closed well b/c you can't get as good an angle to put pressure on them.
March 19, 2012
Rated

5

out of

5
 by
Tammy1
Organizing Relief
This was a perfect fit for me. I can manage multiple folders in a dedicated space off the desk. No more important items getting lost on my desk!
March 5, 2012
Rated

1

out of

5
 by
joytoyou
Harder than it looks
This was very hard to put together. The tabs on the back that hold the 2 parts together do not stay put. I used duct tape to hold them in place.
January 14, 2012
Rated

4

out of

5
 by
mhuizenga
Great for Organizing, hard to assemble
These are great for organizing files on your wall where you can see them and keep them within easy reach. However, they are hard to assemble. The little plugs are hard to snap together.
December 17, 2011
Rated

4

out of

5
 by
organizedchic
Inexpensive organization tool
I use these wall pockets in my front hallway to help separate papers - coupons, recipes, flyers, etc. They were easy to assemble and install. They are plain - not extravagant or overly attractive. I took some turquoise card stock and slipped it through the front to add some color. I'm now on the lookout for some cool patterned gift wrap or something similar to change out the turquoise. All in all, this is a good product and is appropriately priced.
January 16, 2011
Rated

3

out of

5
 by
Risaroni
Good buy
Good for the price. But not the most eye appealing. However, it is just thin plastic. Good for apartment dwellers or an office.
May 17, 2010
Rated

5

out of

5
 by
AlexM
Great and inexpensive
I needed some out-of-the-way storage for my son's coloring books but didn't want to spend a lot of money for unnecessarily fancy wall pockets. These are durable, simple, and attractive. Great purchase!
April 25, 2010