Rated

5

out of

5
 by
AZmomma
Great Desk!
Love it! Looks nice and very functional. Easily put together (and I'm not handy).
October 14, 2016
Rated

5

out of

5
 by
Lovemyfamily2016
Best Furniture Investment Ever!
I bought this desk in 1991 when I was in college and have used it nonstop since then. It is currently in my 16 year old son's room and it's just as great now as it was when I first bought it. Since then I've seen thousands of dollars of furniture come and go in my life but this desk is sturdy, trendy and dependable after all these years!
February 22, 2016
Rated

5

out of

5
 by
kleebleigh
awesome easy storage
I love my elfa storage bins! They make finding everything very organized in my pantry and easy to find now. I had so much and could never find it, now it is fresh looking and so easy to access.I know everything I have and can get it so easy now, Thanks elfa Love it. Jeane the sales associate was very knowledgeable and was able to design the perfect fit for my pantry closet.
March 28, 2015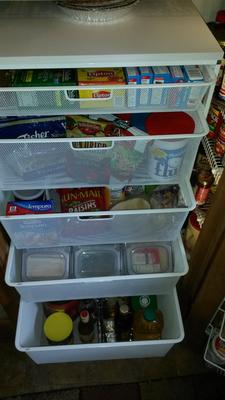 Rated

4

out of

5
 by
CEMM
Sewing table
I have been looking for a small table to use in my sewing room for some time now. The typical sewing tables that have space on top and drawers on the side can run $500. I was quite happy when I found this little desk. It might be my floors but it's a bit wobbly. For the price, this is a great little desk and I will use it for many different projects. The depth is great because it doesn't take over the room. I love the basket drawers on the side to store threads, scissors, pin cushions, etc. Can't beat the price (bought it on sale).
January 14, 2015
Rated

4

out of

5
 by
redbird1
Great Product but does have a flaw
Bought several sets of these for various uses. Most are fantastic. But the extra wide set of drawers kept falling off the tracks and would get stuck. The pin stops fall out too. The smaller sets never seem to have any problems whatsoever. Still love them. Thought the larger size I've given away---just too annoying to have it always falling down.
April 26, 2014
Rated

5

out of

5
 by
neetgsl
Neat and organized
I love elfa products. I have had 3 custom closets and 2 custom desks designed for me. The baskets keep all things organized for the kids to do their schoolwork!
April 25, 2014
Rated

5

out of

5
 by
Balanese2001
Excellent product
Bought this set of drawers to go with desk from Container Store. What a great deal for the money. Desk and drawers work perfectly together. I am using in a craft room and all of my ribbons/scissors/paper etc fits perfectly in the 4 drawers. They are also have a very nice glide when opened and closed. Overall a great purchase for the price - would def recommend to all!
March 22, 2014
Rated

5

out of

5
 by
MarietteF
Love my un-cluttered office!!
I used one of these mesh drawers with the gray pull out drawer on the other side (pole in the middle) with two white countertops to make a corner desk. I used the white large mesh to make a printer stand that holds my full size printer. My office is a 10x10 room in my house and while all the rooms are smaller and can easily feel cluttered, it's literally one part that's made the room look bigger!
March 20, 2014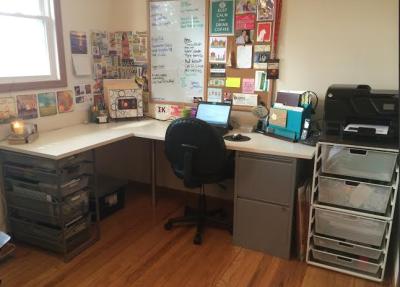 Rated

5

out of

5
 by
Burkcm
Elfa desk
Great custom desk! Love that the drawers can be customized and organized to meet your needs. Also glide sooo smoothly and you can tell the quality is excellent and will hold up for quite some time. This was my irat elfa purchase and now am hooked and excited for more!
March 2, 2014
Rated

5

out of

5
 by
gema1113
Love elfa Mesh Drawers
I discovered these about a year ago, and I absolutely love it! I would recommend this to anyone that is looking for a quick way to organize your closets! I am buying more of these ASAP!
April 26, 2013
Rated

5

out of

5
 by
Jaime514
Love this!
I have the wide, 10 runner mesh drawer system for my sweaters and I love it! I have 2- 3 runner drawers and 2- 2 runner drawers and it's great for all my sweaters! Also very easy to move.
March 27, 2013
Rated

5

out of

5
 by
stp1
Love these drawers
We designed a 'grown up desk" for my daughter when she turned 12 and was itching to get rid of her "little girl" room decor. These drawers were used as a component on one side of the desk. I'm not a do-it -myselfer, but this was so easy to put together! They helped make her room look sophisticated, and provided a wonderful functional component that she continued to use throughout her teenage years. We STILL have this desk in an area of the house.
March 19, 2013
Rated

5

out of

5
 by
Racylady
Great for storage too!
Loved the Elfa mesh drawers! I bought them to use under a platform in our car to keep things organized and the size was perfect!
March 18, 2013
Rated

5

out of

5
 by
NYCRebecca
easy and functional
I love the Elfa system.... I have bought Elfa units for my home closet, my home office and even set up my work office around the Elfa system because I loved it so much. I am a designer and I have many things to store and have on hand..... swatches, samples...etc. This system is fantastic. I especially love how I can change the units as I go along depending upon my needs. I can easily take them apart and re-configure. FAN-TASTIC!
March 5, 2013
Rated

5

out of

5
 by
Pesia
white Elfa mesh desk drawers
As with all my Elfa products around the house, this works great in my sewing room. It holds everything I need organized in that room. It allows me find whatever I need instantly.
February 22, 2013
Rated

5

out of

5
 by
wjva
great quality
This shelf unit is just what I need to store quilting supplies within easy reach. Very easy assembly when using a rubber mallet.
March 30, 2012
Rated

5

out of

5
 by
crk60091
Item Just as Described
Easily put together & extremely sturdy. Looks to be quite well made
January 24, 2012
Rated

5

out of

5
 by
sowordy
Completely Awesome!
I LOVE ELFA! I am using them in my kitchen for storage in an open space under the counter top. These are fairly easy to put together and the finished product looks clean and neat. The drawers slide in and out nicely as well, which was a concern before purchasing. My only complaint is that I wish they had come in black. Overall, even with the high price tag, they were quite worth it for something I am using daily and shows as soon as you walk in to my kitchen. I'm very happy with my Elfa!
January 17, 2012
Rated

5

out of

5
 by
spacyej
The best part of our new elfa system!
I love these drawers, mostly because they are mesh and I can see the organization! I know what's in each drawer without having to pull out each one first. But they do more than function well - they are super sturdy, very versatile, and stylish too!!
February 14, 2011
Rated

4

out of

5
 by
bitbybit
Very nice
I am very pleased with this desk drawer set, combined it with the legs, and it has made a very useful, easily accessible storage space. Love it!
February 14, 2011
Rated

5

out of

5
 by
DesigningWoman
Excellent drawer system
I purchased the desk drawers and desktop for my new iMac for graphic design. I needed more space and functional storage. This is perfect for my needs.
February 14, 2011
Rated

4

out of

5
 by
Calendar
Great purchase
Great system to buy in store or online BUT 1 item they forget to inform you about are the FEET to the drawer frame. Don't forget to buy those.
October 9, 2010
Rated

5

out of

5
 by
bjohn2
great!
i really like everything about this set. the full system offers drawers of different sizes so you can organize according to your needs. it looks modern and unobtrusive- works well in my space!
March 3, 2010
Rated

5

out of

5
 by
artsy
still great after all these years
I first purchased Elfa components over 20 years ago I believe - I am an artist and I love the clean white surface of the desk top - easy clean up - and I can flip it over quickly if I want to show the clean other side if company is visiting my studio. I currently have a selection of OLD VINTAGE Elfa pieces that I am still using - 2 white desk tops and several side desk drawers( in the old brown color ) which I intend to gradually replace with all new pices in white. I like the fact that I can see what is in the drawers but nobody else can really tell much about what is in them - they do not ever look junky that way. You just can't beat this stuff - easy to re-configure in many different ways for all kinds of rearrangements of my studio. I am loving it, for a solid 20 years or more!
February 16, 2010