Rated

5

out of

5
 by
romille
Perfect
I put this in my sewing room. It is absolutely perfect for holding smaller flat items like my little cutting mat and plastic template sheets. As a bonus I can use it as a magnetic bulletin board to tack up notes for myself.
March 2, 2015
Rated

5

out of

5
 by
freeheartt33
nice product
loved this item. cheaper than anywhere else. and just like you expect from what is shown online.
September 3, 2014
Rated

4

out of

5
 by
JenMinneapolis
Kitchen solution!
When we replaced our outdated refrigerator last month with a stainless steel model, our only regret was giving up a magnetic space to hold a few pictures, permission slips, and more. This product saved the day! We adhered a few strong magnets to the back of the wall pocket and attached it to the magnetic side of the stainless steel fridge. It is the perfect solution- the front displays photos and notes, and the pocket portion functions as a visible reminder of bills to pay, forms to sign, and coupons to take along on grocery trips. Great product!
April 25, 2014
Rated

5

out of

5
 by
TJELovesOrg
I'm back for more!
I bought three of these for the kids' craft area a while back and love them so much I bought another one to hold my cleaning and laundry "how-to" paperwork. I plan to just hang it up on the wall behind my washing machine and put folders in it like, "washing frequency by fabric" "cleaning tips" or "homemade cleaner recipes" These are awesome!
April 7, 2014
Rated

5

out of

5
 by
Elfe
Great Organizer
Needed something compact to store my kids' schoolwork and drawings. Works great and has the added bonus of being magnetic. Super easy to install!
April 6, 2014
Rated

5

out of

5
 by
Gkhn
Amazing
I bought it for my wife , she is painter, she has got a lot of brushes, she loved it, very handy, very usefull
March 8, 2014
Rated

5

out of

5
 by
LSMAK
Stylish way to declutter countertop
This wall pocket was easy to install. I use the folder to store take out menus and necessary paperwork for the week. I have a monthly calendar (8.5 x 11") attached to the face of the pocket with magnets provided to streamline covered wall space. I LOVE THIS PRODUCT!!!
March 6, 2014
Rated

5

out of

5
 by
rizwana
awsom
this is very handy around main entrance for keys and mail.
June 7, 2013
Rated

5

out of

5
 by
LHarmonDesign
Love
I've bought 3 of these so far. I love the sleek design for holding my work orders on the wall, out of the middle of the work area, yet easily accessible. The magnets hold the specific job on that order for easy reference. I'll be buying more and have already referred this item to friends.
June 4, 2013
Rated

5

out of

5
 by
mgrovemom2
Great for small office space
I bought 2 of these magnetic wall pockets and they are wonderful! Great that you can use magnets to post pics and notes...
April 16, 2013
Rated

5

out of

5
 by
DeborahKay76
Awesome Purchase
This is a GREAT item. I purchased two of them for my home office in my bedroom. I love how versatile they are as well as how great they look.
April 11, 2013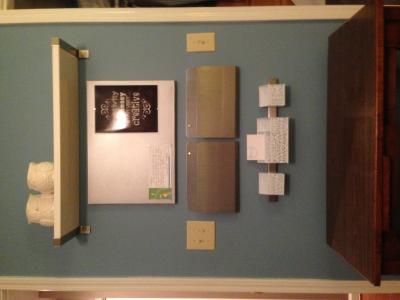 Rated

4

out of

5
 by
MomForTwo
Very good wall organizer
I love the size and ability to hold file folders for organizing. I was worried that it would look too "Office". The magnetic feature allowed me to put on a little personality to it with color magnets and pictures. It actually looks attractive on the wall!
April 8, 2013
Rated

4

out of

5
 by
Caitlin
Great for my needs
I just installed two of these as part of a "mail and home organization station" I put together at my house to reduce clutter. It was near impossible to find a mail organizer that was able to be hung on the wall so I was pretty excited to find this. They installed very easily with no true instructions. The screws are included. Seems to be good quality for the price. The only negative that I see worth mentioning is that the picture shows that you can hang your key(s) on the front via the magnet. However, if you have a few keys as I do on your key ring, it will not hold. That wasn't a major concern for me as I bougt it for other purposes.
April 4, 2013
Rated

5

out of

5
 by
DexterousDiva
Using vertical space easily
Keeping my folders and notes on one area OFF my desk but in my face is great!
March 31, 2013
Rated

5

out of

5
 by
Portland
Very Useful
Perfect for holding mail in our laundry room "entry way."
March 25, 2013
Rated

5

out of

5
 by
OfficeOrganizationCrazy
Just what I needed
I absolutely loves these. Perfect for keeping important documents orgazined but up and off the desktop to keep it clean.
March 18, 2013
Rated

5

out of

5
 by
OrganizedEfficiency
Great in the kitchen for recipes & shopping lists
We put this up in the kitchen, on the wall near the door. In the pocket, we put the recipes that we cut out of the newspaper and want to try. On the front, we use the magnets to hold the week's shopping list. A pen slides into the pocket for marking things on the list. I make a standard shopping list on the computer (and print extra copies to use up the remaining ink when the ink cartridge is running low). We keep the extra shopping lists in the back of the pocket, beind the recipes.
March 18, 2013
Rated

5

out of

5
 by
Soccermom3
Perfect solution
Was looking for something to organize three kids' stuff--permission slips, bday invites, soccer schedules, etc. I put three of these over my kitchen desk, attaching them with Command strips because of the tile backsplash. Works perfectly. Gives me the combo of a file folder and a magnetic board. Gets all those loose papers off my desk! Definitely happy with purchase and would recommend to anyone trying to tame clutter of a busy life.
March 15, 2013
Rated

5

out of

5
 by
Longlash
Great for Classroom Door!
I was just assigned to a brand new laboratory classroom. I wanted a folder holder for my door. I found the perfect one at the Container Store. It is sleek and magnetic. I can put paper in it for students to pick up and post messages to the front with the magnets. Absolutely perfect!
March 2, 2013
Rated

4

out of

5
 by
Nashville615
Nice looking, must be mounted on wall
The stainless pocket is very sleek and nice looking! Must be wall mounted, no magnetic strip on back to hang on file cabinets etc.
February 14, 2013
Rated

5

out of

5
 by
tspward
I have been looking for a system to keep my kids school work organized, and easily accessible. This is great. The pockets are sturdy and easy to get into. The magnetic fronts make a great place to put homework or other important "to do's".
November 2, 2012
Rated

4

out of

5
 by
DCTarheel
Fantastic product
I use this to help organize things that I will need in the next week or so but don't want to put in a drawer or leave laying around to get lost. While it does take some drilling or nails to mount it is not to difficult. It would be nice though if it had a magnetic mounting option.
April 15, 2012
Rated

5

out of

5
 by
TracyA
I love this
This makes my office look very neat and keeps current paper work off my desk top.
March 19, 2012
Rated

4

out of

5
 by
NatD
Good Idea
I got these for my son's room, but ended up not using them. The stainless steel ones show fingerprints, so they're probably better for older kids or adults. Also, you can't put very much into them.
March 19, 2012
Rated

5

out of

5
 by
carolee78
love them
i purchase 3 of these to organize each of my kids' school papers. i use the included magnets to post more important/immediate papers in the front, and put other files/papers in the pocket itself. i used 3 command picture hanging strips to mount them to the wall and it works great. Just a note - depending on how much paperwork you have, you may need more command strips if you don't want to drill holes in the wall. Mine did fall down a few times in the beginning when i used only 2 strips. But the pockets didn't dent or scratch so that tells you something about the quality. Would definitely buy again.
March 19, 2012
Rated

5

out of

5
 by
bgmom
great for kitchen "mom" center
I have two of these hanging over my little desk in the kitchen, they were easy to install and hold lots of file folders. They make it really easy to grab the right papers, which is good for a mom on a busy school morning
March 19, 2012
Rated

5

out of

5
 by
oaklandknits
Great file holder
Easy to install and I love that you can use magnets on them. Was worried a little about the finish of the white ones looking cheap, but absolutely did not. Looks great.
March 15, 2012
Rated

5

out of

5
 by
OrganizedinPittsburgh
Love these!
I purchased one to see how it would work in my bathroom for the various magazines that find their way into the room. It worked out perfectly so I ordered 5 more: 3 for my kitchen desk area, where I use them to sort mail and to keep it off of my island counter; 1 for another bathroom, and the other to put at the top of the basement stairs as a holding place for items headed there. Each has 5 magnets to use for posting notes to the front. I don't use them very often, but they're nice to have. I use 2 of them to cover the screws used to mount the pocket to the wall, to mask the fact that they're screws. One suggestion, though, would be for the manufacturer to put them on the back of the pocket when packaging them because when you remove them for use, they can scratch the front of the pocket if you're not careful.
March 2, 2012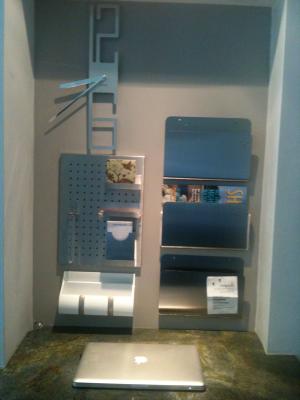 Rated

5

out of

5
 by
happyhomeowner309
Perfect!
I wanted this for my kitchen paper clutter. Before I ordered, I read reviews and realized what others did, that the back was not magnetic as well. Simple solution, just glue magnets on the back. The stainless makes it look less officey, and more sleek. I will definitely be buying more!
February 28, 2012
Rated

5

out of

5
 by
itsmeganp
I love this!
Simple & modern way to eliminate clutter from your desk. Love this product! Will definitely be purchasing a second.
February 26, 2012