Rated

5

out of

5
 by
cafrane
streamlined a mess
I had a lot of different paper for printing. With these boxes I was able to neaten things up and label them. It makes a huge difference. The one thing I would caution you on is to check whether you want portrait of landscape drawers then buy accordingly. It's easy to pick the wrong one if you don't read the description.
March 4, 2015
Rated

5

out of

5
 by
colls
Stackable drawer
I just got one of these for my makeup and i love it! I was a little worried it was going to be flimsy but it is not,all my makeup fits in it perfect. Im going back this weekend to get another one, and its such a good price compared to other storage units
February 27, 2014
Rated

5

out of

5
 by
kmec
Great for makeup storage
I purchased two of these for my makeup collection. All of my makeup fits easily, with room to spare, and these drawers are durable so I know they will last a long time.
February 26, 2014
Rated

5

out of

5
 by
nanamix
Stackable desktop drawers
I ordered 3 sets of these containers. I wish now I would have ordered more. They are great!
August 6, 2013
Rated

5

out of

5
 by
makORL
Lover this. item!!
I was looking for some thing to better organize my makeup in my less than ample storage space bathroom. This is perfect. Each drawer is dedicated to a particular type item....eyes, face, cheeks...get it? Makes it so easy to see everything at a glance. I bought 2 of them since you get 3 drawers in the "stack" So, I have 6 drawers. Makes getting ready quick and, when you are packing things up for a trip, you just go to each drawer and select what you need and throw it in your travel bag. Makes it hard to miss packing something you need. Well worth the price if you like to be organized and save time getting ready in the morning. And, it looks good if you keep it on the counter. There are two options on the width (portrait or landscape) depending on your space requirements. I even purchased this as a gift for my Mother in her new home...she loves it! And, it is washable for easy drawer cleaning. Enjoy being organized!!!
July 6, 2013
Rated

5

out of

5
 by
Benji
Love this product, one arrived damaged and i notified The Container Store just to let them know it was damaged, not expecting anything in return. I was able to glue it and use the drawer. But here they are sending me a replacement FREE, AWESOME!!
June 1, 2013
Rated

5

out of

5
 by
JoanLady
Great Product
These are just the thing I was looking for to store and organize my Origami paper. The front of each drawer is big enough to label the contents of each drawer. Would highly recommend this item
February 27, 2013
Rated

5

out of

5
 by
Bethelthebeader
strong, very useful
These drawers are very well built. They are sturdy and the units stack nicely. I use these drawers for bead storage. They hold a work in progress perfectly. Each drawer nicely holds the printed pattern, the tubes or flip tops of beads and the partially finished piece. I have suggested them to friends who are looking for a way to organize their seed beads.
January 10, 2013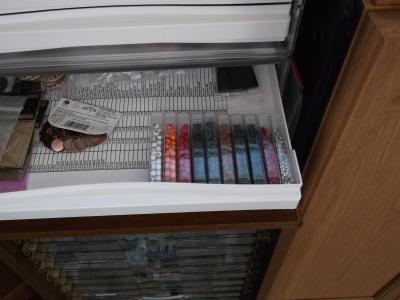 Rated

4

out of

5
 by
mandzplus3
Great for Makeup Storage!
I was very pleasantly surprised with these stackable drawers. They are great for storing makeup and I love the simplicity of them. Just one little thing is that the drawers do not pull out completely which depending on your needs could be a pro or a con. Also, I have to note that I wasn't too happy with shipping. I had almost forgot I ordered them before I finally received my shipping notice :/ hence the 4 stars.
December 17, 2012
Rated

5

out of

5
 by
TinyPastels
Simple, efficient, sturdy
The greatest thing about this drawer is how it doesn't call attention onto itself. You can put it anywhere; I have mine in my living room. Convenient access to lined paper, printer paper, and labels/post-its/pads/pens (bottom drawer). Now I want another for my makeup! Be forewarned, it seems a little cheap and "clanky" at first, but once its in place it's totally different!
November 28, 2012
Rated

5

out of

5
 by
kidnurse
Package arrived quickly, was well packed. The drawers were in perfect condition, are very handy and look great in my craft room!
October 30, 2012
Rated

5

out of

5
 by
Bubbie
I looked a long time....
My vanity was getting over crowded with too many cosmetics. As a makeup artist this lacked organization and clarity. I couldn't find things. I had been looking for something like this for a long time and when I saw it online, I jumped on it. I LOVE IT! I bought TWO! It also forced me to define those things that were NEEDED to have and those that were LIKED to have. Finally I am organized.
July 8, 2012
Rated

5

out of

5
 by
dmbmw
So much more than paper storage!
I love using these to store my makeup. Brushes, pencils and tubes fit perfectly and don't roll around. I also use them for keeping beadwork projects together. The drawer slides right out and becomes a work tray that I can bring to any location in the house. I'm sure there are many more applications for these drawers, and I highly recommend them to anyone. I still want to buy some more to store my paper!
June 24, 2012
Rated

5

out of

5
 by
nanda
Great tabletop organizer. Comes with tiny labels so you can label each drawer. Drawers are decently deep, and slide easily. Also construction on the whole is sturdier than I expected.
April 15, 2012
Rated

5

out of

5
 by
monkeyface
perfect organizer for all my make up and more
I wanted to clean up my bathroom organization-- my make up, etc. I bought 2 of these and stacked them-- and they're absolutely perfect for makeup and other things like razors, refills, etc.-- HOLDS TONS of stuff. Now my makeup is perfectly organized-- eyes, face, lips, etc...The drawers have stops so it won't come flying out (as has happened before with other ones). I love that their drawers, somehow feels cleaner (and certainly neater looking). Inexpensive and functional-- can't be more pleased and they look surprisingly nice.
May 28, 2011
Rated

5

out of

5
 by
Nancy52
Organizing Dream
I needed a way to sort and store my paper scraps from my card stamping/scrapbooking hobbies. These drawers are PERFECT! I bought 3 sets and labeled them by color families. Now my scraps are right at my fingertips. LOVE it!!!
April 5, 2011
Rated

5

out of

5
 by
Shamrocksmom
Love it!
This made my home office desk look so much neater! I had stacks of paper laying around for different projects I am working on and now I can store them in the drawers which really makes my office look nicer.
April 1, 2011
Rated

5

out of

5
 by
Katarzina
great multi-use product
I bought the first set to organize my desk but soon realized that these drawers were ideal for sorting and storing all my makeup items and looked good enough to keep on my dressing table. I used the third set to store my bangle bracelets and pins. I cut "easy liner" to fit the bottom of each drawer to keep the items from shifting around. Works great! The drawer unit fits perfectly into one of the slots of my canvas hanging sweater bag, so it's out of sight but handy right there in my closet.
January 23, 2011
Rated

5

out of

5
 by
Pheebers
surprisingly good
I was reluctant to buy plastic.... I thought it might look cheap and be annoying to use, but these have worked beautifully for me and I strongly recommend them. I have them on a shelf in a kitchen cabinet next to the table where my daughters do their homework. I bought two, and they store printer paper, lined notebook paper, graphing paper, page protectors, report covers, and decorative paper. I made simple labels with my label printer and they have completely eliminated the clutter and piles in this cabinet! Be aware that that drawers are pretty shallow; don't expect them to hold reams of paper. All in all, a winner!
October 10, 2010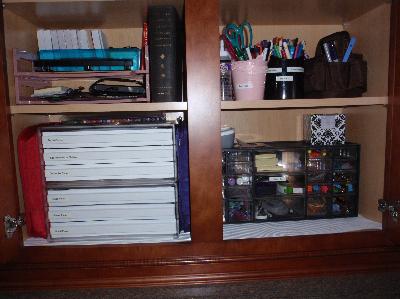 Rated

5

out of

5
 by
Bella25
just the right size for makeup
A couple of these hold my collection of makeup and brushes. Many makeup organizers are too deep, so you have makeup items (which are actually quite small) tumbled on top of each other. You can't see what you have. (Think of a tiny eyeshadow swimming in a dresser drawer!) This lets makeup sit flat in a single layer, so I can see everything at a glance. I have separate drawers for eyeshadow (which are flat and easy to spot by color), lipglosses (also easy to choose the exact color you want), and so on. I devote a drawer to brushes, which lay flat and protected inside (and away from pets!). I put oversize items like my kabuki brush, body lotion and perfume bottles in a translucent box nearby and I'm set. (You could use a decorative tray for this if you don't have prying pets.) So quick to get ready! Downside is that it's not "fancy" looking, clearly made of white and clear plastic. But it fits my simple, clean decor perfectly and makes my makeup area (and morning) more serene.
September 21, 2010
Rated

4

out of

5
 by
SLKM
Helpful organizer
Handy way to organize paper, small notebooks, bills etc. Lightweight material.
July 5, 2010
Rated

5

out of

5
 by
MSCr
I'm surprised!
First I thought I was going to be the first one to find out another way how to use. The product label and the online description tell you ⿿Stationery Organizer⿝. When I got home and put my idea in practice (credit cards receipts, the junk mail that I don⿿t have time to shred every day, other small pieces of paper, etc) I⿿m delighted. My desk is much more organized now. I can take care of everything one by one, instead to have couple piles around and don't know from where to start. The feeling of being out of clutter is priceless.
May 22, 2010
Rated

5

out of

5
 by
perlabella
Great little drawers!
I love that it's translucent on the top and there's a tray. But most of all...I love that it's not super duper deep (little papers don't get lost)! I use it to organize my receipts, coupons, bills that are coming up - so the "typical" office usage haha (I wish I thought of the make-up though! Great ideas!) It's lightweight which is nice - I have a tendency to need to pick-up-and-move to the bed or dining room (my desk has limited space)
May 18, 2010
Rated

5

out of

5
 by
Janine
Perfect storage solution!
I am delighted to find the perfect solution to 2 of my bedroom storage dilemmas. The first is my jewelry (necklaces, pins, watches, bracelets) and this is the ideal depth of drawer to store all my pieces perfectly! The second is with my mineral make-up little jars and brushes. This is the best design I can imagine to organize everything!
May 9, 2010
Rated

5

out of

5
 by
iamorganized
Cosmetic Organizer
I had been searching for a system to organize my 'be' and 'smash' cosmetics and brushes. These drawers are amazing and stackable. Everything is easy to see and accessable with these drawers!
April 24, 2010
Rated

5

out of

5
 by
CookieCancun25
Love It!
I really love my Stackable Desktop Drawers because it is perfect for storing my make-up. I put my lipsticks, eyeshadows and blushes in each drawer, Also, it sits right on top of my vanity; perfect for easy access. Love It!!
April 2, 2010
Rated

5

out of

5
 by
49mom
Best purchase to keep kids organized
I purchased the Stackable Desktop Drawers for my kids homework station/area. I labeled each drawer and filled it with binder paper, typing paper and graph paper. Now they can have the paper they need for homework close at hand. I don't need to keep getting up and getting them paper when they need it.
March 19, 2010
Rated

5

out of

5
 by
djdw
Good design
This stackable desk drawer has a sleek, compact design. It holds a fair amount of papers and other small items. It's a great buy. I'd get more.
March 9, 2010