Rated

5

out of

5
 by
taedmonston
Great carryall!
I ordered this specifically to keep all of my administrative items together for my daughter's Girl Scout troop, and it fit more than I had thought, which works great! Thank you Container Store!
October 4, 2016
Rated

5

out of

5
 by
iasa57
Tote purchase
Got this tote after my niece had purchased one. One of the best totes that I have ever used. Keeps all my documents organized. Would recommend highly.
February 29, 2016
Rated

4

out of

5
 by
goldent
I can actually travel with this file tote
I purchased 2 of these file totes and love them. I can organize the contents inside the tote and then transport them in my car to my destination. Well worth the money.
March 9, 2014
Rated

5

out of

5
 by
Neeko
great quality
These totes are of a very good quality. I know they will not be falling apart at the seems forever, I don't think. Good buy!
February 28, 2014
Rated

3

out of

5
 by
lowkey
Wanted to love this :(
Bought six of these - one for each of my clients! Loved them at first, but within a couple of months, all of the handle covers fell off, and now they are uncomfortable to carry.
October 14, 2013
Rated

4

out of

5
 by
annie2006
Not what I wanted but OK
I drove to the Container Store specifically to purchase my favorite File tote but it's no longer sold. It's similar to my favorite, it's just the one I wanted has the pockets already inside & a little smaller. Also fun colors. This translucent one is ok - I just LOVE my other ones.
August 14, 2013
Rated

5

out of

5
 by
KPeoria
LOVE THIS for my yearly tax file!!
I have a Command hook in my laundry room and hang this file tote there year long for receipts/statements that I need for taxes. It is sooo much easier than searching for everything in April when I prepare my taxes. Once I complete my taxes, we can easily transport it to our accountant. I label the side of the tote with the tax year and file it away on a closet shelf. Before I had this tote, I used a 3 ring binder for taxes. There were two problems 1) I never took time to file documents in binder throughout the year so they were everywhere 2) Many items were too thick to fit well in the binder. I still use the 3 ring binder, but the binder lives in this tote. I can take my time filing the papers into the binder at the end of the year and I have a place for bulky items
August 8, 2013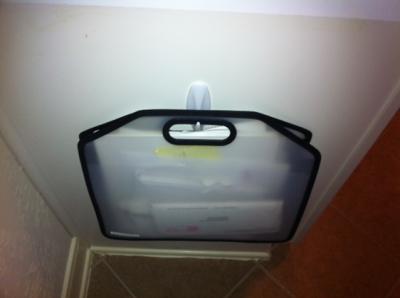 Rated

5

out of

5
 by
Lurleen
Love the Visibility
Roomy and easy to carry. Great for household "business". Particularly like the transparency. Most urgent "to do" items can be placed outermost where easily seen.
April 25, 2013
Rated

5

out of

5
 by
GadgetMom
Great for many uses
I bought my first tote to use at work - for my boss to transport the current years tax file to and from the office. I had to buy him more as he figured out they were a great grab-n-go tool for meetings, etc. I would fill with all the pertinent info, he'd grab it on the way out the door, and it was better than a file folder which could let papers slip out any of the 3 open sides.
February 20, 2013
Rated

5

out of

5
 by
Verified Reviewer
Folder Holder - Great Purchase
This tote is the best ever for carrying folders to and from the school sites that I visit on a daily basis. It is compact but sturdy. I have used this tote all winter, and it continues to remain in good shape with no rips or tears. I have tried many carryalls for folders, and I can attest that this one is great. Thank you.
April 22, 2012
Rated

5

out of

5
 by
Dijitize
Love this product
This is a terrific portable file. I have several at work and keep a project neatly contained. When going to a meeting, I just pick it up and go. I also have several at home and have labeled them for recipes, gardening ideas, etc. When I'm going thru magazines, I rip out what I want to keep and immediately put it in the right file tote. The only way these could be better, is if they came in colors.
March 21, 2012
Rated

5

out of

5
 by
BKB49
Very useful
I love this to carry papers to and from school. It holds a 4 inch stack of papers and it even holds 14 inch long papers. The handle makes it easier to carry than putting a regular file tote under my arm!
March 4, 2012
Rated

5

out of

5
 by
Emjay
Perfectly Organized
As a Red Cross volunteer, I have to bring some vital paperwork to local disaster sites. Included in this paperwork are items of sensitive nature for the individual(s) I am serving. This file tote has been a tremendous boon to me since I can keep the necessary papers right with me, and I can see and use all the items. I clip a headlamp to the side of the file so I can see at night, and I also clip two alligator clamps to the other side of the file so I can hand the client any materials they need to have themselves. This file is sturdy, durable, waterproof, and a perfect size. I have two of them, one for me and one for spare.
February 16, 2012
Rated

4

out of

5
 by
OKShortie
Very nice!
Worked well for my purpose, as a carryall for my Sunday school class materials. I like the size of the pocket, that it is transparent. Made it nice for inserting a large and easily identifiable label. Seems durable too, but time will tell.
January 21, 2012
Rated

5

out of

5
 by
anklebiters1
Great Purchase
A wonderful thing to have for keeping portable items separate. It travels well and keeps papers in order.
December 20, 2011
Rated

3

out of

5
 by
mwilson
looks great but please make one big enough to hold 11"x17" paper
December 8, 2011
Rated

5

out of

5
 by
laurenlikesorganization
I bought this for teaching and love the way it is light and keeps me on top of cleaning out what doesn't need to be there. It fits just what I need and is neat and compact.
February 2, 2011
Rated

5

out of

5
 by
TJaye
Love This Tote!
This tote is perfect for carrying notebooks and papers to a meeting. I love that it stands open so I can reach in and get what i want quickly. Also, since it is translucent I can always see what is in it. I ordered 3 of these for various projects. I have had one that I've used for a few years ... for the price it is amazing how sturdy it is, especially considering that I use it EVERY DAY. Just a great tote that I could not find anywhere else!
November 29, 2010
Rated

5

out of

5
 by
Rowz
Great product. Able to carry from room to room or home to office.
September 10, 2010
Rated

5

out of

5
 by
Legonini
Perfect for what I need.lightweight,easy to pick up and go or get out of sight.
August 27, 2010
Rated

5

out of

5
 by
TheOtherCheek
Instant Gratification
I had a pile of bills and items in limbo, like manufacturers' rebate applications and items ordered online but not yet received, that couldn't be filed (or would be shredded as soon as they were dealt with). Put them all in this tote and next to the shredded and my home office instantly got neater.
May 31, 2010
Rated

5

out of

5
 by
CAPEDORGANIZER
no more scattered papers!
My boyfriend is a teacher and I was getting fed up with his work scattered all over our apartment. I put all his papers in the folders and neatly lined them up on his desk. Even HE was happy and impressed at how easy and accessible they are and I am no longer fussing over piles of paper!!!!!
May 14, 2010
Rated

5

out of

5
 by
christmasbaby
Inepensive portable
I've got four of these which I use for active projects. They're portable so I can just grab the one I need whenever I have to take it to a meeting or another location. They're inexpensive and durable. I've been using the sames ones for 2 years without any problems. The only drawback is that the handles can be uncomfortable if the folder is full and you have to carry it for a long time.
March 4, 2010
Rated

4

out of

5
 by
KGeb
Love this thing!
I love this product! I have 2, and am currently purchasing 2 more. It is portable and flexible. Once it seems to get over-filled, that just means I need to clean it out, or find a larger spot for my files. The only reason I gave 4 instead of 5 stars is that one of mine has ripped along the side and I wouldn't say that I have abused it at all.
March 2, 2010
Rated

5

out of

5
 by
tess1
love these totes
Made cute labels for each of the file totes, which I slipped into the front pocket. Now I have easy totes for "catalogues" "to file" "bills to pay" etc. SO easy to carry around and the family can always put things in the right place!
January 7, 2010