Rated

5

out of

5
 by
NYCSue
Best decision ever
I have a typical NYC mini Studio apartment. As much as I love living in Manhattan I just couldn't study in my tiny apartment and was always forced to go to a nearby coffee spot and facing the usual troubles, packing all my books, internet might not work or having forgotten something at home. So I decided to invest into this amazing home shelving office unit and it's perfect, it saved so much space, all my study books and other items have space on the shelving units and the workplace is just perfect, totally love it an now I can study in my PJ's on a Sunday morning with my coffee and having all my stuff around me. Totally can recommend it to anyone facing a small apt and needing to study and work from home.
January 8, 2017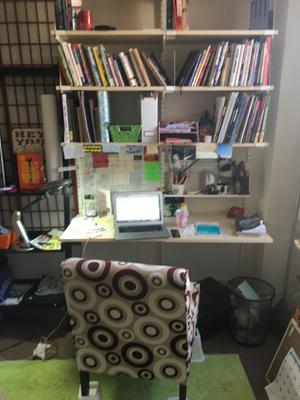 Rated

5

out of

5
 by
MrsPC
A Breeze to Adjust
I just got a new, lower office chair, and was able to lower my desktop to match it in less than 5 minutes. SO happy with my elfa desk solution - I've had it for more than 5 years in two different houses and I've been able to reconfigure it to match any need I've had so far! Thank you!!!
September 8, 2014
Rated

5

out of

5
 by
ChiTownFox
Perfect Office Solution
LOVE LOVE LOVE elfa! I cannot enough good things about elfa. When I ordered elfa shelves for my walk-in closet, I also ordered shelving for my 'tech center'. I sometimes work from home and wanted the dull space spruced up with shelves and this was the PERFECT OFFICE SOLUTION. I will be purchasing more elfa accessories and parts to this space in the future, but for now it's help me get organized. This space is the first thing people see when they walk into my condo and since my elfa was installed, I feel that it has a more polished and finished look!!!
May 1, 2013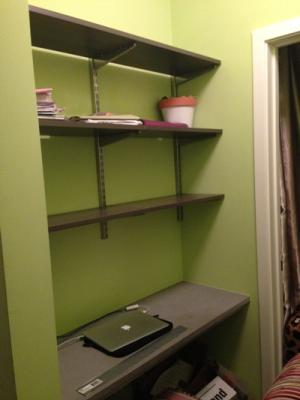 Rated

5

out of

5
 by
mommymoore4
Love This Set!
I loved the looks of the sleek lines in the catalog, but I liked it even more when I got it home. It was easy to put together and sturdy. My son has spent hours drawing away at the desk!
March 18, 2013
Rated

5

out of

5
 by
nychris1909
Clever system with great looks
Recently bought the Zebrawood & Platinum home office shelving from Elfa. It's a thought through system that provides clever storage solutions with an elegant look. Love it.
February 26, 2013
Rated

5

out of

5
 by
dancingdi
His and Hers
I bought this system in white and including the file cabinet for the office in my home. To make it completely functional, I bought 2 systems, one for me and one for my other half. It was fairly easy to install and only took a few hours to put up both systems. I would have preferred to hit more studs than we did in hanging, but fully loaded, they are still holding. I did receive 2 bad shelves with my order. It took me all of 2 minutes to call in and have a replacement sent. Customer service was excellent.
June 19, 2012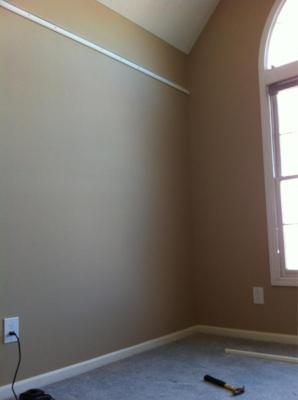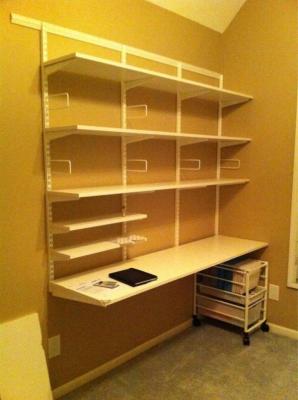 Rated

5

out of

5
 by
KatyC
Elfa Rocks!
I have 5 different Elfa sets in my condo. I absolutely love them! None of them were complete "packaged deals" but they have all been excellent storage solutions.. All are fairly simple shelving stacks. Elfa products are SO easy to install and are extremely versatile. All of mine are wood veneer shelves with platinum hardware. They look clean and modern without yet blend without being "furniture." They present the look of built-ins without the permanence or the price. Only negative is that some of them have faded with exposure to sunlight.
March 17, 2012
Rated

5

out of

5
 by
cebolla
We just moved to our new apartment, and we need the space so bad, and this piece just resolve all our organizing problems! Excellent!!
March 14, 2012
Rated

5

out of

5
 by
OrganizingMama
This is a must have item in your home!
I was in the market for a desk with a hutch and a bookshelf to store all the books and arts&crafts items my kids have accumulated from family and friends. I saw the elfa sale and came across this shelving system. This fit the bill even better than the two items I wanted and it even saved me money too! My husband was able to assemble this in less than an hour (yes, I have a true handy man) and I am so glad we decided on this system. All the kids items are now organized neatly in bins and books are where they need to be. I think the added bonus is the desk space. The picture shown here does not do the desk space justice because there is enough space for three kids to do their homework and to even spread out all their things too! I cannot say enough about how happy I am with this purchase, I just hope everyone else has the same outcome :)
February 17, 2012
Rated

5

out of

5
 by
DaveO
Office Organizer
The office was getting to the point I was stepping over things all the time. My wife and I had installed a closet organizer a couple years ago from The Container Store and LOVED it. It really increased how much closet space we have. So when I saw the Office Organizer, I ordered it. What a difference! It didn't take very long to put it up but it did take a while to get it loaded the way I wanted. But what a difference and the office got bigger too.
January 24, 2012
Rated

5

out of

5
 by
taylorday
Great purchase
This desk is good quality and is very easy to assemble. Definitely invest in an electrical drill with the right size drill bits (check your directions) and a level. As long as you have these items, you should have NO difficulty in putting this together. Make sure you have a helper though!
February 16, 2011
Rated

5

out of

5
 by
DREAM
Love it!
This product is very versatile. We have reorganized it many times and can always go and get additional pieces whenever we decide we want to do something different than the last time. It is easy to install and looks good too.
February 11, 2011
Rated

5

out of

5
 by
Befly
Solution to Clutter
Since I have space challenges in my home, I needed to be able to use the wall space to create storage for my home office. Elfa Home Office Shelving was exactly what I needed. The installer was professional and very clean. The shelves hold heavy items and are very sturdy. It was so helpful to be able to custom design a shelving unit that exactly fit my space and purpose. And they look great, too!
February 10, 2011
Rated

5

out of

5
 by
gcmom
Very satisfied
We purchased a mix of Ventilated and Solid shelving for our kitchen. The space has an some problems as there is a door and also freestanding refrigerator complicating the functionality. We designed the shelves to encase the refrigerator, wrap around that wall just 13" down from the ceiling and then unto an abutting wall which now has shelves for displaying jars or dried goods, cookbooks and a freestanding elph desk. It transforms the space- looking fantastic and becoming instantly functional (after years of being a dead space.) Hurrah!
February 2, 2011