Rated

5

out of

5
 by
superSorter
sturdy sorter for books, notebooks, + papers
I have a bookshelf with a flat top surface, and I was trying to use bookends to essentially add another shelf type of space. I purchased two of these and put them across the top and now I have a much more functional space--no more books sliding if I take out a large book or trouble pulling out a thin notebook between books. Best of all, the slots allow me to group things in a way I could never have done before, so I can put papers in one slot and books in another and not lose any functionality.
March 24, 2016
Rated

5

out of

5
 by
Indianamom
Organizes with a Clean Look!
This organizer is multifunctional, clean and versatile. I have two and may purchase another.
March 16, 2015
Rated

4

out of

5
 by
LTA02
Organize it all
I have several of these at work - use them to sort the projects I am working on. They make it easy to find what one is looking over and place it back for the next use. They keep my desk free of stacks of paper.
August 29, 2014
Rated

5

out of

5
 by
Amanda26
Great simple and sturdy divider! I used it by placing it on its side to display my sons Legos on it - great space saver with a good price!
April 15, 2014
Rated

5

out of

5
 by
CajunMom
Ziploc Corral
I bought the Magazine Sorter to corral lots of spare Ziploc/Hefty plastic bag boxes. When stacked by themselves on the top shelf of my pantry, they were always falling over. The Magazine Sorter was just what I needed to solve my problem. The three spaces between the four upright dividers are the perfect width for today's larger Ziploc boxes. I've been using it for about a month so far, and everything is staying in place perfectly. The wrapper said it was made by a European company, and it is thick high-quality acrylic that feels wonderful. I have two of another product sold as Ziploc bag box organizers on another shelf, each holding six small boxes, where I have my boxes that are in active use. I bought mine elsewhere years ago, but the Container Store offers something that appears very similar, and I wasn't quite sure online, but was afraid it would be the same size as my old ones. The only plastic bag boxes I can get in my usual local stores nowadays are too large to fit on those organizers. So to continue using them, I've had to keep the last smaller-sized boxes I found of each bag variety (increasingly held together with tape), and refill them from the larger boxes kept on the top shelf.
April 14, 2014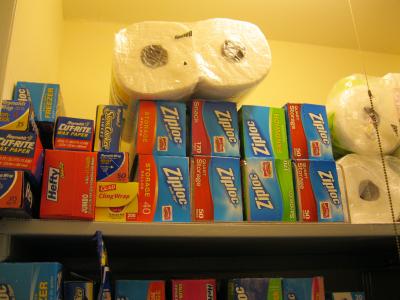 Rated

5

out of

5
 by
KimL
Just what I needed!!
This worked out perfect to organize my paper cutter, scorer and items in my craft studio. I needed something to fit into a 13 x 13 space and this was perfect .
April 4, 2014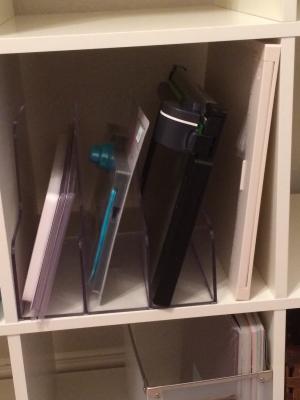 Rated

5

out of

5
 by
Twocedarsfarm
Organize, organize, organize
This purchase is for the office to keep small books and binders from going all over the place when I remove one. It's clear as to add no unwanted color, stays put, durable. It worked out so good I had to buy a second one for another shelf.
November 24, 2013
Rated

4

out of

5
 by
gingerale113
Clear Mag Rack
Fits plenty of mags. Exactly what I needed and looks great.
May 6, 2013
Rated

5

out of

5
 by
mostlyOrganized
Sturdy and it Works!
I have a growing collection of comb-bound reference books on my desk. They're each about 300 pages thick. I used to use wire sorters to hold them, but they were wimpy, and it was difficult to access and replace books in them. These are sturdy, and look so airy and clean on my desk. The books stay neatly aligned, and are now easy to pull out and put back.
April 26, 2013
Rated

4

out of

5
 by
duncveggies
Works for binders, too
I wanted something to help organize some large 3-ring binders I have on my desk. I wanted them upright but easy to see and grab. I was grateful that it was big enough to hold my very fat notebooks!
April 23, 2013
Rated

5

out of

5
 by
Pianoteacher
Piano Methods sorter
I needed a way to keep my soft cover 9 X 12 Piano books seperated and neatly stored in the bookcase. These acrylic sorters are perfect. I have two of them, which is enough space for every level of two different publishers method books. A little pricy, but they are high quality and worth it to me. Much better than individual magazine boxes.
April 23, 2013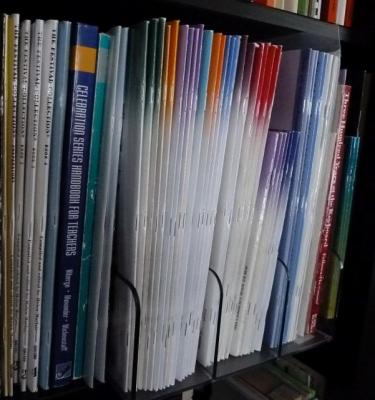 Rated

5

out of

5
 by
Philx
Clean Solution
I have purchased over 10 of these and they work great in my home library. I have a 30-year-old magazine collection and the magazine sorter is functunal and virtually invisible, so it maintains a clean, organized look for my collection and bookshelves.
March 11, 2013
Rated

5

out of

5
 by
legalassistant
Great for files
We needed something for legal files on the attorney's desks, and most file holders weren't wide enough. These are perfect, wide, sturdy and attractive.
November 26, 2012
Rated

5

out of

5
 by
shipshape
keeping organized
needed holder to put frequently used files on top of desk. Really wanted some wood ones to match desk top but could not find ones that matched. Do not like those with a front half wall that limit the size of the folder. This is a good, heavy clear option and will look nice with different color file folders for added identification.
April 27, 2012
Rated

5

out of

5
 by
icjay1994
Legal Files Secret Weapon
We bought these for the attorneys our law office and we love them. Legal files stand straight up so you can see the names, and is an excellent solution for "working" files that should be out for easy access. Capacity is great-- files in expandable folders also fit easily, and the appearane is sleek and "spacious" because the material is clear. Recommend for everyone's credenza!
April 27, 2012
Rated

5

out of

5
 by
bogeysmom
Works like a dream
This magazine sorter is perfect for storing cookbooks in the kitchen. I have a large assortment of varied sized cookbooks and this was exactly what I needed to keep them accessible and presentable.
April 9, 2012
Rated

5

out of

5
 by
Claire1118
Acrylic is the best!!
I hadn't owned anything (at least knowingly) made of acrylic before purchasing this magazine rack, and now I know it's a really great material! I use it on my bookshelf to organize frequently-used items; it also works as a bookend. It is very solid and sturdy, and cleans well.
March 11, 2012
Rated

5

out of

5
 by
hellokitty0369
Love these!
I love the clear acrylic organizers. They keep everything tidy but don't take up visual space themselves because they are clear. Love!
June 13, 2011
Rated

5

out of

5
 by
Lewis
Love It!
Love the way this magazine sorter looks on my shelf. Very clean look and keeps the magazines organized and easy to get to. Seems a little expensive, but I purchased on sale. I would definately recommend this product.
March 8, 2011
Rated

5

out of

5
 by
Verified Reviewer
New Traditiional
I inserted this Acrylic Sorter in a very traditionally styled side table in our hearth area and it is the perfect solution for keeping our numerous magazines easily available but not sliding off of a pile and unto the floor. We are able to find the issues we want when we want them.
February 16, 2011