Rated

5

out of

5
 by
AKPS
Love these boxes!
A very organized way to store and label projects, key activities, and reading materials without having papers everywhere. The size perfectly accommodates 8 ½ by 11 paper as well as manila folders. Love the Graphite color! They allow for more accessible and visible storage space than hanging folders or 3 ring binders for those projects that require paper, newspaper articles, family research, etc.. All of my projects are clearly marked (thanks to the free custom label template that is available online that creates labels that slide right into the metal label holder on the front of each very sturdy box). No more rifling through papers or digging through folders. It is all organized AND looks GREAT!! So glad I took a chance on these. I liked them so much, I placed a second order, and finally feel like my home and personal projects are easily accessible and under control! Great product! Thank you! :o)
July 17, 2014
Rated

5

out of

5
 by
lilstietz
Perfect size for pads of paper
Was able to hide all extra pads of paper in the box for easy storage. The boxes have labels so you can write what is inside each box. Don't have to open and search every box because you can identify what is inside.
April 5, 2014
Rated

5

out of

5
 by
JulieL
Sturdy, stylish, practical too!
2017 home organization made easy. Quality product in a wonderful array of colors makes storage easy! Sturdy and stylish. At these prices I can indulge my home office decor without breaking the bank.
January 13, 2017
Rated

5

out of

5
 by
LHall
Beautiful print and love these boxes. Well constructed and used well.
December 17, 2016
Rated

5

out of

5
 by
Nagonback
Love them
I ordered two of the Bigso boxes and I think they're great. Use them for storing large pictures. Sturdy, nice looking and just what I wanted.
October 8, 2016
Rated

5

out of

5
 by
KrystalH
Good Solid Storage
Love these boxes. Stack nicely and are super durable. Love the look and perfectly sized for my gift wrapping accessories.
September 19, 2016
Rated

4

out of

5
 by
Etral
great but no labels
The box is great , nice size, strength and colors are really nice. Only problem is no labels. You should include labels so we can properly file items.
August 1, 2016
Rated

5

out of

5
 by
lovetoorganizemom
perfect boxes
I have my entire craft area and supplies organized with these and the other coordinating boxes. They love beautiful and are functional and sturdy. Love these
March 12, 2016
Rated

5

out of

5
 by
Philip
Great Purchase!!!
Loved the red color and choices and of course I got these at a sale price! They came in a short time in great condition. Highly recommend for storage and looks!
March 8, 2016
Rated

1

out of

5
 by
knoh
inaccurate dimensions in store
I needed a container that would hold tabloid size (11" x 17") paper and bought two of the 12.25" by 17.25" boxes. These were the dimensions described on the tag. Nowhere in the store display did it have the description that it offers on the website stating that the document size box only holds legal-size paper. These boxes are certainly not 17.25" inches long (in fact, they are not even 17" long) and do not fit tabloid size sheets. Alas, under the assumption that The Container Store would accurately label their containers, the receipt is gone and I am the not so proud owner of two boxes I likely won't use.
January 25, 2016
Rated

2

out of

5
 by
LAMATT
Dimensions not as given on site
Boxes are sturdy and nice looking. But beware: the length and width listed on the web site is the size of THE LID. The actual dimension of the box is 12" x 16.75". Therefore, if you are trying to store 11" x 17" paper (which I am), the paper will not fit into the box and lay flat.
August 22, 2015
Rated

5

out of

5
 by
ShopppingS
Great Memory Box
i bought these boxes for my daughters to keep their special mementos. They work great for photos, postcards and other small trinkets. My girls love adding to them over time and love being able to have a special way to treasure their memories. We keep it under their bed so they can easily add or look through them whenever they want.
August 10, 2015
Rated

1

out of

5
 by
MrMikey
1/4 Inch Too Small
Bought the large document box 12 1/4 x 17 1/4 to store 11 x 17 documents. The 17 1/4 is the outside dimension of the box so 17 inch paper does not fit flat in the box by a very small margin. Doesn't seem to make sense that they would bother to make these shy of a 1/4 inch with which they would be much more useful. THIS REVIEW IS NOT FOR THE OTHER SIZES
April 10, 2015
Rated

5

out of

5
 by
MMM18
Best Boxes Ever
I LOVE these boxes. They are extremely sturdy and very classy looking. I use one for important documents and one for cards/notes/ticket stubs that I want to save. I also love that they can slide right under my dresser.
March 24, 2015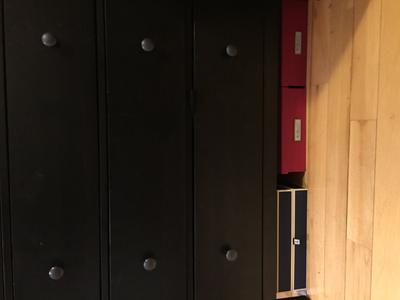 Rated

5

out of

5
 by
Bonbonx3
Cute!
Sturdy, versatile, functional and cute as can be. I love it!
March 18, 2015
Rated

5

out of

5
 by
JavaBean
Love Love LOVE!
I purchased this to corral and store all my stationary and cards. My office is in a corner of my living room and the contents of my open desks and bookshelves are there for all to see. Well, this container goes above and beyond! It's deep red color is gorgeous and the box looks like I spent a fortune for it! I purchased a number of other items with it and the effect of the matching pieces... stunning!! Exceptionally pleased!
February 10, 2015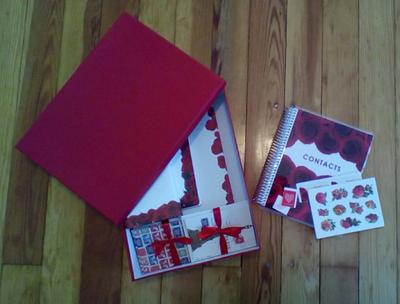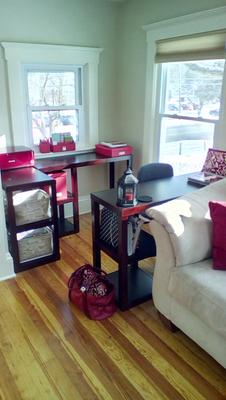 Rated

5

out of

5
 by
bluedragon
clean design
I purchased 2 of these with 2 orange ones. Great for keeping supplies & extra paper handy but not messy looking. Love the product line & it's helped my pull my office together in style!
July 3, 2014
Rated

4

out of

5
 by
WhiteTiger
Office Storage Boxes
Very stylish and good if you have documents and paperwork that you don't need to access a lot. Various sizes to fit most shelves.
June 21, 2014
Rated

5

out of

5
 by
mythreesons
Great for organizing!
These are so clean and neat looking. I bought them to store my sons school papers from each year. They are the perfect size and stack so neatly in their closets. Love them. For the price, you can't beat them.
June 9, 2014
Rated

5

out of

5
 by
SouthernRoots
Excellent for closet storage
I recently moved into a new home that has a small but nice walk in closet. I stocked it full of Container Store organizers, but my favorite are the Stockholm Office Storage Boxes. I wanted something big enough to hold all my colored vintage necklaces, as some are bulky and take up a lot of room to hang up. They are perfect on the shelf and provide lots of room for all my necklaces, plus more for future purchases!
May 12, 2014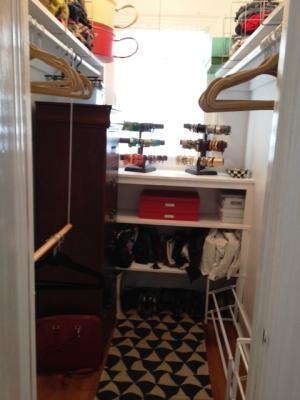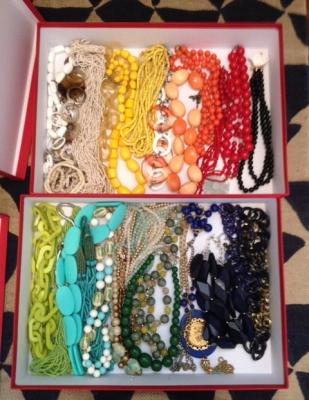 Rated

5

out of

5
 by
LaLaB
Bigso Box
A high quality archive box for storing my father's papers. Will be keeping this for years
May 7, 2014
Rated

5

out of

5
 by
GetOrganizedToday
Sturdy and encourages kids to keep organized
Bought this for my daughter's room. She likes to keep everything and hates to throw the things out that remind her of good memories. These boxes are bright and colorful and she loves them. Now all her things and papers are organized on her shelves and she is encouraged to put things back in them because she loves the way they look. No more clutter in her bedroom - that's my favorite part!
April 30, 2014
Rated

4

out of

5
 by
onehotmomma
Great for it's purpose
These are a little large but just what I needed for my paper storage. Seems like a good, sturdy box that will last a long time. I ordered them in white and they look great!
April 28, 2014
Rated

5

out of

5
 by
Wingnut
My office wokstation!
I painted the walls gray as in a "gray flannel suit"; then I ' installed ELFA white wire shelving as in a "crisp white shirt" and topped it off with Bigso red storage boxes as in "the red high heels". It is so "sexy" and fun to work in my office now. I can put my finger on anything I need and it is fun! I can leave my closet doors open now as i am not embarrassed for anyone to see what 's behind closed doors.
April 25, 2014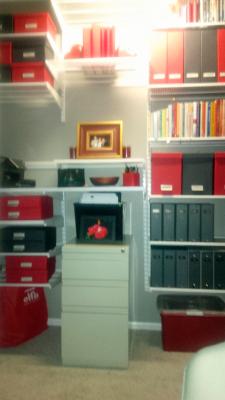 Rated

5

out of

5
 by
JsTuttle
Beautiful storage!
Best and prettiest storage for my home office. The modern geo print looks fabulous with my textiles, storage is great, construction is good and the pop of color inside is happy surprise every time I open one. In love!
April 25, 2014
Rated

5

out of

5
 by
LizzieJane
Love this box!
I purchased this great box to hold my middle-school-aged daughter's important paperwork and mementos. It has been just perfect for honor roll certificates, report cards, musical programs and other documents that we want to keep in an organized fashion in a central location. I love the brightly colored box (I chose the red), and its clean lines. I look forward to filling more than one of these boxes in the years to come and knowing exactly where our memories are stored when we need/want to reminisce.
April 25, 2014
Rated

5

out of

5
 by
AmandaLeigh
I love these boxes!
These boxes are great. They come in so many colors which allows me to stay organized while also keeping my rooms pretty and stylish.
April 16, 2014
Rated

5

out of

5
 by
TeresaHill
Great quality!
I really love these boxes. I use them to store my son's mementos and school work. They are sturdy and great quality, far better than what you would purchase in the big box retailers! I will continue to purchase these in the future!!!
April 15, 2014
Rated

5

out of

5
 by
Vanesa
Pretty and steady
Pretty box. Box and lid are very good quality. Perfect to store all kind of stuff
April 15, 2014
Rated

5

out of

5
 by
CALMCAT
LOVE THEM
COLORFUL EASY TO USE EASY TO FILE EASY TO FIND MUCH MORE CONVENIENT THAN A FILE CABINET STOPS PILES ON THE DESK
April 13, 2014