Rated

5

out of

5
 by
mckenna797
love these
I have used these before needed more, these make cable identification a breeze
September 28, 2016
Rated

5

out of

5
 by
annaw
Great way to label cables
This is a great way to label your cables. I previously used a labelmaker to put labels on all my cords, but this is easier to read & looks nicer (my labels had to be folded in half to fit the cord). I bought 2 of these & actually bought some for my adult children who like their computer cords organized neatly. You can use them anywhere that you have lots of wires & you need them to be identified. A great product
September 27, 2016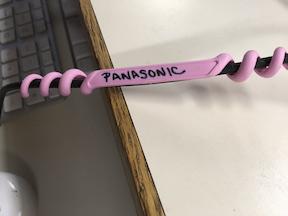 Rated

5

out of

5
 by
Melmac
Use two!
I buy 2 sets and use 2 matching cable IDs for each cord. One goes next to the plug and the other next to the device input. Therefore, I just look at the color of the Cable ID on the device and a quick glance tells me to which plug it is related. I choose not to label the Cable IDs for easy reuse, but I may soon unless they make more colors! I try to use a color-coordinating cable tie for binding excess cord, such as http://www.containerstore.com/s/office/cord-control/cable-ties/12d?productId=10004583&green=36230698-C00A-5649-A5FE-5056886570FE
November 19, 2015
Rated

5

out of

5
 by
OrgZen
Cable Heaven
These cable ID's are super easy to use and allow for color coding different devices or, if you have one of those "cable/fiber" control boxes where a modem and router are stored, you can identify the rooms different plugs serve. So organizationally Zen!
August 16, 2015
Rated

5

out of

5
 by
latelane
cut in half
cut in the middle and then use each half to color identify both end of a cord
August 10, 2015
Rated

5

out of

5
 by
stazia
neat idea
I use these in the car and at home. Keeps wires organized. Like the colors and that info can be written on the flat surface.
May 31, 2014
Rated

5

out of

5
 by
JBR1040
Great Wire Lable System
Use these for my HDMI cables for my home theater system. they work great -- you may want to buy two sets so that you can match the colors at both ends. Great addition to make things easy and change HDMI ports when necessary. Best to purchase these on-line with store pickup. Also, be sure to search Container Store coupons so that you can save $
May 23, 2014
Rated

5

out of

5
 by
lgaill
Organization
I purchased two packages and put one at each end of every cord so I can easily identify the item that is plugged into the surge protector.
April 4, 2014
Rated

5

out of

5
 by
LaudM
Re-purposed. Works great with vertical blinds.
Using for vertical blinds to Code open/close ropes.
January 7, 2014
Rated

4

out of

5
 by
Donnyk
A great little product
very nifty product. I had it sent to me in New Zealand. Smaller packaging would have been good
August 30, 2013
Rated

4

out of

5
 by
elleemmiss
Sorting the Wire Spaghetti
I bought these to help sort and organize the wire spaghetti that currently resides under my TV stand. I have six different devices plugged into my TV at the moment, and all of the wires look like one another. My only wish is that this product had two of each color, for each end of the wire, so that I could diagram what goes where in case I have to unplug anything. I ended up having to buy two packs to do this.
June 26, 2013
Rated

5

out of

5
 by
NavyGuy
perfect product for it's purpose
My shipment of these Cable I.D.'s couldn't have come at a better time. My BUNCH of USB cables had to be looked through over and over until I bought 2 sets of the Cable Id's. Now I can find the right one quick as a Wink!
May 12, 2013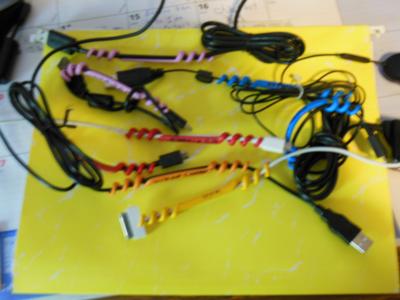 Rated

5

out of

5
 by
Lexg
Love them
Just went out and bought more as gifts for friends
April 28, 2013
Rated

5

out of

5
 by
Labeler
Good idea: Clothes for your cables
The Container Store's Cable IDs are absolutely the best cable labels. Here's the before and after: Before these, my computer wires looked like Medusa. After Cable IDs, my wires are organized. These sleek looking, well designed helixes are very easy to apply. You can write on them with just about anything. These cable labels save time, prevent confusion and look very cool. Get some.
April 26, 2013
Rated

5

out of

5
 by
rbtwallace
Easy to use
This is such a great idea for keeping cords organized and easy to distinguish from one another. Like the different colors for different peripherals i.e...Apple TV green, DVD blue.
April 26, 2013
Rated

5

out of

5
 by
Diane207
Super Simple, Love these!
I've been looking forever for a way to organize my computer cords. These are super, they don't stick out like all the others and catch on each other. They are soft and wrap around the cords and make labeling them a breeze!
April 24, 2013
Rated

5

out of

5
 by
WestportBob
Cable ID--a great idea
I have so many computer cords that I am always afraid of disconnecting the wrong one. The Cable ID's are a perfect solution. They are different colors and have a place to write on each one. Perfect!
April 1, 2013
Rated

5

out of

5
 by
Heshie
S-o-o-o Useful!!
These slim, flexible ID "bracelets" -- provided in a selection of 8 bright colors (including white) -- which you can easily wind around regular-size power cables, are great when you have several devices (computer or otherwise) plugged into the same power strip and want to label each of the cables by the device it powers. However, if your handwriting is anything like mine, there's a better way to use them. Buy two packages, so you have two ID bracelets of each color. Then use the same-colored bracelet at both the device end and the power-strip end and it's no problem finding the right plug quickly. No reading. No writing. Wonderful!!
March 24, 2013
Rated

5

out of

5
 by
Jules21
Neat & Colorful
My fiance is a computer nut. I am really thankful for Apple TV, but between that & all the other stuff to keep us entertained it can be a bit overwhelming with the cords. This keeps everything organized while looking good.
March 21, 2013
Rated

5

out of

5
 by
jackieg
Why didn't I think of this!
I love, love, love the cable ID's! Whoever thought of making colored cables with tabs for writing the item was BRILLIANT! They are so easy to twist around any cables so I used them in my computer room to mark all the pieces of technology, in the music room to mark all my stereo A/V equipment, and in the living area to mark the TV/DVD/stereo system. Between the brightly colored cables and the label area to mark which item belongs to the cable it is easier than ever to plug/unplug equipment in the back and not have to waste time figuring out which cable belongs to which item. The best part is they are only $7.99!!!!!!!!
March 20, 2013
Rated

5

out of

5
 by
AJBoston
Why didn't these exist earlier? Just what I need
Now I won't accidentally unplug the wrong thing! Wonder if there are color matched cable organizers too.
March 19, 2013
Rated

5

out of

5
 by
PAGIRL
GREAT LITTLE PRODUCT
GREAT WAY TO LABEL ALL THOSE PESKY CORDS WE HAVE IN OUR OFFICE
March 9, 2013
Rated

5

out of

5
 by
ChrldrMinnicks
Great ID's
Very easy and simple way to tell which is which... I have tons of cords in my home office and this really simplifies my internet, fax and more...
March 6, 2013
Rated

5

out of

5
 by
Marbe6161
Fabulous idea!
When I heard about these cable ID's, I knew I had to try them. I have a longstanding problem with too many cords plugged into a surge protector, but not knowing what they're connected to. This finally solved the problem! No more guessing or disconnecting the wrong thing while trying to find the right one! These are great for anyone like me. Easy to attach, stay on with no problem. Great idea!
February 28, 2013
Rated

5

out of

5
 by
suzys1
colorful cable ties
Colorful write-on cable ties that make it really easy to identify cables for quick access and also to remember what they are for if separated from their printer, scanner, etc.
February 22, 2013
Rated

5

out of

5
 by
TCSJunkie
No more guessing!
I hated trying to figure out which cable was which when something needed to be unplugged from the power strip. These cables are easy to put on, stay in place and are easy to write on.
January 7, 2013
Rated

5

out of

5
 by
Kiminsa
Clever idea
Great idea for helping you remember what cord goes with what.
October 27, 2012
Rated

4

out of

5
 by
mandylianne
Purchased as a stocking stuffer for my husband
My husband's cables for his office space were a mess, so I picked up a package of these for his stocking last Christmas. He seems pretty happy with them, and when I asked how he liked them, he replied, "They're useful". His cables do seem much more organized now!
April 27, 2012
Rated

4

out of

5
 by
Peeb
Really solves the problem
I have so many cords and NO idea what half of them belong to. This really solves the problem for me.
April 12, 2012
Rated

5

out of

5
 by
iguana
Brilliant
Absolutely brilliant. They don't come off the cable and they're easy to write on w a sharpie. It's kind of sad that adhesive labels from a label maker don't stick, but that's minor
March 20, 2012