Rated

5

out of

5
 by
SandyR
Beautiful!
Beautiful magazine file! Bought it on sale- I hope it lasts
March 7, 2014
Rated

5

out of

5
 by
SarahA
So Pretty
Really pretty, yet simple addition to my desk, does it's job well
March 7, 2014
Rated

5

out of

5
 by
siglinde
want more of these
These files are very strong and well made. I tend to try to push one more magazine in and so far they are holding up to my abuse. I will order more.
October 15, 2013
Rated

5

out of

5
 by
Juliee
Great
It looks great and holds does a great job at holding my magazines. I use it as a book end as well.
September 29, 2013
Rated

5

out of

5
 by
CoMart
Simple and Clean
This is perfect for keeping back issues of magazines. It's a non-fussy solution.
March 21, 2013
Rated

5

out of

5
 by
Scorp777
Great Magazine File
This magazine file is sturdy and provides a look of professionalism. You can view materials being retained for easy access. I would highly recommend this product for future purchases.
March 20, 2013
Rated

5

out of

5
 by
damama
A Simple Solution
I had been looking for magazine storage for my powder room. My husband constantly leaves his reading material either on the top of the toilet tank or wedged between the extra roll holder and the wall- but I want the room to be presentable for guests. I considered installing a shelf, hanging a magazine rack, getting a basket to place in the corner or just getting a new husband. The Clear Magazine File- placed on the top of the tank- provides ample storage for the necessary bathroom reading material, in a simple effective and most importantly, washable way.
March 18, 2013
Rated

5

out of

5
 by
FletchsMom
Fabulous Item for all rooms!
I love the Clear Magazine Files. I use them to organize recipe magazines in the kitchen, embroidery and cross stitch patterns in the sewing room (you know the ones that are just an 11 x 17 piece of card stock folded in half and they get lost in a bookcase or crushed in a pile?) I collect take out menus in one on top of the fridge and we keep one in the - eh hem - in the lu to keep our "throne" reading neat and tidy!
March 18, 2013
Rated

5

out of

5
 by
JGNYC
I'm surprised by how pretty clear plastic can be
These are lovely and well-made. The plastic has a glow that other, cheaper products lack; it actually looks like glass. These are pretty deep, too - they're big enough to hold issues of Real Simple, for instance, which are like 2" wider than other magazines.
March 18, 2013
Rated

5

out of

5
 by
Verified Reviewer
Sooooo Fabulous!!
This is such a beautiful way to display my magazines. I used to have all of my favorite magazines (and there's a lot!!) scattered all over the floor next to my bed:(!! Now I proudly have them in this beautiful lucite organizer that makes me feel organized & in style:) Thanks Container Store!! Love all of your stuff!!!!
March 14, 2013
Rated

5

out of

5
 by
OrganizedGivesMeTime
Hip Desktop FILE Folder Storage for Office:PERFECT
Reusing the "Clear Magazine File" for something new. I multipurposed it for office desk file folders!! Maybe you're focused on particular folders & want to see the file folders themselves, perhaps because of notes stuck on the outside or you wrote on the outside of the file folders. Engages your eye and increases visibility of my file folders. I simply turned it on the narrow, long end and put the typical-use "bottom" away from me so I can slide the folders in/out or flip through easily from the top open area!! I need more so I can put another set of related work topics side-by side but in their own separated "contained" area. Has increased my efficiency and the files don't get shoved back somewhere else to not get worked on.
March 13, 2013
Rated

5

out of

5
 by
Vegas
Well Constructed
I am in the process of organizing the office of one of our senior leaders. She is a very busy internal medicine physician and pediatrian. She likes to read many medical journals and these will be easy for her to see and stay organized. They are also well constructed. With the office sale, they are less expensive than the poorly constructed, cheap magazine file folders from a well-known office supply company. Love these!
March 13, 2013
Rated

5

out of

5
 by
JohnH
Pretty much the créme de la créme
Use these to show off your Wallpaper* magazines or other expensive journals. You might be more likely to read them if you can see them! (Put the ugly magazines in an opaque Bigso.) These are sturdy and durable, and you can use them either way facing forward. On the other hand, the cases are shorter than most magazines, so they stick out the top; they might be more likely to get dusty that way.
March 12, 2013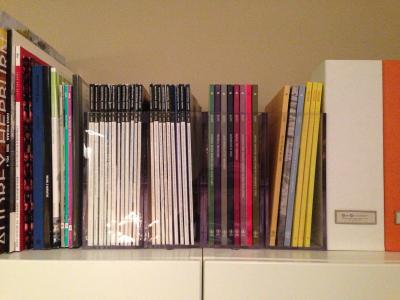 Rated

5

out of

5
 by
ITFY
Love them!!
these are very sturdy and easy to see what is in them and they go with any decor
February 15, 2013
Rated

5

out of

5
 by
coffeecorgi
Perfect magazine organizer
I get many art and travel magazines that I use for reference and these are the perfect acrylic containers for the bookshelves. They typically hold a year's worth of magazines, and because they are clear, you don't have to remove the magazines to see the spine which lists the date and contents of the magazines.
April 28, 2012
Rated

5

out of

5
 by
CleanB
modern and functional
Very useful, keeps magazine titles clear to read if you need to scan for a particular one. Useful as bookends too. Sturdy, better quality than any cardboard type and can adjust to changes in decor as it is unprinted and not feminine or masculine.
March 20, 2012
Rated

5

out of

5
 by
PoeyG
Organized and Beautiful
i LOVE these. I bought two of the smaller ones to place on a cubical style bookcase to hold smaller catalogs that aren't thick/sturdy enough to stand up on their own. They both fit in one of the cubical shelves and look so pretty with that acrylic border showing. I love them because they keep my catalogs organized and accessible and allows them to "stand up" vertically like the rest of the books on the bookcase. best purchase ever and the prices was GREAT. I got both together and paid only $25.
March 19, 2012
Rated

5

out of

5
 by
BooksByBarefoot
Sleek Magazine File
I use these in my built in book shelves in my living room We keep many of our magazines for future reference (cooking mags, decor, etc.) I love the contemporary style. It's great that you can clearly see the magazine titles! I also use these in my office to hold folders/files for my son's school files and also for household files. These are a great organization tool!
March 19, 2012
Rated

5

out of

5
 by
ferlynn
love it!
This magazine storage container is superb. It is durable and something you can put out and display at home. I have them sitting on display with my cookbooks. They are holding my cooking magazines. I also have one on my desk holding work related publications. You must buy one!
March 4, 2012
Rated

5

out of

5
 by
Organized01
Excellent Product
This file is very sturdy and easily holds all my magzines.
May 23, 2011
Rated

5

out of

5
 by
ILikeThings
Even Better Than Imagined!
Love!. I was looking for some way to organize my magazines without resorting to the old heavy magazine rack look. These are light in their display due to the acrylic material and fit easily on a regular bookshelf. Because they are clear, it is easy to find issues and even to arrange so that the desired magazine cover showing complements the room. I will be ordering more.
April 30, 2011
Rated

5

out of

5
 by
MedevaM
Sleek and Durable
What you see is exactly what you get. I use mine to hold piano books--my bench doesn't open for storage. I love all the acryllic products. They're perfect for times when you want to focus on the contents and not the container.
February 16, 2011
Rated

5

out of

5
 by
NHCnx
These clear magazines files are one of the best storage purchases I have ever made. In the course of years I have accumulated a fair number of trade magazines that I would like to keep and yet had not found a good looking, sturdy and affordable magazine file until now. I had already purchased eight of them in the past and these are additional ones. If I need more you can be sure I would purchase the same.
November 30, 2010
Rated

5

out of

5
 by
mauij7
Really nice
I already had three of these magazine files and purchased two more. They are clean looking, sturdy and organize nicely. I do add small rubber-like bumpers to the bottom cormers to protect my wood shelf tops from potential scratches just in case these are slid carelessly.
August 20, 2010
Rated

5

out of

5
 by
Freshmegamix
Clearly the best storage for your magazines
I saw simular ones sold at another store for $36 which was not cool at all. These are really good acrylic and I love them. I had to get 7 for my magazines and books!
May 18, 2010
Rated

5

out of

5
 by
Nicole
Many uses, great price
I have a few of these - I like the shorter height than most magazine files, the sturdy plastic construction and that they're see-through. I have one tucked behind the couch to hold miscellaneous items and several on the shelf. And the reduced price is great too.
March 5, 2010